ACCUSATION: Biden Kissed, Sniffed Latina Democrat
Former vice president and possible Democrat presidential candidate Joe Biden stands accused of physical misconduct against a female Latina Democrat politician.
The accusation against Biden marks one of the first major direct accusations against Biden during this campaign cycle, but insiders believe many more are coming. Big League Politics learned about the impending accusation Wednesday night and monitored the situation as Lucy Flores came forward with her bold first-person essay in New York magazine. BLP has not spoken to Flores directly but now we have her own words describing the disturbing encounter at a campaign event with Eva Longoria, via New York mag's "The Cut":
"In 2014, I was the 35-year-old Democratic nominee for lieutenant governor in Nevada…As I was taking deep breaths and preparing myself to make my case to the crowd, I felt two hands on my shoulders. I froze. "Why is the vice-president of the United States touching me?"
I felt him get closer to me from behind. He leaned further in and inhaled my hair. I was mortified. I thought to myself, "I didn't wash my hair today and the vice-president of the United States is smelling it. And also, what in the actual fuck? Why is the vice-president of the United States smelling my hair?" He proceeded to plant a big slow kiss on the back of my head. My brain couldn't process what was happening. I was embarrassed. I was shocked. I was confused. There is a Spanish saying, "tragame tierra," it means, "earth, swallow me whole." I couldn't move and I couldn't say anything. I wanted nothing more than to get Biden away from me. My name was called and I was never happier to get on stage in front of an audience.
By then, as a young Latina in politics, I had gotten used to feeling like an outsider in rooms dominated by white men. But I had never experienced anything so blatantly inappropriate and unnerving before. Biden was the second-most powerful man in the country and, arguably, one of the most powerful men in the world. He was there to promote me as the right person for the lieutenant governor job. Instead, he made me feel uneasy, gross, and confused. The vice-president of the United States of America had just touched me in an intimate way reserved for close friends, family, or romantic partners — and I felt powerless to do anything about it."
Flores passage ends
Trending: Indian Scientists Discover Hydroxychloroquine Treatment Prevents COVID-19, Vindicating President Trump
Vox follows up on Flores' story with the headline "Lucy Flores Isn't Alone. Joe Biden's Got a Long History of Touching."
Flores's experience isn't unique. It is no secret in Washington that Biden has touched numerous women inappropriately in public. It's just never been treated as a serious issue by the mainstream press.
Biden's been caught on camera embracing a female reporter from behind and gripping her above her waist, just below her bust. At a swearing-in ceremony for Defense Secretary Ash Carter, Biden put his hands on the shoulders of Stephanie Carter, Carter's wife, and then leaned in and whispered into her ear. (He's whispered into many women's ears.) He's also touched women's faces and necks during other photo ops. Once at a swearing-in ceremony for a US senator, he held the upper arm of the senator's preteen daughter, leaned down and whispered into her ear, as she became visibly uncomfortable. Then he kissed the side of her forehead, a gesture that made the girl flinch.
It's all out in the open. News outlets wrote about these incidents. But the stories ran under light-hearted headlines like, "Photo of famously friendly Joe Biden goes viral" or "Here's Joe Biden being Joe Biden with Ash Carter's wife" or "Joe Biden: Sex symbol?," a piece that I edited and now regret."
take our poll - story continues below
Completing this poll grants you access to Big League Politics updates free of charge. You may opt out at anytime. You also agree to this site's Privacy Policy and Terms of Use.
Vox passage ends
Billionaires Have Made Half a Trillion Dollars While Tens of Millions File for Unemployment
As the number of Americans filing for unemployment approaches 40 million, America's billionaires are cruising along without any worries.
According to a CNBC report, billionaire fortunes climbed by a total of $434 billion since the middle of March,
At the top of the list are Jeff Bezos and Mark Zuckerberg, whose respective fortunes increased by $34.6 and $25 billion, according to the Americans for Tax Fairness and the Institute for Policy Studies' Program for Inequality. Zerohedge noted that both organizations came to this conclusion "based on Forbes data for America's over 600 billionaires collected between March 18 and May 19."
Tyler Durden highlighted the following stats:
take our poll - story continues below

Completing this poll grants you access to Big League Politics updates free of charge. You may opt out at anytime. You also agree to this site's Privacy Policy and Terms of Use.

Percentage-wise, Elon Musk's wealth grew 48% to $36 billion, while Zuckerberg clocked in at 46%. Bezos' wealth grew 31% to $147 billion. His ex-wife, MacKenzie Bezos, saw her wealth increase by roughly 33% to $48 billion. On average, American billionaires saw their net worth grow 15% during the two-month period from $2.948 trillion to $3.382 trillion.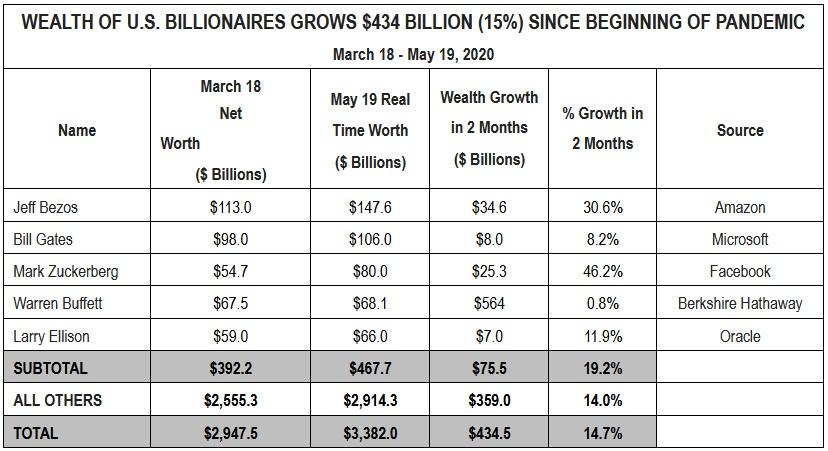 Bezos, Bill Gates, Zuckerberg, Buffett and Larry Ellison saw their wealth increase by a total of $76 billion.
"The surge in billionaire wealth during a global pandemic underscores the grotesque nature of unequal sacrifice," declared Chuck Collins, director of the IPS Program on Inequality and co-author of the Billionaire Bonanza 2020 report. "While millions risk their lives and livelihoods as first responders and front line workers, these billionaires benefit from an economy and tax system that is wired to funnel wealth to the top."
However, some billionaires haven't benefited so much:
Still, the pandemic hasn't been kind to other billionaires – whose yacht upgrades may need to wait. Those in travel and retail have taken a beating. Ralph Lauren saw his wealth drop by $100 million to $5.6 billion, while hotelier John Pritzker has seen a $34 million drop to $2.56 billion. We know, time to get a collection going.