Activists Change 'Black Lives Matter' Street Mural in Chicago to Read 'All Lives Matter'
They are taking a stand against the terror group.
Patriotic activists have taken a "black lives matter" street mural in Chicago celebrating the anti-white terror group, and changed it to read "all lives matter," officials have announced.
The activists painted over the mural in Oak Park, which was originally created with rainbow colors to also commemorate "Pride Month" celebrating LGBT degeneracy. Authorities are reportedly investigating the matter.
Patriots in California who similarly defaced a BLM mural are facing hate crime charges for standing against institutional anti-white racism:
Trending: Ex-Soviet Leader Gorbachev: US Capitol Riot "Planned in Advance, And It Is Clear by Whom"

The Contra Costa County District Attorney's Office announced that they will be charging a couple with a hate crime for allegedly painting over a Black Lives Matter (BLM) mural in Martinez, Calif.

take our poll - story continues below

Completing this poll grants you access to Big League Politics updates free of charge. You may opt out at anytime. You also agree to this site's Privacy Policy and Terms of Use.

53-year-old David Nelson and 42-year-old Nichole Anderson are being charged with three misdemeanors, including a hate crime, for cleaning up the mural celebrating a nationwide terror movement that is at war with the rule of law…

The District Attorney's office made it clear that they will do all in their power to protect BLM's marxist revolution.

"We must address the root and byproduct of systemic racism in our country. The Black Lives Matter movement is an important civil rights cause that deserves all of our attention," stated Contra Costa County District Attorney Diana Becton in a press release.

"The mural completed last weekend was a peaceful and powerful way to communicate the importance of Black lives in Contra Costa County and the country. We must continue to elevate discussions and actually listen to one another in an effort to heal our community and country," she added.

The couple is being charged with vandalism under $400, violation of civil rights, and possession of tools to commit vandalism or graffiti. They could face up to a year in county jail if they are convicted of the charges.
The Oak Park Village released an official statement "expressing sadness and disappointment" by how the BLM mural was changed.
"The Village also is working with the Oak Park Area Arts Council and the artists to determine what additional work will be needed to restore the mural to its original condition," they wrote.
Mak Flournoy, whose son Cullen Benson devised the mural, whined about how her son's work was altered from a black supremacy message to an inclusive, egalitarian message.
"This is a reminder that if white folks can't give us a small mural on a side street in Oak Park, they won't be able to give up much," Flournoy said. "Sadly, I think that if they aren't ready for this then they certainly won't be ready for the things to really make this country, and this village, and state, better."
"[The mural] is not going away, we are not going away, Black people are not going away," Flournoy added. "We are here. We will be stronger and better."
The patriots who changed the mural will go down as heroes, regardless of whether or not they are hunted down by authorities and charged as political prisoners for doing what was right.
Parler CEO John Matze Forced to Flee Home Under Deluge of Left-Wing Terror Threats
Matze is suing Amazon for deplatforming Parler.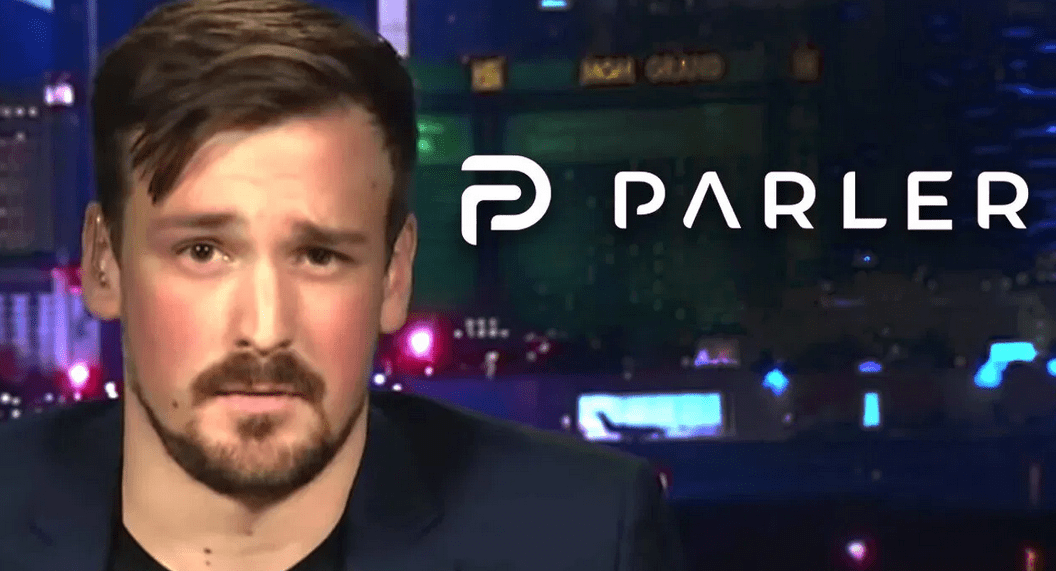 Parler CEO John Matze has been forced to flee his home and go into hiding after receiving an onslaught of left-wing death threats. Parler, a free speech social media platform, has been temporarily shut down in an extensive deplatforming campaign. Amazon promptly cut Parler's access to its Web Services after the US Capitol riot earlier this month, cherry-picking examples of content that violate Parler's terms of service and claiming the platform is being used for violent purposes.
Matze made the frank admission in a court filing for Parler's lawsuit against Amazon, requesting that the court keep any disclosures about his personal life and location secret. Parler is currently suing Amazon in federal court for its immediate revocation of Parler's hosting agreement, arguing that Amazon agreed to provide 30 days notice before any potential termination of Parler's hosting, pursuant to the party's original agreement.
Matze reveals that he's been forced to leave his home and go into hiding with his family, citing Amazon Web Services' "vilification" of his company.
take our poll - story continues below
Completing this poll grants you access to Big League Politics updates free of charge. You may opt out at anytime. You also agree to this site's Privacy Policy and Terms of Use.
Employees of Amazon have allegedly been threatened and harassed as well for shutting down Parler. The court filing in favor of redaction references these threats in requesting the court provide redaction of personal information to both sides.
"Both sides of this dispute have shown that their employees have suffered real harassment and threats—including, on both sides, death threats—owing to the charged nature of this litigation.
Parler therefore agrees with AWS that safety and security concerns justify the limited sealings requested here," Parler requests in the Amazon lawsuit.
Parler's administrators are still seeking to return the free speech social media platform to full operation, although it could take weeks to bring it back online. They may have learned a lesson about the futility of contracting hosting services with a Big Tech monopoly such as Amazon.
---
Follow me on Twitter @Wildman_AZ, on Parler @Moorhead, and on Gab @WildmanAZ.