Amazon Employees Bought NYC Area Real Estate Before HQ Gimmick was Announced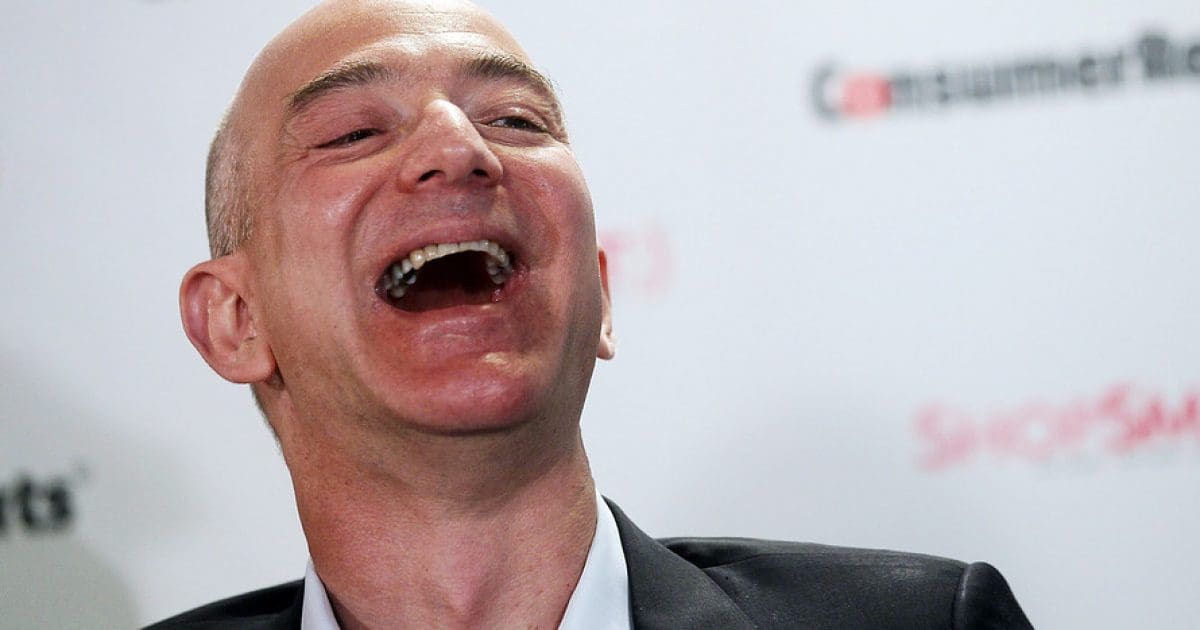 Amazon became the target of a massive backlash after helping themselves to a massive crony capitalist feast earlier this month, announcing that they'd be opening two new headquarters in New York City and Arlington, Virginia. A major point of contention between the behemoth company and area residents exploded as it was revealed that one of the world's wealthiest private companies would be receiving $1.5 billion and $573 million respectively from New York and Virginia state and local governments for the 'gift' of the new facilities.
Even a sizable wealth transfer directly from taxpayers to Amazon may not be enough, it seems. The Wall Street Journal revealed that unnamed employees of Amazon now stand to become beneficiaries of the crony deal, having bought up New Jersey and Queens real estate shortly before the adjacent location of the new New York headquarters became publicly confirmed. While the conveniently timed purchase of the Amazon employees is similar in nature to highly illegal insider trading, real estate lawyers speaking to the Wall Street Journal said they didn't believe trading laws pertaining to real estate as opposed to publicly traded stock existed, making the corporate corruption of the property grab completely legal.
The Democrat Governor of New York, Andrew Cuomo, sought to alleviate the backlash against the massive transfer of taxpayer funds to a company owned by one of the richest people on earth with a strawman argument. He claimed that the sum of $1.5 billion dollars in corporate subsidies handed to Amazon would "cost us nothing," and that only an odd bedfellow's coalition of "extreme conservatives and socialist" would oppose the crony deal.
Trending: Mike Lee Passes Big Tech H-1B Visa Giveaway in Senate Without Objection
$1.5 billion may seem like mere crumbs to the Governor of New York, but the taxpayer could be on the line for much more if the corrupt real estate dealings of Amazon employees is a sign of what's to come for New York and Virginia residents.
VIDEO: A Tired-Looking Hillary Clinton Shills for 'The Great Reset' Agenda at Globalist Forum
Did she run out of adrenochrome or something?
A recently recorded video of failed presidential candidate Hillary Clinton, who looks like she missed her most recent appointment for a fetal-cell spine injection, shows the two-time loser shilling for "The Great Reset" agenda.
Although Clinton does not mention "The Great Reset" by name, she endorses the technocratic socialist agenda that is obscured by the term.
"We're going to have to take a hard look at how we can better frame how the markets work so that we begin to move away from the shareholder-centric approach, from the short-term returns that practically every business CEO that I've ever worked with, or talked with, has said, you know, distorts the market," a demonic-looking Clinton said at the 2020 New Economy Forum hosted by Bloomberg.
"I think it's time to look at what can make capitalism market operations work much more effectively and, frankly, equally to help build a real economy by shifting some of the incentives and assumptions that have grown into the system over the last fifty years," the ghoulish former secretary of state added.
take our poll - story continues below
Completing this poll grants you access to Big League Politics updates free of charge. You may opt out at anytime. You also agree to this site's Privacy Policy and Terms of Use.
Her clip can be seen here:
Focusing on short-term returns has "distorted the market." Here's why @HillaryClinton thinks it's time to carve out a new path for capitalism. #OurNewEconomy pic.twitter.com/3GKmXsvKhc

— Bloomberg New Economy Forum (@neweconforum) November 18, 2020
Big League Politics has reported on the many globalist operatives who are endorsing the Great Reset as a way to permanently transform society while the world is gripped with mass hysteria over the COVID-19 scamdemic and destabilized due to media-promoted race riots and migrant invasions:
A leading globalist elite closely associated with the World Economic Forum has openly predicted that the world will never return to a sense of normalcy that existed prior to the coronavirus pandemic. Klaus Schwab made the concerning claim in his new book, "The Great Reset."

"Many of us are pondering when things will return to normal," wrote Schwab in The Great Reset. "The short response is: never. Nothing will ever return to the 'broken' sense of normalcy that prevailed prior to the crisis because the coronavirus pandemic marks a fundamental inflection point in our global trajectory."

Schwab went on to predict that human history would be differentiated between an era before the pandemic and what comes after. He likened the historical event of the coronavirus pandemic to the birth of Christ, a peculiar slight to Christians who view the life of Jesus as an event quite unlike the spread of a disease.

"Radical changes of such consequence are coming that some pundits have referred to as 'before coronavirus' (BC) and 'after coronavirus' (AC) era. We will continue to be surprised by both the rapidity and unexpected nature of these changes – as they conflate with each other, they will provoke second-, third-, fourth- and more-order consequences, cascading effects and unforeseen outcomes," writes Schwab.

In addition to being a longstanding patron of the globalist WEF's yearly Davos gatherings, Schwab was a steering committee member of the Bilderberg Meetings. He was listed as an "international" member of the Bilderberg group's executives, despite being a German national.

Managerial elites have spoken in open terms about their plans to redistribute the private property of average people to megacorporations and governments, compel the public to eat insects as a replacement for meat, and to gradually eliminate the use of personal automobiles.

Schwab staked out his vision of digitized corporate dominance of society in a recent speech given to the World Economic Forum.
If the vote steal against President Donald Trump is not overturned, the world is looking at a thousand years of darkness with all of these satanic elites on the same page ready to put the boot around humanity's neck forever.