Amazon Employees Bought NYC Area Real Estate Before HQ Gimmick was Announced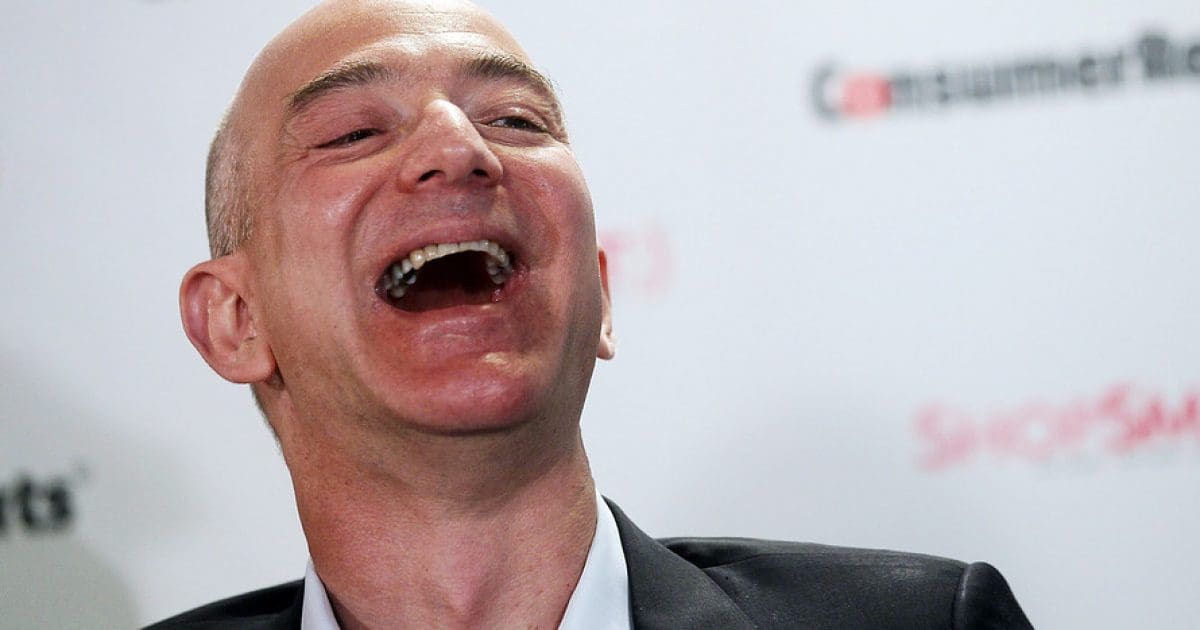 Amazon became the target of a massive backlash after helping themselves to a massive crony capitalist feast earlier this month, announcing that they'd be opening two new headquarters in New York City and Arlington, Virginia. A major point of contention between the behemoth company and area residents exploded as it was revealed that one of the world's wealthiest private companies would be receiving $1.5 billion and $573 million respectively from New York and Virginia state and local governments for the 'gift' of the new facilities.
Even a sizable wealth transfer directly from taxpayers to Amazon may not be enough, it seems. The Wall Street Journal revealed that unnamed employees of Amazon now stand to become beneficiaries of the crony deal, having bought up New Jersey and Queens real estate shortly before the adjacent location of the new New York headquarters became publicly confirmed. While the conveniently timed purchase of the Amazon employees is similar in nature to highly illegal insider trading, real estate lawyers speaking to the Wall Street Journal said they didn't believe trading laws pertaining to real estate as opposed to publicly traded stock existed, making the corporate corruption of the property grab completely legal.
The Democrat Governor of New York, Andrew Cuomo, sought to alleviate the backlash against the massive transfer of taxpayer funds to a company owned by one of the richest people on earth with a strawman argument. He claimed that the sum of $1.5 billion dollars in corporate subsidies handed to Amazon would "cost us nothing," and that only an odd bedfellow's coalition of "extreme conservatives and socialist" would oppose the crony deal.
Trending: HMM: Actress Rosario Dawson Comes Out as Lesbian Just One Month After She 'Dated' Cory Booker
$1.5 billion may seem like mere crumbs to the Governor of New York, but the taxpayer could be on the line for much more if the corrupt real estate dealings of Amazon employees is a sign of what's to come for New York and Virginia residents.
Bypass Tech Censorship!
Facebook, Twitter and Google are actively restricting conservative content through biased algorithms. Silicon Valley doesn't want you to read our articles. Bypass the censorship, sign up for our newsletter now!
Have a hot tip for Big League Politics?
Got a hot news tip for us? Photos or video of a breaking story? Send your tips, photos and videos to tips@bigleaguepolitics.com. All hot tips are immediately forwarded to BLP Staff.
Have something to say? Send your own guest column or original reporting to submissions@bigleaguepolitics.com.
Join the conversation!
We have no tolerance for comments containing violence, racism, profanity, vulgarity, doxing, or discourteous behavior. Thank you for partnering with us to maintain fruitful conversation.
OUT OUT OUT: Study Shows That Each Illegal Alien is Up to a $6,500-Per-Year Burden for the U.S. Taxpayer
The cost of illegal immigration is massive.
A ground-breaking new study has shown that illegal immigrants cost the U.S. taxpayer approximately $6,500 per year by soaking up welfare cash and other government benefits after they break the law to enter the country.
The study, commissioned by the Federation for American Immigration Reform (FAIR), showed that that small states are particularly burdened by the illegals, and the money and services are going to aliens instead of veterans, children, and the disabled.
FAIR surveyed ten small states and determined that illegal immigration cost them an average of $454 million per year.
"To put that figure into context, that $454 million expenditure is more than 200 times what the state of Montana budgets for its entire Veterans Affairs program, and it is 2.5 times the total sum that West Virginia invests in its state university," the report states.
take our poll - story continues below
Completing this poll grants you access to Big League Politics updates free of charge. You may opt out at anytime. You also agree to this site's Privacy Policy and Terms of Use.
Dan Stein, president of FAIR, notes that the native populations of these small states are getting squeezed the most by the burden caused by illegal immigrants. These individuals are essentially being replaced as a once-great nation transforms into a globalist economic zone.
"In many ways, the influx of immigrants into less populous areas of the country has an even greater impact on long-time residents than it does in larger and more urban areas," Stein said.
"These areas have neither the tax base, nor the economic and social infrastructure to accommodate the needs of the growing numbers of immigrants taking up residence," he added.
The FAIR study, Small Migrant Populations, Huge Impacts, analyzed Alaska, West Virginia, South Dakota, Vermont, Wyoming, New Hampshire, Montana, Mississippi, North Dakota and Maine to discover their startling conclusions regarding the costs of illegal immigration.
"Many local officials tout immigration, including illegal immigration, as a remedy to economic stagnation. However, as this report reveals, the reality is precisely the opposite," Stein said.
"Illegal immigration, in particular, drives down wages and inhibits job opportunities for legal residents, while bringing more low-skilled, low-wage workers to these states. In turn, this increases costs to state and local governments, and discourages investment by businesses seeking a skilled labor force and lower overhead," he added.
FAIR released the following video to accompany their newly released study:
"This report highlights the fact that the adverse effects of unchecked mass immigration, combined with an immigration selection process that does not choose people based on individual merit, job skills and education, are now being felt in all parts of the country," Stein explained.
"Americans, in every part of the nation, are being affected by antiquated and unenforced immigration policies, which is why it is at the top of the list of voter concerns heading into the 2020 elections," he added.