Amazon Employees Bought NYC Area Real Estate Before HQ Gimmick was Announced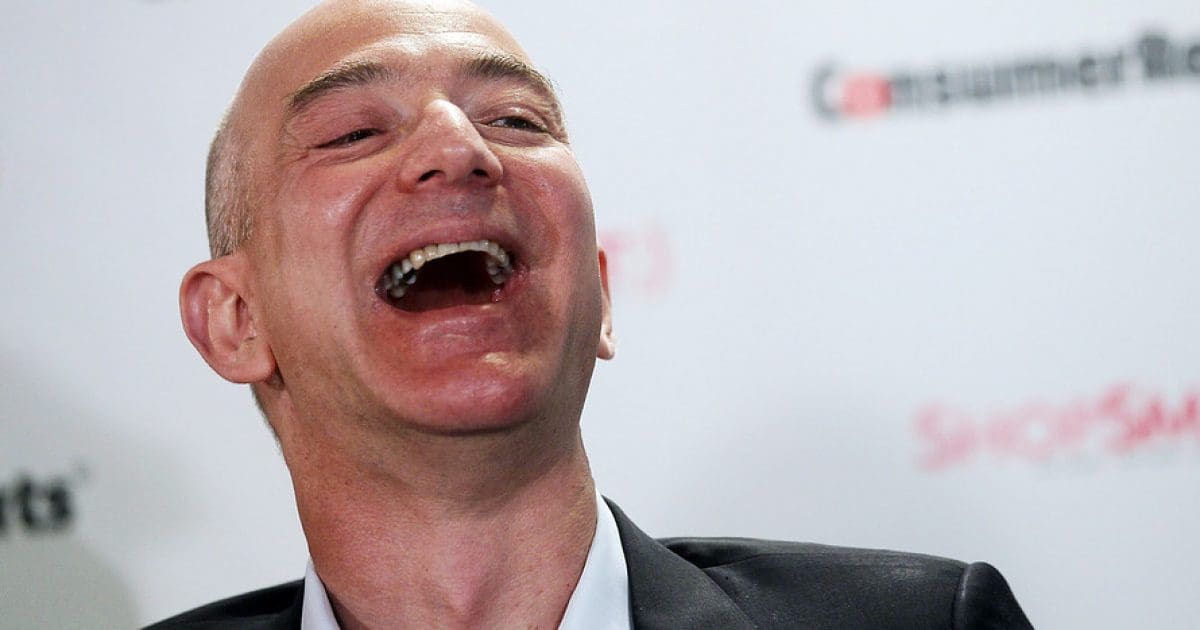 Amazon became the target of a massive backlash after helping themselves to a massive crony capitalist feast earlier this month, announcing that they'd be opening two new headquarters in New York City and Arlington, Virginia. A major point of contention between the behemoth company and area residents exploded as it was revealed that one of the world's wealthiest private companies would be receiving $1.5 billion and $573 million respectively from New York and Virginia state and local governments for the 'gift' of the new facilities.
Even a sizable wealth transfer directly from taxpayers to Amazon may not be enough, it seems. The Wall Street Journal revealed that unnamed employees of Amazon now stand to become beneficiaries of the crony deal, having bought up New Jersey and Queens real estate shortly before the adjacent location of the new New York headquarters became publicly confirmed. While the conveniently timed purchase of the Amazon employees is similar in nature to highly illegal insider trading, real estate lawyers speaking to the Wall Street Journal said they didn't believe trading laws pertaining to real estate as opposed to publicly traded stock existed, making the corporate corruption of the property grab completely legal.
The Democrat Governor of New York, Andrew Cuomo, sought to alleviate the backlash against the massive transfer of taxpayer funds to a company owned by one of the richest people on earth with a strawman argument. He claimed that the sum of $1.5 billion dollars in corporate subsidies handed to Amazon would "cost us nothing," and that only an odd bedfellow's coalition of "extreme conservatives and socialist" would oppose the crony deal.
Trending: EXCLUSIVE: Keith Ellison Pictured With Portland ANTIFA Leader At Minnesota State Fair
$1.5 billion may seem like mere crumbs to the Governor of New York, but the taxpayer could be on the line for much more if the corrupt real estate dealings of Amazon employees is a sign of what's to come for New York and Virginia residents.
Lindsey Graham Leads Senate RINO Coalition Urging President Trump to Protect Foreign Worker Visas
Graham led the letter of RINOs urging Trump to protect foreign labor.
Sen. Lindsey Graham (R-SC) is leading a coalition of RINOs in the Senate urging President Donald Trump to keep visas for foreign workers to take U.S. jobs.
Graham is joined by fellow RINO Sens. John Cornyn of Texas, Mike Crapo of Idaho, James Risch of Idaho, Mike Rounds of South Dakota, Todd Young of Indiana, Lisa Murkowski of Alaska, Dan Sullivan of Alaska, and James Lankford of Oklahoma in signing onto the letter that has the audacity to claim that these foreigners taking jobs from U.S.-born workers will help the economic recovery from the coronavirus pandemic.
"The coronavirus pandemic has brought devastating loss of life and livelihood across our country. As we begin to reopen, we know you have many difficult decisions to make to ensure the road to recovery balances economic wellbeing with the safety of every American," the letter states.
"In part, that balance requires consideration of vulnerable American businesses across all industry sectors, including farming, forestry, packing, hospitality, healthcare, and communications and information technology, all which rely on non-immigrant guest workers to survive," they added – showing that they care more about protecting corporate profits than protecting American workers.
take our poll - story continues below
Completing this poll grants you access to Big League Politics updates free of charge. You may opt out at anytime. You also agree to this site's Privacy Policy and Terms of Use.
The letter urges for Trump to specifically protect the H-2A and H-2B programs to keep so-called temporary workers in the country to steal jobs from American workers who desperately need them.
"As you know, the H-2A and H-2B programs are temporary and seasonal guest worker visa programs that allow businesses to find the help they need when no American worker is available or qualified to fill in the gaps," they wrote, adding that they hoped the Trump administration would "continue to protect American farmers and other small business owners who work hard to provide our country with fresh food and other vital services by not pausing issuance of H-2A visas in the future."
The entirety of the letter can be seen here:
Republican Sens. Graham, Cornyn, Crapo, Risch, Rounds, Young, Murkowski, Sullivan and Lankford write President Trump to urge him not to restrict temporary, work-based visas, which they say will help the economic recovery pic.twitter.com/BPDjcjUXyR

— Michelle Hackman (@MHackman) May 27, 2020
The letter comes in stark contrast to another letter issued by young "America First" conservatives urging President Trump to put U.S. workers first.
Big League Politics reported on how one right-wing student leader appeared last night on Fox News' "Tucker Carlson Tongiht" to discuss the necessity of protecting U.S. workers during the coronavirus pandemic:
San Diego State College Republicans President Oliver Krvaric called for President Donald Trump to end the H-1B and OPT foreign worker programs during an appearance on Tucker Carlson Tonight on Tuesday, citing the danger the frequently abused cheap labor programs pose to the economic prospects of American college graduates.

"So essentially this giving a signal to this administration, letting them know that there is an appetite- especially among young likely voters to take care of the egregious H1B and OPT abuse that's displacing American graduates and professionals across the board," he said.

Krvaric had joined a coalition of College Republican groups across the country calling for an end to the visa worker programs in the midst of the recession. President Trump already enacted what has been called an immigration moratorium, but a lobbying effort by White House liberal Jared Kushner on behalf of globalist business groups limited Trump's executive order to a few immigration restrictions.

The letter from the college Republican coalition staked out several policy proposals that would give American college graduates a real stake in mitigating the effects of the coronavirus recession.
President Trump should listen to his constituents who put him in the White House instead of the RINOs who he was elected to rebuke on immigration and other key issues.