Amazon Hiring Private Intelligence to Target Enemies Like Political Dissidents and Labor Leaders
This is scary.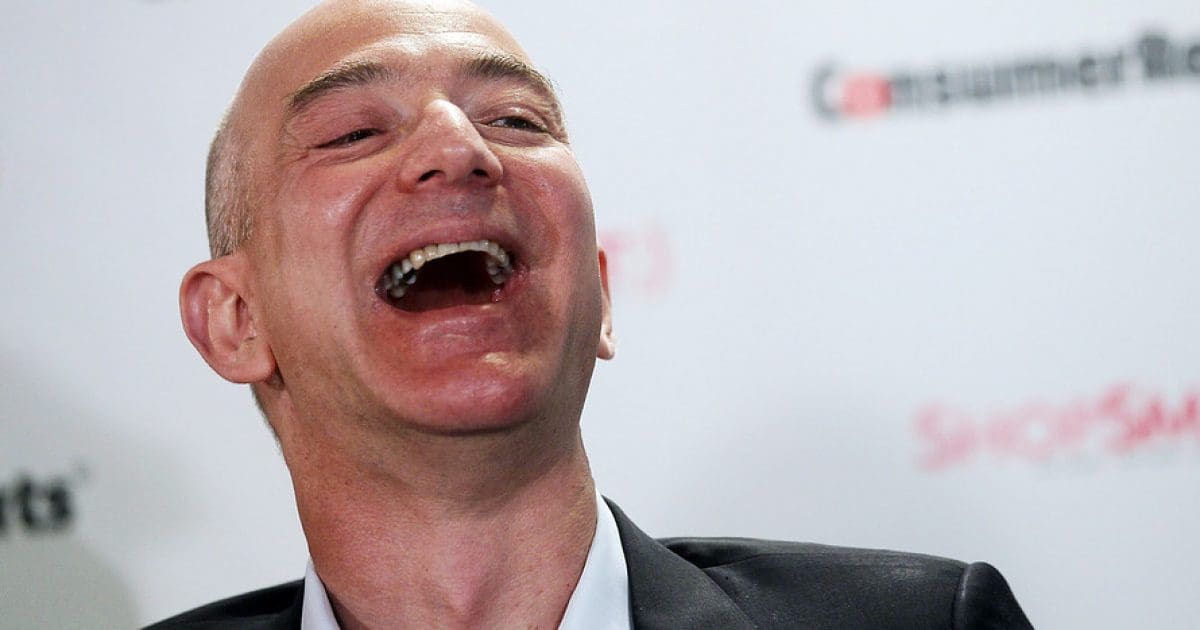 The private corporation Amazon is hiring intelligence goons to target their enemies like political dissidents and labor leaders.
Amazon removed the job posting from their website after anger began to build about the tech monopoly's brazen maneuver to target its enemies with its immense power and wealth.
The job posting requested analysts who could focus on "sensitive topics that are highly confidential, including labor organizing threats against the company," and "establish and track funding and activities connected to corporate campaigns (internal and external) against Amazon."
Trending: Nebraska Small Business Owner Commits Suicide After Being Railroaded With Manslaughter For Defending His Bar From Criminal Rioters
They said that the work would be used to formulate "restraining orders against activist groups." Amazon made their intention clear for their opponents to be jailed, saying that "intelligence assessments are used by Legal to demonstrate to court of law that activist groups harbor intent for continued illegal activity" with regards to the company.
take our poll - story continues below
Completing this poll grants you access to Big League Politics updates free of charge. You may opt out at anytime. You also agree to this site's Privacy Policy and Terms of Use.
The original job posting can be seen here:
Amazon is hiring 'intelligence analysts', who should work
on 'sensitive topics that are highly confidential, including labor organizing threats against the company' and spy on 'organized labor, activist groups, hostile political leaders'.

Via @jfslowik / https://t.co/bE2Hf4BV2m pic.twitter.com/rsSop6EzoH

— Wolfie Christl (@WolfieChristl) September 1, 2020
The groups on Amazon's hit list seemingly include "hate groups, policy initiatives, geopolitical issues, terrorism, law enforcement, and organized labor." They are looking for "previous experience in intelligence analysis and or watch officer skill set in the intelligence community, the military, law enforcement, or a related global security role in the private sector."
Here's another Amazon job listing with a similar description:https://t.co/CyguNTUIRW

In both cases, 'preferred qualifications' include:

'Previous experience in Intelligence analysis and or watch officer skill set in the intelligence community, the military, law enforcement…' pic.twitter.com/EpvcCH4ZIk

— Wolfie Christl (@WolfieChristl) September 1, 2020
Big League Politics reported on how Amazon founder Jeff Bezos rubbed elbows with dead pedophile Jeffrey Epstein's accomplice Ghislaine Maxwell long after it was widely understood that she played a major role in Epstein's illicit operation:
Amazon founder and Washington Post kingpin Jeff Bezos is one of the most influential globalist oligarchs in the world, and he invited Ghislaine Maxwell to a meeting of his secret society for influential writers last year.

VICE has discovered that Maxwell, who has been fingered in civil court documents as the long-time accomplice of Jeffrey Epstein, was invited by Bezos to his Campfire meeting in 2018. She has been called out by many of Epstein's alleged victims as the fiend who helped the late Democrat-affiliated predator groom underage girls for his sex trafficking operation.

Bezos holds his annual Campfire, a gala meeting where he invites Hollywood celebrities, tech moguls, top authors, and other influential figures to mingle under the cover of darkness. Two different attendees confirmed off the record that Maxwell appeared at the 2018 event. She did not appear at the 2019 event that convened last month, following Epstein's mysterious death that was ruled a suicide by the authorities…

Bezos, whose messy public feud with President Donald Trump has become headline news in recent years, sees himself as the new master of reality. He very well may be allying himself with some of the world's seediest actors in service of Moloch toward the ends of a satanic one-world government.
Amazon is one of many Big Tech monopolies that needs to be broken up immediately to stop the Orwellian Nightmare from coming to fruition.
Meet the Alternative to the Drudge Report
Use Real News Feed, not Drudge.
An alternative to the Drudge Report has emerged.
Drudge has been in the news lately after controversy emerged about its recent wave of negative coverage of President Donald Trump.
The otherwise renowned conservative news aggregator has now joined the anti-Trump mania and is routinely putting out content that attacks the president.
Fox News host Tucker Carlson recently described Matt Drudge as a "man of the progressive Left." He told Matthew Lysiak, the author of a biography on Matt Drudge, that "Matt Drudge is now firmly a man of the progressive left. At times, his site is indistinguishable from The Daily Beast or any other woke propaganda outlet posing as a news company."
take our poll - story continues below
Completing this poll grants you access to Big League Politics updates free of charge. You may opt out at anytime. You also agree to this site's Privacy Policy and Terms of Use.
Rumors abounded about Drudge selling out or selling his site to anti-Trump interests and signing a non-disclosure agreement to make sure the controversy surrounding this change in direction was kept under wraps.
No matter how people spin it, Drudge's pivot towards generic anti-Trump journalism has done a number on its traffic. Drudge Report's politically correct descent has opened up a vacuum that needs to be filled by America First media.
Enter Real News Feed.
Unlike Drudge, Real News Feed is willing to compile content from an America First perspective.
That means, anything exposing the flaws in the U.S.'s migration system to exposing legacy conservative outlets such as Fox News for their drift towards anti-America First narratives.
When the conservative movement is stagnating, there has to be a dissident outlet that can actually provide fresh perspectives. Now is not the time for people to play nice. Nor is it appropriate for so-called "conservative" outlets to be pushing narratives that can be found in the mainstream media.
America is going through an unprecedented cultural and political transformation which will require it to have a right that is willing to fight back. At the end of the day, it all starts with having a truly alternative voice in the media. From there, ideas can be disseminated and narratives can be shaped. If it wants to move forward, American nationalism needs as many friendly outlets as possible.
All America Firsters should support Real News Feed.
Follow it here.