American Teenager Killed in Violent Cartel Attack in Mexico
On Saturday night, an America family coming back from a holiday trip fell prey to an attack by a criminal group.
KOCO News reported that an armed gunmen ended up killing a 13-year-old and wounded three other people that night.
The attorney general's office of the Mexican state of Tamaulipas revealed that the child was an American citizen and that the parents were permanent residents of the U.S. So far, the Tamaulipas attorney general's office did not release the victims' names.
Trending: Indian Scientists Discover Hydroxychloroquine Treatment Prevents COVID-19, Vindicating President Trump
The American family was traveling in a Chevrolet SUV with Oklahoma license plates and they were coming back from a holiday trip where they visited relatives in the state of San Luis Potosi.
take our poll - story continues below
Completing this poll grants you access to Big League Politics updates free of charge. You may opt out at anytime. You also agree to this site's Privacy Policy and Terms of Use.
The highway where the attack took place is deemed high risk. It covers an area where criminal organizations like the Gulf Cartel and Zetas are heavily active in.
State Department officials issued the following statement:
"We can confirm that one U.S. citizen was killed, and two U.S. citizens injured, in an attack in Tamaulipas, Mexico on January 4. We offer our sincerest condolences to the family on their loss, and we are providing them all appropriate consular assistance. We are closely monitoring local authorities' investigation into this brutal attack. Out of respect for the family's privacy, we have no further comment at this time."
Conservative commentator Michelle Malkin commented on Twitter:
"Another day, another ambush, another American family snuffed out on the southern border. Let's send thousands of extra American troops to the Middle East!"
Another day, another ambush, another American family snuffed out on the southern border. Let's send thousands of extra American troops to the Middle East! https://t.co/EMmn3B4FiB

— Michelle Malkin (@michellemalkin) January 6, 2020
The violence in Mexico is getting out of hand.
What is taking place in Mexico is no longer random acts of violence involving conventional firearms. A shootout in Culiacan back in October witnessed heavily-armed cartel gunmen overpower the Mexican government. They were able to take drug lord Joaquín "El Chapo" Guzmán's son in the process.
Shortly afterward, an American family of nine fell victim to a brutal cartel attack.
It has become abundantly clear that Mexico is a failed state.
The U.S. will need to shift its security priorities by pulling out of the Middle East and building strong fortifications along the Southern border to prevent Mexico's dysfunction from spilling over into America.
Billionaires Have Made Half a Trillion Dollars While Tens of Millions File for Unemployment
As the number of Americans filing for unemployment approaches 40 million, America's billionaires are cruising along without any worries.
According to a CNBC report, billionaire fortunes climbed by a total of $434 billion since the middle of March,
At the top of the list are Jeff Bezos and Mark Zuckerberg, whose respective fortunes increased by $34.6 and $25 billion, according to the Americans for Tax Fairness and the Institute for Policy Studies' Program for Inequality. Zerohedge noted that both organizations came to this conclusion "based on Forbes data for America's over 600 billionaires collected between March 18 and May 19."
Tyler Durden highlighted the following stats:
take our poll - story continues below

Completing this poll grants you access to Big League Politics updates free of charge. You may opt out at anytime. You also agree to this site's Privacy Policy and Terms of Use.

Percentage-wise, Elon Musk's wealth grew 48% to $36 billion, while Zuckerberg clocked in at 46%. Bezos' wealth grew 31% to $147 billion. His ex-wife, MacKenzie Bezos, saw her wealth increase by roughly 33% to $48 billion. On average, American billionaires saw their net worth grow 15% during the two-month period from $2.948 trillion to $3.382 trillion.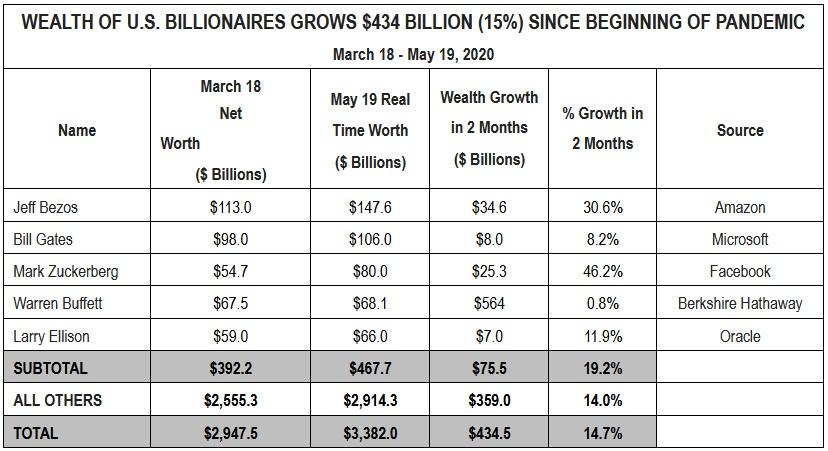 Bezos, Bill Gates, Zuckerberg, Buffett and Larry Ellison saw their wealth increase by a total of $76 billion.
"The surge in billionaire wealth during a global pandemic underscores the grotesque nature of unequal sacrifice," declared Chuck Collins, director of the IPS Program on Inequality and co-author of the Billionaire Bonanza 2020 report. "While millions risk their lives and livelihoods as first responders and front line workers, these billionaires benefit from an economy and tax system that is wired to funnel wealth to the top."
However, some billionaires haven't benefited so much:
Still, the pandemic hasn't been kind to other billionaires – whose yacht upgrades may need to wait. Those in travel and retail have taken a beating. Ralph Lauren saw his wealth drop by $100 million to $5.6 billion, while hotelier John Pritzker has seen a $34 million drop to $2.56 billion. We know, time to get a collection going.