Berkeley Administration is Teaching Illegal Aliens How to Fight Back Against ICE
Campus Reform reports that the University of California, Berkeley has a system in place to protect students and faculty who are illegal immigrants.
Berkeley's Undocumented Student Program (USP) helps provide illegal immigrants on campus with educational and legal assistance. The Los Angeles Times details that the UC system vowed to not cooperate with immigration enforcement officials and turn over private records without first receiving court orders.
The USP provides various resources, which includes a webpage, titled "What to do if ICE comes to your door," a five-step plan that teaches illegal immigrants how to act when confronting an ICE agent.
Trending: Indian Scientists Discover Hydroxychloroquine Treatment Prevents COVID-19, Vindicating President Trump
The first four parts instruct the reader "DO NOT OPEN DOORS," "REMAIN SILENT," "DO NOT SIGN," and "REPORT THE RAID!" and the last step says "FIGHT BACK!"
take our poll - story continues below
Completing this poll grants you access to Big League Politics updates free of charge. You may opt out at anytime. You also agree to this site's Privacy Policy and Terms of Use.
The "FIGHT BACK!" section has a fist image and says "get a trustworthy attorney & explore all options to fight your case. If detained, you may be able to get bail — don't give up hope!"
The USP does not stop with its five-step plan.
The USP also has a "rapid response hotline" that illegal students and faculty can use when dealing with ICE.
Simply by dialing the Alameda County Immigration Legal and Education Partnership-sponsored hotline, Berkley faculty and the student body can warn illegal immigrants in advance about ICE activity on campus.
Carol Christ, the UC Berkeley Chancellor, put the school's USP in the spotlight through a statement on June 26. The statement solidified the university's mission to protect illegal immigrants.
Christ said, "Every member of the UC Berkeley community is a valuable contributor to the university, regardless of immigration status."
The UC Berkeley Chancellor added, "We remain steadfast in welcoming, supporting, and building community with our undocumented students and staff."
She then concluded by warning illegal immigrants on campus about the prospects of ICE going on university grounds to enforce immigration laws.
She warned, "According to media reports, Immigration and Customs Enforcement (ICE) may conduct enforcement activities in the coming weeks. These media reports suggest that ICE is preparing to detain individuals who have missed a court date or have deportation orders."
This is another case of a subversive leftist institution trying to facilitate the Left's mass migration agenda.
After all, demographic trends do point to third world migrants being a voting bloc for leftist causes, so it makes sense for leftist institutions to put policies that encourage these kinds of migration patterns.
Europe is already showing what the consequences of mass migration look like, and America First patriots are taking note.
For that reason, BLP reports that immigration is the #1 issue going into the 2020 elections.
Billionaires Have Made Half a Trillion Dollars While Tens of Millions File for Unemployment
As the number of Americans filing for unemployment approaches 40 million, America's billionaires are cruising along without any worries.
According to a CNBC report, billionaire fortunes climbed by a total of $434 billion since the middle of March,
At the top of the list are Jeff Bezos and Mark Zuckerberg, whose respective fortunes increased by $34.6 and $25 billion, according to the Americans for Tax Fairness and the Institute for Policy Studies' Program for Inequality. Zerohedge noted that both organizations came to this conclusion "based on Forbes data for America's over 600 billionaires collected between March 18 and May 19."
Tyler Durden highlighted the following stats:
take our poll - story continues below

Completing this poll grants you access to Big League Politics updates free of charge. You may opt out at anytime. You also agree to this site's Privacy Policy and Terms of Use.

Percentage-wise, Elon Musk's wealth grew 48% to $36 billion, while Zuckerberg clocked in at 46%. Bezos' wealth grew 31% to $147 billion. His ex-wife, MacKenzie Bezos, saw her wealth increase by roughly 33% to $48 billion. On average, American billionaires saw their net worth grow 15% during the two-month period from $2.948 trillion to $3.382 trillion.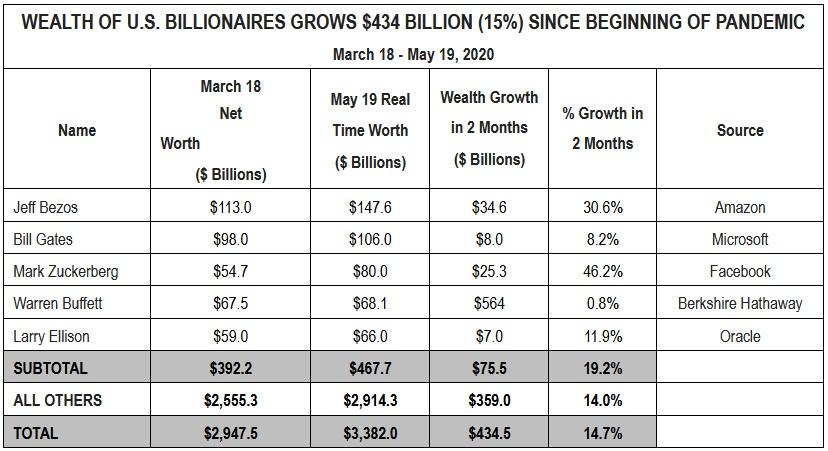 Bezos, Bill Gates, Zuckerberg, Buffett and Larry Ellison saw their wealth increase by a total of $76 billion.
"The surge in billionaire wealth during a global pandemic underscores the grotesque nature of unequal sacrifice," declared Chuck Collins, director of the IPS Program on Inequality and co-author of the Billionaire Bonanza 2020 report. "While millions risk their lives and livelihoods as first responders and front line workers, these billionaires benefit from an economy and tax system that is wired to funnel wealth to the top."
However, some billionaires haven't benefited so much:
Still, the pandemic hasn't been kind to other billionaires – whose yacht upgrades may need to wait. Those in travel and retail have taken a beating. Ralph Lauren saw his wealth drop by $100 million to $5.6 billion, while hotelier John Pritzker has seen a $34 million drop to $2.56 billion. We know, time to get a collection going.