BIG LEAGUE RIGHT AGAIN: New York Times Forced To Admit That FBI Spied On Trump, Stefan Halper Was A Spy
The New York Times was forced to report Thursday that the Federal Bureau of Investigation (FBI) spied on President Donald Trump's campaign, and that Stefan Halper was indeed working with the FBI to spy on the campaign as part of the "Operation Crossfire Hurricane" plot that ensnared General Michael Flynn and others. (READ — HOWLEY: Here's The Full Story of How Obama, Hillary, and Brennan Carried Out The Crime of the Century).
Big League Politics has been reporting extensively on the Trump campaign's victimization by spies including Stefan Halper. (WATCH: Obama Being Revealed As Head Campaign Spy).
The conversation at a London bar in September 2016 took a strange turn when the woman sitting across from George Papadopoulos, a Trump campaign adviser, asked a direct question: Was the Trump campaign working with Russia?
The woman had set up the meeting to discuss foreign policy issues. But she was actually a government investigator posing as a research assistant, according to people familiar with the operation. The F.B.I. sent her to London as part of the counterintelligence inquiry opened that summer to better understand the Trump campaign's links to Russia.
The American government's affiliation with the woman, who said her name was Azra Turk, is one previously unreported detail of an operation that has become a political flash point in the face of accusations by President Trump and his allies that American law enforcement and intelligence officials spied on his campaign to undermine his electoral chances. Last year, he called it "Spygate."
The decision to use Ms. Turk in the operation aimed at a presidential campaign official shows the level of alarm inside the F.B.I. during a frantic period when the bureau was trying to determine the scope of Russia's attempts to disrupt the 2016 election, but could also give ammunition to Mr. Trump and his allies for their spying claims…
Ms. Turk went to London to help oversee the politically sensitive operation, working alongside a longtime informant, the Cambridge professor Stefan A. Halper. The move was a sign that the bureau wanted in place a trained investigator for a layer of oversight, as well as someone who could gather information for or serve as a credible witness in any potential prosecution that emerged from the case.
A spokesman for the F.B.I. declined to comment, as did a lawyer for Mr. Halper, Robert D. Luskin. Last year, Bill Priestap, then the bureau's top counterintelligence agent who was deeply involved in the Russia inquiry, told Congress during a closed-door hearing that there was no F.B.I. conspiracy against Mr. Trump or his campaign.
New York Times passage ends
Trending: Indian Scientists Discover Hydroxychloroquine Treatment Prevents COVID-19, Vindicating President Trump
Watch my video from May 2018 identifying Stefan Halper as the spy.
take our poll - story continues below
Completing this poll grants you access to Big League Politics updates free of charge. You may opt out at anytime. You also agree to this site's Privacy Policy and Terms of Use.
Billionaires Have Made Half a Trillion Dollars While Tens of Millions File for Unemployment
As the number of Americans filing for unemployment approaches 40 million, America's billionaires are cruising along without any worries.
According to a CNBC report, billionaire fortunes climbed by a total of $434 billion since the middle of March,
At the top of the list are Jeff Bezos and Mark Zuckerberg, whose respective fortunes increased by $34.6 and $25 billion, according to the Americans for Tax Fairness and the Institute for Policy Studies' Program for Inequality. Zerohedge noted that both organizations came to this conclusion "based on Forbes data for America's over 600 billionaires collected between March 18 and May 19."
Tyler Durden highlighted the following stats:
take our poll - story continues below

Completing this poll grants you access to Big League Politics updates free of charge. You may opt out at anytime. You also agree to this site's Privacy Policy and Terms of Use.

Percentage-wise, Elon Musk's wealth grew 48% to $36 billion, while Zuckerberg clocked in at 46%. Bezos' wealth grew 31% to $147 billion. His ex-wife, MacKenzie Bezos, saw her wealth increase by roughly 33% to $48 billion. On average, American billionaires saw their net worth grow 15% during the two-month period from $2.948 trillion to $3.382 trillion.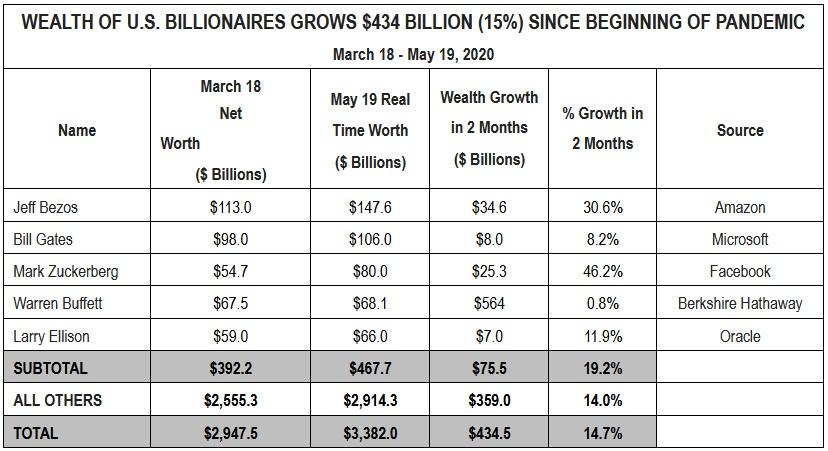 Bezos, Bill Gates, Zuckerberg, Buffett and Larry Ellison saw their wealth increase by a total of $76 billion.
"The surge in billionaire wealth during a global pandemic underscores the grotesque nature of unequal sacrifice," declared Chuck Collins, director of the IPS Program on Inequality and co-author of the Billionaire Bonanza 2020 report. "While millions risk their lives and livelihoods as first responders and front line workers, these billionaires benefit from an economy and tax system that is wired to funnel wealth to the top."
However, some billionaires haven't benefited so much:
Still, the pandemic hasn't been kind to other billionaires – whose yacht upgrades may need to wait. Those in travel and retail have taken a beating. Ralph Lauren saw his wealth drop by $100 million to $5.6 billion, while hotelier John Pritzker has seen a $34 million drop to $2.56 billion. We know, time to get a collection going.