Bill Clinton Makes Statement Admitting Lots of Interaction With Epstein
Former Democrat president Bill Clinton released a statement Monday through a spokesperson acknowledging numerous interactions with his frequent travel companion Jeffrey Epstein.
Bill Clinton has issued a statement responding to the recent indictment against Jeffrey Epstein. pic.twitter.com/Ok1x1Usr7R

— Kambree Kawahine Koa (@KamVTV) July 8, 2019
Trending: CHILLING: Former FBI Official and MSNBC Host Float Creating False Flags to Entrap White 'Extremists'
Accused child sex trafficker Jeffrey Epstein claimed that he was a co-founder of the Clinton Global Initiative, a subsidiary of the scandal-plagued Clinton Foundation. Bill Clinton was a frequent Epstein travel companion.
take our poll - story continues below
Completing this poll grants you access to Big League Politics updates free of charge. You may opt out at anytime. You also agree to this site's Privacy Policy and Terms of Use.
Malia Zimmerman reported in 2016:
Attorneys for convicted sex offender Jeffrey Epstein touted his close friendship with Bill Clinton and even claimed the billionaire helped start Clinton's controversial family foundation in a 2007 letter aimed at boosting his image during plea negotiations…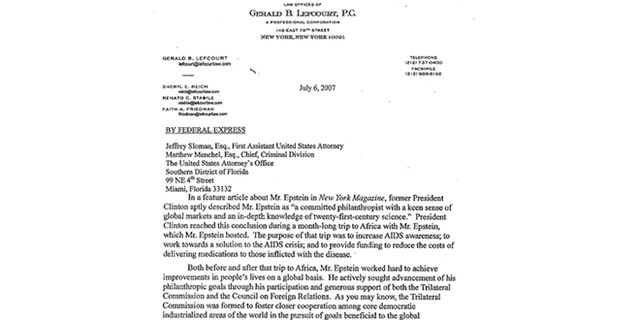 "Mr. Epstein was part of the original group that conceived the Clinton Global Initiative, which is described as a project 'bringing together a community of global leaders to devise and implement innovative solutions to some of the world's most pressing challenges," read the July 2007 letter to the U.S. Attorney's office in the Southern District of Florida. "Focuses of this initiative include poverty, climate change, global health, and religious and ethnic conflicts.""
Zimmerman's Fox News passage ends
The U.S. District Court Judge presiding over the Jeffrey Epstein child trafficking case was appointed to the federal bench by former president Bill Clinton, a frequent travel companion of Epstein. Epstein actually claimed to be a co-founder of the Clinton Foundation.
Richard Berman was appointed by Bill Clinton in 1998. He presided over Dinesh D'Souza's case where D'Souza was convicted of re-imbursing friends to evade campaign contribution limits in a New York election.
Meanwhile, disgraced former FBI director James Comey's daughter Maurene is one of the prosecutors in the case.
Convicted pedophile Jeffrey Epstein pleaded the Fifth Amendment in court to avoid having to admit to his personal friendship with former President Bill Clinton.
Court documents (p. 34) reviewed by The Daily Caller reveal that Epstein took the Fifth to avoid self-incrimination in a deposition when directly asked, "Do you know former President Clinton personally?" Epstein made the plea in a 2010-2011 civil case between Epstein and Florida lawyer Brad Edwards, who sued Epstein on behalf of some of Epstein's alleged victims.
Bypass Tech Censorship!
Facebook, Twitter and Google are actively restricting conservative content through biased algorithms. Silicon Valley doesn't want you to read our articles. Bypass the censorship, sign up for our newsletter now!
Have a hot tip for Big League Politics?
Got a hot news tip for us? Photos or video of a breaking story? Send your tips, photos and videos to tips@bigleaguepolitics.com. All hot tips are immediately forwarded to BLP Staff.
Have something to say? Send your own guest column or original reporting to submissions@bigleaguepolitics.com.
Join the conversation!
We have no tolerance for comments containing violence, racism, profanity, vulgarity, doxing, or discourteous behavior. Thank you for partnering with us to maintain fruitful conversation.
POLL: Hispanics Support Big Government Across The Board
Even Hispanics Republicans are to the Left of the Average Republican
Pew Research released some interesting statistics highlighting Latino voters' views on national political problems based on a survey they conducted on Latino adults this past December.
Record numbers of Latinos — 32 million — will be voting in the 2020 general election. This exceeds the number of eligible black voters for the first time in history.
According to the results, the majority of Hispanic voters favor more government involvement on issues ranging from minimum wage to gun control.
62 percent of registered voters identify or lean toward the Democrat Party, whereas 34 percent connect with or lean in the direction of the Republican Party.
take our poll - story continues below
Completing this poll grants you access to Big League Politics updates free of charge. You may opt out at anytime. You also agree to this site's Privacy Policy and Terms of Use.
Several key findings stood out:
Most Hispanic voters (71%) say the government should do more to solve problems, while 27% say government is doing too many things better left to businesses and individuals.
The findings by Jens Manuel Krogstad, Mark Hugo Lopez and Abby Budiman revealed that 82 percent of Hispanics who identify with or lean Democrat "say the government should do more to solve problems, compared with 51% of those who affiliate with or lean toward the GOP."
As far as minimum wage is concerned, the three authors found some interesting results
On the minimum wage, a large majority of Hispanic voters (79%) say they favor raising it to $15 an hour, including more than half (56%) who say they strongly favor this change. Majorities in both parties favor raising the minimum wage, though Hispanic Democrats are much more likely than Hispanic Republicans to do so (88% vs. 62%, respectively).
The same Hispanic support for big government held true for healthcare which the authors noted below:
Hispanic voters generally believe the U.S. government should play a role in providing health care to Americans. About seven-in-ten (71%) say it is the federal government's responsibility to make sure all Americans have health care coverage, including 38% who favor a national health insurance system and 32% who prefer a mix of private and government health care coverage. Around a quarter (28%) say it is not the government's responsibility to make sure all Americans have health care coverage, though most in this group say they prefer to keep Medicare and Medicaid.
When broken down across partisan lines, there were some key differences between Hispanics Democrats and Hispanic Republicans:
Hispanic Democrats and Republicans have different views on the role government should play in providing health coverage. About eight-in-ten Hispanic Democratic voters (84%) say it is the government's responsibility to ensure Americans have health care, with 49% supporting a national health insurance system. Meanwhile, about half (51%) of Hispanic Republican voters say it is not the government's responsibility to ensure universal coverage, though most in this group prefer to keep Medicare and Medicaid.
Interestingly, Hispanic Republicans were considerably to the Left of the average Republican voter on healthcare. 24 percent of Republican voters believe that the government should be responsible for guaranteeing healthcare coverage.
For gun control, there was also a noticeable Hispanic majority in favor of stricter gun laws:
"Around seven-in-ten Hispanic voters (68%) say gun laws should be stricter than they are today, while 24% say current gun laws are about right. Only 7% say gun laws should be less strict. The survey was conducted several months after a mass shooting in El Paso, Texas, involving a suspect who said he targeted Mexicans."
Similarly, there was a sharp partisan gap on gun control among Hispanics:
Among Hispanic Democratic voters, 80% say gun laws should be stricter. Hispanic Republican voters are more evenly divided, with 44% saying gun laws should be stricter and 42% saying gun laws are about right.
In the Republican case, Hispanics Republicans are to the Left of Republican voters on gun control. Only 27 percent of Republican voters want stricter gun laws.
All things considered, continued mass migration will not only ensure eventual Democrat Party domination in the near future, but also a more leftist Republican opposition that now has a big government faction within its ranks.
Graphics from the study can be referenced below: