Bill Clinton Makes Statement Admitting Lots of Interaction With Epstein
Former Democrat president Bill Clinton released a statement Monday through a spokesperson acknowledging numerous interactions with his frequent travel companion Jeffrey Epstein.
Bill Clinton has issued a statement responding to the recent indictment against Jeffrey Epstein. pic.twitter.com/Ok1x1Usr7R

— Kambree Kawahine Koa (@KamVTV) July 8, 2019
Trending: Shipments of 20,000+ Fake US Driver's Licenses From China Intercepted at Chicago Airport
Accused child sex trafficker Jeffrey Epstein claimed that he was a co-founder of the Clinton Global Initiative, a subsidiary of the scandal-plagued Clinton Foundation. Bill Clinton was a frequent Epstein travel companion.
take our poll - story continues below
Completing this poll grants you access to Big League Politics updates free of charge. You may opt out at anytime. You also agree to this site's Privacy Policy and Terms of Use.
Malia Zimmerman reported in 2016:
Attorneys for convicted sex offender Jeffrey Epstein touted his close friendship with Bill Clinton and even claimed the billionaire helped start Clinton's controversial family foundation in a 2007 letter aimed at boosting his image during plea negotiations…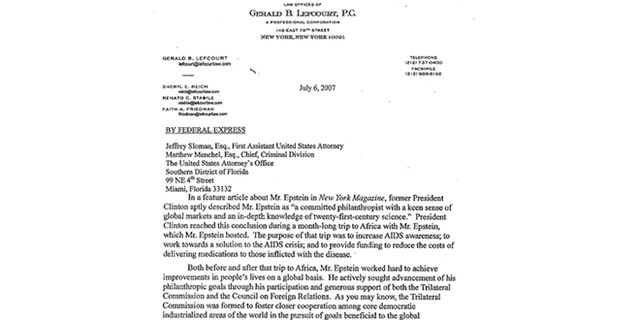 "Mr. Epstein was part of the original group that conceived the Clinton Global Initiative, which is described as a project 'bringing together a community of global leaders to devise and implement innovative solutions to some of the world's most pressing challenges," read the July 2007 letter to the U.S. Attorney's office in the Southern District of Florida. "Focuses of this initiative include poverty, climate change, global health, and religious and ethnic conflicts.""
Zimmerman's Fox News passage ends
The U.S. District Court Judge presiding over the Jeffrey Epstein child trafficking case was appointed to the federal bench by former president Bill Clinton, a frequent travel companion of Epstein. Epstein actually claimed to be a co-founder of the Clinton Foundation.
Richard Berman was appointed by Bill Clinton in 1998. He presided over Dinesh D'Souza's case where D'Souza was convicted of re-imbursing friends to evade campaign contribution limits in a New York election.
Meanwhile, disgraced former FBI director James Comey's daughter Maurene is one of the prosecutors in the case.
Convicted pedophile Jeffrey Epstein pleaded the Fifth Amendment in court to avoid having to admit to his personal friendship with former President Bill Clinton.
Court documents (p. 34) reviewed by The Daily Caller reveal that Epstein took the Fifth to avoid self-incrimination in a deposition when directly asked, "Do you know former President Clinton personally?" Epstein made the plea in a 2010-2011 civil case between Epstein and Florida lawyer Brad Edwards, who sued Epstein on behalf of some of Epstein's alleged victims.
Mexico is in Third Place for Wuhan Virus Deaths Yet Democrats Still Want to Open the Floodgates to Mass Migration
According to the John Hopkins Coronavirus Resource Center, Mexico is ranked in third place for Wuhan virus deaths.
The country has 462,690 confirmed cases, with 50,517 people having died from the virus. This puts Mexico's case fatality rate at 10.9 percent
According to a report from Breitbart News, Mexican officials assert that the "high number of fatalities is due to the fact that people are fat and eat junk food."
There is speculation that the numbers disclosed by the Mexican government have been filled with cases of rampant undercounting. Some officials believe that the numbers could be three times as high as those officially recorded, according to a Breitbart Texas report.
take our poll - story continues below
Completing this poll grants you access to Big League Politics updates free of charge. You may opt out at anytime. You also agree to this site's Privacy Policy and Terms of Use.
As of August 7, 2020, the following countries led the way in terms of Wuhan virus related deaths.
United States — 160,104 fatalities
Brazil — 98,493 fatalities
Mexico — 50,517 fatalities
Although the conventional narrative is that high diabetes and obesity rates contributed to Mexico's high Wuhan virus death count, Ildefonso Ortiz of Breitbart News pointed to information from the government epidemiology oversight database which "revealed that in Mexico City, many of the fatal patients were actually otherwise-healthy young adults who did not have access to a ventilator" according to a Forbes report.
Regardless of what the root causes of Mexico's Wuhan virus death are, the U.S. needs to get serious about fully securing its border.
Let's face it, Mexico is a failed state and its problems will inevitably make their way to the U.S. if the border remains relaxed.
With Democrat candidate Joe Biden calling for radical open borders policies, the U.S. is on the cusp of unleashing a tidal wave of social and public health dysfunction should he beat President Trump in November.
The Trump administration needs to get serious about this matter and completely secure the border while exposing Biden's mass migration radicalism.