Bill Clinton Makes Statement Admitting Lots of Interaction With Epstein
Former Democrat president Bill Clinton released a statement Monday through a spokesperson acknowledging numerous interactions with his frequent travel companion Jeffrey Epstein.
Bill Clinton has issued a statement responding to the recent indictment against Jeffrey Epstein. pic.twitter.com/Ok1x1Usr7R

— Kambree Kawahine Koa (@KamVTV) July 8, 2019
Trending: North Carolina Police Officer Viciously Beaten as Onlookers Laugh, Film for 11 Minutes
Accused child sex trafficker Jeffrey Epstein claimed that he was a co-founder of the Clinton Global Initiative, a subsidiary of the scandal-plagued Clinton Foundation. Bill Clinton was a frequent Epstein travel companion.
take our poll - story continues below
Completing this poll grants you access to Big League Politics updates free of charge. You may opt out at anytime. You also agree to this site's Privacy Policy and Terms of Use.
Malia Zimmerman reported in 2016:
Attorneys for convicted sex offender Jeffrey Epstein touted his close friendship with Bill Clinton and even claimed the billionaire helped start Clinton's controversial family foundation in a 2007 letter aimed at boosting his image during plea negotiations…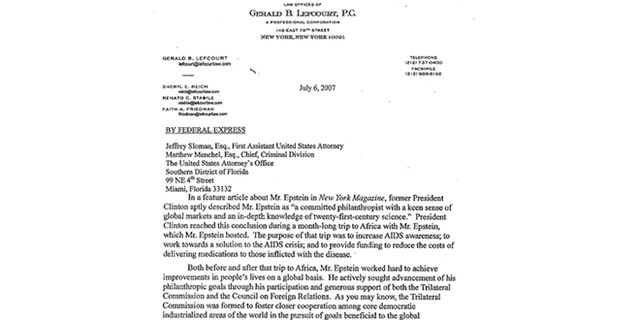 "Mr. Epstein was part of the original group that conceived the Clinton Global Initiative, which is described as a project 'bringing together a community of global leaders to devise and implement innovative solutions to some of the world's most pressing challenges," read the July 2007 letter to the U.S. Attorney's office in the Southern District of Florida. "Focuses of this initiative include poverty, climate change, global health, and religious and ethnic conflicts.""
Zimmerman's Fox News passage ends
The U.S. District Court Judge presiding over the Jeffrey Epstein child trafficking case was appointed to the federal bench by former president Bill Clinton, a frequent travel companion of Epstein. Epstein actually claimed to be a co-founder of the Clinton Foundation.
Richard Berman was appointed by Bill Clinton in 1998. He presided over Dinesh D'Souza's case where D'Souza was convicted of re-imbursing friends to evade campaign contribution limits in a New York election.
Meanwhile, disgraced former FBI director James Comey's daughter Maurene is one of the prosecutors in the case.
Convicted pedophile Jeffrey Epstein pleaded the Fifth Amendment in court to avoid having to admit to his personal friendship with former President Bill Clinton.
Court documents (p. 34) reviewed by The Daily Caller reveal that Epstein took the Fifth to avoid self-incrimination in a deposition when directly asked, "Do you know former President Clinton personally?" Epstein made the plea in a 2010-2011 civil case between Epstein and Florida lawyer Brad Edwards, who sued Epstein on behalf of some of Epstein's alleged victims.
Thanks to Spineless, Establishment Republicans, Senate Panel Delays Vote to Subpoena Big Tech CEOs
Republicans Continue to Show Pathetic They are on the Issues that Matter Most
America First nationalist's hopes of having Big Tech CEOs testify before Congress about allegations of censorship directed towards the Right were temporarily dashed on October 19, 2020.
Politico reported that the Senate Judiciary Committee delayed plans to vote on subpoenas to force the CEOs of Twitter and Facebook to go before the Senate and be questioned about their anti-Right wing censorship policies.
Some Republicans ended up having cold feet and decided to postpone the vote much to the disappointment of right wing activists who have complained about Big Tech's anti-free speech policies.
President Donald Trump and a number of nationalist Republicans have sharply criticized Facebook and Twitter over their censorship of a controversial New York Post report that exposed Hunter Biden, Democrat presidential candidate Joe Biden's son, and his corrupt behavior.
take our poll - story continues below
Completing this poll grants you access to Big League Politics updates free of charge. You may opt out at anytime. You also agree to this site's Privacy Policy and Terms of Use.
Originally, GOP officials in the Judiciary Committee announced plans to hold a markup on October 20 to determine if they would subpoena Twitter CEO Jack Dorsey to get his perspective on allegations concerning his company's policies that muzzle conservative viewpoints. Twitter denies claims regarding Twitter's censorship policies.
South Carolina Senator Lindsey Graham, who is the Chair of the Judiciary Committee, revealed that the planned vote would also call on Facebook CEO Mark Zuckerberg to testify.
The panel stated on October 19 that it would determine whether they would issue subpoenas during a executive session on October 22 where it will also allegedly approve Supreme Court nominee Amy Coney Barrett. The committee declared in a statement that it will maintain negotiations with the companies "to allow for voluntary testimony" by the CEO. However, if an agreement cannot be reached, the panel will proceed to take a vote on the subpoenas "at a date to be determined."
The subpoenas would compel the tech big wigs to testify on the reports of "suppression and/or censorship" of New York Post stories and on "any other content moderation policies, practices, or actions that may interfere with or influence elections for federal office," according to a committee document released on October 19.
Texas Senator Ted Cruz, who is the chair of the Judiciary's Subcommittee on the Constitution said to reporters that he's expecting the committee to preside over testimonies from the Twitter and Facebook chiefs "shortly" regardless of whether they come to the decision on their own volition.
"One way or another, either voluntarily or pursuant to subpoena, they will testify and they will testify before the election," Cruz stated.
In a separate hearing for the Senate Commerce Committee, Zuckerberg and Dorsey will join Google CEO Sundar Pichai on October 28 for a hearing on Section 230 of the Communications Decency Act, which generally shields Big Tech companies from a liability.
Cruz, who is a member of both Judiciary and Commerce committees, wants each panel to carry out their own hearings with the tech chiefs before election day. "I believe we need a separate hearing in Judiciary because the issues being discussed in the two committees are different," Cruz remarked.
Big Tech has become too powerful, especially during a time when social media has become the de facto public square. Republicans will need to get serious about making online speech receive the same treatment as general political speech.