Bill Clinton Makes Statement Admitting Lots of Interaction With Epstein
Former Democrat president Bill Clinton released a statement Monday through a spokesperson acknowledging numerous interactions with his frequent travel companion Jeffrey Epstein.
Bill Clinton has issued a statement responding to the recent indictment against Jeffrey Epstein. pic.twitter.com/Ok1x1Usr7R

— Kambree Kawahine Koa (@KamVTV) July 8, 2019
Trending: Democrats Move to Ban Trump Supporters From Joining the Military and Holding Federal Jobs
Accused child sex trafficker Jeffrey Epstein claimed that he was a co-founder of the Clinton Global Initiative, a subsidiary of the scandal-plagued Clinton Foundation. Bill Clinton was a frequent Epstein travel companion.
take our poll - story continues below
Completing this poll grants you access to Big League Politics updates free of charge. You may opt out at anytime. You also agree to this site's Privacy Policy and Terms of Use.
Malia Zimmerman reported in 2016:
Attorneys for convicted sex offender Jeffrey Epstein touted his close friendship with Bill Clinton and even claimed the billionaire helped start Clinton's controversial family foundation in a 2007 letter aimed at boosting his image during plea negotiations…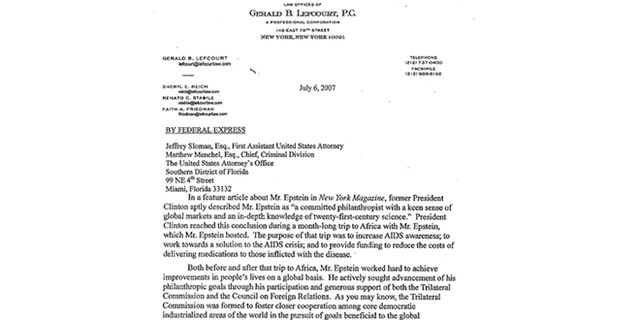 "Mr. Epstein was part of the original group that conceived the Clinton Global Initiative, which is described as a project 'bringing together a community of global leaders to devise and implement innovative solutions to some of the world's most pressing challenges," read the July 2007 letter to the U.S. Attorney's office in the Southern District of Florida. "Focuses of this initiative include poverty, climate change, global health, and religious and ethnic conflicts.""
Zimmerman's Fox News passage ends
The U.S. District Court Judge presiding over the Jeffrey Epstein child trafficking case was appointed to the federal bench by former president Bill Clinton, a frequent travel companion of Epstein. Epstein actually claimed to be a co-founder of the Clinton Foundation.
Richard Berman was appointed by Bill Clinton in 1998. He presided over Dinesh D'Souza's case where D'Souza was convicted of re-imbursing friends to evade campaign contribution limits in a New York election.
Meanwhile, disgraced former FBI director James Comey's daughter Maurene is one of the prosecutors in the case.
Convicted pedophile Jeffrey Epstein pleaded the Fifth Amendment in court to avoid having to admit to his personal friendship with former President Bill Clinton.
Court documents (p. 34) reviewed by The Daily Caller reveal that Epstein took the Fifth to avoid self-incrimination in a deposition when directly asked, "Do you know former President Clinton personally?" Epstein made the plea in a 2010-2011 civil case between Epstein and Florida lawyer Brad Edwards, who sued Epstein on behalf of some of Epstein's alleged victims.
Ohio Republican Rob Portman Announces that He Won't Be Seeking Re-Election
America first nationalists must capitalize on this opening in the senate.
On January 25, 2021, Ohio Senator Rob Portman announced that he will not be seeking re-election in 2022. The 2022 election cycle will be a critical mid-term cycle which will determine what course the Republican Party will take in the wake of Trump's defeat.
According to a report at The Epoch Times, Portman cited "partisan gridlock in Congress and political polarization" as his main reasons for leaving the Senate. 
"I feel fortunate to have been entrusted by the people of Ohio to represent them in the U.S. Senate. Today, I am announcing that I have made a decision not to run again in 2022," Portman said in a statement.
The Republican senator continued, "I don't think any Senate office has been more successful in getting things done, but honestly, it has gotten harder and harder to break through the partisan gridlock and make progress on substantive policy, and that has contributed to my decision."
take our poll - story continues below
Completing this poll grants you access to Big League Politics updates free of charge. You may opt out at anytime. You also agree to this site's Privacy Policy and Terms of Use.
In Portman's view, the United States has become "increasingly polarized where members of both parties are being pushed further to the right and further to the left, and that means too few people who are actively looking to find common ground." Portman also contended that "This is not a new phenomenon, of course, but a problem that has gotten worse over the past few decades." He concluded by stating that  "This is a tough time to be in public service."
Portman accompanies his colleagues Pennsylvania Senator Pat Toomey and North Carolina Senator Richard Burr in retiring from office. Portman's presence won't be missed. He voted for the Iraq War and even betrayed President Trump by voting against his national emergency declaration at the border. To add insult to injury, Portman has routinely talked smack about President Trump behind his back. 
2022 is shaping up to be an interesting year for Republicans with numerous seats in play. With regards to open seats, there will be unique opportunities for America First nationalists to shine in. Ohio is ground zero for the emerging populist realignment taking place in America. Once a state that could go either way during a given election cycle, Ohio is now a safe Republican state. 
America First nationalists should milk this opening for what it's worth and place a staunch nationalist to run for the open GOP seat in 2022. This will be the first midterm where populists can begin purging the party of neocons and other establishment types.