Billionaires Have Made Half a Trillion Dollars While Tens of Millions File for Unemployment
As the number of Americans filing for unemployment approaches 40 million, America's billionaires are cruising along without any worries.
According to a CNBC report, billionaire fortunes climbed by a total of $434 billion since the middle of March.
At the top of the list are Jeff Bezos and Mark Zuckerberg, whose respective fortunes increased by $34.6 and $25 billion, according to the Americans for Tax Fairness and the Institute for Policy Studies' Program for Inequality. Zerohedge noted that both organizations came to this conclusion "based on Forbes data for America's over 600 billionaires collected between March 18 and May 19."
Trending: REJECTED: Marjorie Taylor Greene Stops Cori Bush's Amendment to Allow Violent Convicted Felons to Vote
Tyler Durden highlighted the following stats:
take our poll - story continues below

Completing this poll grants you access to Big League Politics updates free of charge. You may opt out at anytime. You also agree to this site's Privacy Policy and Terms of Use.

Percentage-wise, Elon Musk's wealth grew 48% to $36 billion, while Zuckerberg clocked in at 46%. Bezos' wealth grew 31% to $147 billion. His ex-wife, MacKenzie Bezos, saw her wealth increase by roughly 33% to $48 billion. On average, American billionaires saw their net worth grow 15% during the two-month period from $2.948 trillion to $3.382 trillion.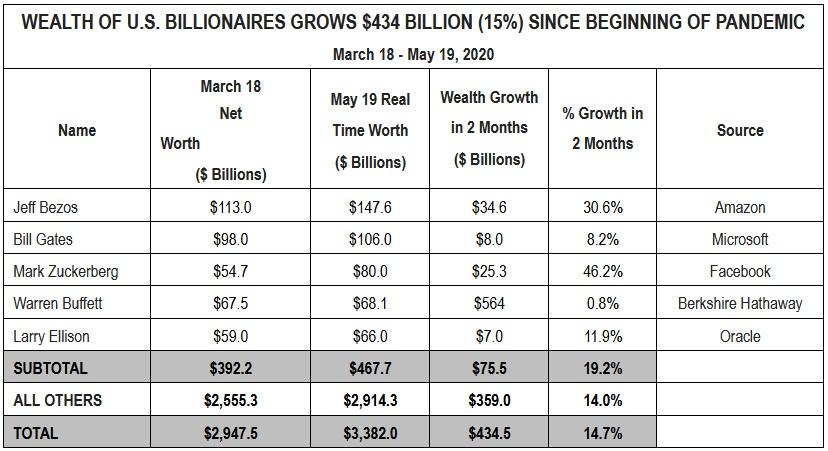 Bezos, Bill Gates, Zuckerberg, Buffett and Larry Ellison saw their wealth increase by a total of $76 billion.
"The surge in billionaire wealth during a global pandemic underscores the grotesque nature of unequal sacrifice," declared Chuck Collins, director of the IPS Program on Inequality and co-author of the Billionaire Bonanza 2020 report. "While millions risk their lives and livelihoods as first responders and front line workers, these billionaires benefit from an economy and tax system that is wired to funnel wealth to the top."
However, some billionaires haven't benefited so much:
Still, the pandemic hasn't been kind to other billionaires – whose yacht upgrades may need to wait. Those in travel and retail have taken a beating. Ralph Lauren saw his wealth drop by $100 million to $5.6 billion, while hotelier John Pritzker has seen a $34 million drop to $2.56 billion. We know, time to get a collection going.
Democrats Introduce Expanded Background Check Legislation
Democrats are going to implement a background check which targets "extremism."
Connecticut Senator Chris Murphy and California Congressman Mike Thompson brought forward legislation on March 2, 2021 that aims to broaden the federal background check system on firearms sales, according to a report by The Hill.
Under The Background Check Expansion Act,  gun sales and purchases between all unlicensed sellers and buyers would be subject to a mandatory background check. The background checks would not be applicable for law enforcement officers, lending out firearms for the purpose of hunting, temporary transfers for self-defense, or family members gifting a firearm. 
Senate Majority Leader Chuck Schumer and 43 Senate Democrats have co-sponsored this bill. Thompson, who is the chair of the House Gun Violence Prevention Task Force, reintroduced this legislation in the U.S. House
"For years, the bipartisan House-passed background checks bill languished in the Senate under Republican Leader Mitch McConnell. Now, with Senate Democrats in the Majority, we have the opportunity to act on this overwhelmingly popular, lifesaving legislation to protect American communities," Schumer declared in a press release.
take our poll - story continues below
Completing this poll grants you access to Big League Politics updates free of charge. You may opt out at anytime. You also agree to this site's Privacy Policy and Terms of Use.
According to a CBS News report, President Joe Biden has repeatedly called on Congress to pass stiffer gun control laws. This gun control bill will not pass so easily given how it will need 10 Republican senators to vote in favor of it.
Against the backdrop of the January 6 storming of the Capitol, such a background check will likely feature provisions that target so-called "extremists." The ruling class has routinely lumped average gun owners with domestic extremists and will most certainly use recent events to justify encroachments on people's right to bear arms. 
Biden is a veteran of the gun control movement, as evidenced by his sponsorship of the Gun-Free School Zones Act of 1990 and the 1994 Assault Weapons Ban. With Democrats in control of all branches of the federal government, they will certainly move to pass gun control. However, their success is not guaranteed due to moderate Democrats like Arizona Senator Kyrsten Sinema and West Virginia Joe Manchin not being completely receptive to radical gun control that could alienate them from their more right-wing constituents.
Nevertheless, the Left has shown that it's willing to act regardless of the political context. Keeping this in mind, gun owners must be ready to beat back any kind of gun control coming from D.C. Such fights will allow the Right to rebuild its forces and make a splash in the 2022 midterms and the 2024 presidential race.