Billionaires Have Made Half a Trillion Dollars While Tens of Millions File for Unemployment
As the number of Americans filing for unemployment approaches 40 million, America's billionaires are cruising along without any worries.
According to a CNBC report, billionaire fortunes climbed by a total of $434 billion since the middle of March.
At the top of the list are Jeff Bezos and Mark Zuckerberg, whose respective fortunes increased by $34.6 and $25 billion, according to the Americans for Tax Fairness and the Institute for Policy Studies' Program for Inequality. Zerohedge noted that both organizations came to this conclusion "based on Forbes data for America's over 600 billionaires collected between March 18 and May 19."
Trending: REPORT: Epstein Associate Ghislane Maxwell Possesses "Stash of Pedophile Sex Tapes"
Tyler Durden highlighted the following stats:
take our poll - story continues below

Completing this poll grants you access to Big League Politics updates free of charge. You may opt out at anytime. You also agree to this site's Privacy Policy and Terms of Use.

Percentage-wise, Elon Musk's wealth grew 48% to $36 billion, while Zuckerberg clocked in at 46%. Bezos' wealth grew 31% to $147 billion. His ex-wife, MacKenzie Bezos, saw her wealth increase by roughly 33% to $48 billion. On average, American billionaires saw their net worth grow 15% during the two-month period from $2.948 trillion to $3.382 trillion.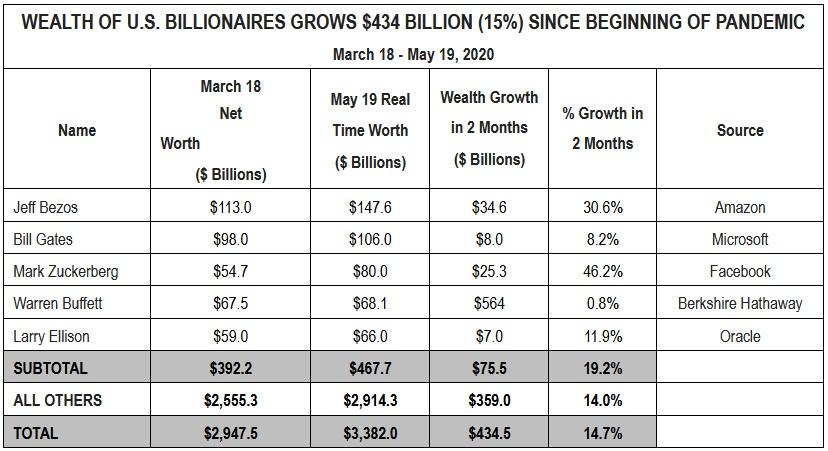 Bezos, Bill Gates, Zuckerberg, Buffett and Larry Ellison saw their wealth increase by a total of $76 billion.
"The surge in billionaire wealth during a global pandemic underscores the grotesque nature of unequal sacrifice," declared Chuck Collins, director of the IPS Program on Inequality and co-author of the Billionaire Bonanza 2020 report. "While millions risk their lives and livelihoods as first responders and front line workers, these billionaires benefit from an economy and tax system that is wired to funnel wealth to the top."
However, some billionaires haven't benefited so much:
Still, the pandemic hasn't been kind to other billionaires – whose yacht upgrades may need to wait. Those in travel and retail have taken a beating. Ralph Lauren saw his wealth drop by $100 million to $5.6 billion, while hotelier John Pritzker has seen a $34 million drop to $2.56 billion. We know, time to get a collection going.
Tennessee's Marsha Blackburn Calls on Ilhan Omar to Resign After Minnesota Democrat Calls to "Dismantle" U.S. "System of Oppression"
Omar appeared to refer to the American economy and political system as "oppression."
Tennessee Senator Marsha Blackburn called upon Minnesota Democrat Congresswoman Ilhan Omar to resign from office on Tuesday, hours after Omar had appeared to endorse the "dismantling" of the American "economy and political systems," calling them a "system of oppression."
Democrat Rep. Ilhan Omar calls for "dismantling" of the U.S. "economy and political systems"https://t.co/c4n8U2deIV pic.twitter.com/mrKvlaiGyi

— RNC Research (@RNCResearch) July 7, 2020
"As long as our economy and our political systems prioritize profit without considering who is profiting, who is being shutout, we will perpetuate this inequality. We cannot stop at the criminal justice system. We must begin the work to dismantle the whole system of oppression wherever we find it."
take our poll - story continues below
Completing this poll grants you access to Big League Politics updates free of charge. You may opt out at anytime. You also agree to this site's Privacy Policy and Terms of Use.
Omar had made the remarks in the context of arguing that Democratic "criminal justice reform" was insufficient to answer the demands of the Black Lives Matter movement, calling for a more dramatic and wide-ranging restructuring of American society.
Blackburn called on the Minnesota freshman Democrat to resign hours after the anti-American speech in a tweet, stating that Omar could no longer credibly follow her oath to preserve the Constitution after referring to the American system broadly as a "system of oppression."
Ilhan Omar took an oath to defend and protect the Constitution, not shred it. Omar and her Marxist comrades are a threat to our Democracy. Omar should resign.https://t.co/ujBGxbWXtR

— Sen. Marsha Blackburn (@MarshaBlackburn) July 7, 2020
Omar's grandfather Abukar Omar had served as a government official in the dictatorship of Siad Barre in Somalia, and the Omar family sought political refuge in the United States when the Barre dictatorship-known for its human rights abuses and a mass killing of minorities thought of by some as a genocide- was overthrown in a civil war.