Billionaires Have Made Half a Trillion Dollars While Tens of Millions File for Unemployment
As the number of Americans filing for unemployment approaches 40 million, America's billionaires are cruising along without any worries.
According to a CNBC report, billionaire fortunes climbed by a total of $434 billion since the middle of March.
At the top of the list are Jeff Bezos and Mark Zuckerberg, whose respective fortunes increased by $34.6 and $25 billion, according to the Americans for Tax Fairness and the Institute for Policy Studies' Program for Inequality. Zerohedge noted that both organizations came to this conclusion "based on Forbes data for America's over 600 billionaires collected between March 18 and May 19."
Trending: President Donald Trump to Hold "Tremendous" MAGA Rally in Georgia for GOP Senators
Tyler Durden highlighted the following stats:
take our poll - story continues below

Completing this poll grants you access to Big League Politics updates free of charge. You may opt out at anytime. You also agree to this site's Privacy Policy and Terms of Use.

Percentage-wise, Elon Musk's wealth grew 48% to $36 billion, while Zuckerberg clocked in at 46%. Bezos' wealth grew 31% to $147 billion. His ex-wife, MacKenzie Bezos, saw her wealth increase by roughly 33% to $48 billion. On average, American billionaires saw their net worth grow 15% during the two-month period from $2.948 trillion to $3.382 trillion.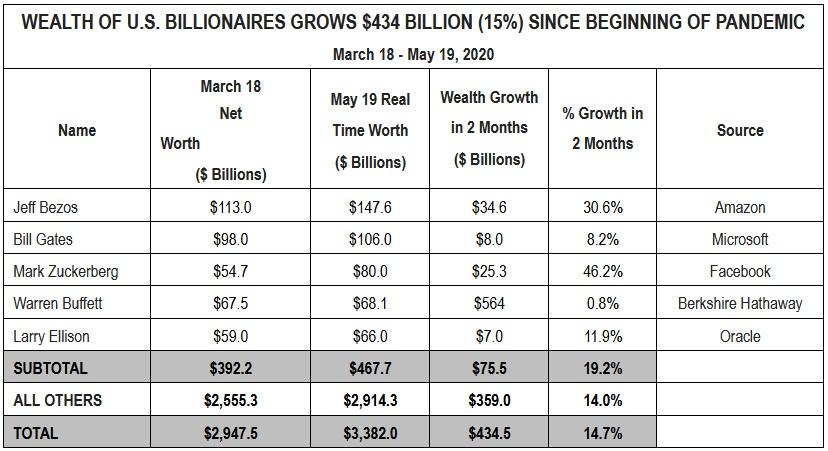 Bezos, Bill Gates, Zuckerberg, Buffett and Larry Ellison saw their wealth increase by a total of $76 billion.
"The surge in billionaire wealth during a global pandemic underscores the grotesque nature of unequal sacrifice," declared Chuck Collins, director of the IPS Program on Inequality and co-author of the Billionaire Bonanza 2020 report. "While millions risk their lives and livelihoods as first responders and front line workers, these billionaires benefit from an economy and tax system that is wired to funnel wealth to the top."
However, some billionaires haven't benefited so much:
Still, the pandemic hasn't been kind to other billionaires – whose yacht upgrades may need to wait. Those in travel and retail have taken a beating. Ralph Lauren saw his wealth drop by $100 million to $5.6 billion, while hotelier John Pritzker has seen a $34 million drop to $2.56 billion. We know, time to get a collection going.
Starbucks Barista FIRED After Refusing to Wear "Pride" T-Shirt for Religious Reasons, According to Lawsuit
She is a Christian and was apparently told by her manager that she didn't have to wear it.
A former Starbucks barista is filing an unlawful discrimination lawsuit against the coffee giant, claiming they fired her for refusing to wear a "Pride" t-shirt that violated her Christian religious convictions.
Betsy Fresse started working as a barista in December 2015. After transferring to a Glen Ridge, New Jersey, store in early 2019, managers apparently "assured" her that her Christian faith wouldn't be an issue.
Then in June 2019, she noticed a box of Pride shirts on a desk and asked if they'd make her wear one. Her store manager said she wouldn't have to, but two months later she found herself out of a job after being terminated by a district manager.
A notice of separation claims that Fresse was fired for violating Starbucks' "core values." It specifically mentions an incident where she said her colleagues "need Jesus" when given the "Pride" shirt.
take our poll - story continues below
Completing this poll grants you access to Big League Politics updates free of charge. You may opt out at anytime. You also agree to this site's Privacy Policy and Terms of Use.
Starbucks maintains that "no part of our dress code requires partners to wear any approved items that they have not personally selected" and that Fresse's claims are "without merit," in a comment to the New York Post.
So Starbucks denies that she was fired for not wearing the shirt, yet their notice of separation appears to claim that they fired her for something she said about Jesus. Not a good look either way.
Fresse is seeking backpay, punitive damages, money to cover the cost of an attorney, and a permanent injunction that prevents Starbucks from "failing to accommodate […] sincerely held religious beliefs."
Starbucks has long been a major player in the world of Woke Capital. Back in February Big League Politics reported on how the British branch of Starbucks was raising money for a pro-transgender lobbying group:
The U.K. branch of Starbucks is raising money to push for the chemical castration and surgical mutilation of children.

Nathanael Blake at The Federalist reported that the multinational titan is selling special mermaid-shaped cookies to help the pro-transgender lobbying group Mermaids. Curiously, the group's founder took her underage son to Thailand to undergo a castration procedure.

Blake correctly observed "That Starbucks is supporting this group illustrates how thoroughly radicals have conquered both the LGBT movement and corporate culture."

He also called attention to how "In a few years the fight has shifted from government recognition of same-sex relationships as legal marriages to mastectomies, sterilization, and castration for children."
Here's hoping that Betsy Fresse is successful in her lawsuit.