Billionaires Have Made Half a Trillion Dollars While Tens of Millions File for Unemployment
As the number of Americans filing for unemployment approaches 40 million, America's billionaires are cruising along without any worries.
According to a CNBC report, billionaire fortunes climbed by a total of $434 billion since the middle of March.
At the top of the list are Jeff Bezos and Mark Zuckerberg, whose respective fortunes increased by $34.6 and $25 billion, according to the Americans for Tax Fairness and the Institute for Policy Studies' Program for Inequality. Zerohedge noted that both organizations came to this conclusion "based on Forbes data for America's over 600 billionaires collected between March 18 and May 19."
Trending: ILHAN'S DISTRICT: 17-Year-Old GOP Volunteer Shot Dead Outside of Gas Station in Minneapolis
Tyler Durden highlighted the following stats:
take our poll - story continues below

Completing this poll grants you access to Big League Politics updates free of charge. You may opt out at anytime. You also agree to this site's Privacy Policy and Terms of Use.

Percentage-wise, Elon Musk's wealth grew 48% to $36 billion, while Zuckerberg clocked in at 46%. Bezos' wealth grew 31% to $147 billion. His ex-wife, MacKenzie Bezos, saw her wealth increase by roughly 33% to $48 billion. On average, American billionaires saw their net worth grow 15% during the two-month period from $2.948 trillion to $3.382 trillion.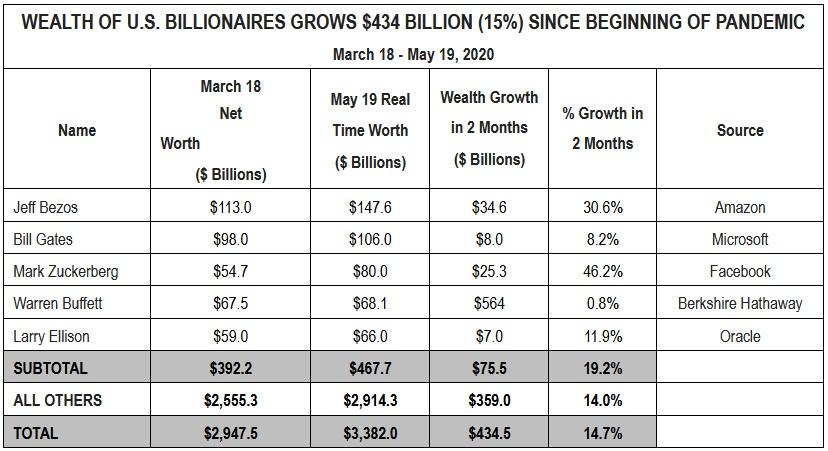 Bezos, Bill Gates, Zuckerberg, Buffett and Larry Ellison saw their wealth increase by a total of $76 billion.
"The surge in billionaire wealth during a global pandemic underscores the grotesque nature of unequal sacrifice," declared Chuck Collins, director of the IPS Program on Inequality and co-author of the Billionaire Bonanza 2020 report. "While millions risk their lives and livelihoods as first responders and front line workers, these billionaires benefit from an economy and tax system that is wired to funnel wealth to the top."
However, some billionaires haven't benefited so much:
Still, the pandemic hasn't been kind to other billionaires – whose yacht upgrades may need to wait. Those in travel and retail have taken a beating. Ralph Lauren saw his wealth drop by $100 million to $5.6 billion, while hotelier John Pritzker has seen a $34 million drop to $2.56 billion. We know, time to get a collection going.
U.S. Law Enforcement Bust 27 People Connected to Mexican Sinaloa Cartel
Over two dozen people were arrested on drug charges in connection to a Mexican cartel smuggling cocaine into the U.S. Following a two-year investigation, 27 people were arrested through Operation Tripwire, an investigation effort U.S. officials have been working on featuring members of the Sinaloa Cartel.
The trafficking network went from Los Angeles, California to Tucson, Arizona and Pittsburgh, Pennsylvania where cocaine originating from Mexico was smuggled stateside. The United States Attorney for the Western District of Pennsylvania, Scott Brady declared "this is a large organization that was trafficking hundreds of kilograms of cocaine throughout the country and has direct ties to the Sinaloa cartel in Mexico."
U.S. authorities recounted that the investigations started after an agent in Pittsburgh was able to identify an address that received large quantities of suspicious-looking packages coming from California. Since then, agents started to do investigation on other members of the network across the U.S.
Across the span of seven months, authorities were able to intercept U.S. calls made by some of the alleged traffickers with Sinaloa carte leaders in Mexico. On September 9, 2020, 27 were arrested in Arizona, California, and Pennsylvania.
take our poll - story continues below
Completing this poll grants you access to Big League Politics updates free of charge. You may opt out at anytime. You also agree to this site's Privacy Policy and Terms of Use.
According to American authorities, $1.3 million in cash and over 140 kilograms of cocaine were seized. The aforementioned people arrested are now facing a prison sentence of between 10 years and life in prison.
The border situation is no joke. Prior administrations have largely neglected the issue and have allowed for unprecedented levels of illegal immigration and drug trafficking to cross the U.S. border.
In a prior instance, BLP reported on how Mexico is a failed state that cannot maintain public order and is largely being pushed around by cartels. Due to its proximity to the U.S., Mexico's problems will likely spillover stateside.
This is why border security is crucial. Thankfully, the U.S. has a president in Donald Trump that gets the memo. He'll still need help from Congress, however,
That's why it's crucial that America First Republicans have strong showings at all branches of government in 2020.