Charlie Kirk Thinks You're 'Dangerous' For Wanting To Protect American Sovereignty
During an event at the University of Nevada, Reno, a Zoomer in the audience confronted the head of Turning Point USA Charlie Kirk on the issue of immigration.
The student specifically grilled Kirk on the impact of the Hart-Celler Act, (Immigration and Nationality Act of 1965).
Trending: Indian Scientists Discover Hydroxychloroquine Treatment Prevents COVID-19, Vindicating President Trump
The student first stated "My home state has gone to shit, and it's mainly because of mass immigration."
take our poll - story continues below
Completing this poll grants you access to Big League Politics updates free of charge. You may opt out at anytime. You also agree to this site's Privacy Policy and Terms of Use.
Kirk quickly defended immigration saying that so long as illegal immigration is curtailed, he's fine with it.
He believes that anti-immigration conservatives are "dangerous."
The Turning Point founder reiterated that his immigration system would be focused on trying to find the next "Peter Thiel" or "Elon Musk".
Kirk then claimed that only 400,000 legal immigrants come in per year, whereas the student corrected him by noting that legal 1.1 million immigrants are granted legal permanent residency in America annually.
The student expressed some skepticism towards "whether that number is sustainable for any first world country."
BLP reached out to Kirk for comments, but he has not responded so far.
One of the most important moments during this encounter was the discussion of the political implications of mass migration. The student pointed out to Kirk that immigrants vote overwhelmingly Democrat.
Certain figures show that current mass migration policies favor the Democratic Party in the long-term. The nationalist YouTuber Vincent James has done multiple videos demonstrating how mass migration may turn out to be the Democratic Party's electoral trump card in solidifying their stranglehold over American politics.
In a recent video, James believes that conservative figures like Kirk have been co-opted by a donor class who wants to maintain the mass migration status quo.
And recent elections may be proving James' points. Results from the 2018 elections indicate that 90 percent of House districts with a foreign-born population above the national average went the Democratic Party's way.
Apart from electoral and economic effects, there are legitimate assimilation concerns with a massive influx of migrants. Europe offers a cautionary tale of the cultural impact of mass migration with the development of ethnic enclaves throughout countries such as France and the United Kingdom. Many of these zones prevent proper assimilation for countless immigrants.
Indeed, the immigration question is sensitive but it requires firm answers that prioritize national interests while also building a system that attracts immigrants of the highest quality possible.
Billionaires Have Made Half a Trillion Dollars While Tens of Millions File for Unemployment
As the number of Americans filing for unemployment approaches 40 million, America's billionaires are cruising along without any worries.
According to a CNBC report, billionaire fortunes climbed by a total of $434 billion since the middle of March,
At the top of the list are Jeff Bezos and Mark Zuckerberg, whose respective fortunes increased by $34.6 and $25 billion, according to the Americans for Tax Fairness and the Institute for Policy Studies' Program for Inequality. Zerohedge noted that both organizations came to this conclusion "based on Forbes data for America's over 600 billionaires collected between March 18 and May 19."
Tyler Durden highlighted the following stats:
take our poll - story continues below

Completing this poll grants you access to Big League Politics updates free of charge. You may opt out at anytime. You also agree to this site's Privacy Policy and Terms of Use.

Percentage-wise, Elon Musk's wealth grew 48% to $36 billion, while Zuckerberg clocked in at 46%. Bezos' wealth grew 31% to $147 billion. His ex-wife, MacKenzie Bezos, saw her wealth increase by roughly 33% to $48 billion. On average, American billionaires saw their net worth grow 15% during the two-month period from $2.948 trillion to $3.382 trillion.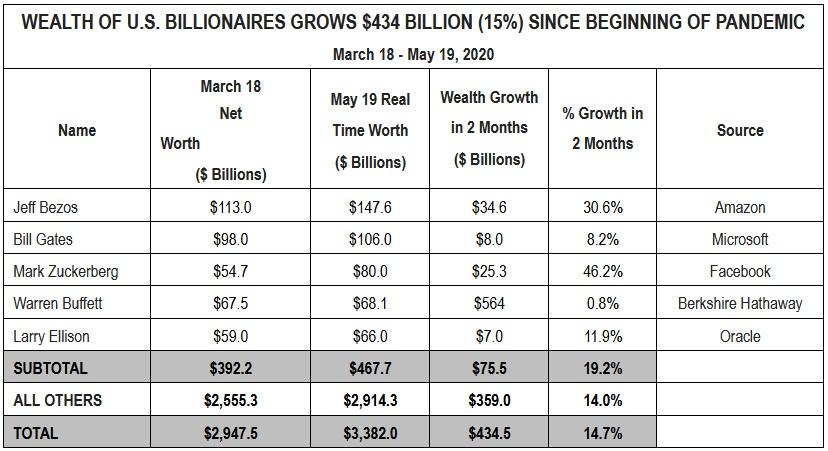 Bezos, Bill Gates, Zuckerberg, Buffett and Larry Ellison saw their wealth increase by a total of $76 billion.
"The surge in billionaire wealth during a global pandemic underscores the grotesque nature of unequal sacrifice," declared Chuck Collins, director of the IPS Program on Inequality and co-author of the Billionaire Bonanza 2020 report. "While millions risk their lives and livelihoods as first responders and front line workers, these billionaires benefit from an economy and tax system that is wired to funnel wealth to the top."
However, some billionaires haven't benefited so much:
Still, the pandemic hasn't been kind to other billionaires – whose yacht upgrades may need to wait. Those in travel and retail have taken a beating. Ralph Lauren saw his wealth drop by $100 million to $5.6 billion, while hotelier John Pritzker has seen a $34 million drop to $2.56 billion. We know, time to get a collection going.