Exclusive: Black conservative Gianno Caldwell tells how he got the gig on Fox News
The Chicago-born-and-bred African-American Fox News commentator and Republican strategist told Big League Politics he achieves his dreams by never giving up on his dreams–with a lot of help along the way.
Gianno Caldwell was signed by Fox News in September on the wave of response to his emotional plea to President Donald J. Trump after the president said that during the August protests in Charlottesville, Virginia, there were good people on both sides.
Trump failed the nation, he said:
Mr. President, good people don't pal around with Nazis and white supremacists. Maybe they don't consider themselves white supremacists and Nazis; certainly they hold those views. This has become very troubling for anyone to come on any network and defend what President Trump did and said at that press conference yesterday. 
Trending: Ex-Soviet Leader Gorbachev: US Capitol Riot "Planned in Advance, And It Is Clear by Whom"
take our poll - story continues below
Completing this poll grants you access to Big League Politics updates free of charge. You may opt out at anytime. You also agree to this site's Privacy Policy and Terms of Use.
In addition to his pundit duties on both Fox News and Fox Business, Caldwell continues to work as a red carpet reporter for "ExtraTV," both in Washington and his new home in Los Angeles.
Before his emotional response to Trump's remarks about Charlottesville, Caldwell went viral doing a segment on Fox News with radio talk show host Richard Fowler. Caldwell and Fowler were debating Trump's call for federal intervention as a solution to Chicago's gun violence.
Fowler: What the audience doesn't know is that I am from Chicago. I work in Chicago. I am in Chicago almost once a week and I can tell you, if you talk to people of Chicago–
Caldwell: Bruh, bruh, bruh! You're from Evanston, Richard. In order for you to know about Chicago, you'd have to read the newspapers. You're not from Chicago, bruh.
Watch Gianno Caldwell call out Richard Fowler for pretending to be from Chicago:
"You're either going to like me or you're not, but truthfully, a lot of us go on these television shows, we go on as guests and we go on for free, the hope is that we can get a contract," he said.
"I know people, they work at certain networks and they just look at what other people are saying and they just join the crowd," he said.
"But, for me? It is a matter of authenticity," he said. "I am not competing against any other black conservative on the network, I'm competing against myself every day."
Previous to his Fox gig, Caldwell was a regular on MSNBC, CNN and One America News.
Caldwell said he arrived in Washington in July 2012 as a staffer for the presidential campaign of former Massachusetts governor W. Mitt Romney. In Chicago, he had worked as a political consultant, but after working in Washington, for Romney–he made the decision to stay.
"I got a job on Capitol Hill for a congressman named John Shimkus, interning as I was looking for work," he said. "Of course, the sequester was going on and the Republican staff were being laid off, the trade associations, corporations and firms–they weren't hiring because the Tea Party had taken over Congress, so nothing was moving."
Caldwell said he would have great interviews, but the answer was either he was too qualified or did not have enough experience. "About 90 percent of them told me that no one was going to hire me and that I should go back to Chicago. One guy was belligerent, he told me: 'Nobody gives a sh%t about your Illinois experience. You're wasting your time here.'"
During the job search, the Chicago native was also pitching clients for his lobbying and consulting business, he said. "I finally landed my first client, I landed my first client, which was a community hospital in Chicago."
With one client and the weight of too many failed job applications, Caldwell said he struck up a conversation with a life coach, who told him he needed to meet Armstrong Williams.
Williams first walked on the national stage during the 1991 Clarence Thomas hearings, when the television news cameras could not get enough of the young, conservative African-American defender of Thomas.
After his star turn in 1991, Williams built a media empire and despite its sprawl, continues to host a daily radio show, now heard on SiriusXM 126, the Urban View Channel.
Caldwell said he took the advice to heart and for months worked to get a meeting with Williams. When that meeting came, the 15-minute grip-and-grin turned into a two-hour session, where both men bonded over their shared experiences in politics and life.
"At the end of that meeting, he asked me to write a piece for The Washington Times on lobbying," he said. "In the piece, I called lobbying the greatest job in the world and he loved it."
Williams connected Caldwell to Project 21, an outreach to minority conservatives, which then began distributing the Chicagoan's op-eds through its network and on its own website, which led to regular hits on radio stations across the country, he said.
After nearly three years in Washington, Caldwell said he landed his first TV hit Feb. 9, 2015 on the fledgling One America News–then in operation less than two years.
"Out of all the television I did in the beginning, the one that was the most helpful for me was the Thom Hartmann show," he said. Hartmann was the host of "The Big Picture," which was carried on the RT channel. The hour-long program, which ending in January 2017, was for seven years the premiere showcase of up-and-coming conservatives voices.
Watch Gianno Caldwell on "The Big Picture" hosted by Thom Hartmann:
Hartmann is a hard-core progressive, but he loved the give-and-take with feisty conservatives. "His show–the variety of voices–some of them, possibly insane–it was such a variety, and you would see how people on these very long panels, how they would operate, how they would respond to questions."
Before going on the set, you would make friends with other guests in Hartmann's Green Room, but then on the set, they would be calling you a monster," he said.
"You had to go over so many topics and you have to do so much research for the show and understand all the different points of view and how to counter them, that is probably where I learned best how to debate–it was the foundation for it."
In early 2016, one of Caldwell's clients, who was president of the National Bar Association, took him to one of his segments with Wolf Blitzer," he said. "I went up to Wolf and said: 'It's a pleasure to meet you, here's my card. Let me know if there is anything I can do for you.' I didn't pitch myself or anything like that. Later, his producer reaches out: 'Hey, heard you were here, I was out-of-town, let me know if you have any press releases, et cetera.'"
The two men had coffee a few days later and in the middle of his pitch, the producer cut Caldwell off and told him: "We only deal with the big names. Keep working. Maybe in five years, you'll be able to come on our air."
It was not the first time, Caldwell said he heard discouragement. Instead of backing off, the young GOP consultant worked the producer over for the next two months, inviting him for drinks or for lunch.
The Chicagoan said that lobbying and his improving segments on One America News and with Thom Hartmann convinced the producer to get him a shot at CNN on weekends.
"My desire was to be on the Fox News channel, but it was so difficult," he said.
"I was thinking: 'I'm a young conservative talent.' I was shocked that the Fox producers would never respond to my emails," he said. "It was rather surprising to me. I would think it would make a lot of sense, but I could not get any traction."
There was no traction until he found a video of Eboni K. Williams on Twitter.
"I was like: 'Wow! This woman very smart. She is really good,' so I looked at more of her stuff, followed her on Twitter," he said. "After that point, everywhere I would go, everyone I would go, her name would come up. I was in South Carolina. Then, on the roof of a hotel, someone mentions her. I'm in the Admiral Club on the 98th floor in Chicago, someone mentions her. I'm at a New Years Eve dinner, with Armstrong and his whole crew, and her name comes up–and I say: 'You know what? Next time, I guest host Armstrong's show, I am going to invite her on.'"
The gambit worked. After the two had a segment on President Barack Obama's executive actions to restrict gun rights, Caldwell said Williams sent him a thank you and told him to look her up in New York City.
When the two met face-to-face in the City, Caldwell said he was had his pitch ready.
Once they say down, Williams told him: "The good news here is that I have been following your career and I want to help you."
It was great to not have to ask for help, he said.
A week later, Williams took Caldwell into Fox News.
"She took me into the basement and introduced me to the producers–it was so amazing, she went up to one of the producers.
"Hey, this is Gianno Caldwell, she vouched for me: 'All you have to do is put a mic on him and give him a topic and he is ready to go,'" she said.
The producer said: OK.
Then, "It would be good to cancel me for next week and put us on together."
When Williams asked the producer if he wanted to see clips on Caldwell on air, he said it was not needed. "Your word is good enough."
Caldwell said Williams continued to mentor him and
"
Parler CEO John Matze Forced to Flee Home Under Deluge of Left-Wing Terror Threats
Matze is suing Amazon for deplatforming Parler.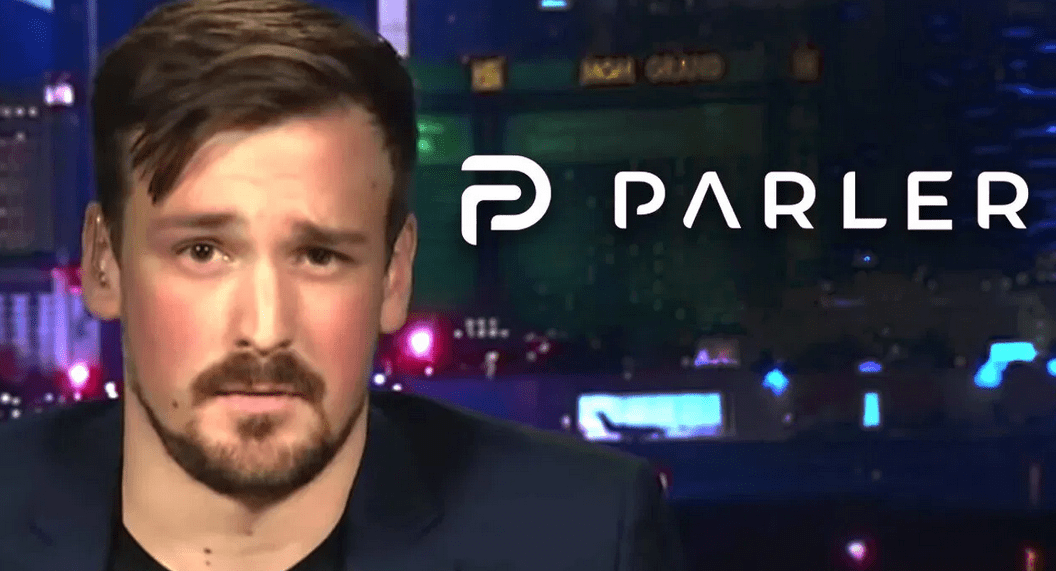 Parler CEO John Matze has been forced to flee his home and go into hiding after receiving an onslaught of left-wing death threats. Parler, a free speech social media platform, has been temporarily shut down in an extensive deplatforming campaign. Amazon promptly cut Parler's access to its Web Services after the US Capitol riot earlier this month, cherry-picking examples of content that violate Parler's terms of service and claiming the platform is being used for violent purposes.
Matze made the frank admission in a court filing for Parler's lawsuit against Amazon, requesting that the court keep any disclosures about his personal life and location secret. Parler is currently suing Amazon in federal court for its immediate revocation of Parler's hosting agreement, arguing that Amazon agreed to provide 30 days notice before any potential termination of Parler's hosting, pursuant to the party's original agreement.
Matze reveals that he's been forced to leave his home and go into hiding with his family, citing Amazon Web Services' "vilification" of his company.
take our poll - story continues below
Completing this poll grants you access to Big League Politics updates free of charge. You may opt out at anytime. You also agree to this site's Privacy Policy and Terms of Use.
Employees of Amazon have allegedly been threatened and harassed as well for shutting down Parler. The court filing in favor of redaction references these threats in requesting the court provide redaction of personal information to both sides.
"Both sides of this dispute have shown that their employees have suffered real harassment and threats—including, on both sides, death threats—owing to the charged nature of this litigation.
Parler therefore agrees with AWS that safety and security concerns justify the limited sealings requested here," Parler requests in the Amazon lawsuit.
Parler's administrators are still seeking to return the free speech social media platform to full operation, although it could take weeks to bring it back online. They may have learned a lesson about the futility of contracting hosting services with a Big Tech monopoly such as Amazon.
---
Follow me on Twitter @Wildman_AZ, on Parler @Moorhead, and on Gab @WildmanAZ.