EXPOSÉ: The Hypocrisy of GoFundMe's Support of ANTIFA and Persecution of Rittenhouse
Following Kyle Rittenhouse's acquittal in his self-defense trial on Friday, GoFundMe, the fundraising website which had previously banned Kyle's fundraiser for funds for his legal fees, announced in a statement that they had now lifted his ban. The motives behind this are questionable to say the least, considering that Rittenhouse's trial is already over now, and he was able to reach his legal fund goal using an alternative source, Christian fundraising website GiveSendGo.
Once charges for a violent crime were brought against Kyle Rittenhouse in 2020, GoFundMe removed fundraisers that were started for the defendant's legal defense. We did this as part of our regular monitoring efforts; in addition to those fundraisers, our Trust & Safety team removed hundreds of other fundraisers between August and December 2020 — unrelated to Rittenhouse — that we determined were in violation of this long-standing policy.

GoFundMe Policy on Fundraisers for the Legal Defense of Violent Crimes
So supposedly Rittenhouse's GoFundMe page was taken down because he was accused of a violent crime, however, over the past year and a half, GoFundMe has repeatedly allowed fundraising for members of Black Lives Matter and ANTIFA groups apprehended during the sinister race riots in the wake of the death of George Floyd.
Simply typing in a few short phrases like 'Black Lives Matter' or 'Protest' on GoFundMe's website can pull up all sorts of colorful characters, including: CHARGED WITH BANK ROBBERY DURING GEORGE FLOYD RIOT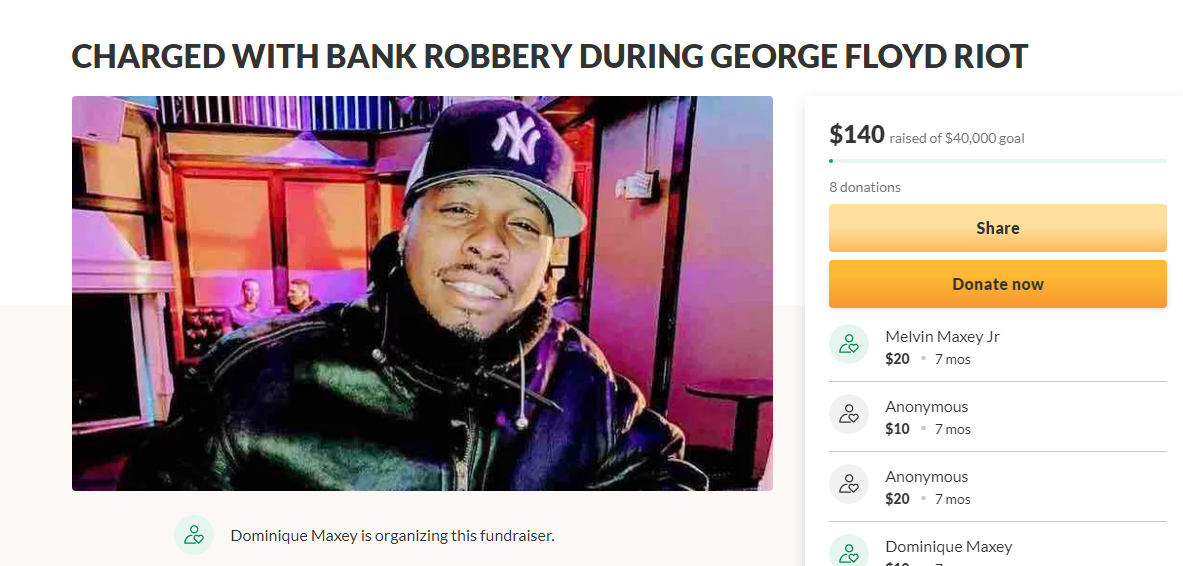 GoFundMe also allowed Kenneth Walker III, who shot Louisville Police Officer Sgt John Mattingly to raise over $230k. How's that for not promoting violent crime?

Many Twitter users were quick to call out GoFundMe's hypocrisy, including one who highlighted a fundraiser by Zachary Alexander Karas. Karas, a San Diego man, who was molotov cocktails. These cocktails are unregistered explosive devices commonly used by violent rioters to burn down buildings and even cook people alive. What's even more disturbing about this case is that Karas recieved a donation of $150 from the Official GoFundMe Team!
It's also worth noting that GoFundMe is allowing Gaige Grosskreutz to fundraise for his medical bills. Grosskreutz is the felon who pointed a loaded handgun at Kyle Rittenhouse and subsequently had his bicep blown off.
Gaige Grosskreutz, the medic seriously injured August 26 in Kenosha, is out of the hospital and back in the action at a protest. He thanks everyone for their help and told everyone he will continue to protests and then led a moment of silence in honor of the men killed in Kenosha. But he still has medical, legal, and living expenses looming. Please continue to help Gaige following his heroic actions.

Patti Breitigam-Wenzel is organizing this fundraiser on behalf of Gaige Grosskreutz.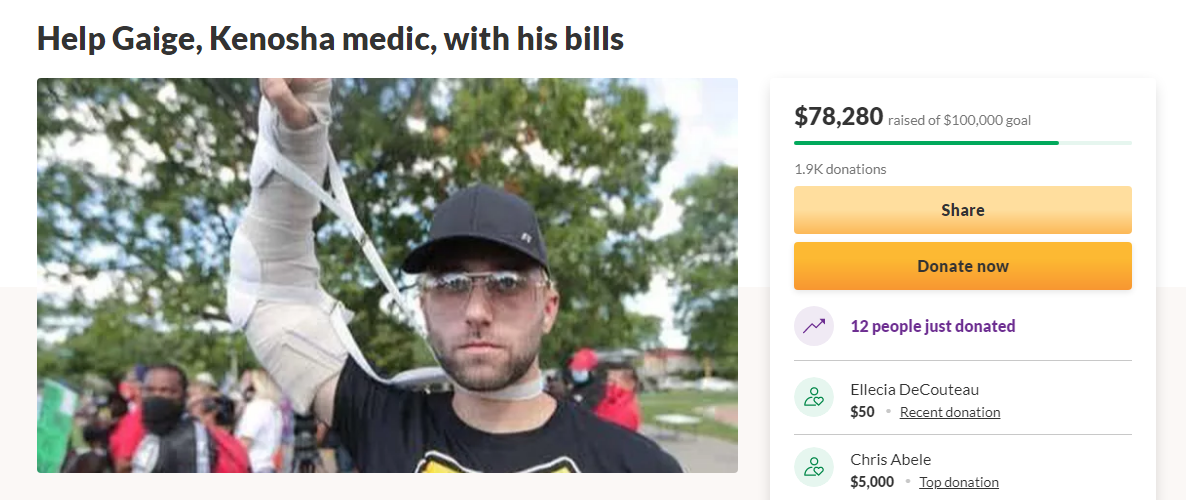 One could go down the rabbit hole for hours about violent criminals that GoFundMe has allowed on their website, but the connecting factor is that they are all left-wing. Kyle Rittenhouse wasn't canceled because he was being accused of a violent crime, but rather because he was a threat to the system and to the narrative as a whole.