FAR LEFT WATCH: Anti-White Militia Plans Armed Terror March in Louisville to Project Black Dominance
Black Lives Matter are becoming the new ISIS.
An anti-white violent terror organization, the "Not F**king Around Coalition" (NFAC), is planning an armed rally throughout the city of Louisville, Ky on Saturday.
Far Left Watch reports that NFAC leader John Fitzgerald Johnson, aka "Grand Master Jay," has proposed the replacement of the U.S. with a black ethnostate established by racist militant action.
NFAC's leader Grand Master Jay describing how he will build his black ethnostate inside the United States.
boasting they are all ex-military extremely disciplined & experts shooters..gonna end really bad for these guys.. pic.twitter.com/FKPCT8pRRC

— Veritas News Feed (@veritasnewsfeed) July 5, 2020
Trending: Ex-Soviet Leader Gorbachev: US Capitol Riot "Planned in Advance, And It Is Clear by Whom"
take our poll - story continues below
Completing this poll grants you access to Big League Politics updates free of charge. You may opt out at anytime. You also agree to this site's Privacy Policy and Terms of Use.
During a recent terror demonstration at Stone Mountain, Ga., Grand Master Jay and his armed militia harassed white motorists while demanding slavery reparations.
#DomesticTerrorism! Armed "NFAC" terrorists march at Stone Mountain in Georgia on July 4th stopping traffic, harassing/intimidating drivers, demanding reparations& yelling "black power-" this is the slippery slope we warned about with #BLM & Antifa🤯pic.twitter.com/Enuv3KYzx4

— DrConservaMom🇺🇸🐸🌐 (@ConservaMomUSA) July 5, 2020
The NFAC appears to echo the beliefs of the Black Hebrew Israelite movement, which has even been designated by the far-left Southern Poverty Law Center (SPLC) as a hate group.
The black nationalist group, NFAC, that organized a large armed demonstration in Georgia appears to be a part of the Black Hebrew Israelites movement. This movement is even designated as a "hate group" but the far-left SPLC.

A few images pulled from the NFAC founder's Instagram. pic.twitter.com/sYdVzdnSHE

— Far Left Watch (@FarLeftWatch) July 5, 2020
Grand Master Jay has released a video address on YouTube telling his followers to be armed and ready for confrontation this Saturday.
Louisville Metro Police spokesman Dwight Mitchell noted that law enforcement is aware of the NFAC's planned display and hopes to create a dialogue with the group to prevent any violence from taking place.
"We have had several protests posted over the past several weeks, some of which have occurred and some which have not," Mitchell said. "We will take the appropriate steps to prepare for whatever may occur."
Big League Politics reported earlier this month on how NFAC's violent and menacing behavior in Georgia prompted a full-blown state of emergency:
Georgia Governor Brian Kemp is calling for a state of emergency and putting 1,000 National Guard troops on the streets after an exceptionally violent weekend that saw a black terror militia enforce racial dominance with firearms.

Kemp made the announcement that five people were killed in Atlanta over the weekend with over 30 people being shot. The most tragic of all the deaths was that of eight-year-old girl Secoriea Turner, who was gunned down near the Wendy's recently burned down by a mob of Black Lives Matter (BLM) thugs.

In his announcement, Kemp said that "peaceful protests were hijacked by criminals with a dangerous, destructive agenda. Now, innocent Georgians are being targeted, shot, and left for dead."

"This lawlessness must be stopped and order restored in our capital city. I have declared a State of Emergency and called up the Georgia Guard because the safety of our citizens comes first," Kemp added. "This measure will allow troops to protect state property and dispatch state law enforcement officers to patrol our streets. Enough with the tough talk. We must protect the lives and livelihoods of all Georgians."

Perhaps even more alarming than the gun violence was the black terror militia that menaced white people with firearms at Stone Mountain.

Roughly 1,000 anti-white terrorists demonstrated with arms at Stone Mountain, demanding that a Confederate mural be torn down.

Members of the black terror mob harassed white drivers demanding reparations to slavery, as the U.S. begins to more closely resemble Somalia thanks to diversity and multiculturalism.
Until Black Lives Matter and all affiliates are classified as terrorists and swiftly dispatched, anti-white militant groups like NFAC will remain on the rise.
Parler CEO John Matze Forced to Flee Home Under Deluge of Left-Wing Terror Threats
Matze is suing Amazon for deplatforming Parler.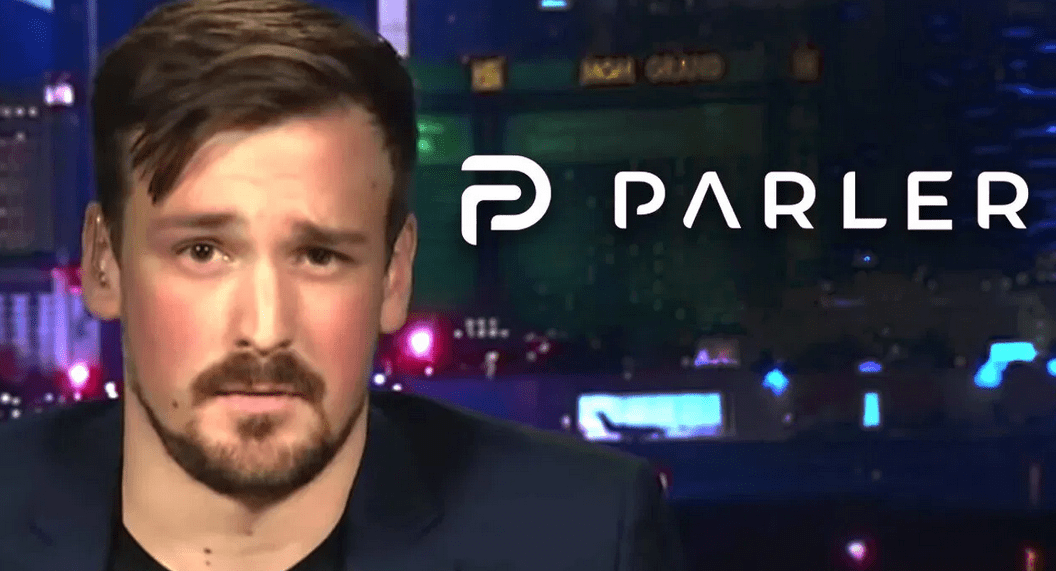 Parler CEO John Matze has been forced to flee his home and go into hiding after receiving an onslaught of left-wing death threats. Parler, a free speech social media platform, has been temporarily shut down in an extensive deplatforming campaign. Amazon promptly cut Parler's access to its Web Services after the US Capitol riot earlier this month, cherry-picking examples of content that violate Parler's terms of service and claiming the platform is being used for violent purposes.
Matze made the frank admission in a court filing for Parler's lawsuit against Amazon, requesting that the court keep any disclosures about his personal life and location secret. Parler is currently suing Amazon in federal court for its immediate revocation of Parler's hosting agreement, arguing that Amazon agreed to provide 30 days notice before any potential termination of Parler's hosting, pursuant to the party's original agreement.
Matze reveals that he's been forced to leave his home and go into hiding with his family, citing Amazon Web Services' "vilification" of his company.
take our poll - story continues below
Completing this poll grants you access to Big League Politics updates free of charge. You may opt out at anytime. You also agree to this site's Privacy Policy and Terms of Use.
Employees of Amazon have allegedly been threatened and harassed as well for shutting down Parler. The court filing in favor of redaction references these threats in requesting the court provide redaction of personal information to both sides.
"Both sides of this dispute have shown that their employees have suffered real harassment and threats—including, on both sides, death threats—owing to the charged nature of this litigation.
Parler therefore agrees with AWS that safety and security concerns justify the limited sealings requested here," Parler requests in the Amazon lawsuit.
Parler's administrators are still seeking to return the free speech social media platform to full operation, although it could take weeks to bring it back online. They may have learned a lesson about the futility of contracting hosting services with a Big Tech monopoly such as Amazon.
---
Follow me on Twitter @Wildman_AZ, on Parler @Moorhead, and on Gab @WildmanAZ.