GA America First Candidate Blasts Male Domination of Female Sports: 'There Are Two Genders'
"It's not fair." said Marjorie Taylor Greene.
Transgender athlete Rachel McKinnon —a biological male — set social media ablaze after claiming victory in the women's Masters Track Cycling World Championships sprint title on October 21.
This marked the second consecutive year the biological male won this title in track cycling.
Critics were quick to point out that there are real biological differences between men and women. In other words, these differences give men advantages in various athletic competitions. No gender reassignment surgery will change those fundamental differences.
Trending: Indian Scientists Discover Hydroxychloroquine Treatment Prevents COVID-19, Vindicating President Trump
Marjorie Taylor Greene, the candidate for Georgia's 6th district is someone who gets that.
take our poll - story continues below
Completing this poll grants you access to Big League Politics updates free of charge. You may opt out at anytime. You also agree to this site's Privacy Policy and Terms of Use.
On Facebook, she stated "There are two genders — Male and Female. Males DO NOT belong in women's sports. This is not equality. It's not fair."
Social issues are heating up in America in the wake of the James Younger case, where a young boy could have gone through a gender transition thanks to his mother's pressure.
Taylor Greene knows what's at stake in these discussions and she has positioned herself as a candidate that believes in foundational American principles such as limited government and traditional social morality.
The latter seems almost radical in today's culture which constantly promotes deviant lifestyles that go against common sense and basic biological principles.
Constituents in Georgia's 6th district can at least sleep well at night knowing that Taylor Greene is the only candidate who will stand firmly against leftist social engineering.
Billionaires Have Made Half a Trillion Dollars While Tens of Millions File for Unemployment
As the number of Americans filing for unemployment approaches 40 million, America's billionaires are cruising along without any worries.
According to a CNBC report, billionaire fortunes climbed by a total of $434 billion since the middle of March,
At the top of the list are Jeff Bezos and Mark Zuckerberg, whose respective fortunes increased by $34.6 and $25 billion, according to the Americans for Tax Fairness and the Institute for Policy Studies' Program for Inequality. Zerohedge noted that both organizations came to this conclusion "based on Forbes data for America's over 600 billionaires collected between March 18 and May 19."
Tyler Durden highlighted the following stats:
take our poll - story continues below

Completing this poll grants you access to Big League Politics updates free of charge. You may opt out at anytime. You also agree to this site's Privacy Policy and Terms of Use.

Percentage-wise, Elon Musk's wealth grew 48% to $36 billion, while Zuckerberg clocked in at 46%. Bezos' wealth grew 31% to $147 billion. His ex-wife, MacKenzie Bezos, saw her wealth increase by roughly 33% to $48 billion. On average, American billionaires saw their net worth grow 15% during the two-month period from $2.948 trillion to $3.382 trillion.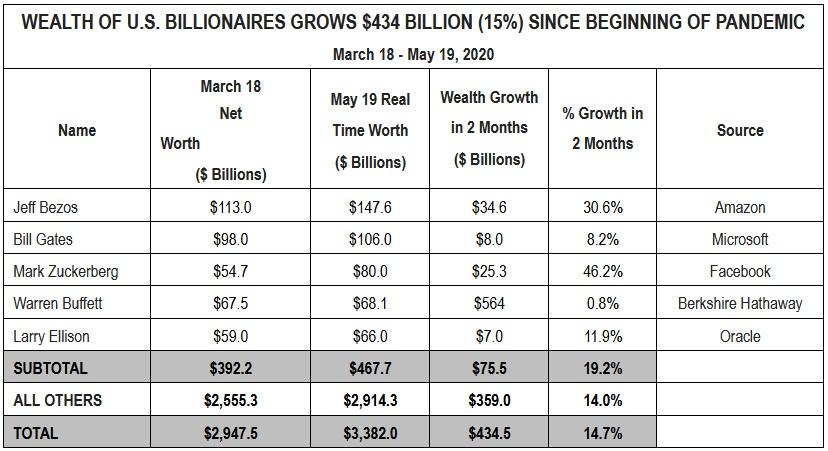 Bezos, Bill Gates, Zuckerberg, Buffett and Larry Ellison saw their wealth increase by a total of $76 billion.
"The surge in billionaire wealth during a global pandemic underscores the grotesque nature of unequal sacrifice," declared Chuck Collins, director of the IPS Program on Inequality and co-author of the Billionaire Bonanza 2020 report. "While millions risk their lives and livelihoods as first responders and front line workers, these billionaires benefit from an economy and tax system that is wired to funnel wealth to the top."
However, some billionaires haven't benefited so much:
Still, the pandemic hasn't been kind to other billionaires – whose yacht upgrades may need to wait. Those in travel and retail have taken a beating. Ralph Lauren saw his wealth drop by $100 million to $5.6 billion, while hotelier John Pritzker has seen a $34 million drop to $2.56 billion. We know, time to get a collection going.