Gavin McInnes Gets Doxxed by Antifa, Plays Hilarious Voicemails on Podcast
Gavin McInness is the latest New Right media personality to be doxxed by the radical left after his phone number was posted by popular Antifa-related Twitter account Smash Racism DC on Monday night.
Followers of Smash Racism DC were encouraged to call or text CRTV's Gavin McInnes with messages about "white genocide," resulting in McInnes receiving hundreds of voicemails from radicalized leftists, many of which he played on his podcast Get Off My Lawn.
Trending: Trucking Industry Leaders Expect Biden's Policies to Crush Small Trucking Companies
take our poll - story continues below
Completing this poll grants you access to Big League Politics updates free of charge. You may opt out at anytime. You also agree to this site's Privacy Policy and Terms of Use.
McInnes states that the owners of the Smash Racism DC account are two prominent leftists. The founder of Smash Racism DC is the disgraced college professor Mike Isaacson, who received national notoriety after saying it was "a privilege to teach future dead cops." Isaacson made news again today when he advocated the assassination of Vice President Mike Pence on Twitter.
The second person McInnes named behind the account is Lacy MacAuley, the leader of D.C. Antifa who traveled to Turkey and was raped and beaten repeatedly while dating a Muslim man.
Many of the calls  suggested McInnes believed in or feared white genocide, something he steadfastly denied on the podcast, noting that he has three multiracial children and is married to an American Indian woman.
Many of the callers took Smash Racism DC's direction to refer to white genocide in their messages, and left cringe worthy, racist voicemails.
"God bless white genocide," started one caller, "you f**king cave monkeys are through." Moments later, "white genocide is awesome!" chimed in another.
"I just wanted to tell you how much I really, really f**king love white genocide," started another voicemail. The caller then went on to describe his relationship with an Asian woman, telling McInnes he planned to make "non-white babies."
In a high pitched voice, another caller declared, "F**k the Proud Boys, f**k you, communism will win."
"You white, dumb motherf**ker!" another shouted, continuing the pattern of racial insults.
For McInnes' part, he had hoped the insults would refer to something he was actually passionate about or had said.
"This is the problem with this bubble world where we don't talk to each other," noted McInnes, "you're able to go off on this communist tangent of propaganda and assume your enemy's obsession is white genocide." He continued that he believes "the focus in America should be ideas," and that America became "the best" by "not wasting their time with race."
McInnes and his group, the Proud Boys, were recently banned from Twitter for unspecified hate speech. He hosts various shows on CRTV, and has previously been seen on Rebel.Media and Compound Media.
Parler CEO John Matze Forced to Flee Home Under Deluge of Left-Wing Terror Threats
Matze is suing Amazon for deplatforming Parler.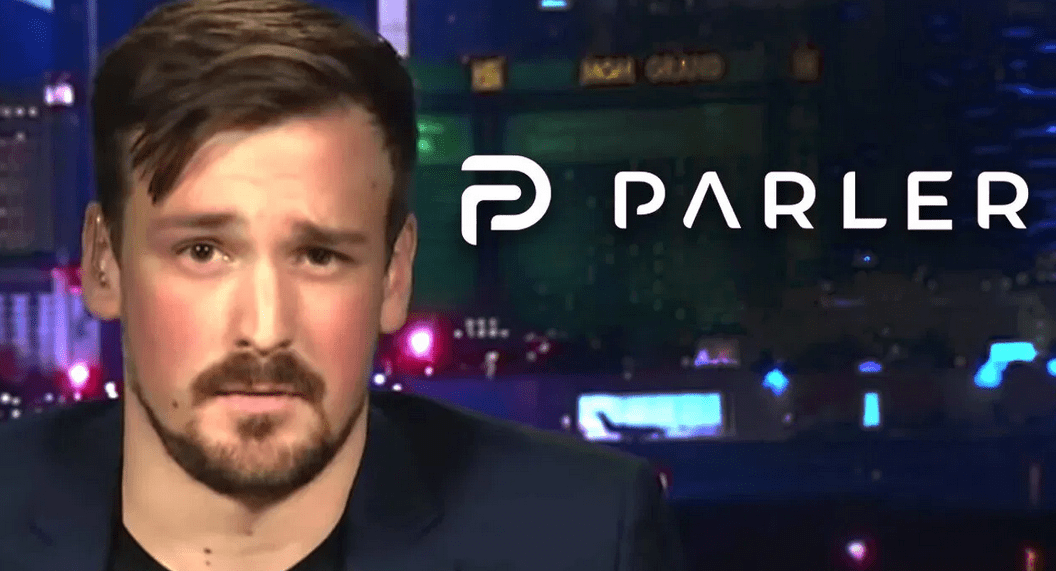 Parler CEO John Matze has been forced to flee his home and go into hiding after receiving an onslaught of left-wing death threats. Parler, a free speech social media platform, has been temporarily shut down in an extensive deplatforming campaign. Amazon promptly cut Parler's access to its Web Services after the US Capitol riot earlier this month, cherry-picking examples of content that violate Parler's terms of service and claiming the platform is being used for violent purposes.
Matze made the frank admission in a court filing for Parler's lawsuit against Amazon, requesting that the court keep any disclosures about his personal life and location secret. Parler is currently suing Amazon in federal court for its immediate revocation of Parler's hosting agreement, arguing that Amazon agreed to provide 30 days notice before any potential termination of Parler's hosting, pursuant to the party's original agreement.
Matze reveals that he's been forced to leave his home and go into hiding with his family, citing Amazon Web Services' "vilification" of his company.
take our poll - story continues below
Completing this poll grants you access to Big League Politics updates free of charge. You may opt out at anytime. You also agree to this site's Privacy Policy and Terms of Use.
Employees of Amazon have allegedly been threatened and harassed as well for shutting down Parler. The court filing in favor of redaction references these threats in requesting the court provide redaction of personal information to both sides.
"Both sides of this dispute have shown that their employees have suffered real harassment and threats—including, on both sides, death threats—owing to the charged nature of this litigation.
Parler therefore agrees with AWS that safety and security concerns justify the limited sealings requested here," Parler requests in the Amazon lawsuit.
Parler's administrators are still seeking to return the free speech social media platform to full operation, although it could take weeks to bring it back online. They may have learned a lesson about the futility of contracting hosting services with a Big Tech monopoly such as Amazon.
---
Follow me on Twitter @Wildman_AZ, on Parler @Moorhead, and on Gab @WildmanAZ.