George P. Bush Spokesman Calls for Removal of all Texas Monuments
In the latest manifestation of Neocon George P. Bush's thinly-disguised attack on Texas history, campaign spokesperson and consultant Lee Spieckerman advocates tearing down Texas monuments.
"
Indeed, Texas Republican leaders should strongly endorse enaction of a new law requiring all Confederate monuments and flags be removed from public property and relegated to museums," Spieckerman
wrote on his Facebook wall.
He continued:
"'Preserving history'" in no way requires aggrandizing its most abominable actors."
Spiekerman also false conflates the actions of Conservative Response Team and the monument protection legislation they support in the Texas House and Senate with "Confederate statues," and proceeds to set up a straw man that can easily be torn down — much as the statues without statutory protection like the Alamo Cenotaph are being "relocated" (torn down.)
"Gov. Abbott, Lt. Gov. Patrick, Speaker Bonnen and other key Texas conservatives must call-out CRT and take the lead in dispelling the specious beliefs of misinformed Confederate monument protectors," the Bush crony writes.
"Conflating the leaders of that evil cause with the giants who founded the United States – the nation the Confederates were bent on crushing – is an assault on sound historic teaching and severely undermines the efforts of those fighting to preserve monuments to our Founding Founders and American war heroes, which are now under assault from the left,"
he thunders piously.
So, what would Spiekerman have Texas do in place of legislation like State Rep. Kyle Biedermann's Cenotaph bill, or State Rep. James White's Monument Protection bill, because his statements attack legal safeguards but then acknowledges the need  "to preserve monuments to our Founding Founders and American war heroes, which are now under assault from the left."
WHAT ARE THE PLANS FOR THE CENOTAPH?

GLO: The City of San Antonio owns the cenotaph and plans to repair and restore the monument … Discussion is ongoing about where the Cenotaph will be located once restoration work is complete. One idea is to relocate the Cenotaph … to the location of one of the funeral pyres … to properly honor the location where the defenders' bodies were burned.
Trending: Indian Scientists Discover Hydroxychloroquine Treatment Prevents COVID-19, Vindicating President Trump
Here Bush preemptively shifts blame to the San Antonio City Council for any removal or destruction of the treasured Cenotaph, even though he himself signed a plan that proposed its removal.
take our poll - story continues below
Completing this poll grants you access to Big League Politics updates free of charge. You may opt out at anytime. You also agree to this site's Privacy Policy and Terms of Use.
"It actually sits on city property, so ultimately it will be a city decision," Bush said recently, when asked about the Cenotaph.
Conservative Response Team was attacked ferociously by Spiekerman, but, as happens in Austin, legislation gets watered down, and a bill that purports to "protect" Texas monuments may not end up being so solid after all. At present, the monument protection bill allows "relocation" for "repairs" — Bush's current rationale for tearing down the 60-ft. Cenotaph.
He's also on board with public vandalism of South Carolina's state flag. (See below screenshot featuring his comments applauding public flag desecration.)
Here are some of Spieckerman's other choice comments on social media endorsing not-so-conservative positions on the removal of history and his treatment of far-left radicalism as mainstream.
Billionaires Have Made Half a Trillion Dollars While Tens of Millions File for Unemployment
As the number of Americans filing for unemployment approaches 40 million, America's billionaires are cruising along without any worries.
According to a CNBC report, billionaire fortunes climbed by a total of $434 billion since the middle of March,
At the top of the list are Jeff Bezos and Mark Zuckerberg, whose respective fortunes increased by $34.6 and $25 billion, according to the Americans for Tax Fairness and the Institute for Policy Studies' Program for Inequality. Zerohedge noted that both organizations came to this conclusion "based on Forbes data for America's over 600 billionaires collected between March 18 and May 19."
Tyler Durden highlighted the following stats:
take our poll - story continues below

Completing this poll grants you access to Big League Politics updates free of charge. You may opt out at anytime. You also agree to this site's Privacy Policy and Terms of Use.

Percentage-wise, Elon Musk's wealth grew 48% to $36 billion, while Zuckerberg clocked in at 46%. Bezos' wealth grew 31% to $147 billion. His ex-wife, MacKenzie Bezos, saw her wealth increase by roughly 33% to $48 billion. On average, American billionaires saw their net worth grow 15% during the two-month period from $2.948 trillion to $3.382 trillion.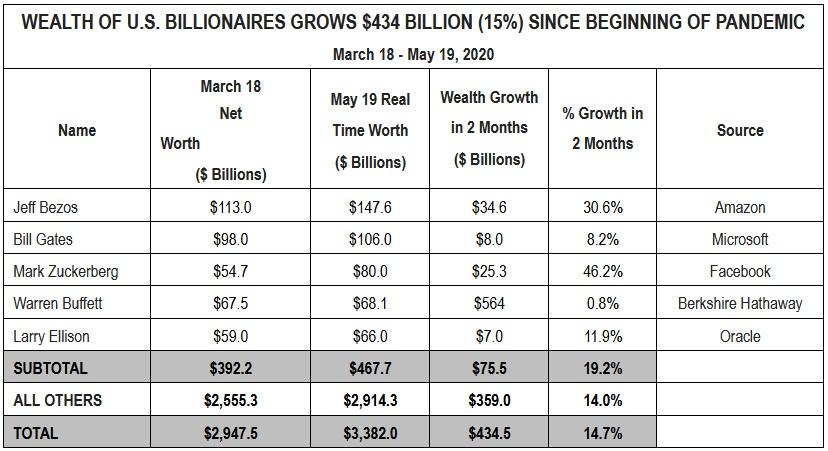 Bezos, Bill Gates, Zuckerberg, Buffett and Larry Ellison saw their wealth increase by a total of $76 billion.
"The surge in billionaire wealth during a global pandemic underscores the grotesque nature of unequal sacrifice," declared Chuck Collins, director of the IPS Program on Inequality and co-author of the Billionaire Bonanza 2020 report. "While millions risk their lives and livelihoods as first responders and front line workers, these billionaires benefit from an economy and tax system that is wired to funnel wealth to the top."
However, some billionaires haven't benefited so much:
Still, the pandemic hasn't been kind to other billionaires – whose yacht upgrades may need to wait. Those in travel and retail have taken a beating. Ralph Lauren saw his wealth drop by $100 million to $5.6 billion, while hotelier John Pritzker has seen a $34 million drop to $2.56 billion. We know, time to get a collection going.