Globalist Puppet Writer at the NY Times Thinks Trump's Actions in Iraq Will Unleash 'Chaos'
New York Times columnist Barbara Slavin claimed that the U.S's killing of Quds force commander Qasem Soleimani "will unleash chaos" in a recent piece for the outlet.
This argument was mocked by Michael Oren, Israel's former ambassador to the United States, who stated "NY Times columnist Barbara Slavin claims 'Soleimani's killing will unleash chaos.' Meaning the massacre of 500,00O Syrians, the creation of millions of refugees, the supply of tens of thousands of rockets to Hezbollah and Hamas, and the backing of world terror was stability?"
NY Times columnist Slavin claims "Soleimani's killing will unleash chaos." Meaning the massacre of 500,00O Syrians, the creation of millions of refugees, the supply of tens of thousands of rockets to Hezbollah and Hamas, and the backing of world terror was stability?

Trending: Indian Scientists Discover Hydroxychloroquine Treatment Prevents COVID-19, Vindicating President Trump

— Michael Oren (@DrMichaelOren) January 3, 2020
take our poll - story continues below
Completing this poll grants you access to Big League Politics updates free of charge. You may opt out at anytime. You also agree to this site's Privacy Policy and Terms of Use.
Tensions have been flaring in Iraq as Iranian-backed militias attempted to break into the American embassy in Baghdad on New Year's Eve. The Trump administration responded by ordering a drone strike on a convoy of vehicles near the Baghdad International Airport that carried several passengers such as Major General Soleimani.
Soleimani was responsible for spreading Iranian influence across the Middle East and killing thousands of Syrians, Iraqis and Iranians, while killing and maiming thousands of American servicemen in Iraq.
Slavin's pessimistic take on the Trump administration's action, may be motivated by partisan bias.
The New York Times columnist has strong connections to globalist institutions. According to Wikipedia, "Slavin was a scholar at the Woodrow Wilson International Center for Scholars in June–August 2006. She was also a Senior Fellow at the United States Institute of Peace, where she authored a report titled Mullahs, Money, and Militias. She is acting director of the Future of Iran Initiative at the Atlantic Council."
The Atlantic Council is notorious for promoting globalism and has been involved in pushing social media censorship. Wikipedia noted the following:
"In 2015 and 2016, the three largest donors, giving over $1 million USD each, were US millionaire Adrienne Arsht (executive vice chair), Lebanese billionaire Bahaa Hariri (estranged brother of Lebanese Prime Minister Saad Hariri), and the United Arab Emirates. The Ukrainian oligarch run Burisma Holdings donated $100,000 per year for three years to the Atlantic Council starting in 2016. The full list of financial sponsors includes many military, financial, and corporate concerns."
Given these connections, Slavin's perspective on the matter should be taken with a grain of salt.
The U.S. is stuck between a rock and a hard place in the Middle East. A continued attack on the U.S. Embassy could have put American diplomatic staff at risk, so Trump had to take action in order to prevent further bloodshed.
Nevertheless, Trump should not fall for the siren song of interventionism that previous administrations have embraced.
To prevent further sticky situations like these, the U.S. will likely need to pull all troops and most diplomatic facilities out of the Middle East.
Given its longstanding history of instability, the U.S. should stay out of the Middle East for a while.
Billionaires Have Made Half a Trillion Dollars While Tens of Millions File for Unemployment
As the number of Americans filing for unemployment approaches 40 million, America's billionaires are cruising along without any worries.
According to a CNBC report, billionaire fortunes climbed by a total of $434 billion since the middle of March,
At the top of the list are Jeff Bezos and Mark Zuckerberg, whose respective fortunes increased by $34.6 and $25 billion, according to the Americans for Tax Fairness and the Institute for Policy Studies' Program for Inequality. Zerohedge noted that both organizations came to this conclusion "based on Forbes data for America's over 600 billionaires collected between March 18 and May 19."
Tyler Durden highlighted the following stats:
take our poll - story continues below

Completing this poll grants you access to Big League Politics updates free of charge. You may opt out at anytime. You also agree to this site's Privacy Policy and Terms of Use.

Percentage-wise, Elon Musk's wealth grew 48% to $36 billion, while Zuckerberg clocked in at 46%. Bezos' wealth grew 31% to $147 billion. His ex-wife, MacKenzie Bezos, saw her wealth increase by roughly 33% to $48 billion. On average, American billionaires saw their net worth grow 15% during the two-month period from $2.948 trillion to $3.382 trillion.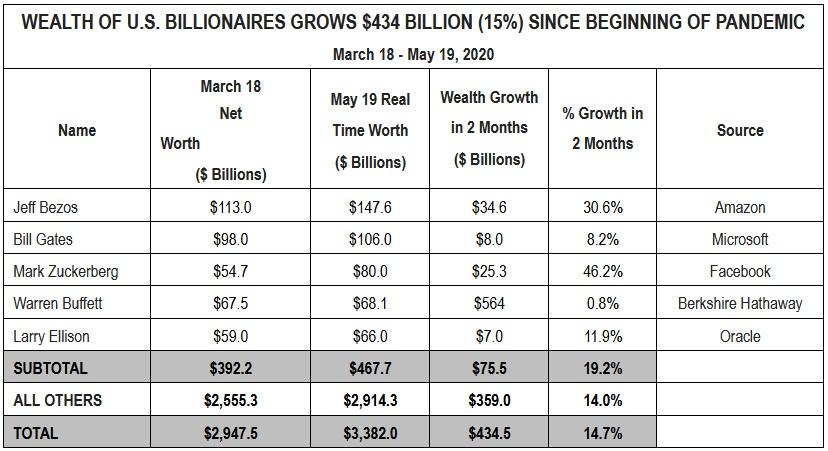 Bezos, Bill Gates, Zuckerberg, Buffett and Larry Ellison saw their wealth increase by a total of $76 billion.
"The surge in billionaire wealth during a global pandemic underscores the grotesque nature of unequal sacrifice," declared Chuck Collins, director of the IPS Program on Inequality and co-author of the Billionaire Bonanza 2020 report. "While millions risk their lives and livelihoods as first responders and front line workers, these billionaires benefit from an economy and tax system that is wired to funnel wealth to the top."
However, some billionaires haven't benefited so much:
Still, the pandemic hasn't been kind to other billionaires – whose yacht upgrades may need to wait. Those in travel and retail have taken a beating. Ralph Lauren saw his wealth drop by $100 million to $5.6 billion, while hotelier John Pritzker has seen a $34 million drop to $2.56 billion. We know, time to get a collection going.