Google Biases 'BLM' Search Results to Censor Negative Comments about Terror Group
Google is collaborating with the left-wing terror group.
Google is biasing their search engine results to remove negative comments pertaining to Black Lives Matter, the Marxist terror uprising to establish racial dominance.
Breitbart News investigative journalist Allum Bokhari made the discovery after comparing search results on Google for "BLM" to the search results in competitors Yahoo, Bing and DuckDuckGo:
Google search suggestions for "BLM is " compared to Yahoo, Bing, and DuckDuckGo. Spot the difference! pic.twitter.com/snvytEqKGN

— Allum Bokhari (@LibertarianBlue) September 1, 2020
Trending: GOP Establishment Threatens President Trump with Impeachment Unless He Denies Election Fraud
take our poll - story continues below
Completing this poll grants you access to Big League Politics updates free of charge. You may opt out at anytime. You also agree to this site's Privacy Policy and Terms of Use.
Other Twitter users reported that Google's algorithm failed and actually let the authentic results through, before the glitch was quickly corrected by the tech giant:
Aaaaannnnd it's gone. https://t.co/MrC5Fi8Y36 pic.twitter.com/JQGrQzVErJ

— L (@SomeBitchIKnow) August 31, 2020
Aaaaaand it's gone. gOoGle Is UnBiAsEd pic.twitter.com/YRwHHgAmIT

— TheDonald.win (@thedonalddotwin) August 31, 2020
A Google spokesperson has admitted that they manipulate their algorithms but failed to comment on whether or not they are manipulating them in reference to Black Lives Matter.
"Autocomplete is a feature that saves you time by predicting the query you may be typing, and we have systems in place to prevent potentially policy-violating predictions from appearing," said a Google spokeswoman to Breitbart.
"Whether or not a prediction appears, you can still search for whatever you want on Google. We don't and would never modify our products or enforce our policies in any way to promote or disadvantage any particular political ideology, viewpoint or candidate," she added.
Big League Politics has reported on Google throwing right-wing news entities off of their ad platform to punish outlets that criticized Black Lives Matter:
Tech behemoth Google has banned ZeroHedge and The Federalist from their advertisement platform following a complaint made by NBC News.

"We have strict publisher policies that govern the content ads can run on and explicitly prohibit derogatory content that promotes hatred, intolerance, violence or discrimination based on race from monetizing," a spokesperson for Google wrote about the decision to censor. "When a page or site violates our policies, we take action. In this case, we've removed both sites' ability to monetize with Google."

The NBC News Verification Unit lobbied Google to punish the news sites because they carried content that was less than flattering about the Black Lives Matter (BLM) terror movement. Any dissent from the black dominance riots must be crushed for the sake of the cultural revolution that is being fomented by institutional power.

The supposed evidence used to justify the banning of these conservative websites from receiving Google ad revenue comes from research compiled by the Center for Countering Digital Hate, a British-based special interest group that agitates for Big Brother censorship.

"We found that lots of those companies are inadvertently funding through their advertising content that is outright racist in defense of white supremacism and contains conspiracy theories about George Floyd and the Black Lives Matter movement," said Imran Ahmed, who is CEO of the thought control organization.

Google has thus far donated "$12 million in funding to organizations working to address racial inequities," showing that they are fully behind the anti-civilizational movement terrorizing the streets. They are now trying to punish independent media outlets that are combating the left-wing narrative pushed by multinational corporations.
Google is openly collaborating with the enemies of Western Civilization and should lose their Section 230 privileges for their lack of patriotism.
Parler CEO "Confident" Platform Will Return to the Internet by the End of the Month
Parler aims to return, soon.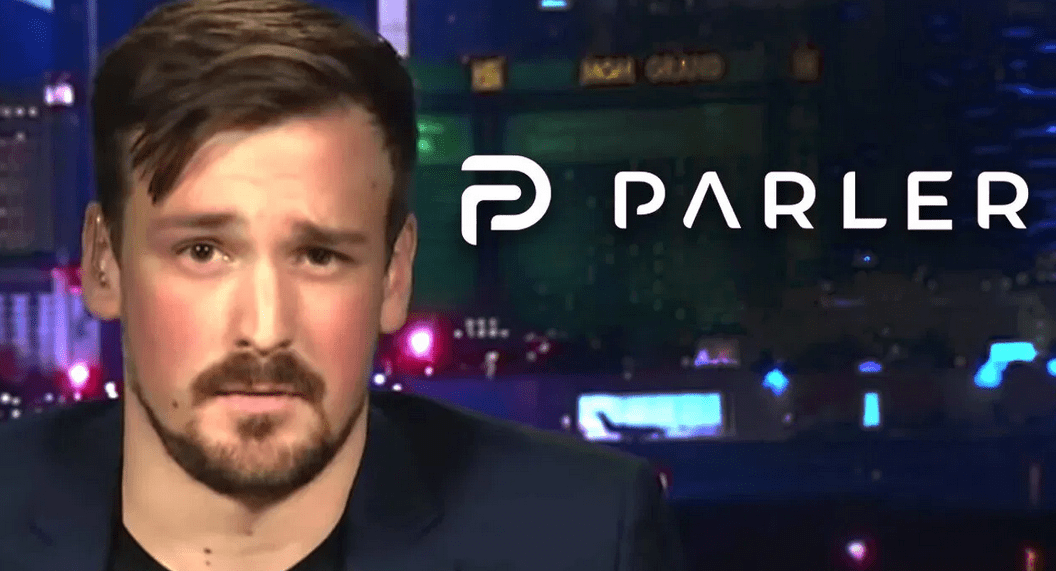 Parler CEO John Matze confirmed that he's "confident" the free speech social media service will return to the internet by the end of the month, speaking in an interview with Fox News.
"Every day it changes wildly, but I feel confident now," Matze said. "We're making significant progress. When you go into Parler.com it doesn't go into the void now, it hits a server, and it returns just one piece of information."
"I'm confident that by the end of the month, we'll be back up."
Amazon Web Hosting cancelled its hosting of Parler earlier this month. Big Tech oligarchs have blamed the service for the raucous US Capitol protest and riot earlier this month, even as evidence suggests the overwhelming majority of the planning for the event was undertaken on Twitter and Facebook.
take our poll - story continues below
Completing this poll grants you access to Big League Politics updates free of charge. You may opt out at anytime. You also agree to this site's Privacy Policy and Terms of Use.
It's a possibility that Parler could contract web hosting services with a company located in the Russian Federation, a country where the overbearing atmosphere of western political censorship isn't as strong.
Parler is currently litigating with Amazon for the arbitrary cancellation of its hosting agreement, pointing out a provision in the contract between the two companies that mandated a 30-day warning before any termination of service.
A message from conservative commentator Dan Bongino, an investor in the free speech platform, is featured on Parler's temporary web page.
As Parler remains defunct, free speech platform Gab remains fully operational and has incurred record-setting growth in the last several weeks. Gab's hosting and server infrastructure is all internally owned and managed, providing immunity to deplatforming attempts on the part of Big Tech.
---
Follow me on Twitter @Wildman_AZ, on Parler @Moorhead, and on Gab @WildmanAZ.