HAPPY FOURTH: Liberal Mob Filmed Burning American Flag Outside White House on Independence Day
The mob appeared to torch an American flag.
A group of liberal protestors chose to celebrate the anniversary of America's founding on July 4th in a unconventional manner: burning the American flag.
The progressives were protesting outside of the White House against President Donald Trump's planned Independence Day parade. The glorious parade featured M1 Abrams Tanks and a robust presence of American armed forces.
Watch the shocking spectacle here:
Trending: Democrats Move to Ban Trump Supporters From Joining the Military and Holding Federal Jobs
The mob goes on to engage in anti-American chants, repeating that "America was never great" and claiming that the nation represented "slavery, genocide and war."
take our poll - story continues below
Completing this poll grants you access to Big League Politics updates free of charge. You may opt out at anytime. You also agree to this site's Privacy Policy and Terms of Use.
At one point in the video a scuffle appears to break out. It's unclear if some in the crowd were genuinely opposed to the burning of the American flag, or if they simply recognized a public burning(that appeared to employ a burning liquid) as a safety hazard that would likely incur police attention.
As normal Americans celebrate their country with their family, friends and neighbors, sick progressives seem intent on putting on a grotesque display with no apparent point.
Perhaps the mere prospect of patriots enjoying themselves is enough to get the left out in droves in an attempt to ruin the festivities, without the slightest concern for decency.
BREAKING UPDATE:
The leftist mob appeared to wield a burning American flag in dangerous proximity to a uniformed Secret Service officer.
Big League Politics is continuing to monitor the situation.
Parler CEO John Matze Forced to Flee Home Under Deluge of Left-Wing Terror Threats
Matze is suing Amazon for deplatforming Parler.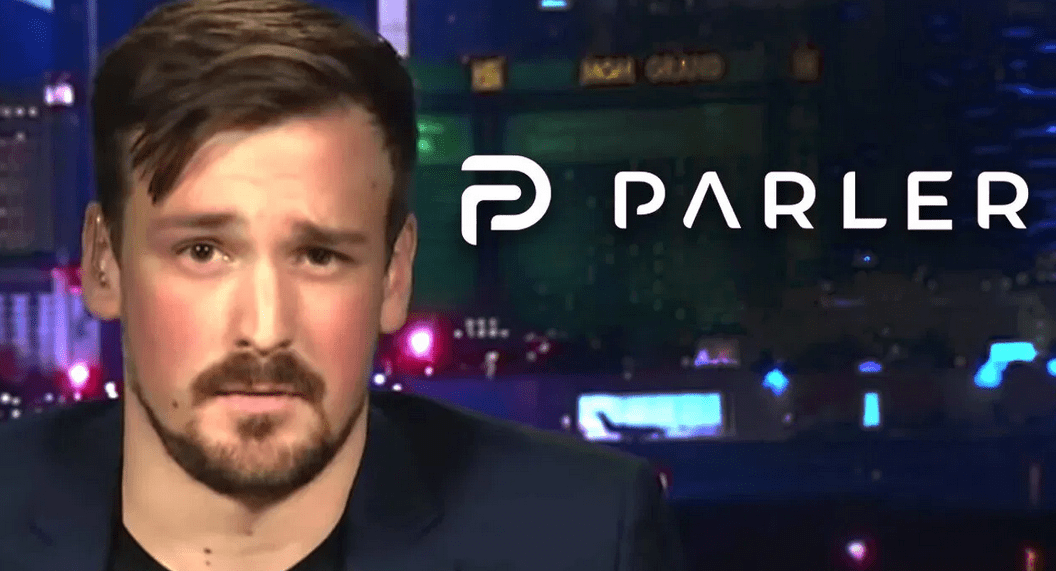 Parler CEO John Matze has been forced to flee his home and go into hiding after receiving an onslaught of left-wing death threats. Parler, a free speech social media platform, has been temporarily shut down in an extensive deplatforming campaign. Amazon promptly cut Parler's access to its Web Services after the US Capitol riot earlier this month, cherry-picking examples of content that violate Parler's terms of service and claiming the platform is being used for violent purposes.
Matze made the frank admission in a court filing for Parler's lawsuit against Amazon, requesting that the court keep any disclosures about his personal life and location secret. Parler is currently suing Amazon in federal court for its immediate revocation of Parler's hosting agreement, arguing that Amazon agreed to provide 30 days notice before any potential termination of Parler's hosting, pursuant to the party's original agreement.
Matze reveals that he's been forced to leave his home and go into hiding with his family, citing Amazon Web Services' "vilification" of his company.
take our poll - story continues below
Completing this poll grants you access to Big League Politics updates free of charge. You may opt out at anytime. You also agree to this site's Privacy Policy and Terms of Use.
Employees of Amazon have allegedly been threatened and harassed as well for shutting down Parler. The court filing in favor of redaction references these threats in requesting the court provide redaction of personal information to both sides.
"Both sides of this dispute have shown that their employees have suffered real harassment and threats—including, on both sides, death threats—owing to the charged nature of this litigation.
Parler therefore agrees with AWS that safety and security concerns justify the limited sealings requested here," Parler requests in the Amazon lawsuit.
Parler's administrators are still seeking to return the free speech social media platform to full operation, although it could take weeks to bring it back online. They may have learned a lesson about the futility of contracting hosting services with a Big Tech monopoly such as Amazon.
---
Follow me on Twitter @Wildman_AZ, on Parler @Moorhead, and on Gab @WildmanAZ.