HATE HOAX: Alleged 'Noose' Found on UMich Campus Turns Out to be Fishing Knot
The race-obsessed Left is rapidly taking Western Civilization into the depths of idiocracy.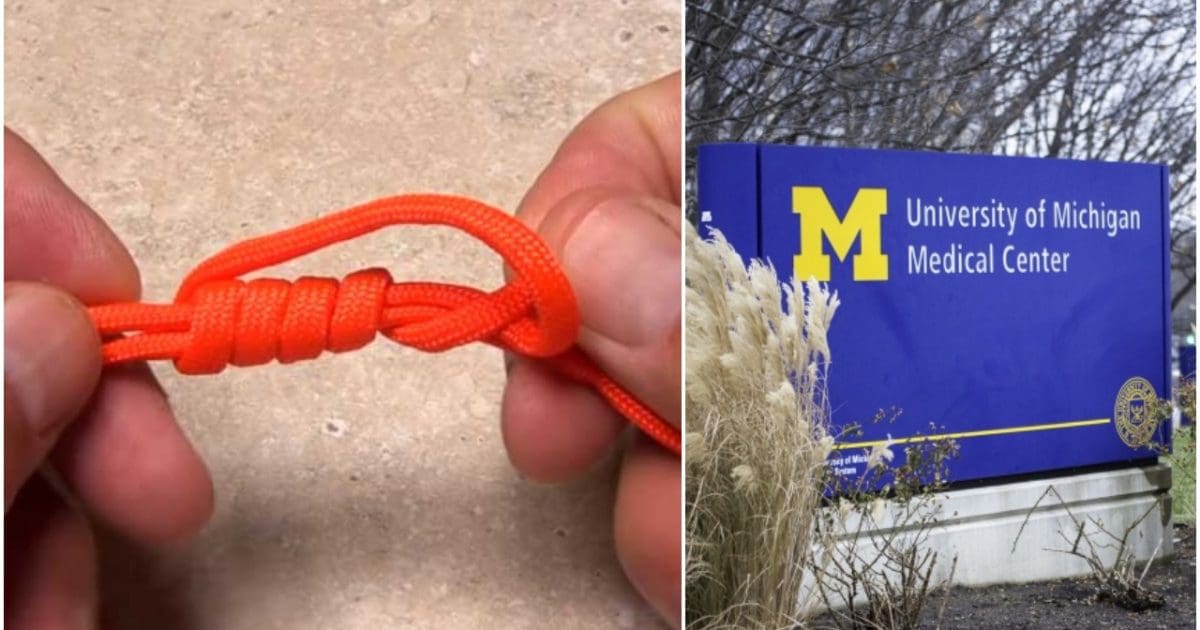 Administrators from the University of Michigan, one of the most liberal campuses in all of the United States, claimed that a hate crime occurred last month after a "noose" was found inside of the University Hospital.
After an investigation occurred, it was quickly determined that the so-called noose was actually a practice fishing knot, commonly referred to a "Uni Knot," that an employee was tying during a break from their job. These types of knots are typically used following surgery for traction. The knot was discovered the next day by a different worker of the hospital, which spurred the latest hate hoax.
UM Medical School Dean Marschall Runge did not wait for the investigation to take place in order to jump to conclusions in emails sent to faculty. He sent the campus into a frenzy with a race-baiting hate hoax that would bring a smile to Jussie Smollett's face.
Trending: EXCLUSIVE: Keith Ellison Pictured With Portland ANTIFA Leader At Minnesota State Fair
"Yesterday, in one of our hospitals, a noose — a symbol of hate and discrimination — was found at the work station of two of our employees," he wrote.
take our poll - story continues below
Completing this poll grants you access to Big League Politics updates free of charge. You may opt out at anytime. You also agree to this site's Privacy Policy and Terms of Use.
"We have taken immediate action to have this investigated as both an act of discrimination and a criminal act of ethnic intimidation. This act of hate violates all of the values that we hold dear and will not be tolerated," he added.
Now that it has been shown that he helped perpetrate a pack of lies, Runge refuses to show any humility or take any responsibility for his irresponsible, divisive rhetoric.
"Our community came together to support each other, reaffirmed our stance against hate, and began having open dialogues about this incident and ways to make our community more inclusive," Runge said in a follow-up email.
"We continue to stand strong as we make it clear to all that this organization — its leaders, faculty, staff and learners — fiercely values and defends equality, inclusiveness, respect and dignity for all, and the elimination of discrimination and intimidation in all forms," he added.
The UM police have said publicly that they do not consider the tying of this knot to be a hate crime. However, they continue to pay lip service to the culture of witch hunting that is so pervasive on their campus dominated by leftist demagogues.
"We all share the responsibility of creating a safe and secure environment free from violent or threatening behavior," DPSS Executive Director Eddie L. Washington said. "Any crime designed to infringe upon these rights will be taken very seriously by the university and DPSS."
The modern Left, on their Orwellian quest to expose imaginary racists for wrong-think, will never take responsibility for the hysteria they have inflicted on society. An individual cannot even tie a knot without looking over his shoulder as liberals bring the U.S. closer to idiocracy with each passing day.
BABY: CNN's Brian Stelter Becomes Early Adapter of New Twitter 'Disable Replies' Feature
The mainstream media operative doesn't want feedback.
CNN presenter Brian Stelter has become a quick adopter of a new Twitter feature that enables users to shut down replies to their tweets, essentially cutting off any potential for negative feedback and allowing unpopular verified journalists to propagate their own echo chambers.
The feature was implemented on Thursday by Twitter, and was roundly criticized by many of the platform's users as a betrayal of the free-speech and democratic ideals the website originally stood for. The feature essentially allows verified and artificially promoted mainstream media personalities to escape criticism for dishonest reporting, lies, and political bias.
Stelter utilized the feature in a tweet about business challenges to the model of traditional print and local media. It would've gone without saying that his narrative would've been challenged by many Twitter users keen to point out that the erosion of traditional print media has coincided with rampant left-wing and institutional bias within the industry.
#SaveTheNews https://t.co/FASYAHs7rY

— Brian Stelter (@brianstelter) May 21, 2020
take our poll - story continues below
Completing this poll grants you access to Big League Politics updates free of charge. You may opt out at anytime. You also agree to this site's Privacy Policy and Terms of Use.
Replies to the tweet are disabled, but many users found a way to ensure that Stelter's lightweight media proclivities were responded to in kind by those who are critical of cable mainstream media. Users who Stelter follows are able to reply to the tweet, and some who he deems acceptable within his own echo chamber were keen to call him out.
Is this the kind of "news" that needs to be saved? This looks like state TV to me. (P.S. why do you have the comments restricted? Can't take criticism?)https://t.co/LyzHr811jh

— Nicholas Fondacaro (@NickFondacaro) May 21, 2020
It's almost certain that CNN hacks such as Stelter will continue to use the anti-democratic and elitist feature, hoping to shield themselves from accusations of dishonesty.
We've entered a new dark age of the internet where the original late 1990's principles of free expression, intellectual curiosity, and open dialogue are being eroded by political and media elites terrified that their neoliberal vision for society is quickly becoming discredited. The 'disable replies' feature on Twitter is merely the latest indicator of such a phenomenon, but self-proclaimed 'objective journalists' such as Stelter might not prove as able to shut down criticism of themselves as they might hope.