January 6 Political Prisoners Are Being Denied Mail That Could Help Their Defense
A January 6 political prisoner in the Correctional Treatment Facility (CTF) jail in Washington, D.C. is being denied mail that was sent to him to help him with his case, and the prisoner says that his fellow January 6 prisoners are experiencing the same problem. Evidence shows that the jail signed for at least some of the mail, and the mail is in CTF possession, but it is being withheld from its intended recipient. The January 6 political prisoners have a right to receive mail behind bars, thanks to the First Amendment.
"They haven't brought any mail to us in weeks," prisoner Guy Reffitt confirmed in a text message to Walter Fitzpatrick, who mailed Reffitt some materials that could potentially help all of the January 6 political prisoners with their cases by proving that the FBI under Robert Mueller staged a hoax in Tennessee during the Obama administration to establish a precedent that is now being used to charge Reffitt under the firearm provision of the rioting statute. This bombshell information, detailed in this article below, could change the game for January 6 political prisoners. That is, if the prisoners actually manage to convince jail staff to give them their mail.
Walter Fitzpatrick, who has been communicating with Reffitt, exclusively tells Big League Politics that "I sent a substantial mailing to Guy via FedEx overnight on 4 January 2022. CTF correctional officers declined to accept the mailing six (6) times, then FedEx sent it back. Same mailing was repackaged and mailed out again USPS Express mail on Wednesday, 19 Jan. 2022. A CTF corrections official, "DH", signed for receipt, the day before yesterday, Friday afternoon, 21 January 2022, at 1335hrs ET. All shipping status is documented. Documents in the mailing support Guy's defense: Specifically the filing of motions to force DOJ / FBI officials that they are in the long practice of inventing, manufacturing terrorism events and making false accusations…Guy's trial date remains set for 28 February 2022."
Fitzpatrick provides evidence showing that his mail was, in fact, signed for at the jail. But the mail has not made it to its intended recipient Guy Reffitt.

As BLP recently reported: A January 6 political prisoner named Guy Reffitt has written a letter, obtained by Big League Politics, that acknowledges the hoax being used to charge Reffitt on a rare gun charge. Reffitt is being charged under the firearm provision in the rioting statute. But photographic evidence and sworn witness statements presented in this article below shows that an alleged FBI false-flag operation called the "Madisonville Hoax" is responsible for the precedent being used to charge Reffitt, and now Reffitt knows he is being set up.
Guy Reffitt wrote a letter to citizen Walter Fizpatrick, who has been providing him information about the Madisonville Hoax, which the FBI under director Robert Mueller ran in 2010 in Tennessee to falsely prosecute a right-wing man for trying to take over a courthouse, even though the man never even went to the courthouse in question. Reffitt refers in his letter to the "Madisonville Hoax" and to Joe Biden.
Reffitt writes that the information "leaves me to believe that DOJ ran a test run on state level in Tennessee. Biden was VP and now he is the big cheese. The Big Guy appears, with the help of others, ran the full version of Madisonville in DC on 1/6. Am I seeing this correctly? I have the same charge Darren got 48 months for and he is the only other time it's been applied."
"Did you reach out to fix what they covered up back 10 years ago? How can we help each other? I'm in for the win but they are playing dirty games. Kind Regards, Guy Reffitt…P.S. Let me know how you wish to move forward," Guy Reffitt writes to Walter Fitzpatrick. To add insult to injury, it was Reffitt's teenage son Jackson who got him arrested by the FBI and his son even went on CNN to talk about it.
AS I REPORTED FOR NATIONAL FILE: "The FBI under former director Robert Mueller stands accused of staging a hoax in Madisonville, Tennessee in 2010 to falsely entrap a man on a rare gun charge — and that case is now used as precedent to prosecute a January 6 protester on the same rare gun charge.
Evidence provided to National File suggests that Mueller's FBI completely invented the details of a supposed militia attempt to take over a courthouse, framing a man named Darren Wesley Huff. One of Mueller's top deputies is alleged to have provided a false statement that contradicts numerous other sworn statements and evidence in the case.
The Tennessee Bureau of Investigation (TBI) opened an investigation into Mueller's conduct, according to documented evidence presented below and in audio recordings obtained by NATIONAL FILE in which a witness in the case speaks to TBI investigators. Mueller's FBI coordinated on the takedown of Huff with the left-wing "Fogbow" activist organization led by a leftist named PJ Foggy, who wears a hammer and sickle hat, according to PJ Foggy's admissions.
Guy Reffitt has been charged under the firearm provision of the rioting statute, stemming from the January 6 Election Integrity protest in Washington, D.C. in which Capitol Police allowed pro-Trump demonstrators to peacefully enter the Capitol building.
Prosecutors claim that Reffitt transported two guns, an AR-15 and a Smith & Wesson, to Washington, D.C., even though Reffitt's lawyer argues that there's no evidence whatsoever that Reffitt was armed at the Capitol.
It's the latest charge against Reffitt, after he pleaded not guilty to three other charges. It's a charge that has very concerning implications for the justice system going forward, since people can now be charged with a crime simply for having firearms if the government thinks they are going to a protest. And it's a charge that insiders believe is propped up by a hoax.
The Washington Post reported on Reffitt and the federal rioting statute, noting that the precedent used to prosecute Reffitt is based on the case of another man named Darren Wesley Huff.
The Washington Post reported: "In 2015, the U.S. Circuit Court of Appeals for the 6th Circuit upheld the law, saying the statute does not criminalize speech or any protected rights. 'Unlawful conduct is not protected conduct,' a three-judge panel ruled, upholding the 2011 conviction at trial of Darren Wesley Huff, a former Georgia militia member found guilty of bringing an AK-47 rife, Colt .45-caliber handgun and 300 rounds of ammunition and trying to rally others to take over a Monroe Co. (Tenn.) courthouse after a grand jury wouldn't charge President Barack Obama with treason." (Washington Post passage concludes).
But there's a big problem with that precedent. It turns out, according to massive evidence including eyewitness sworn affidavits and photographic evidence provided to this outlet, Darren Wesley Huff never actually tried to take over the courthouse in Tennessee, and Robert Mueller's FBI allegedly fabricated the case.
"The DOJ / FBI are using a DOJ / FBI manufactured domestic terrorist hoax gun charge conviction as precedent to target Mr. Guy Reffitt for prosecution on a gun charge regarding Mr. Reffitt's attendance at the U.S. Capitol rally on 6 January 2021," Walter Fitzpatrick, a witness in the Huff case, tells NATIONAL FILE.
"The federal precedent results from the DOJ / FBI targeting Mr. Darren Wesley Huff in 2010 accusing Navy Veteran Huff of traveling from Georgia to Tennessee on 20 April 2010 to a trailer park courthouse in Madisonville, Tennessee. The federal accusation accuses of traveling across state lines with guns with intent to riot. It's all an FBI manufactured hoax. Mr. Huff was never at the courthouse. The 12 or so other men Van Balen talks about are ghosts. No one at the courthouse on 20 April 2010 was armed, saving for law enforcement officials," Walter Fitzpatrick said, noting that a sheriff's deputy told him that the entire exercise was good for "training."
At the time, Fitzpatrick was calling for then-President Barack Obama to be investigated. He was accused of attempting to make citizens arrests of local officials who refused to investigate Obama, prompting Huff and others to come to his defense in Madisonville. Huff was ultimately convicted of one count and acquitted of another, though the jury initially came back hung.
"The FBI under Mueller declared his anticipated activity on 20 April 2010 a federal police emergency. Their law enforcement presence is the stuff of legend around East Tennessee. Hundreds of officers, many in camo, snipers on roofs and in windows, roadblocks into and out of Madisonville, helos (plural) airborne, pixelated pole cameras," Walter Fitzpatrick said.
An Oath Keeper has footage of the traffic stop of Darren Wesley Huff, who never actually went to the courthouse.
No one was arrested on the date in question. Huff was arrested 10 days later on April 30 after he was pulled over on Interstate 35 based on a warrant stemming from a federal affidavit from Mueller henchman Mark Van Balen that witnesses claim is fabricated. Van Balen's affidavit is dated April 26, six days after the protest.
A photo of the crowd of protesters outside the courthouse that day shows women and children, and clearly shows that Huff did not lead a band of 12 armed men to take over the courthouse. Huff is not in the photograph because he was not at the courthouse. In fact, Darren Wesley Huff was at a restaurant during the peaceful protest.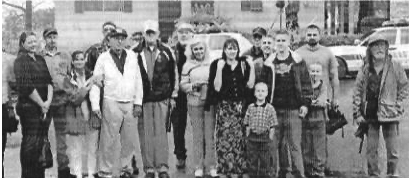 The Tennessee Bureau of Investigation opened an "investigative case file" on Mueller's conduct, according to the 2018 document presented below. Fitzpatrick spoke with TBI investigators about the case, as documented on audio recordings.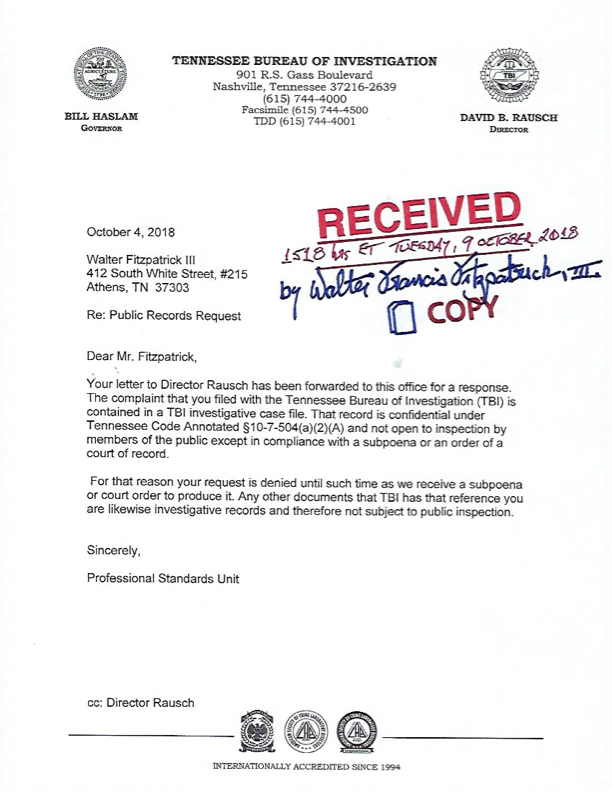 Mark Van Balen's affidavit stated, allegedly falsely: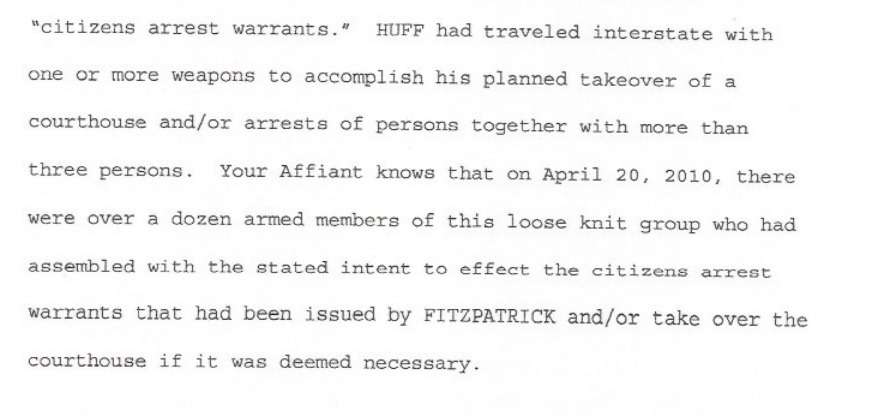 SWORN AFFIDAVIT OF WILLIAM R. LOOMAN, former Sergeant of the Marines, drill instructor at Paris Island, he traveled with Darren Huff that day on April 20 from Georgia, never left his sight or his side: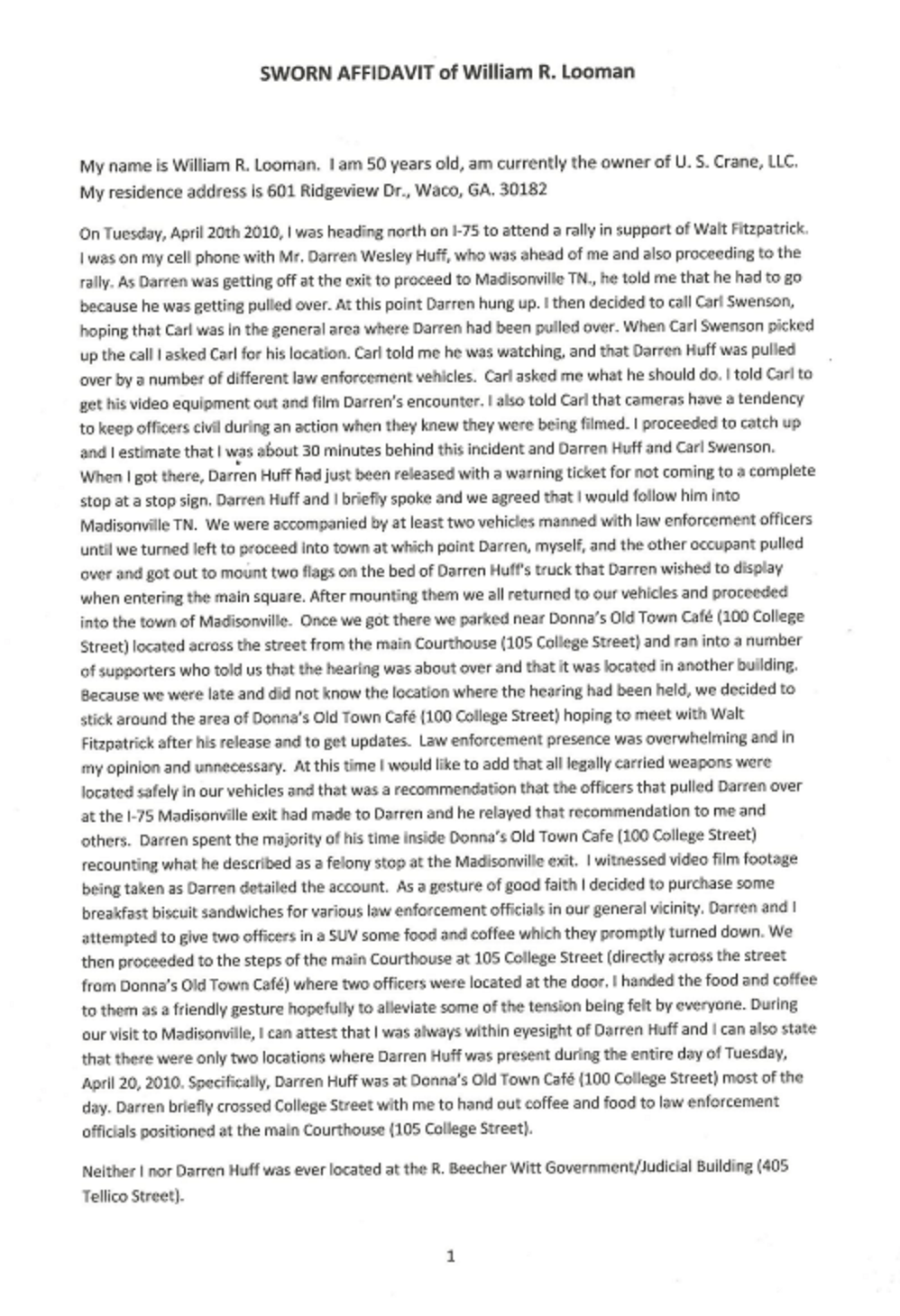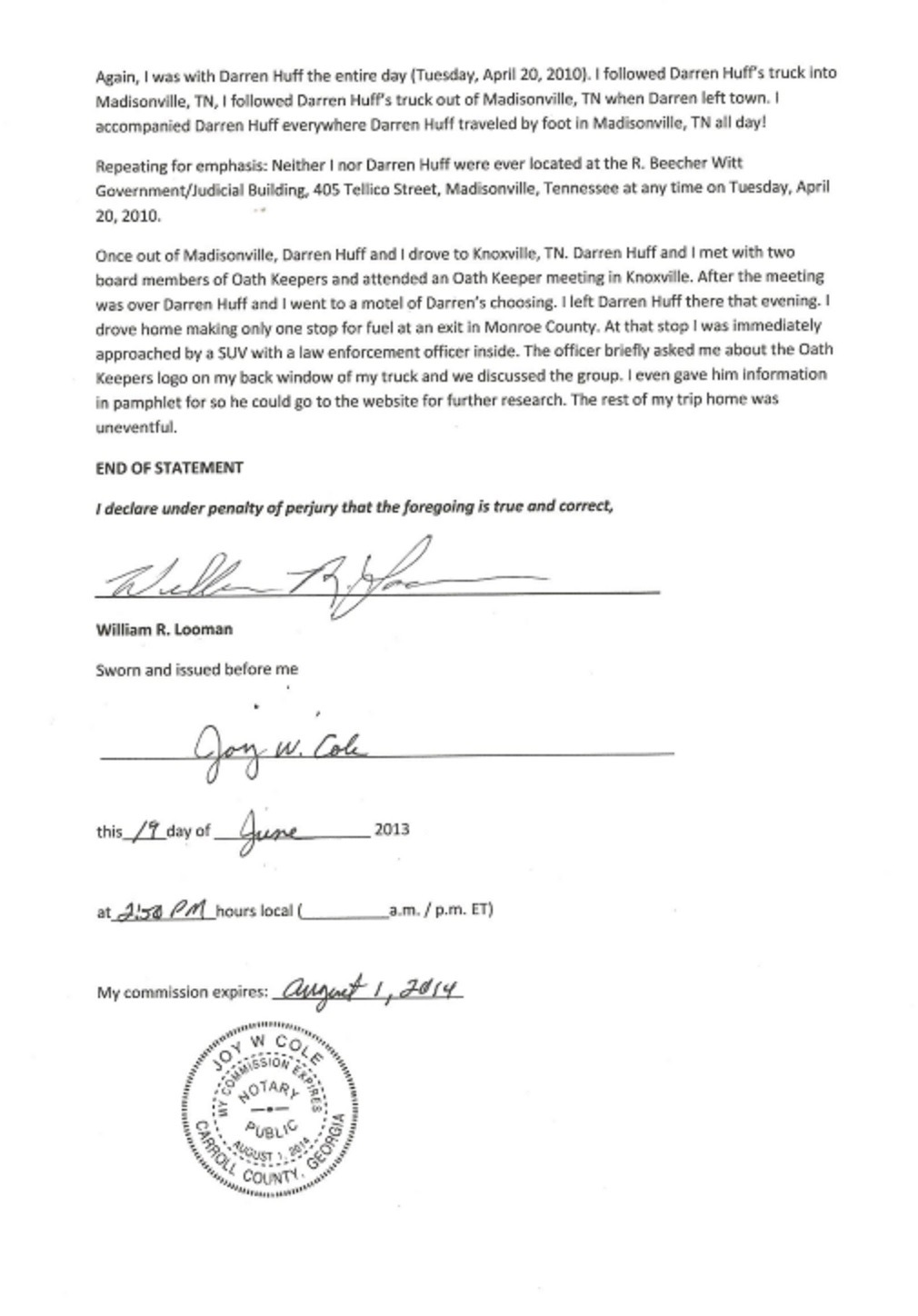 2013 SWORN AFFIDAVIT FROM JOHN IVENS: "To Whom It May Concern: On 20 April 2010, I did attend a hearing for arraignment of Walter Fitzpatrick in Madisonville, Tennessee. I was one who had to stay outside and await the outcome of the arraignment. All around me were law officers and only a few others, like myself, awaiting the outcome. During this time, I heard no derogatory comments about the government or anyone involved in this situation that would have caused alarm in anyone. I, myself, had no weapon, neither did I observe anyone else other than officers with weapons. No threatenings [sic] were made toward anyone. I had coffee with Mr. Fitzpatrick and Mr. Huff in Donna's cafe along with 8-10 others who had showed up for the hearing during a break.
I heard nothing threatening out of either and none of us were armed. The only conversation was as you would imagine given the circumstances but nothing harmful to anyone. Later I had FBI appear at my door, I guess from obtaining tag numbers while we were there, asking me about my trip and why I was there?
They seemed to have the impression that I and members of the group were armed. I informed that that was a lie. I did feel they were invading my privacy and right to go where I wanted when I wanted and asked them to leave which they did. I have heard about Mr. Fitzpatrick's situation since that time and feel this is a travesty against all we have been taught and believe about our government. It should never have happened but I have not heard any threats against anyone regarding this situation.
I am a U.S. citizen and former military also an Oath Keeper who feels that this was my right and duty to attend this meeting. I was unarmed and did no harm to anyone, just a bystander and a coffee drinker. These were my rights and I feel I was well protected by the outrageous number of law enforcement that day who were using our tax dollars."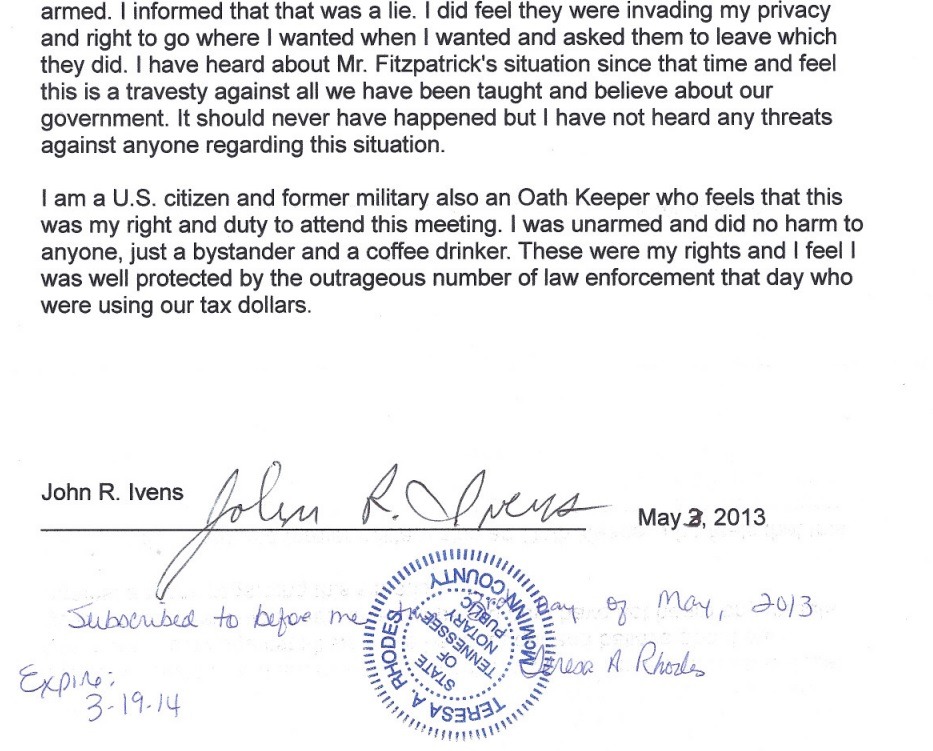 PJ FOGGY SPILLLS THE BEANS: PJ Foggy, a blogger who wears a hammer and sickle hat and is part of the leftist "FOGBOW" network stated, "We're the ones who got more than 100 cops ready for Cdr. Walt Fitzpatrick, when he showed up on April 20 with a group of armed men who thought they'd take over the Monroe County courthouse."
Here are is a photo of PJ Foggy followed by his admission that he played a role in what insiders believe was a Mueller hoax: