Judge Moore Tells WaPo, NYT 'Release Project Birmingham Report'
MONTGOMERY, ALA. — In the wake of revelations showing farreaching election manipulation by Democratic operatives in Alabama's 2017 U.S. Senate race, Judge Roy Moore is demanding the mainstream media release evidence they withheld.
Moore sent out a press release today, April 2, explicitly calling out the Washington Post and the New York Times for stacking the deck.  The goal? The former judge and recent candidate for U.S. Senate wants the publications to "release their copies of the Project Birmingham 'After-Action Report' widely blamed for promulgating what the media has called 'Russian-style' disinformation," according to multiple reports.
The popular Alabama judge is also requesting that the Senate Select Committee on Intelligence investigate how TDIP, New Knowledge, and former SSCI staffers "collaborated on perpetrating the disinformation campaign during the 2017 special senate election."
Trending: Indian Scientists Discover Hydroxychloroquine Treatment Prevents COVID-19, Vindicating President Trump
Judge Moore, in his press release,
take our poll - story continues below

Completing this poll grants you access to Big League Politics updates free of charge. You may opt out at anytime. You also agree to this site's Privacy Policy and Terms of Use.

I am calling on the Washington Post and the New York Times to release their copies of the Project Birmingham After-Action Report so we can get to the bottom of all of this election meddling the media has been so noisy about. The Senate Select Committee on Intelligence has the ability to investigate and subpoena this report to determine how far the fraud actually reaches, and they should do so.
He continued: "This is the height of hypocrisy as the Democrats now demand that the Mueller report be released, but desperately try to keep another report secret."
Big League Politics released its own thorough report examining the media bias and outright fabrication of content that falsely supported a "Russian collusion" narrative, and we found that even most of the "anonymous sources" cited by WaPo, Vanity Fair and the NYT — among other liberal publications — were actually completely "made up."
Moore zeroes in on the fact that the same outlets that fabricated "Russia" narrative are now withholding vital information proving that his own election was essentially rigged by Democratic operatives.
"The same media actors who perpetrated the bogus Russia-collusion narrative on the American people for the last two years are helping to cover up how the very same type of campaign was used to interfere in the election of a U.S. Senator in Alabama," the former judge stated. "And the very same entities who created the now widely discredited Steele Dossier worked to peddle falsehoods here in Alabama."
Regarding Alabama election conspiracy by Democrats under "Project Birmingham," WaPo reported in early January, 2019,
Project Birmingham got its funding from Internet billionaire Reid Hoffman, who emerged as a leading underwriter of Democratic causes after the 2016 election … Hoffman gave $750,000 to a progressive technology start-up called American Engagement Technologies — founded by Mikey Dickerson, a former Obama administration official … This person said Dickerson used $100,000 of that to hire New Knowledge, a Texas-based social media research firm, to work in Alabama in support of Jones during the special election in December 2017.
What is known about Project Birmingham comes mainly from the 12-page document labeled "Project Birmingham Debrief," which describes the criminal conspiracy as "a digital messaging operation to influence the outcome of the AL senate race" by targeting 650,000 likely voters with messages on social media platforms, e.g. Facebook. But the messages didn't disclose the "interest," or the affiliation to then-candidate Doug Jones.
According to WaPo, the stated goal was to "radicalize Democrats, suppress unpersuadable Republicans ("hard Rs") and faction moderate Republicans by advocating for write-in candidates."
The irony and sheer hypocrisy are not wasted on Judge Roy Moore, who wrote in today's press release:
At a time when the media are calling for the full release of the Mueller Report — an idea I fully support — some of the same press outlets who were complicit with pushing false narratives in Alabama's 2017 special election are sitting on information that would shed light onto how exactly dark money finds its way from Obama-affiliated non-profits to shell PACs working with Big Tech billionaires to buy elections.
Billionaires Have Made Half a Trillion Dollars While Tens of Millions File for Unemployment
As the number of Americans filing for unemployment approaches 40 million, America's billionaires are cruising along without any worries.
According to a CNBC report, billionaire fortunes climbed by a total of $434 billion since the middle of March,
At the top of the list are Jeff Bezos and Mark Zuckerberg, whose respective fortunes increased by $34.6 and $25 billion, according to the Americans for Tax Fairness and the Institute for Policy Studies' Program for Inequality. Zerohedge noted that both organizations came to this conclusion "based on Forbes data for America's over 600 billionaires collected between March 18 and May 19."
Tyler Durden highlighted the following stats:
take our poll - story continues below

Completing this poll grants you access to Big League Politics updates free of charge. You may opt out at anytime. You also agree to this site's Privacy Policy and Terms of Use.

Percentage-wise, Elon Musk's wealth grew 48% to $36 billion, while Zuckerberg clocked in at 46%. Bezos' wealth grew 31% to $147 billion. His ex-wife, MacKenzie Bezos, saw her wealth increase by roughly 33% to $48 billion. On average, American billionaires saw their net worth grow 15% during the two-month period from $2.948 trillion to $3.382 trillion.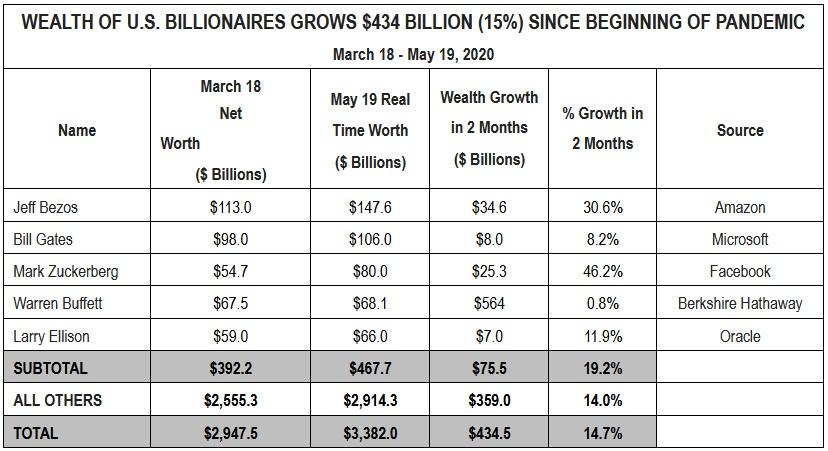 Bezos, Bill Gates, Zuckerberg, Buffett and Larry Ellison saw their wealth increase by a total of $76 billion.
"The surge in billionaire wealth during a global pandemic underscores the grotesque nature of unequal sacrifice," declared Chuck Collins, director of the IPS Program on Inequality and co-author of the Billionaire Bonanza 2020 report. "While millions risk their lives and livelihoods as first responders and front line workers, these billionaires benefit from an economy and tax system that is wired to funnel wealth to the top."
However, some billionaires haven't benefited so much:
Still, the pandemic hasn't been kind to other billionaires – whose yacht upgrades may need to wait. Those in travel and retail have taken a beating. Ralph Lauren saw his wealth drop by $100 million to $5.6 billion, while hotelier John Pritzker has seen a $34 million drop to $2.56 billion. We know, time to get a collection going.