L.A. City Council Forces Contractors To Reveal Support For Second Amendment
Anti-gun interests never rest.
A Los Angeles City Council Committee approved a draft ordinance on February 4, 2019 that will require city contractors to disclose any affiliations they have with the NRA.  Although this ordinance would not ban contractors tied to the NRA from doing business with the city, it still requires them to disclose contracts and sponsorship agreements they have with the Second Amendment group.
This is not the first time organizations like the NRA have been targeted by legacy institutions. Rental car companies like Avis and software companies like Symantec broke ties with the gun organization in the aftermath of the Stoneman Douglas shooting. Now that corporate virtue signaling is becoming the norm, we can expect corporate and municipal entities to pile on to the anti-gun hysteria.
Trending: Indian Scientists Discover Hydroxychloroquine Treatment Prevents COVID-19, Vindicating President Trump
The NRA has been a squishy defender of gun rights, but this is a troubling development for gun organizations nationwide. Such measures could be extended to other pro-gun organizations, and given Los Angeles' reputation as a political trend setter, we can expect similar ordinances to spread across the nation.
take our poll - story continues below
Completing this poll grants you access to Big League Politics updates free of charge. You may opt out at anytime. You also agree to this site's Privacy Policy and Terms of Use.
Gun organizations already face significant roadblocks on social media platforms like Facebook where firearm accessory ads have been heavily restricted, and, YouTube, which has demonetized and even banned firearms instruction videos. With gun control gaining more steam at the state level, anti-gunners are hoping for a massive momentum shift on an issue that has been relatively fringe for the past few decades.
Gun culture in the U.S. is currently under fire. The Left knows all too well that pursuing direct gun confiscation is not politically feasible. For that reason, they'll settle for other alternatives such as the recent L.A. ordinance or corporate gun control. From taking over municipalities to infiltrating the corporate boardroom, the anti-gun Left is making a full court press to make gun control a reality in America.
The 21st century is one of unconventional political tactics.  Politics is no longer confined to just the ballot box. Now it's being fought at the local and state level, as well in the general cultural and corporate world.
This should be a wake-up call to all pro-gun advocates. The tactics of the 20th century do not have much carryover in to the present. Gun owners must adapt to current circumstances lest they want anti-gun forces to come out on top.
There's no mercy for those who refuse to adapt.
Billionaires Have Made Half a Trillion Dollars While Tens of Millions File for Unemployment
As the number of Americans filing for unemployment approaches 40 million, America's billionaires are cruising along without any worries.
According to a CNBC report, billionaire fortunes climbed by a total of $434 billion since the middle of March,
At the top of the list are Jeff Bezos and Mark Zuckerberg, whose respective fortunes increased by $34.6 and $25 billion, according to the Americans for Tax Fairness and the Institute for Policy Studies' Program for Inequality. Zerohedge noted that both organizations came to this conclusion "based on Forbes data for America's over 600 billionaires collected between March 18 and May 19."
Tyler Durden highlighted the following stats:
take our poll - story continues below

Completing this poll grants you access to Big League Politics updates free of charge. You may opt out at anytime. You also agree to this site's Privacy Policy and Terms of Use.

Percentage-wise, Elon Musk's wealth grew 48% to $36 billion, while Zuckerberg clocked in at 46%. Bezos' wealth grew 31% to $147 billion. His ex-wife, MacKenzie Bezos, saw her wealth increase by roughly 33% to $48 billion. On average, American billionaires saw their net worth grow 15% during the two-month period from $2.948 trillion to $3.382 trillion.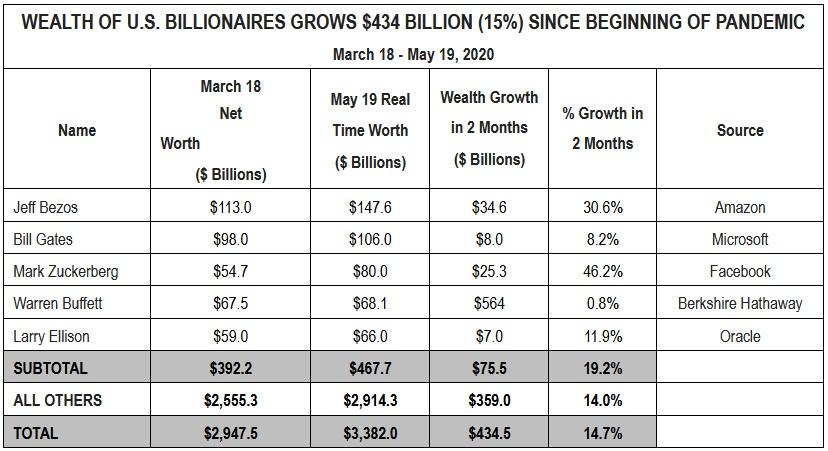 Bezos, Bill Gates, Zuckerberg, Buffett and Larry Ellison saw their wealth increase by a total of $76 billion.
"The surge in billionaire wealth during a global pandemic underscores the grotesque nature of unequal sacrifice," declared Chuck Collins, director of the IPS Program on Inequality and co-author of the Billionaire Bonanza 2020 report. "While millions risk their lives and livelihoods as first responders and front line workers, these billionaires benefit from an economy and tax system that is wired to funnel wealth to the top."
However, some billionaires haven't benefited so much:
Still, the pandemic hasn't been kind to other billionaires – whose yacht upgrades may need to wait. Those in travel and retail have taken a beating. Ralph Lauren saw his wealth drop by $100 million to $5.6 billion, while hotelier John Pritzker has seen a $34 million drop to $2.56 billion. We know, time to get a collection going.