LIVE UPDATES: Proud Boys and Patriot Prayer Hold Rally In Portland, Antifa Clashes Likely
Patriot Prayer, a conservative organization headed up by Washington U.S. Senate candidate Joey Gibson is hosting a rally in Portland, Oregon that is likely to get ugly.
The rally was initially going to be held at a Federal park within the city, but was switched to the Portland waterfront. That change caused immense anger among left-wing media outlets, who noted that at the waterfront in Portland, guns are allowed to be carried by those with valid Oregon concealed carry permits.
If kept to their own devices, Patriot Prayer and their supporters would have a peaceful rally. But due to the provocation of left-wing antifa radicals, it is likely to become violent.
Trending: Leftist Thug Targets Roger Stone's Handicapped Wife for Vicious Attack in Own Neighborhood
A recent rally ended early after police declared the event a riot.
take our poll - story continues below
Completing this poll grants you access to Big League Politics updates free of charge. You may opt out at anytime. You also agree to this site's Privacy Policy and Terms of Use.
This story will be continually updated as developments come in. You can track the rally live at a number of streams, including through Infowars, Very Fake News, and News2Share.
Big League Politics will be monitoring those streams, as while as reaching out with sources on the ground to give you the most up to date developments possible.
Update 4:16 PM EST:
Joey Gibson, who leads Patriot Prayer, attempted to speak with protesters, and was quickly attacked but was able to escape to safety.
Joey Gibson is on the counter-dem. side of the street. Tons of jeers pic.twitter.com/nwnA1QYAMn

— Hannah Boufford (@hannahboufford) August 4, 2018
UPDATE 4:26 PM EST:
Patriot Prayer, led by the Proud Boys, have begun marching in front of the waterfront. Historically this is where many past marches have become violent. Clashes with antifa protesters could be coming any moment.
UPDATE 4:39 PM EST:
Patriot Prayer and the Proud Boys have moved positions, where they are holding at a new position on the waterfront. A few speeches were held before it became clear that antifa was attempting to take their area.
Reports from Twitter show antifa moving from their designated area against the orders of Portland Police.
Police & protesters moving south, police van telling people to get out of the street. Sounds like "Our street" being chanted back pic.twitter.com/a238W1zJld

— Hannah Boufford (@hannahboufford) August 4, 2018
Apparently this group is still chasing the right-wingers. #defendPDX #alloutpdx pic.twitter.com/kdDCxEyOBh

— Mikeford Biziths (@itsmikebivins) August 4, 2018
UPDATE 4:46 PM EST:
Antifa is becoming unruly. Live video from the scene has showed them attempting to block roadways near where Patriot Prayer is rallying.
Police have also added an extra layer of separation in an attempt to keep antifa away from the conservative rally-goers.
https://twitter.com/jaredlholt/status/1025845166316302336
UPDATE 4:54 PM EST:
After ample warnings, Portland police have begun using what appear to be flashbang devices to force antifa protesters to disperse.
— Hannah Boufford (@hannahboufford) August 4, 2018
Breaking: Portland Police using flash grenades on antifa. #DefendPDX #AlloutPDX. Part 1 pic.twitter.com/pA1Q7OVtzc

— Mikeford Biziths (@itsmikebivins) August 4, 2018
UPDATE 5:00 PM EST:
An antifa supporter has been spotted doing a Nazi Sieg Heil salute at the rally.
UPDATE 5:04 PM EST:
Antifa has begun throwing projectiles at police. At least one person has been arrested.
Things not good. One arrest I've seen. pic.twitter.com/x46gA03g4J

— Christopher Mathias (@letsgomathias) August 4, 2018
UPDATE 5:13 PM EST:
A reporter has been struck by a projectile. While it is unclear which side it came from, the only confirmed projectiles have come from the antifa side.
Was just standing next to @Oregonian reporter @edercampuzano, he got hit with something and is bleeding. Medics helping him. Things are getting extremely intense, even for those of us standing back from the center of these groups pic.twitter.com/F4ID7Dj2Zp

— Tyler Dumont (@TylerDumontNews) August 4, 2018
UPDATE 5:17 PM EST:
While the confrontations between police at antifa have escalated. It does not yet appear that there have been any clashes between Patriot Prayer and antifa.
After I took this video an anti-fascist was hit with some kind of projectile shot by cops. He seems fine. Cat and mouse game between cops and anti-fascists in Portland right now. pic.twitter.com/Fxk12pgbQO

— Christopher Mathias (@letsgomathias) August 4, 2018
UPDATE 5:20 PM EST:
In an attempt to block police, antifa have continued to make barricades using anything they can find, including news stands and patio chairs.
Antifa creating a traditional street barrier made of signs and newsstands. Part 4#DefendPDX #AllOutPDX pic.twitter.com/OpMHLv0sMB

— Mikeford Biziths (@itsmikebivins) August 4, 2018
UPDATE 5:26 PM EST:
The rally has been declared a "civil disturbance" by police. Everyone has been ordered to disperse.
Patriot Prayer is heading to the original staging area, where it is unclear if they are going to leave. So far, all of the violence has been contained as being between police and antifa.
UPDATE 5:37 PM EST:
A man on the Patriot Prayer side was attacked by multiple people he describes as "commies." The extent of his injuries are unknown, but he has received medical attention.
UPDATE 5:42 PM EST:
Patriot Prayer has regrouped to their original rally point by the Portland waterfront. Antifa is setup on the other side of the road from them, with a blockade of police separating the two groups.
The scene at Tom McCall Waterfront Park. Patriot Prayer near the fountain. Counter-protesters across the street. Police between them. pic.twitter.com/OaKEb7Qe6e

— Anna Spoerre (@annaspoerre) August 4, 2018
UPDATE 5:53 PM EST:
Joey Gibson has begun speaking to a crowd of supporters. In it he declared victory, and asked his supporters to go out and vote to make 2018 a bigger victory than 2016 was.
He also announced a new rally that will take place in Seattle, Washington on August 18th.
UPDATE 6:16 PM EST:
A group of Patriot Prayer supporters were attacked while attempting to leave a parking garage. Pepper spray was deployed in what one can reasonably assume was self-defense.
Proud Boys in a truck just sprayed bear mace at antifa blocking their way, leaving a street full of coughing, tearing people behind pic.twitter.com/nt6uEYREAK

— Brendan O'Connor (@_grendan) August 4, 2018
UPDATE 6:49 PM EST:
The event has ended, but as Patriot Prayer supporters were waiting for escort out of the event, an antifa supporter snatched a Trump 2020 hat from a woman on the Patriot Prayer side. She was able to quickly get the hat back.
Black-clad protester snatched a Trump 2020 hat from a Trump supporter who is sitting in the area. She got it back. #DefendPDX #AlloutPDX pic.twitter.com/6DhUhT4RHX

— Mikeford Biziths (@itsmikebivins) August 4, 2018
UPDATE 7:00 PM EST:
Portland Police seized firework mortars during the rally. Antifa has used similar explosives at past rallies, so it can be assumed that they were found on that side.
During today's protest officers seized firework mortars (incendiary devices that create a loud explosive noise that can be dangerous when detonated near people). It is unlawful to possess firework mortars (ORS 480.120). pic.twitter.com/5DWnx1iqzK

— Portland Police (@PortlandPolice) August 4, 2018
Parler CEO John Matze Forced to Flee Home Under Deluge of Left-Wing Terror Threats
Matze is suing Amazon for deplatforming Parler.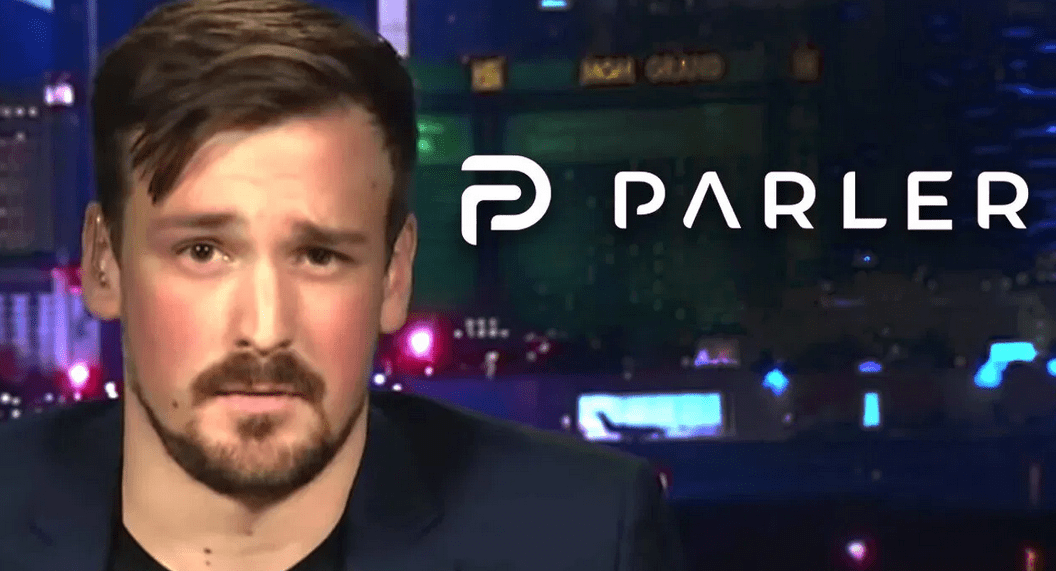 Parler CEO John Matze has been forced to flee his home and go into hiding after receiving an onslaught of left-wing death threats. Parler, a free speech social media platform, has been temporarily shut down in an extensive deplatforming campaign. Amazon promptly cut Parler's access to its Web Services after the US Capitol riot earlier this month, cherry-picking examples of content that violate Parler's terms of service and claiming the platform is being used for violent purposes.
Matze made the frank admission in a court filing for Parler's lawsuit against Amazon, requesting that the court keep any disclosures about his personal life and location secret. Parler is currently suing Amazon in federal court for its immediate revocation of Parler's hosting agreement, arguing that Amazon agreed to provide 30 days notice before any potential termination of Parler's hosting, pursuant to the party's original agreement.
Matze reveals that he's been forced to leave his home and go into hiding with his family, citing Amazon Web Services' "vilification" of his company.
take our poll - story continues below
Completing this poll grants you access to Big League Politics updates free of charge. You may opt out at anytime. You also agree to this site's Privacy Policy and Terms of Use.
Employees of Amazon have allegedly been threatened and harassed as well for shutting down Parler. The court filing in favor of redaction references these threats in requesting the court provide redaction of personal information to both sides.
"Both sides of this dispute have shown that their employees have suffered real harassment and threats—including, on both sides, death threats—owing to the charged nature of this litigation.
Parler therefore agrees with AWS that safety and security concerns justify the limited sealings requested here," Parler requests in the Amazon lawsuit.
Parler's administrators are still seeking to return the free speech social media platform to full operation, although it could take weeks to bring it back online. They may have learned a lesson about the futility of contracting hosting services with a Big Tech monopoly such as Amazon.
---
Follow me on Twitter @Wildman_AZ, on Parler @Moorhead, and on Gab @WildmanAZ.