Mamma Mia! Italy Scores a Big Win Against Illegal Immigration
EU border agency Frontex disclosed new statistics showing the effectiveness of Italian Interior Minister Matteo Salvini's immigration policies.
Salvini has reduced illegal immigration drastically since assuming office on June 1, 2018. According to Il Giornale, Mediterranean migrant route numbers plummeted drastically from 118,962 in 2017 to 23,276 in 2018. This 80 percent decline transpired following the establishment of the populist coalition government of Salvini's Lega party and the Five Star Movement.
The 2018 illegal immigrant numbers in Italy are the lowest since 2012. However, it seems that these migrant patterns are shifting towards Italy's Mediterranean counterpart in Spain. Since Spain's socialist government took control in 2018, the country has witnessed a 157 percent increase in the number of migrants taking sea routes.
Trending: Indian Scientists Discover Hydroxychloroquine Treatment Prevents COVID-19, Vindicating President Trump
Because of this increased migration, Spain may be on the verge of experiencing its own populist moment, as right-wing parties are projected to make a big splash in the 2019 European elections.
take our poll - story continues below
Completing this poll grants you access to Big League Politics updates free of charge. You may opt out at anytime. You also agree to this site's Privacy Policy and Terms of Use.
Roberto Calderoli, the Vice-President of the Italian Senate and a member of Salvini's Lega, praised Salvini's efforts.
Calderoli chimed in on Frontex's latest report:
"This confirms that the Italian policy, implemented by Minister Salvini and the Government of change, works and produces concrete results, even in terms of lives saved, because Frontex confirms that the departures from Libya fell by 87 percent."
Frontex's numbers don't lie, which Calderoli acknowledged:
"These are irrefutable numbers, which contradict what the left has done in the last five years, when it was, unfortunately, in government, and had brought in over 600 thousand immigrants."
Leaders like Salvini and Calderoli knew what was at stake with the EU's continuance of open borders and how it was negatively impacting Italy:
"We saw that the invasion could be stopped and Salvini did it."
Frontex's numbers are line with the Italian Interior Ministry's reports indicating that illegal migration levels have fallen by 95 percent as of January 2019 when compared to January 2018.
Salvini's policies have struck a positive chord with Italian voters, with projections of Lega winning the most seats in Italy in the upcoming European Parliament elections.
Despite all the doomsday prophecies from the globalist political establishment, Populism continues to be on the rise throughout Europe.
Billionaires Have Made Half a Trillion Dollars While Tens of Millions File for Unemployment
As the number of Americans filing for unemployment approaches 40 million, America's billionaires are cruising along without any worries.
According to a CNBC report, billionaire fortunes climbed by a total of $434 billion since the middle of March,
At the top of the list are Jeff Bezos and Mark Zuckerberg, whose respective fortunes increased by $34.6 and $25 billion, according to the Americans for Tax Fairness and the Institute for Policy Studies' Program for Inequality. Zerohedge noted that both organizations came to this conclusion "based on Forbes data for America's over 600 billionaires collected between March 18 and May 19."
Tyler Durden highlighted the following stats:
take our poll - story continues below

Completing this poll grants you access to Big League Politics updates free of charge. You may opt out at anytime. You also agree to this site's Privacy Policy and Terms of Use.

Percentage-wise, Elon Musk's wealth grew 48% to $36 billion, while Zuckerberg clocked in at 46%. Bezos' wealth grew 31% to $147 billion. His ex-wife, MacKenzie Bezos, saw her wealth increase by roughly 33% to $48 billion. On average, American billionaires saw their net worth grow 15% during the two-month period from $2.948 trillion to $3.382 trillion.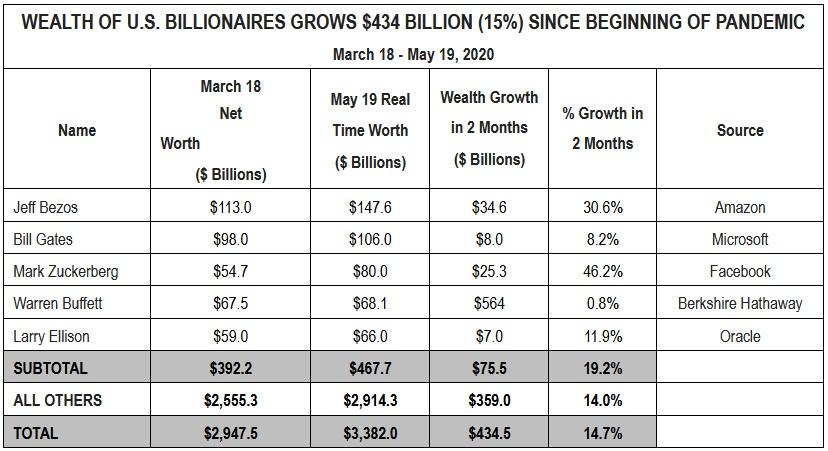 Bezos, Bill Gates, Zuckerberg, Buffett and Larry Ellison saw their wealth increase by a total of $76 billion.
"The surge in billionaire wealth during a global pandemic underscores the grotesque nature of unequal sacrifice," declared Chuck Collins, director of the IPS Program on Inequality and co-author of the Billionaire Bonanza 2020 report. "While millions risk their lives and livelihoods as first responders and front line workers, these billionaires benefit from an economy and tax system that is wired to funnel wealth to the top."
However, some billionaires haven't benefited so much:
Still, the pandemic hasn't been kind to other billionaires – whose yacht upgrades may need to wait. Those in travel and retail have taken a beating. Ralph Lauren saw his wealth drop by $100 million to $5.6 billion, while hotelier John Pritzker has seen a $34 million drop to $2.56 billion. We know, time to get a collection going.