NEW THREAT: Antifa Plans Acid Attack on D.C. Free Speech Rally, Promises To Blind Attendees
Attendees at an upcoming free speech rally have been threatened with acid attacks via social media.
A person utilizing artwork created by a Rolling Stone journalist who writes favorably about Antifa has threatened to attack attendees of the Demand Free Speech rally with "muriatic acid, wax, and balloons" on July 6 in Washington, D.C.
The threats were made on a popular right wing Telegram channel. A user with the name "POUND ON YOUR BOY" made several threats against the rally, prompting co-organizer Enrique Tarrio to contact the FBI and DHS, who are now planning to provide additional security to the event.
Over the course of about 10 minutes last night, the "POUND ON YOUR BOY" account asked how the D.C. event is "coming along", and referenced muriatic acid multiple times.
Trending: Indian Scientists Discover Hydroxychloroquine Treatment Prevents COVID-19, Vindicating President Trump
"I just want to toss as many balloons of Muriatic acid in the faces as many Proud Boys I can [sic]", wrote the user, "I just want to blind as many of you c**k suckers are possible [sic]."
take our poll - story continues below
Completing this poll grants you access to Big League Politics updates free of charge. You may opt out at anytime. You also agree to this site's Privacy Policy and Terms of Use.
He continued making threats, and eventually concluded his participation in the Telegram channel with "We already have the Muriatic acid, wax, and balloons."
According to Tarrio, the threat is especially dangerous due to the use of wax. Muriatic acid can be purchased in virtually any pool store or home improvement store, and is already dangerous on its own with the ability to cause minor burns, but can quickly be washed off with water. By combining the muriatic acid with wax, it will immediately form a film similar to candle wax on the injured person's skin.
Tarrio explains that this could allow the burn to become severe, and even lead to the wax and acid entering the injured person's blood stream and causing cardiac arrest.
"It starts with milk shakes, then it escalates to what happened to Andy Ngo, and now they're threatening us with acid attacks," Tarrio told Big League Politics, referencing the severe attack experienced by Ngo earlier today, when Antifa groups threw milk shakes at him and repeatedly struck and kicked him. "All because we want to defend free speech in Washington, D.C."
Tarrio went on, "We will not be intimidated with these tactics of fear and fascism. We will celebrate our First Amendment without apology."
While researching the "POUND ON YOUR BOY" name and cartoon profile photo associated with the Telegram account, Big League Politics was able to identify Twitter and Instagram accounts with the same phrase and artwork.
The artwork and phrase were created by Fagan Kuhnmuench, a Rolling Stone and Playboy journalist who repeatedly writes articles and social media posts sympathetic of Antifa.
Free art. Share widely. pic.twitter.com/0g0HzGjcVY

— gnarlyheadache 🇵🇸🇮🇪🏴 (@gnarlyheadache) May 21, 2019
When asked whether the "POUND ON YOUR BOY" Telegram account belonged to him via direct message on Twitter, Kuhnmuench took 18 hours to deny it was his Telegram account. He informed Big League Politics that he is not on the social media platform, but did not provide comment on his art being used to make violent threats.
Tarrio confirmed to Big League Politics that this information has been forwarded to the FBI.
This article was updated to provide details about communications between Kuhnmuench and Big League Politics.
Billionaires Have Made Half a Trillion Dollars While Tens of Millions File for Unemployment
As the number of Americans filing for unemployment approaches 40 million, America's billionaires are cruising along without any worries.
According to a CNBC report, billionaire fortunes climbed by a total of $434 billion since the middle of March,
At the top of the list are Jeff Bezos and Mark Zuckerberg, whose respective fortunes increased by $34.6 and $25 billion, according to the Americans for Tax Fairness and the Institute for Policy Studies' Program for Inequality. Zerohedge noted that both organizations came to this conclusion "based on Forbes data for America's over 600 billionaires collected between March 18 and May 19."
Tyler Durden highlighted the following stats:
take our poll - story continues below

Completing this poll grants you access to Big League Politics updates free of charge. You may opt out at anytime. You also agree to this site's Privacy Policy and Terms of Use.

Percentage-wise, Elon Musk's wealth grew 48% to $36 billion, while Zuckerberg clocked in at 46%. Bezos' wealth grew 31% to $147 billion. His ex-wife, MacKenzie Bezos, saw her wealth increase by roughly 33% to $48 billion. On average, American billionaires saw their net worth grow 15% during the two-month period from $2.948 trillion to $3.382 trillion.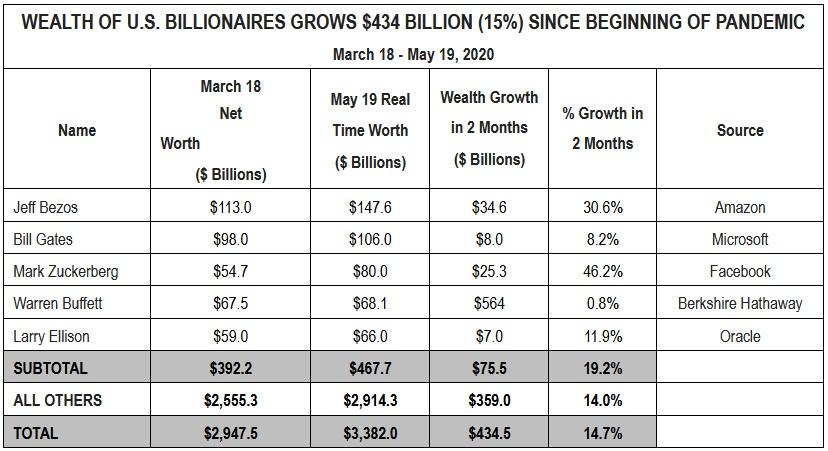 Bezos, Bill Gates, Zuckerberg, Buffett and Larry Ellison saw their wealth increase by a total of $76 billion.
"The surge in billionaire wealth during a global pandemic underscores the grotesque nature of unequal sacrifice," declared Chuck Collins, director of the IPS Program on Inequality and co-author of the Billionaire Bonanza 2020 report. "While millions risk their lives and livelihoods as first responders and front line workers, these billionaires benefit from an economy and tax system that is wired to funnel wealth to the top."
However, some billionaires haven't benefited so much:
Still, the pandemic hasn't been kind to other billionaires – whose yacht upgrades may need to wait. Those in travel and retail have taken a beating. Ralph Lauren saw his wealth drop by $100 million to $5.6 billion, while hotelier John Pritzker has seen a $34 million drop to $2.56 billion. We know, time to get a collection going.