NYPD Did Not Make Epstein Report To Required Sex Offender Check-Ins
Accused child sex trafficker Jeffrey Epstein not only received a sweetheart deal for his previous pedophilia conviction, he was let off the hook by the New York Police Department (NYPD) after he was recognized as a sex offender.
A lawyer for one of Jeffrey Epstein's accusers ripped the NYPD on Tuesday for failing to monitor the Level 3 sex offender — and said the department's flub may have contributed to his sick porn stash.
Trending: More Americans Now Identify as Republicans Than They Do As Democrats
"I'm really, really surprised that the NYPD let him get away with this, knowing he's a level 3 sex offender,'' said lawyer Brad Edwards — referring to the debacle exclusively reported in The Post in which the Police Department failed to follow up on a court order requiring Epstein to report in every 90 days.
take our poll - story continues below
Completing this poll grants you access to Big League Politics updates free of charge. You may opt out at anytime. You also agree to this site's Privacy Policy and Terms of Use.
Asked what effect the NYPD's botched actions might have caused, the lawyer responded by noting the massive trove of porn — including some allegedly involving children — in the multimillionaire pedophile's Upper East Side home.
New York Post passage ends
So what, exactly, was the root of Epstein's power? Perhaps the public will find out more through his trafficking trial.
Labor Secretary Alexander Acosta, a former Miami prosecutor, reportedly cut Jeffrey Epstein a deal in Epstein's previous case because he was told that Epstein "belonged to intelligence." Epstein now stands criminally accused of child sex trafficking.
The Daily Beast reports: "Is the Epstein case going to cause a problem [for confirmation hearings]?" Acosta had been asked. Acosta had explained, breezily, apparently, that back in the day he'd had just one meeting on the Epstein case. He'd cut the non-prosecution deal with one of Epstein's attorneys because he had "been told" to back off, that Epstein was above his pay grade. "I was told Epstein 'belonged to intelligence' and to leave it alone," he told his interviewers in the Trump transition, who evidently thought that was a sufficient answer and went ahead and hired Acosta. (The Labor Department had no comment when asked about this.)"
Interesting.
Former Democrat president Bill Clinton declined to be accompanied by the Secret Service on at least 5 of his flights with accused child trafficker Jeffrey Epstein. Clinton took at least 26 trips with Epstein according to FAA flight logs, and is now fighting to assert that he was not involved with Epstein's pedophilia.
Malia Zimmerman reported in 2016: "Official flight logs filed with the Federal Aviation Administration show Clinton traveled on some of the trips with as many as 10 U.S. Secret Service agents. However, on a five-leg Asia trip between May 22 and May 25, 2002, not a single Secret Service agent is listed. The U.S. Secret Service has declined to answer multiple Freedom of Information Act requests filed by FoxNews.com seeking information on these trips. Clinton would have been required to file a form to dismiss the agent detail, a former Secret Service agent told FoxNews.com. In response to a separate FOIA request from FoxNews.com, the U.S. Secret Service said it has no records showing agents were ever on the island with Clinton."
Fox News passage ends
Former Democrat president Bill Clinton released a statement Monday through a spokesperson acknowledging numerous interactions with his frequent travel companion Jeffrey Epstein.
Accused child sex trafficker Jeffrey Epstein claimed that he was a co-founder of the Clinton Global Initiative, a subsidiary of the scandal-plagued Clinton Foundation. Bill Clinton was a frequent Epstein travel companion.
Malia Zimmerman reported in 2016:
Attorneys for convicted sex offender Jeffrey Epstein touted his close friendship with Bill Clinton and even claimed the billionaire helped start Clinton's controversial family foundation in a 2007 letter aimed at boosting his image during plea negotiations…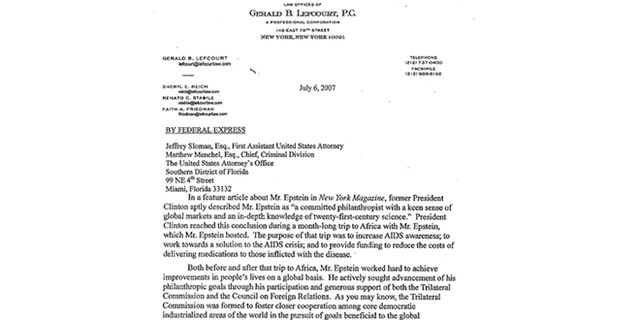 Bypass Tech Censorship!
Facebook, Twitter and Google are actively restricting conservative content through biased algorithms. Silicon Valley doesn't want you to read our articles. Bypass the censorship, sign up for our newsletter now!
Have a hot tip for Big League Politics?
Got a hot news tip for us? Photos or video of a breaking story? Send your tips, photos and videos to tips@bigleaguepolitics.com. All hot tips are immediately forwarded to BLP Staff.
Have something to say? Send your own guest column or original reporting to submissions@bigleaguepolitics.com.
Join the conversation!
We have no tolerance for comments containing violence, racism, profanity, vulgarity, doxing, or discourteous behavior. Thank you for partnering with us to maintain fruitful conversation.
Did Bernie Sanders Just Endorse a Neocon Regime Change Foreign Policy?
Is Bernie Sanders the anti-war candidate that many non-interventionists are making him out to be?
Journalists Jacob Crosse and Barry Grey presented some interesting observations about Sanders' foreign policy views.
Sanders criticized the assassination of Iranian General Qassem Suleimani in January and also stressed his opposition to the 2003 invasion of Iraq.
During the Iowa presidential debate, Sanders loudly boasted, "I not only voted against that war, I helped lead the effort against that war."
take our poll - story continues below
Completing this poll grants you access to Big League Politics updates free of charge. You may opt out at anytime. You also agree to this site's Privacy Policy and Terms of Use.
However, Sanders changed his tune when chatting with the New York Times.
The answers the Sanders campaign gave the Times showed its flexibility when it comes to foreign policy.
In other words, the Sanders campaign signaled to the military and intelligence apparatus that Sanders won't present a threat to their interests and may actually carry out their interventionist agenda.
One question in the survey that the Times sent the Sanders campaign stuck out above the rest.
The third survey question asked, "Would you consider military force to pre-empt an Iranian or North Korean nuclear or missile test?"
The Sanders campaign responded, "Yes."
Based on this response, Sanders' is signaling that he's willing to continue Bush-era policies of "preemptive war."
Like Obama, Sanders' opposition to the Iraq War was a matter of politics rather than a principled opposition to regime change wars.
His campaign was also asked, "Would you consider military force for a humanitarian intervention?"
Sanders responded, "Yes."
Some of the wars that the U.S. carried out in the name of "human rights" have been the Bosnian war and the bombing of Serbia in the 1990s along with the aerial campaign against Libya in 2011 and the Civil War launched in Syria.
All in all, Sanders' pro-peace/non-interventionist image is at best window dressing.
Under a Sanders presidency, the interventionist status quo will likely stay in place.