NYPD Did Not Make Epstein Report To Required Sex Offender Check-Ins
Accused child sex trafficker Jeffrey Epstein not only received a sweetheart deal for his previous pedophilia conviction, he was let off the hook by the New York Police Department (NYPD) after he was recognized as a sex offender.
A lawyer for one of Jeffrey Epstein's accusers ripped the NYPD on Tuesday for failing to monitor the Level 3 sex offender — and said the department's flub may have contributed to his sick porn stash.
Trending: #StopTheTires – American Truckers Halt Shipments Citing Voter Fraud, Elite Disrespect, Joe Biden
"I'm really, really surprised that the NYPD let him get away with this, knowing he's a level 3 sex offender,'' said lawyer Brad Edwards — referring to the debacle exclusively reported in The Post in which the Police Department failed to follow up on a court order requiring Epstein to report in every 90 days.
take our poll - story continues below
Completing this poll grants you access to Big League Politics updates free of charge. You may opt out at anytime. You also agree to this site's Privacy Policy and Terms of Use.
Asked what effect the NYPD's botched actions might have caused, the lawyer responded by noting the massive trove of porn — including some allegedly involving children — in the multimillionaire pedophile's Upper East Side home.
New York Post passage ends
So what, exactly, was the root of Epstein's power? Perhaps the public will find out more through his trafficking trial.
Labor Secretary Alexander Acosta, a former Miami prosecutor, reportedly cut Jeffrey Epstein a deal in Epstein's previous case because he was told that Epstein "belonged to intelligence." Epstein now stands criminally accused of child sex trafficking.
The Daily Beast reports: "Is the Epstein case going to cause a problem [for confirmation hearings]?" Acosta had been asked. Acosta had explained, breezily, apparently, that back in the day he'd had just one meeting on the Epstein case. He'd cut the non-prosecution deal with one of Epstein's attorneys because he had "been told" to back off, that Epstein was above his pay grade. "I was told Epstein 'belonged to intelligence' and to leave it alone," he told his interviewers in the Trump transition, who evidently thought that was a sufficient answer and went ahead and hired Acosta. (The Labor Department had no comment when asked about this.)"
Interesting.
Former Democrat president Bill Clinton declined to be accompanied by the Secret Service on at least 5 of his flights with accused child trafficker Jeffrey Epstein. Clinton took at least 26 trips with Epstein according to FAA flight logs, and is now fighting to assert that he was not involved with Epstein's pedophilia.
Malia Zimmerman reported in 2016: "Official flight logs filed with the Federal Aviation Administration show Clinton traveled on some of the trips with as many as 10 U.S. Secret Service agents. However, on a five-leg Asia trip between May 22 and May 25, 2002, not a single Secret Service agent is listed. The U.S. Secret Service has declined to answer multiple Freedom of Information Act requests filed by FoxNews.com seeking information on these trips. Clinton would have been required to file a form to dismiss the agent detail, a former Secret Service agent told FoxNews.com. In response to a separate FOIA request from FoxNews.com, the U.S. Secret Service said it has no records showing agents were ever on the island with Clinton."
Fox News passage ends
Former Democrat president Bill Clinton released a statement Monday through a spokesperson acknowledging numerous interactions with his frequent travel companion Jeffrey Epstein.
Accused child sex trafficker Jeffrey Epstein claimed that he was a co-founder of the Clinton Global Initiative, a subsidiary of the scandal-plagued Clinton Foundation. Bill Clinton was a frequent Epstein travel companion.
Malia Zimmerman reported in 2016:
Attorneys for convicted sex offender Jeffrey Epstein touted his close friendship with Bill Clinton and even claimed the billionaire helped start Clinton's controversial family foundation in a 2007 letter aimed at boosting his image during plea negotiations…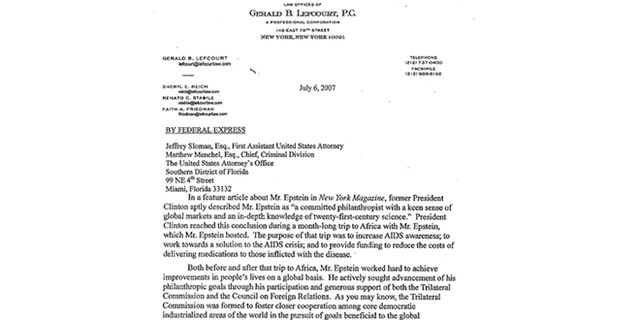 Mexican Government Reported that Nearly 80,000 People are Still Missing
Mexico Spirals Out of Control While Joe Biden Promises Mass Amnesty
According to a report released by the Mexican government on November 25, 2020, over 79,500 people are still missing in Mexico.
This comes in the backdrop of Mexico's infamous military offensive against drug cartels in 2006. Since the erstwhile president Felipe's military offensive against drug cartels, the number of missing people in Mexico has skyrocketed.
Before 2006, there were 1,500 disappearances in Mexico, per statistics that Deputy Human Rights Minister Alejandro Encina put forward. Since July, there have been roughly 6,300 new cases reported.
Encina observed, however, that the number of disappearances have dropped since 2019.
take our poll - story continues below
Completing this poll grants you access to Big League Politics updates free of charge. You may opt out at anytime. You also agree to this site's Privacy Policy and Terms of Use.
Mexico is notorious for its alarming levels of violence, which is largely perpetuated by organized crime. In 2019, 34,582 people were murdered. So far in 2020, 26,431 people have been murdered from January to September. 
Encinas claimed that Mexican authorities have discovered 1,399 mass graves in Mexico over the past two years. Of the 2,290 bodies discovered in the graves, 879 have been identified.
Mexico is not in good shape and that's putting it lightly. America at least recognized this with Donald Trump in office. Trump was elected on an America First platform which stressed tough policies on the border and was not willing tolerate mass immigration like his predecessors.
Sadly, the apparent president-Joe Biden is more concerned with trying to pass mass amnesty for 11 million illegal aliens and freezing deportations for 100 days.
Securing our Southern border is a recognition of the cold, hard truth that Mexico is falling apart, and it's institutional and social rot could potentially make its way up north. Much to America's chagrin, the next occupant of the White House will likely not recognize that. Should fraud allegations fail to invalidate the current results of  the 2020 elections, America First patriots must act accordingly and make immigration a massive issue during the 2022 midterms, both in the primaries and general election.