ON FIRE: Hong Kong Protestors Burn LeBron James Jerseys
Pro-democracy demonstrators in Hong Kong started burning LeBron James jerseys on Tuesday, October 15, 2019, after the NBA player criticized Houston Rockets general manager Daryl Morey.
James claims that there are "negatives" to the American tradition of free speech, citing Daryl Morey's pro-Hong Kong protestors tweets, which has led many people to believe that these comments were made to try to placate the Chinese.
After all, the NBA makes over $500 million in the Chinese market.
Trending: Indian Scientists Discover Hydroxychloroquine Treatment Prevents COVID-19, Vindicating President Trump
According to ESPN reports, the protestors chanted in support of Morey and criticized James on Tuesday.
take our poll - story continues below
Completing this poll grants you access to Big League Politics updates free of charge. You may opt out at anytime. You also agree to this site's Privacy Policy and Terms of Use.
It's no secret that China is seeking to flex in Hong Kong, which the British handed over to in 1997 and is slated to be fully incorporated in its political system by 2047.
Many Hong Kongers recognize this inevitable fact and have taken advantage of the introduction of an extradition bill earlier this year to protest Beijing's heavy-handed rule.
When the Rockets GM tweeted in solidarity with the Hong Kong protestors, the NBA bowed down to China and had Morey delete his pro-freedom tweet.
On Monday, the Los Angeles Lakers star chimed in and criticized Morey for sympathizing with those fighting for freedom and even scoffed at Morey's free speech rights.
"Yes, we do have freedom of speech," James declared. "But at times, there are ramifications for the negative that can happen when you're not thinking about others when you only think about yourself."
"So many people could have been harmed," James claimed, "not only financially but physically, emotionally, spiritually. So just be careful what we tweet and what we say and what we do. Even though yes, we do have freedom of speech, it can be a lot of negative that comes with it."
However, supporters of the pro-freedom protestors slammed James' comments.
"James was trying, you know, to take a side, on the China side, which is, like, ridiculous," Aaron Lee told ESPN. "He was being honest financially. Financial is money. Simple as that. LeBron James stands for money. Period."
This latest NBA drama with China should remind people of the toxic influence China is starting to have over American institutions.
Billionaires Have Made Half a Trillion Dollars While Tens of Millions File for Unemployment
As the number of Americans filing for unemployment approaches 40 million, America's billionaires are cruising along without any worries.
According to a CNBC report, billionaire fortunes climbed by a total of $434 billion since the middle of March,
At the top of the list are Jeff Bezos and Mark Zuckerberg, whose respective fortunes increased by $34.6 and $25 billion, according to the Americans for Tax Fairness and the Institute for Policy Studies' Program for Inequality. Zerohedge noted that both organizations came to this conclusion "based on Forbes data for America's over 600 billionaires collected between March 18 and May 19."
Tyler Durden highlighted the following stats:
take our poll - story continues below

Completing this poll grants you access to Big League Politics updates free of charge. You may opt out at anytime. You also agree to this site's Privacy Policy and Terms of Use.

Percentage-wise, Elon Musk's wealth grew 48% to $36 billion, while Zuckerberg clocked in at 46%. Bezos' wealth grew 31% to $147 billion. His ex-wife, MacKenzie Bezos, saw her wealth increase by roughly 33% to $48 billion. On average, American billionaires saw their net worth grow 15% during the two-month period from $2.948 trillion to $3.382 trillion.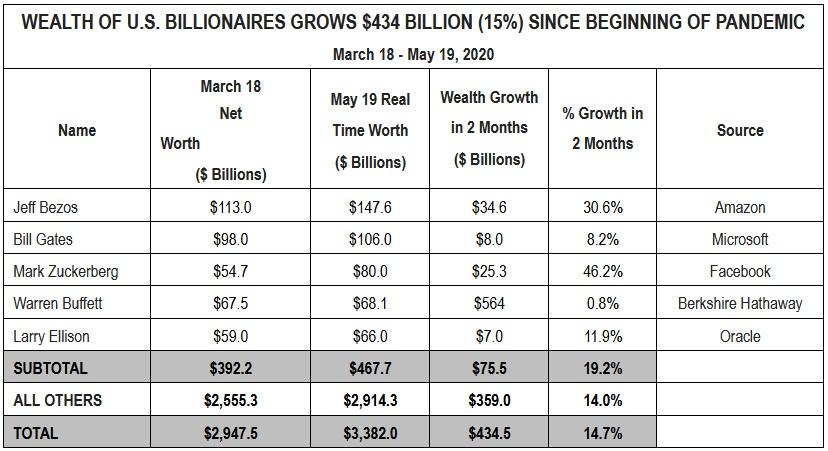 Bezos, Bill Gates, Zuckerberg, Buffett and Larry Ellison saw their wealth increase by a total of $76 billion.
"The surge in billionaire wealth during a global pandemic underscores the grotesque nature of unequal sacrifice," declared Chuck Collins, director of the IPS Program on Inequality and co-author of the Billionaire Bonanza 2020 report. "While millions risk their lives and livelihoods as first responders and front line workers, these billionaires benefit from an economy and tax system that is wired to funnel wealth to the top."
However, some billionaires haven't benefited so much:
Still, the pandemic hasn't been kind to other billionaires – whose yacht upgrades may need to wait. Those in travel and retail have taken a beating. Ralph Lauren saw his wealth drop by $100 million to $5.6 billion, while hotelier John Pritzker has seen a $34 million drop to $2.56 billion. We know, time to get a collection going.