Patriot Attorney Raising Legal Defense Funds for Kyle Rittenhouse is Locked Out of Twitter
Patriotic attorney L. Lin Wood has been locked out of Twitter after several days of successfully raising funds on behalf of the legal defense for 17-year-old Kyle Rittenhouse, who is facing first-degree murder charges for shooting three communists at a Kenosha, Wisc. riot last week.
Future Congresswoman Marjorie Taylor Greene of Georgia and right-wing pundit Michelle Malkin are two of the voices trying to get the word out about this latest instance of Big Tech censorship:
RT – @llinwood locked out of Twitter for championing Kyle Rittenhouse & speaking for so many of us under fire by censors, anarchists & mob.

Attention @realdonaldtrump – Help us #FightBack and defend the defenders! ENOUGH IS ENOUGH. https://t.co/FSoAlNt9nP

Trending: GOP Establishment Threatens President Trump with Impeachment Unless He Denies Election Fraud

— Michelle Malkin (@michellemalkin) September 1, 2020
take our poll - story continues below
Completing this poll grants you access to Big League Politics updates free of charge. You may opt out at anytime. You also agree to this site's Privacy Policy and Terms of Use.
.@Twitter is censoring my attorney @LLinWood

.@jack why are conservatives being canceled on Twitter?

We will not allow our 1st amendment freedom of speech to be taken from us!

In January, I'll be a Congresswoman.

I'll #fightback@realDonaldTrump pic.twitter.com/FU7WlFitsP

— Marjorie Taylor Greene For Congress🇺🇸 (@mtgreenee) September 1, 2020
Previously, Wood had announced to his supporters that he would continue distributing messages via his website and his legal foundation if he was censored from Twitter.
I have been extremely careful to never violate Twitter rules. But truth is being censored. If I am banned from Twitter in future, I will be providing information via my law firm website https://t.co/zCHaRigQg3 or my 501(c)(4) foundation website https://t.co/6TUotTMrY2#FightBack

— Lin Wood (@LLinWood) August 30, 2020
Wood, who also represented Richard Jewell and Kyle Sandmann when they were falsely accused of actions they did not commit, has founded the Fight Back Foundation to help other victims of far-left terror nationwide.
(2) I want NO special recognition for my efforts or donations. I pledged my life, my fortune, & my sacred honor to this country to fight for freedom. I keep my pledges. I just wanted you to know I have a dog in this fight. We all do.#FightBack

— Lin Wood (@LLinWood) September 1, 2020
There will be total transparency on part of #FightBack Foundation.

To date, 11,254 donors have donated total of $605,550 toward the Foundation's efforts to fund defense of Kyle Rittenhouse & help support & protect his family.

$0 from @Microsoft @Apple @BankofAmerica @MLB https://t.co/T8UH1r2A1J

— Lin Wood (@LLinWood) September 1, 2020
Rittenhouse's legal team has gone on the offense defending their client's reputation against an avalanche of defamation from the supporters of violent Black Lives Matter/ANTIFA revolution.
Big League Politics reported on a Rittenhouse attorney's appearance yesterday on Fox News' Tucker Carlson Tonight in which the lawyer set the record straight regarding his client's innocence:
The attorney for 17-year-old Kyle Rittenhouse appeared on Fox News' Tucker Carlson Tonight on Monday to defend his client against a smear campaign meant to destroy his reputation as he faces first-degree murder charges for shooting three communists at a riot in Kenosha, Wisc. last week.

"This is 100 percent self-defense," Rittenhouse's lawyer John Pierce said. "The only individuals Kyle shot were the three individuals attacking him and putting him at risk. This is a 17-year-old kid, this is amazing what he did."

Pierce explained that Rittenhouse was being menaced by pedophile Joseph Rosenbaum, who is now dead. Rosenbaum was "leading the attack" and "began to assault him from behind, attempted to take his weapon, take his firearm, and Kyle, when he turned, he instantaneously had no choice but to defend himself by firing because he was in imminent danger of serious bodily harm or death."

"They began screaming that Kyle needed to be killed, and they were going to kill him. They started relentlessly hunting him as prey as he ran down the street attempting to retreat," Pierce said.

Pierce said that the individuals who were attacking Rittenhouse ought to be charged, and the fact that Rittenhouse is in jail right now is a disgrace.

"Where are the charges for aggravated assault against Kyle Rittenhouse? Where are the charges for arson in our cities? Where are the charges for rioting? Where are the charges for crossing state lines? And where are the charges against the people who are funding this activity?" Pierce asked.

"Why is [Kyle] the one sitting in jail tonight as forces within this country sickeningly attempt to find a way to bring harm to him while he's in detention?" he continued.

"It is sickening," Carlson responded.
Wood will go down as one of the great heroes of freedom in American history for standing for the downtrodden.
Parler CEO "Confident" Platform Will Return to the Internet by the End of the Month
Parler aims to return, soon.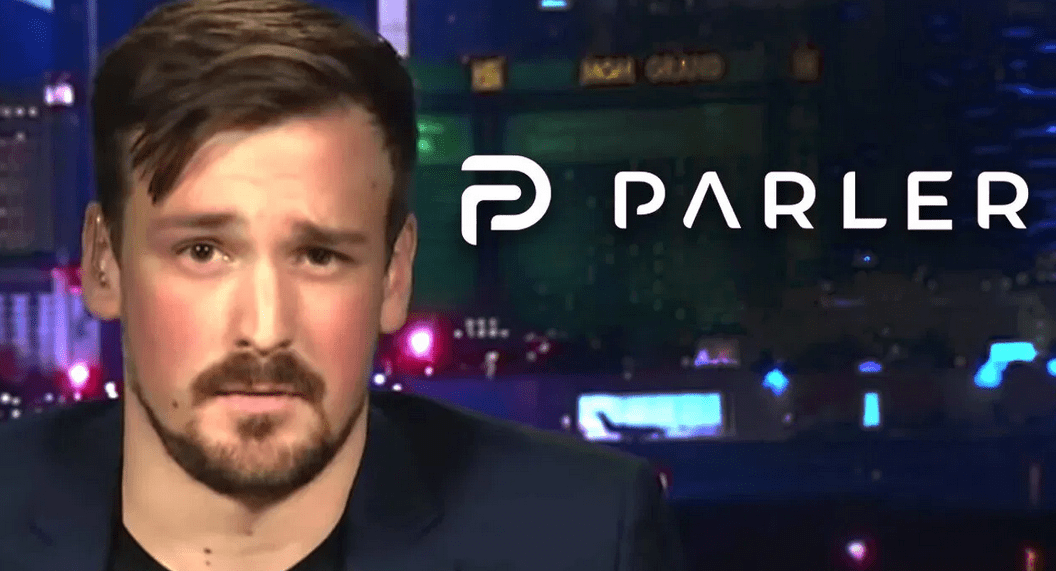 Parler CEO John Matze confirmed that he's "confident" the free speech social media service will return to the internet by the end of the month, speaking in an interview with Fox News.
"Every day it changes wildly, but I feel confident now," Matze said. "We're making significant progress. When you go into Parler.com it doesn't go into the void now, it hits a server, and it returns just one piece of information."
"I'm confident that by the end of the month, we'll be back up."
Amazon Web Hosting cancelled its hosting of Parler earlier this month. Big Tech oligarchs have blamed the service for the raucous US Capitol protest and riot earlier this month, even as evidence suggests the overwhelming majority of the planning for the event was undertaken on Twitter and Facebook.
take our poll - story continues below
Completing this poll grants you access to Big League Politics updates free of charge. You may opt out at anytime. You also agree to this site's Privacy Policy and Terms of Use.
It's a possibility that Parler could contract web hosting services with a company located in the Russian Federation, a country where the overbearing atmosphere of western political censorship isn't as strong.
Parler is currently litigating with Amazon for the arbitrary cancellation of its hosting agreement, pointing out a provision in the contract between the two companies that mandated a 30-day warning before any termination of service.
A message from conservative commentator Dan Bongino, an investor in the free speech platform, is featured on Parler's temporary web page.
As Parler remains defunct, free speech platform Gab remains fully operational and has incurred record-setting growth in the last several weeks. Gab's hosting and server infrastructure is all internally owned and managed, providing immunity to deplatforming attempts on the part of Big Tech.
---
Follow me on Twitter @Wildman_AZ, on Parler @Moorhead, and on Gab @WildmanAZ.