Peter Daszak Deletes Tweet Revealing Wuhan Lab Researchers At Fauci-Funded Conference
EcoHealth Alliance President Peter Daszak – the disgraced proponent of the COVID-19 "natural origins" theory and longtime friend of the Chinese Communist Party – deleted a tweet revealing his attendance at an event sponsored by Anthony Fauci's National Institute of Allergy and Infectious Diseases featuring Wuhan Institute of Virology researchers.
Posted on December 10th, 2019, only weeks before the Chinese government reported its first case of COVID-19, the tweet showed Daszak's attending the Nipah Virus International Conference in Singapore.
The conference was reportedly co-hosted "by Duke-NUS Medical School (Duke-NUS) and the Coalition for Epidemic Preparedness Innovations (CEPI). Also listed as organizers are the World Health Organization and the National Institute of Allergy and Infectious Diseases."
In the now-deleted tweet, Daszak details how Shi Zhengli, the Wuhan Institute of Virology's "bat lady," calls for "open and transparent international scientific collaboration on pandemic risk pathogens" at her lab's Biosafety Level 4 (BSL-4) facility. He then has a slide explaining how "you can train in the BSL-4 lab in Wuhan."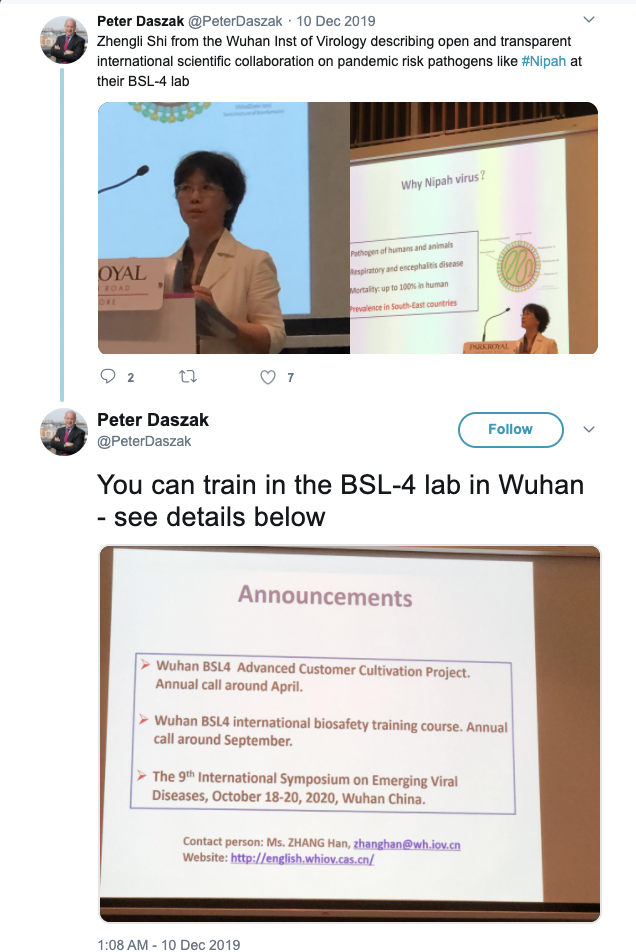 Daszak has come under fire for many of his actions leading up to and during the Coronavirus pandemic, with a recent GOP investigation essentially proving that COVID-19 leaked from the Wuhan Lab, discrediting Daszak's insistence that it surfaced naturally.
"We have uncovered strong evidence that suggests Peter Daszak is the public face of a CCP disinformation campaign designed to suppress public discussion about a potential lab leak," the report alleges.
Evidence has also surfaced indicating that Daszak was handpicked to investigate the origins of COVID-19 by the Chinese Communist Party, with the probe stating that "the United States put forth a list of experts to be considered, none of whom were chosen. Daszak was not on that list but was nevertheless selected and approved by the CCP."
The unearthed Twitter posts also follow Fauci, whose NIAID sponsored the event, denying having funded gain-of-function research in the Wuhan Lab despite mountains of evidence pointing to the contrary, including his own contradictory claims.