REPORT: Acosta Was Told Epstein 'Belonged To Intelligence' So 'Leave It Alone'
Labor Secretary Alexander Acosta, a former Miami prosecutor, reportedly cut Jeffrey Epstein a deal in Epstein's previous case because he was told that Epstein "belonged to intelligence." Epstein now stands criminally accused of child sex trafficking.
The Daily Beast reports: "Is the Epstein case going to cause a problem [for confirmation hearings]?" Acosta had been asked. Acosta had explained, breezily, apparently, that back in the day he'd had just one meeting on the Epstein case. He'd cut the non-prosecution deal with one of Epstein's attorneys because he had "been told" to back off, that Epstein was above his pay grade. "I was told Epstein 'belonged to intelligence' and to leave it alone," he told his interviewers in the Trump transition, who evidently thought that was a sufficient answer and went ahead and hired Acosta. (The Labor Department had no comment when asked about this.)"
Interesting.
Trending: SANITY: Black Lives Matter Rioter Charged With Attempted Murder After Opening Fire at Motorist Crossing Roadblock
Former Democrat president Bill Clinton declined to be accompanied by the Secret Service on at least 5 of his flights with accused child trafficker Jeffrey Epstein. Clinton took at least 26 trips with Epstein according to FAA flight logs, and is now fighting to assert that he was not involved with Epstein's pedophilia.
take our poll - story continues below
Completing this poll grants you access to Big League Politics updates free of charge. You may opt out at anytime. You also agree to this site's Privacy Policy and Terms of Use.
Malia Zimmerman reported in 2016: "Official flight logs filed with the Federal Aviation Administration show Clinton traveled on some of the trips with as many as 10 U.S. Secret Service agents. However, on a five-leg Asia trip between May 22 and May 25, 2002, not a single Secret Service agent is listed. The U.S. Secret Service has declined to answer multiple Freedom of Information Act requests filed by FoxNews.com seeking information on these trips. Clinton would have been required to file a form to dismiss the agent detail, a former Secret Service agent told FoxNews.com. In response to a separate FOIA request from FoxNews.com, the U.S. Secret Service said it has no records showing agents were ever on the island with Clinton."
Fox News passage ends
Former Democrat president Bill Clinton released a statement Monday through a spokesperson acknowledging numerous interactions with his frequent travel companion Jeffrey Epstein.
Accused child sex trafficker Jeffrey Epstein claimed that he was a co-founder of the Clinton Global Initiative, a subsidiary of the scandal-plagued Clinton Foundation. Bill Clinton was a frequent Epstein travel companion.
Malia Zimmerman reported in 2016:
Attorneys for convicted sex offender Jeffrey Epstein touted his close friendship with Bill Clinton and even claimed the billionaire helped start Clinton's controversial family foundation in a 2007 letter aimed at boosting his image during plea negotiations…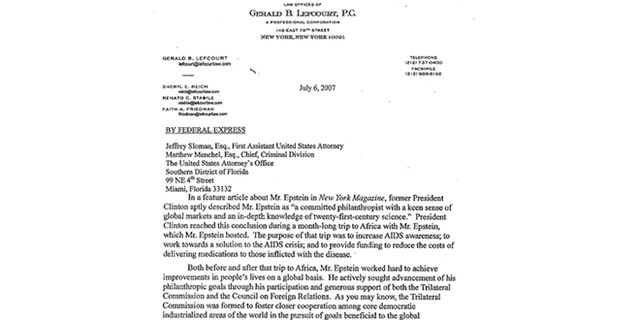 "Mr. Epstein was part of the original group that conceived the Clinton Global Initiative, which is described as a project 'bringing together a community of global leaders to devise and implement innovative solutions to some of the world's most pressing challenges," read the July 2007 letter to the U.S. Attorney's office in the Southern District of Florida. "Focuses of this initiative include poverty, climate change, global health, and religious and ethnic conflicts.""
Zimmerman's Fox News passage ends
The U.S. District Court Judge presiding over the Jeffrey Epstein child trafficking case was appointed to the federal bench by former president Bill Clinton, a frequent travel companion of Epstein. Epstein actually claimed to be a co-founder of the Clinton Foundation.
Richard Berman was appointed by Bill Clinton in 1998. He presided over Dinesh D'Souza's case where D'Souza was convicted of re-imbursing friends to evade campaign contribution limits in a New York election.
Meanwhile, disgraced former FBI director James Comey's daughter Maurene is one of the prosecutors in the case.
Convicted pedophile Jeffrey Epstein pleaded the Fifth Amendment in court to avoid having to admit to his personal friendship with former President Bill Clinton.
Court documents (p. 34) reviewed by The Daily Caller reveal that Epstein took the Fifth to avoid self-incrimination in a deposition when directly asked, "Do you know former President Clinton personally?" Epstein made the plea in a 2010-2011 civil case between Epstein and Florida lawyer Brad Edwards, who sued Epstein on behalf of some of Epstein's alleged victims.
Free Speech Organization FIRE Defends Kansas State Student Jaden McNeil From a Politically Correct Lynch Mob, KSU Will Not Expel the Student
After Kansas State University student Jaden McNeil made a Tweet in jest about George Floyd last week, he came under fire from all angles — athletes, the student body, and university administrators.
Given the tense climate of American political discourse in 2020, there was speculation that he was about to be expelled from the university.
Nevertheless, online activism from the likes of staunch right-winger Michelle Malkin helped create sufficient pushback against the lynch mobs that were descending on McNeil.
Now, McNeil has even more backup with free speech organization The Foundation for Individual Rights in Education (FIRE) coming to his defense.
take our poll - story continues below
Completing this poll grants you access to Big League Politics updates free of charge. You may opt out at anytime. You also agree to this site's Privacy Policy and Terms of Use.
FIRE sent KSU a resounding warning:
The Foundation for Individual Rights in Education is a non-partisan, non-profit organization dedicated to defending liberty, freedom of speech, due process, academic freedom, legal equality, and freedom of conscience on America's college campuses.

FIRE appreciates that Kansas State University is one of the few institutions in the country whose policies earn a 'green light' rating from FIRE. We write today in response to the University's statement that it is reviewing its "options" concerning KSU undergraduate Jaden McNeil's statement on social media.
KSU made a suggestive tweet in response to McNeil's original tweet about Floyd:
A message from President Richard Myers:

The insensitive comments posted by one K-State student hurts our entire community. These divisive statements do not represent for the values of our university. We condemn racism and bigotry in all its forms.

— K-State (@KState) June 26, 2020
A message from President Richard Myers: The insensitive comments posted by one K-State student hurts our entire community. These divisive statements do not represent for the values of our university. We condemn racism and bigotry in all its forms.
We are launching an immediate review of the university's options. Black Lives Matter at Kansas State University and we will continue to fight for social justice.
Although McNeil was forced to delete his Tweet about George Floyd last week, sites like Revolver still maintained a record of it.
McNeil tweeted jokingly, "Congratulations to George Floyd on being drug free for an entire month!"
FIRE's letter served as a reminder to KSU that as a public university it is bound by the United States Constitution and is compelled to protect free speech per the First Amendment. Yes, even when it comes to offensive speech.
The letter added:
While McNeil's tweets may be deeply offensive to many, they do not fall into a category of speech unprotected by the First Amendment, which strictly limits public universities like KSU from punishing protected expression.
The entire statement can be read on Michelle Malkin's twitter feed:
Exclusive: @TheFIREorg sends @KState letter reminding officials of their constitutional obligations in treatment of @JadenPMcNeil ==>"McNeil's tweets are unquestionably protected by the First Amendment." pic.twitter.com/8dXOvwewGQ

— Michelle Malkin (@michellemalkin) June 30, 2020
The stakes are high in 2020, as free speech hangs in the balance thanks to relentless pressure from the PC Left and Big Tech.
If the Right loses this battle, all other rights —right to bear arms all the way to the freedom of association — will be ripped to shreds.
The good news is that KSU announced that it will not expel McNeil over his Tweet. But the fight is far from over.
Anyone who values American freedoms should stand in solidarity with McNeil.