REPORT: Acosta Was Told Epstein 'Belonged To Intelligence' So 'Leave It Alone'
Labor Secretary Alexander Acosta, a former Miami prosecutor, reportedly cut Jeffrey Epstein a deal in Epstein's previous case because he was told that Epstein "belonged to intelligence." Epstein now stands criminally accused of child sex trafficking.
The Daily Beast reports: "Is the Epstein case going to cause a problem [for confirmation hearings]?" Acosta had been asked. Acosta had explained, breezily, apparently, that back in the day he'd had just one meeting on the Epstein case. He'd cut the non-prosecution deal with one of Epstein's attorneys because he had "been told" to back off, that Epstein was above his pay grade. "I was told Epstein 'belonged to intelligence' and to leave it alone," he told his interviewers in the Trump transition, who evidently thought that was a sufficient answer and went ahead and hired Acosta. (The Labor Department had no comment when asked about this.)"
Interesting.
Trending: Mike Lee Passes Big Tech H-1B Visa Giveaway in Senate Without Objection
Former Democrat president Bill Clinton declined to be accompanied by the Secret Service on at least 5 of his flights with accused child trafficker Jeffrey Epstein. Clinton took at least 26 trips with Epstein according to FAA flight logs, and is now fighting to assert that he was not involved with Epstein's pedophilia.
take our poll - story continues below
Completing this poll grants you access to Big League Politics updates free of charge. You may opt out at anytime. You also agree to this site's Privacy Policy and Terms of Use.
Malia Zimmerman reported in 2016: "Official flight logs filed with the Federal Aviation Administration show Clinton traveled on some of the trips with as many as 10 U.S. Secret Service agents. However, on a five-leg Asia trip between May 22 and May 25, 2002, not a single Secret Service agent is listed. The U.S. Secret Service has declined to answer multiple Freedom of Information Act requests filed by FoxNews.com seeking information on these trips. Clinton would have been required to file a form to dismiss the agent detail, a former Secret Service agent told FoxNews.com. In response to a separate FOIA request from FoxNews.com, the U.S. Secret Service said it has no records showing agents were ever on the island with Clinton."
Fox News passage ends
Former Democrat president Bill Clinton released a statement Monday through a spokesperson acknowledging numerous interactions with his frequent travel companion Jeffrey Epstein.
Accused child sex trafficker Jeffrey Epstein claimed that he was a co-founder of the Clinton Global Initiative, a subsidiary of the scandal-plagued Clinton Foundation. Bill Clinton was a frequent Epstein travel companion.
Malia Zimmerman reported in 2016:
Attorneys for convicted sex offender Jeffrey Epstein touted his close friendship with Bill Clinton and even claimed the billionaire helped start Clinton's controversial family foundation in a 2007 letter aimed at boosting his image during plea negotiations…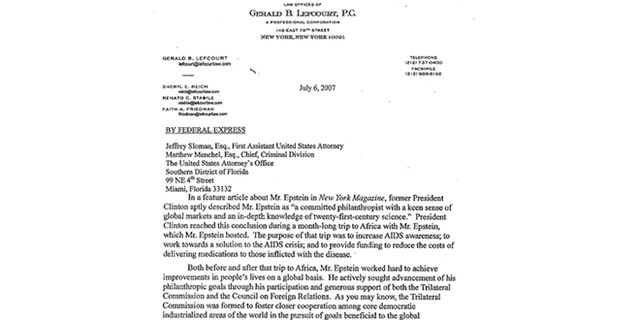 "Mr. Epstein was part of the original group that conceived the Clinton Global Initiative, which is described as a project 'bringing together a community of global leaders to devise and implement innovative solutions to some of the world's most pressing challenges," read the July 2007 letter to the U.S. Attorney's office in the Southern District of Florida. "Focuses of this initiative include poverty, climate change, global health, and religious and ethnic conflicts.""
Zimmerman's Fox News passage ends
The U.S. District Court Judge presiding over the Jeffrey Epstein child trafficking case was appointed to the federal bench by former president Bill Clinton, a frequent travel companion of Epstein. Epstein actually claimed to be a co-founder of the Clinton Foundation.
Richard Berman was appointed by Bill Clinton in 1998. He presided over Dinesh D'Souza's case where D'Souza was convicted of re-imbursing friends to evade campaign contribution limits in a New York election.
Meanwhile, disgraced former FBI director James Comey's daughter Maurene is one of the prosecutors in the case.
Convicted pedophile Jeffrey Epstein pleaded the Fifth Amendment in court to avoid having to admit to his personal friendship with former President Bill Clinton.
Court documents (p. 34) reviewed by The Daily Caller reveal that Epstein took the Fifth to avoid self-incrimination in a deposition when directly asked, "Do you know former President Clinton personally?" Epstein made the plea in a 2010-2011 civil case between Epstein and Florida lawyer Brad Edwards, who sued Epstein on behalf of some of Epstein's alleged victims.
The Attorney General on His Way Out?: Trump Mulls Firing Bill Barr, Advisers Trying to Dissuade Him
Trump is unhappy about more than just Barr's recent voter fraud comments.
President Donald Trump is considering firing Attorney General William Barr, with the Washington Post reporting Wednesday evening that Trump "remained livid" at him.
On Tuesday Barr said that the Justice Department did not find evidence of "fraud on a scale that could have effected a different outcome in the election."
An unnamed senior administration official told the Post that although Trump is upset about Barr's comments, he's also unhappy with Barr about other matters, such as his previous lack of action on the FBI's investigation into the Trump campaign and his handling of John Durham.
The president is pressuring Barr to release the "Durham report," which could implicate officials in using the investigation to target Trump for political reasons. Trump also sees Barr's secret appointment of Durham to DOJ special counsel as a "stall tactic."
take our poll - story continues below

Completing this poll grants you access to Big League Politics updates free of charge. You may opt out at anytime. You also agree to this site's Privacy Policy and Terms of Use.

AG Barr Reveals John Durham Was Appointed Special Counsel Weeks Before 2020 Election
In the wake of Election Day Attorney General Barr authorized federal prosecutors to "investigate substantial allegations" of voter fraud. But in his comments Tuesday, Barr claimed that "most claims of fraud are very particularized to a particular set of circumstances or actors or conduct."
"They are not systemic allegations," said Barr.
Trump may want to fire Barr, but several advisers are trying to persuade him not to, according to the unnamed senior official.
Either way, it's tough to see how Barr remains attorney general for much longer. If Joe Biden pulls off the steal and gets inaugurated, he will certainly replace Barr with his own AG. And if Trump hangs on for his second and final term, he may very well want to clean house and start afresh.