REPORT: Acosta Was Told Epstein 'Belonged To Intelligence' So 'Leave It Alone'
Labor Secretary Alexander Acosta, a former Miami prosecutor, reportedly cut Jeffrey Epstein a deal in Epstein's previous case because he was told that Epstein "belonged to intelligence." Epstein now stands criminally accused of child sex trafficking.
The Daily Beast reports: "Is the Epstein case going to cause a problem [for confirmation hearings]?" Acosta had been asked. Acosta had explained, breezily, apparently, that back in the day he'd had just one meeting on the Epstein case. He'd cut the non-prosecution deal with one of Epstein's attorneys because he had "been told" to back off, that Epstein was above his pay grade. "I was told Epstein 'belonged to intelligence' and to leave it alone," he told his interviewers in the Trump transition, who evidently thought that was a sufficient answer and went ahead and hired Acosta. (The Labor Department had no comment when asked about this.)"
Interesting.
Trending: 74-Year Old Phoenix Asian Man Killed in Unprovoked Parking Lot Assault
Former Democrat president Bill Clinton declined to be accompanied by the Secret Service on at least 5 of his flights with accused child trafficker Jeffrey Epstein. Clinton took at least 26 trips with Epstein according to FAA flight logs, and is now fighting to assert that he was not involved with Epstein's pedophilia.
take our poll - story continues below
Completing this poll grants you access to Big League Politics updates free of charge. You may opt out at anytime. You also agree to this site's Privacy Policy and Terms of Use.
Malia Zimmerman reported in 2016: "Official flight logs filed with the Federal Aviation Administration show Clinton traveled on some of the trips with as many as 10 U.S. Secret Service agents. However, on a five-leg Asia trip between May 22 and May 25, 2002, not a single Secret Service agent is listed. The U.S. Secret Service has declined to answer multiple Freedom of Information Act requests filed by FoxNews.com seeking information on these trips. Clinton would have been required to file a form to dismiss the agent detail, a former Secret Service agent told FoxNews.com. In response to a separate FOIA request from FoxNews.com, the U.S. Secret Service said it has no records showing agents were ever on the island with Clinton."
Fox News passage ends
Former Democrat president Bill Clinton released a statement Monday through a spokesperson acknowledging numerous interactions with his frequent travel companion Jeffrey Epstein.
Accused child sex trafficker Jeffrey Epstein claimed that he was a co-founder of the Clinton Global Initiative, a subsidiary of the scandal-plagued Clinton Foundation. Bill Clinton was a frequent Epstein travel companion.
Malia Zimmerman reported in 2016:
Attorneys for convicted sex offender Jeffrey Epstein touted his close friendship with Bill Clinton and even claimed the billionaire helped start Clinton's controversial family foundation in a 2007 letter aimed at boosting his image during plea negotiations…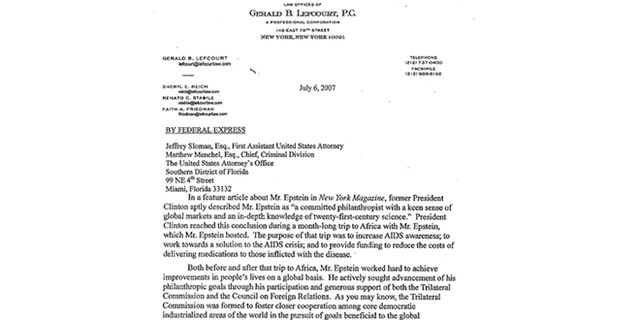 "Mr. Epstein was part of the original group that conceived the Clinton Global Initiative, which is described as a project 'bringing together a community of global leaders to devise and implement innovative solutions to some of the world's most pressing challenges," read the July 2007 letter to the U.S. Attorney's office in the Southern District of Florida. "Focuses of this initiative include poverty, climate change, global health, and religious and ethnic conflicts.""
Zimmerman's Fox News passage ends
The U.S. District Court Judge presiding over the Jeffrey Epstein child trafficking case was appointed to the federal bench by former president Bill Clinton, a frequent travel companion of Epstein. Epstein actually claimed to be a co-founder of the Clinton Foundation.
Richard Berman was appointed by Bill Clinton in 1998. He presided over Dinesh D'Souza's case where D'Souza was convicted of re-imbursing friends to evade campaign contribution limits in a New York election.
Meanwhile, disgraced former FBI director James Comey's daughter Maurene is one of the prosecutors in the case.
Convicted pedophile Jeffrey Epstein pleaded the Fifth Amendment in court to avoid having to admit to his personal friendship with former President Bill Clinton.
Court documents (p. 34) reviewed by The Daily Caller reveal that Epstein took the Fifth to avoid self-incrimination in a deposition when directly asked, "Do you know former President Clinton personally?" Epstein made the plea in a 2010-2011 civil case between Epstein and Florida lawyer Brad Edwards, who sued Epstein on behalf of some of Epstein's alleged victims.
Mara Elvira Salazar is No Friend of America First Nationalism
Republican leaders would be wise to ignore all of her political advice.
If there's one Republican leader that young activists should never listen to, it's Florida Congresswoman Maria Elvira Salazar. 
Salazar, who is a Cuban American, has been an outspoken advocate of loosening U.S. immigration laws. In fact, she even confronted known immigration hawk and key Trump adviser Stephen Miller at a Republican Study Committee weekly lunch on February 24, 2021. She specifically criticized Trump's immigration message and demanded that the GOP be more inclusive in its outreach.
"I told him [Miller] that the GOP needs to attract the browns," stated Salazar. "We, for the last 30 years since Ronald Reagan, have not sent the right message to the browns," she continued. "Reagan was the last guy who gave a path to citizenship to 3 million people … 35 years ago. It's time for us to do the same thing that Reagan did."
Salazar doubled down on her pro-immigration message when she went on Larry Kudlow's show on March 2 and declared that former President Donald Trump would have done better with Hispanics by advocating for looser immigration. Journalist Ryan Girdusky noted how some of Trump's advisers were already pushing for amnesty lite policies:
.@RepMariaSalazar went on Larry Kudlow's show and said Trump would have done better with Hispanics if he had John McCain's position on immigration. Incredibly stupid

take our poll - story continues below

Completing this poll grants you access to Big League Politics updates free of charge. You may opt out at anytime. You also agree to this site's Privacy Policy and Terms of Use.

— Ryan James Girdusky (@RyanGirdusky) March 2, 2021
She said Trump's fault was he didn't offer full legality towards all 20 million illegal aliens and increase legal immigration.

Larry then noted that he, Jared, and Brooke Rollins were working on a plan like that (something Jared's people denied)

— Ryan James Girdusky (@RyanGirdusky) March 2, 2021
Girdusky added that Salazar was rather unhinged in her criticism of Miller's vision for the GOP:
Throughout her anger filled rant, which was full of inaccuracies, she repeatedly took jabs at Stephen Miller who addressed the @RepublicanStudy last week, during which she was totally unhinged, came into the meeting and started screaming at him. She's not even a member of RSC

— Ryan James Girdusky (@RyanGirdusky) March 2, 2021
Salazar made a lot of noise about the Hispanic vote, despite ignoring how Trump improved his Hispanic numbers between 2016 and his re-election bid in 2020 from 28% to 32%. And he did so without much Hispandering or campaigning on passing amnesty. 
The unsavory fact that the GOP consultant class and the likes of Salazar refuse to acknowledge is that the Black Lives Matter unrest alone likely pushed significant segments of the Hispanic population into the Democrats' arms. BLM radicalism alienated Americans of all backgrounds., but Hispanics were not having any of this kind of ruckus. Even Hispanic Democrats, of all groups, largely supported strong military action during the riots.
In reality, Hispanic support for Trump is largely based on his bluster and political bluntness, which many minority groups find comfort in. 
However, Republicans like Salazar gets it all wrong by thinking that expanding immigration both legal and illegal is a key to the Republican Party success. The Republican Party will have to concede that they can make gains with Hispanics at the margins but they cannot expect to win the majority of the Hispanic vote due to Hispanics' propensity to support many causes ranging from gun control to more government involvement in healthcare. Data from the Pew Research Center demonstrates these beliefs among Hispanics. Nevertheless, there are some avenues for outreach with this demographic  but they must be done right. 
The key for Republican success is the white working class voters, which played a crucial role in putting Trump over the top in the Midwest back in 2016. These voters are not the most reliable in terms of turnout, but they comprise a vast segment of the American electorate. Any candidate who can activate them could potentially build a hegemonic electoral coalition for years to come. The goal for a sane Republican campaign is to maximize turnout and support among the WWC. 
Such inroads with WWC voters are more important than meeting a diversity quota the likes of Salazar and naive Republican strategists would like the party to pursue. Any nationalist campaign worth its salt would be promoting the following: Infrastructure projects targeting the Midwest, the restriction of both illegal and legal immigration, and re-shoring programs to bring jobs back. 
On the other hand, following Salazar's program is the way that the GOP will become irrelevant and alienate many WWC voters who are already on the fence with regards to the Republican Party. These voters are not going to gravitate towards Republicans just because of the "R" next to their name. They still must be catered to and pushing for amnesty is one way to turn working class voters off.
Under Salazar's watch, the GOP will simply be going back to the politically correct ways of the Bush administration. To tap into the sleeping giants that is the WWC, Republican leaders should ignore everything Salazar has to say and get fully behind nationalist policies such as immigration restriction, infrastructure development, and re-shoring.