Right Wing Purge: YouTube Plans on Banning Videos Even if They Don't Violate its Policies
YouTube will continue purging content, but now it will target content which doesn't necessarily violate its policies.
In recent months, YouTube has waged war on "conspiracy" and right-wing videos. Now, it's doubling down by introducing a new policy to ban content which promotes the superiority of certain groups to others signaled by its announcement to ban content promoting one group as superior to another "in order to justify discrimination, segregation or exclusion based on qualities like age, gender, race, caste, religion, sexual orientation or veteran status."
Google CEO Sundar Pichai told Axios that YouTube's new content policing strategy would single out what they describe as "borderline content."
Trending: Indian Scientists Discover Hydroxychloroquine Treatment Prevents COVID-19, Vindicating President Trump
Pichair describes "borderline content" as "Content which doesn't exactly violate policies, which need to be removed, but which can still cause harm."
take our poll - story continues below
Completing this poll grants you access to Big League Politics updates free of charge. You may opt out at anytime. You also agree to this site's Privacy Policy and Terms of Use.
The Google CEO said that the problem at hand is "a hard computer science problem. He also stated that it is an even harder "societal problem because we need better frameworks around what is hate speech, what's not, and how do we as a company make those decisions at scale, and get it right without making mistakes."
In a statement last week, YouTube said, "Even if a creator's content doesn't violate our community guidelines, we will take a look at the broader context and impact, and if their behavior is egregious and harms the broader community, we may take action."
Last week, conservative personality Steven Crowder got into a heated online scuffle with Vox journalist Carlos Maza. During this exchange, many leftist pundits argued that Crowder used offensive remarks against Maza, thus necessitating some type of disciplinary action from social media giants. Like clockwork, they pressured YouTube to demonetize the right-wing content creator's content on YouTube.
YouTube touched on the Crowder incident.
In the case of Crowder's channel, a thorough review over the weekend found that individually, the flagged videos did not violate our Community Guidelines. However, in the subsequent days, we saw the widespread harm to the YouTube community resulting from the ongoing pattern of egregious behavior, took a deeper look, and made the decision to suspend monetization. In order to be considered for reinstatement, all relevant issues with the channel need to be addressed, including any videos that violate our policies, as well as things like offensive merchandise.
With the 2020 elections fast approaching, social media giants have been doubling down on censoring politically incorrect commentators such as Paul Joseph Watson and Laura Loomer. The unconventional approaches used by the New Right on social media played a significant role in getting Trump elected in 2016.
As a result, social media has fully embraced political correctness culture and has worked hard to muzzle shut those who dare to deviate from PC standards. This trend will likely continue well into 2020.
Billionaires Have Made Half a Trillion Dollars While Tens of Millions File for Unemployment
As the number of Americans filing for unemployment approaches 40 million, America's billionaires are cruising along without any worries.
According to a CNBC report, billionaire fortunes climbed by a total of $434 billion since the middle of March,
At the top of the list are Jeff Bezos and Mark Zuckerberg, whose respective fortunes increased by $34.6 and $25 billion, according to the Americans for Tax Fairness and the Institute for Policy Studies' Program for Inequality. Zerohedge noted that both organizations came to this conclusion "based on Forbes data for America's over 600 billionaires collected between March 18 and May 19."
Tyler Durden highlighted the following stats:
take our poll - story continues below

Completing this poll grants you access to Big League Politics updates free of charge. You may opt out at anytime. You also agree to this site's Privacy Policy and Terms of Use.

Percentage-wise, Elon Musk's wealth grew 48% to $36 billion, while Zuckerberg clocked in at 46%. Bezos' wealth grew 31% to $147 billion. His ex-wife, MacKenzie Bezos, saw her wealth increase by roughly 33% to $48 billion. On average, American billionaires saw their net worth grow 15% during the two-month period from $2.948 trillion to $3.382 trillion.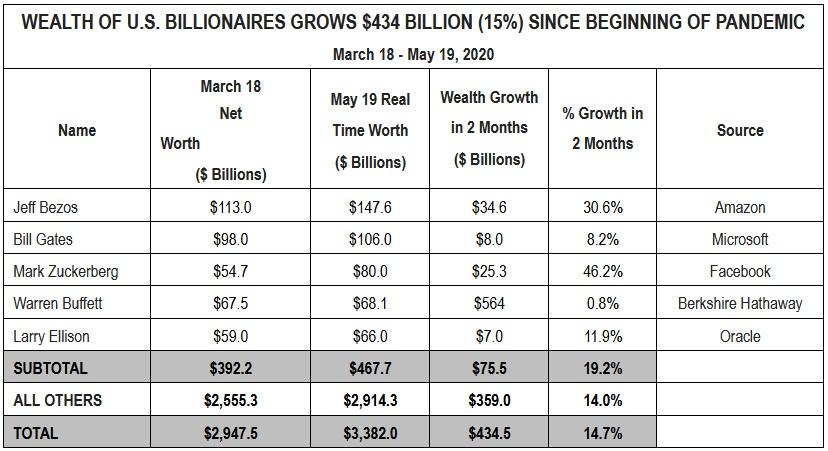 Bezos, Bill Gates, Zuckerberg, Buffett and Larry Ellison saw their wealth increase by a total of $76 billion.
"The surge in billionaire wealth during a global pandemic underscores the grotesque nature of unequal sacrifice," declared Chuck Collins, director of the IPS Program on Inequality and co-author of the Billionaire Bonanza 2020 report. "While millions risk their lives and livelihoods as first responders and front line workers, these billionaires benefit from an economy and tax system that is wired to funnel wealth to the top."
However, some billionaires haven't benefited so much:
Still, the pandemic hasn't been kind to other billionaires – whose yacht upgrades may need to wait. Those in travel and retail have taken a beating. Ralph Lauren saw his wealth drop by $100 million to $5.6 billion, while hotelier John Pritzker has seen a $34 million drop to $2.56 billion. We know, time to get a collection going.