Ruth Bader Ginsburg Forced to Miss SCOTUS Legal Arguments After Falling Ill Yet Again
Ginsburg has had two cancer scares in the past year.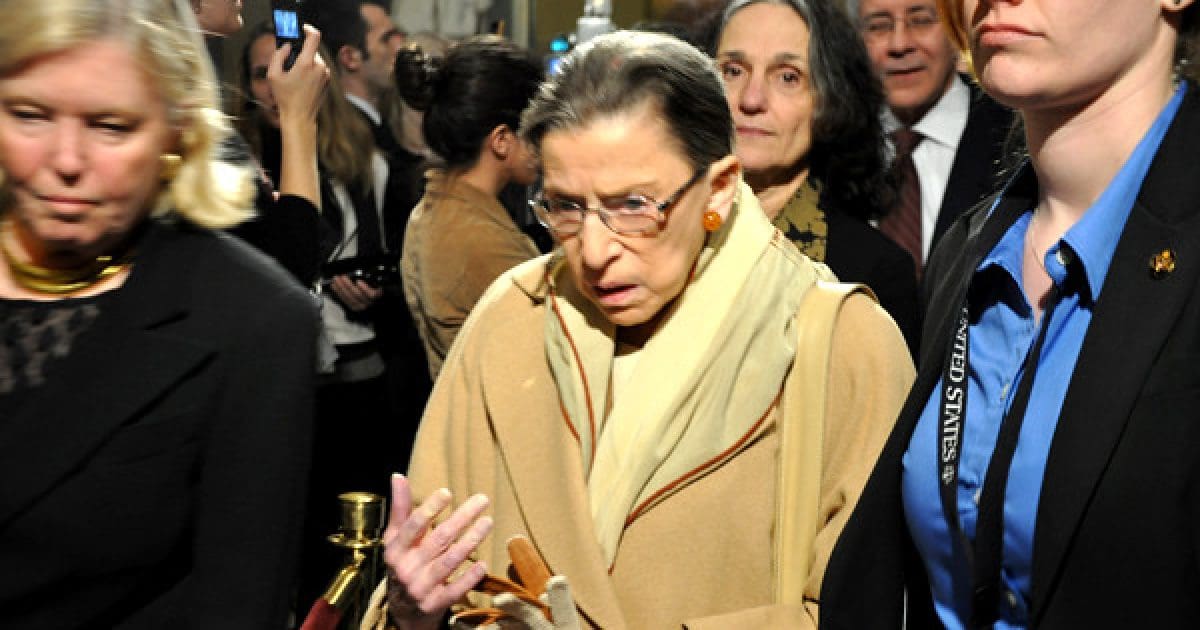 Supreme Court Justice Ruth Bader Ginsburg is sick yet again. She missed legal arguments today due to supposed "stomach bug" that rendered her ill.
Chief Justice John Roberts made the announcement that RBG was "indisposed due to illness." Her illness forced her to miss courtroom arguments for two cases.
RBG's health has taken a turn for the worse over the past year, as she has undergone two cancer scares and suffered broken ribs from a fall. She is the oldest judge on the SCOTUS right now at the age of 86, and liberals fear that her waning condition will allow President Donald Trump to replace her with a strong conservative.
Trending: Somali Migrant Walks Free After Allegedly Breaking the Nose of a Missouri Woman in Violent Struggle
RBG has had four separate bouts with cancer, with the most recent coming over the summer when she was treated with radiation over a three-week period:
take our poll - story continues below

Completing this poll grants you access to Big League Politics updates free of charge. You may opt out at anytime. You also agree to this site's Privacy Policy and Terms of Use.

Supreme Court Justice Ruth Bader Ginsburg is suffering from pancreatic cancer and finished treatment for a tumor that was found in her pancreas last month, the Supreme Court announced in an official statement earlier today.

"The Justice tolerated treatment well," Supreme Court spokeswoman Kathy Arberg said in a statement. "She cancelled her annual summer visit to Santa Fe, but has otherwise maintained an active schedule."

"There is no evidence of disease elsewhere in the body," Arberg added.

The SCOTUS maintains that the 86-year-old woman is in good health despite repeated serious health complications for the liberal-leaning justice who Democrats fear will ultimately be replaced by President Donald Trump, giving the high court a conservative majority to rule for generations to come.

"Justice Ginsburg will continue to have periodic blood tests and scans," Arberg said. "No further treatment is needed at this time."

Ginsburg had previously been treated for lung cancer late last year, which caused a long public hiatus that resulted in speculation that she had died.

"According to the thoracic surgeon Valerie Rusch, both nodules removed during surgery were found to be malignant on initial pathology evaluation. Post-surgery, there was no evidence of any remaining disease. Scans performed before surgery indicated no evidence of disease elsewhere in the body. Currently, no further treatment is planned. Justice Ginsburg is resting comfortably and is expected to remain in the hospital for a few days," the SCOTUS said in a press release from Dec. 2018.

That cancer was discovered after Ginsburg suffered a fall that resulted in several of her ribs being fractured the month before.

Regardless of spin attempts from SCOTUS and the mainstream media, it is clear that Ginsburg's health is rapidly waning. Perhaps it would be for the best if this feminist icon spent her final days surrounded by loving family rather than on working the bench.
RBG's persistence may be admirable, but there will come a time when she needs to step down and allow someone new to take her place. She may have envisioned Hillary Clinton or another trailblazing female president naming her successor, but that may not be in the cards for the liberal icon. President Trump very well may get that opportunity, much to her chagrin.
Bypass Tech Censorship!
Facebook, Twitter and Google are actively restricting conservative content through biased algorithms. Silicon Valley doesn't want you to read our articles. Bypass the censorship, sign up for our newsletter now!
Have a hot tip for Big League Politics?
Got a hot news tip for us? Photos or video of a breaking story? Send your tips, photos and videos to tips@bigleaguepolitics.com. All hot tips are immediately forwarded to BLP Staff.
Have something to say? Send your own guest column or original reporting to submissions@bigleaguepolitics.com.
Join the conversation!
We have no tolerance for comments containing violence, racism, profanity, vulgarity, doxing, or discourteous behavior. Thank you for partnering with us to maintain fruitful conversation.
'You Should Be Backing Bernie Sanders': Nigel Farage Celebrates Democrat Party Extremism at CPAC
Brexit mastermind Nigel Farage talked about the success of populism in his home nation of Britain and abroad while giving a speech at the Conservative Political Action Conference (CPAC) at the Gaylord National Resort & Convention Center in National Harbor, Md.
"I take it you're a pro-Brexit crowd!" Farage said to wild applause to start his speech, describing himself as CPAC's "resident foreign speaker."
Farage called deposed former Tory Prime Minister Theresa May the worst Prime Minister in the history of the United Kingdom to start his speech and talked about the formation of his new political entity.
"We ironically became the largest delegation in the European Parliament of any European country," Farage said of his Brexit party, also crediting his party's success with the resignation of May.
take our poll - story continues below
Completing this poll grants you access to Big League Politics updates free of charge. You may opt out at anytime. You also agree to this site's Privacy Policy and Terms of Use.
"Boris has become the leader, and Boris to date has picked up every word and every phrase that I have stood and fought for for nearly 30 years. It's really great news, and it means at long last we have finally left the European Union!" Farage exclaimed.
He boasted about being the most "notorious" MEP in the history of European parliament, and he was happy to be finished in dealing with the European Union.
"I don't just want the United Kingdom to leave the European Union. I want Europe to leave the European Union," he said.
Farage credited former Labour Party leader Jeremy Corbyn with helping to strengthen the Tory coalition united around the Brexit. He believes that Sen. Bernie Sanders (I-VT) can do the same thing to the Republican Party in the U.S.
"You should be backing Bernie Sanders. You should be campaigning for Bernie Sanders. You should be donating money to Bernie Sanders. You should be making sure that Bernie Sanders gets that nomination. You need a Democrat Party as far left-wing, as anti-American as they possibly can be," he explained.
"Not only will you get four more years of this great President Trump, but I think with Bernie, you won't just get Trump. With Bernie, I think you can re-take the House too!" he added.
Farage talked up President Trump, who he described as his "friend," as leading the fight to end globalism.
"You are part of a big moment in history, and with four more years of Donald Trump, we will complete the job," Farage said to conclude his speech, which ended the second day of the CPAC event. It will conclude after Saturday when Trump addresses the event.