Ruth Bader Ginsburg Forced to Miss SCOTUS Legal Arguments After Falling Ill Yet Again
Ginsburg has had two cancer scares in the past year.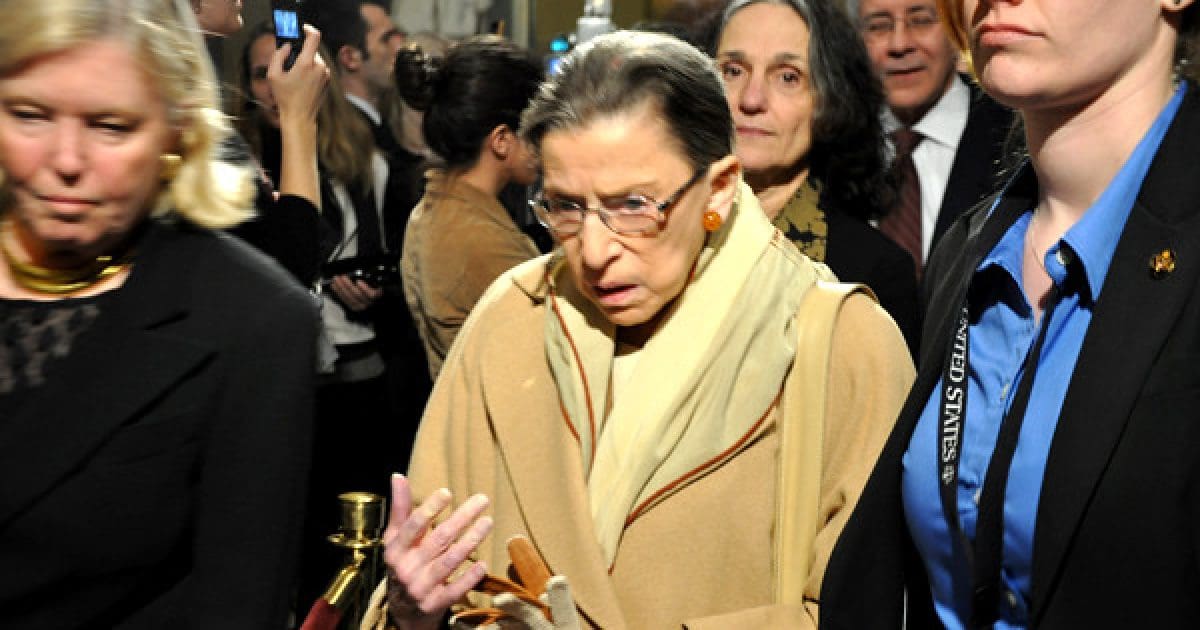 Supreme Court Justice Ruth Bader Ginsburg is sick yet again. She missed legal arguments today due to supposed "stomach bug" that rendered her ill.
Chief Justice John Roberts made the announcement that RBG was "indisposed due to illness." Her illness forced her to miss courtroom arguments for two cases.
RBG's health has taken a turn for the worse over the past year, as she has undergone two cancer scares and suffered broken ribs from a fall. She is the oldest judge on the SCOTUS right now at the age of 86, and liberals fear that her waning condition will allow President Donald Trump to replace her with a strong conservative.
Trending: Ex-Soviet Leader Gorbachev: US Capitol Riot "Planned in Advance, And It Is Clear by Whom"
RBG has had four separate bouts with cancer, with the most recent coming over the summer when she was treated with radiation over a three-week period:
take our poll - story continues below

Completing this poll grants you access to Big League Politics updates free of charge. You may opt out at anytime. You also agree to this site's Privacy Policy and Terms of Use.

Supreme Court Justice Ruth Bader Ginsburg is suffering from pancreatic cancer and finished treatment for a tumor that was found in her pancreas last month, the Supreme Court announced in an official statement earlier today.

"The Justice tolerated treatment well," Supreme Court spokeswoman Kathy Arberg said in a statement. "She cancelled her annual summer visit to Santa Fe, but has otherwise maintained an active schedule."

"There is no evidence of disease elsewhere in the body," Arberg added.

The SCOTUS maintains that the 86-year-old woman is in good health despite repeated serious health complications for the liberal-leaning justice who Democrats fear will ultimately be replaced by President Donald Trump, giving the high court a conservative majority to rule for generations to come.

"Justice Ginsburg will continue to have periodic blood tests and scans," Arberg said. "No further treatment is needed at this time."

Ginsburg had previously been treated for lung cancer late last year, which caused a long public hiatus that resulted in speculation that she had died.

"According to the thoracic surgeon Valerie Rusch, both nodules removed during surgery were found to be malignant on initial pathology evaluation. Post-surgery, there was no evidence of any remaining disease. Scans performed before surgery indicated no evidence of disease elsewhere in the body. Currently, no further treatment is planned. Justice Ginsburg is resting comfortably and is expected to remain in the hospital for a few days," the SCOTUS said in a press release from Dec. 2018.

That cancer was discovered after Ginsburg suffered a fall that resulted in several of her ribs being fractured the month before.

Regardless of spin attempts from SCOTUS and the mainstream media, it is clear that Ginsburg's health is rapidly waning. Perhaps it would be for the best if this feminist icon spent her final days surrounded by loving family rather than on working the bench.
RBG's persistence may be admirable, but there will come a time when she needs to step down and allow someone new to take her place. She may have envisioned Hillary Clinton or another trailblazing female president naming her successor, but that may not be in the cards for the liberal icon. President Trump very well may get that opportunity, much to her chagrin.
GOP Establishment Threatens President Trump with Impeachment Unless He Denies Election Fraud
Karl Rove is issuing the threat.
Republican Party establishment strategist Karl Rove is informing President Donald Trump that he will likely be impeached unless he stops talking about electoral fraud.
Rove is trying to use the president's precarious position following the Jan. 6 storming of the U.S. Capitol to pressure him into folding. He appeared on "Fox News Sunday" with Chris Wallace to deliver the threat.
Wallace asked: "Senate Republican Leader Mitch McConnell says that he is keeping an open mind about the second impeachment trial of Donald Trump, a big difference, sharp difference, from his clear opposition from the very start of the first impeachment trial just a year ago. What do you think, Karl, are the chances that 17 Senate Republicans, and that's what it would take if all of the Democrats vote for conviction, 17 Senate Republicans would vote to convict Donald Trump and to keep them from running again?"
Rove responded: "Normally we say not much chance, but I think Leader McConnell's statement is a sign that every Republican Senator needs to take this seriously. I think it's all going to boil down what's the president's defense. Rudy Giuliani charted a very bad course for the president in the morning papers when he suggested that the argument was going to be in there couldn't have been incitement because all the charges of widespread voter fraud are true. Well, those charges and the so-called experts that the campaign has mustered to advocate them have been rejected by over 50 courts with judges appointed by President Trump, President Obama, Present Bush, President Clinton, and I think even one Reagan justice. So if it's the Rudy Giuliani defense, there is a strong likelihood that more than 17 Republicans will because essentially that argument is this was justified, the attack on the Capital and the attempt to end the congressional hearing on certifying the election was justified because all these charges are true and frankly they aren't. They have been given every opportunity to prove them in a court of law and have failed to do so. I think it really boils down to what's the defense that the president is going to make, and if it is Rudy Giuliani's defense, I think it raises the likelihood of more than 17 Republicans voting for conviction."
take our poll - story continues below
Completing this poll grants you access to Big League Politics updates free of charge. You may opt out at anytime. You also agree to this site's Privacy Policy and Terms of Use.
Big League Politics has reported on how the Republican establishment is joining the Democrats to railroad the president:
Mitch McConnell is reportedly "pleased" about the possibility of Trump's second impeachment, viewing it as an opportunity to purge Trump from the Republican Party and whatever else Conservative Inc. deems "toxic."

In a New York Times report published Monday afternoon, Jonathan Martin and Maggie Haberman write that the outgoing Senate Majority Leader believes Trump committed "impeachable offenses." McConnell also welcomes impeachment in order to justify dumping Trump and shedding his influence over the GOP.

"Mr. McConnell, Republican of Kentucky, has indicated that he wants to see the specific article of impeachment that the House is set to approve on Wednesday, which is expected to draw support from as many as a dozen Republicans, potentially including Representative Liz Cheney of Wyoming, the party's No. 3 in the House," the report reads. "But he has made clear in private discussions that he believes now is the moment to move on the weakened lame duck, whom he blames for causing Republicans to lose the Senate."

The Times also claims that House Minority Leader Kevin McCarthy, although personally opposed to impeachment, has decided along with "other party leaders" to not formally lobby Republicans to vote "no" and is open to censuring the president. McCarthy discussed with House Majority Leader Steny Hoyer a plan to get Republicans on board with a formal censure, but only if Democrats "backed off" from impeachment.
The GOP establishment may destroy their entire party because they hate President Trump's America First agenda so much.