Sen. Josh Hawley Responds After ANTIFA-Style Group Terrorizes His Family
This is why more people don't speak out against the steal.
ANTIFA-style terrorists went to the home of Sen. Josh Hawley (R-MO) in Virginia on Monday night to menace his family because of his support for electoral integrity.
Right-wing pundit Michelle Malkin reported that Hawley was not at his Virginia home but his wife and baby were there when the thugs showed up:
Just heard from Missouri sources that Hawley was not at his Va. home tonight, but his wife & baby were there alone as @shutdown_dc invaded neighborhood & instigated on Hawley's front lawn. #ProudBoys defend patriots against these mobsters. That's why @ShutDown_DC smears them. https://t.co/CwWCFR0Gxi

— Michelle Malkin (@michellemalkin) January 5, 2021
Trending: Rep. Marjorie Taylor Greene Calls Biden a 'Threat to National Security', Files Impeachment Resolution
The ANTIFA-style front, Shutdown DC, posted a blog bragging about how they "held an hour long vigil" outside of his home "to demand that he drop his baseless contestation of the 2020 presidential election results."
take our poll - story continues below
Completing this poll grants you access to Big League Politics updates free of charge. You may opt out at anytime. You also agree to this site's Privacy Policy and Terms of Use.
"We came to let Hawley know that his actions are undemocratic and unacceptable," said ShutDownDC activist Patrick Young. "Voters decided who they wanted to be president and now Hawley is trying to silence their voices, even after Republican election officials certified the vote counts. And let's not forget that the bulk of the votes they would throw out come from Black and brown voters. This is an attempted coup waged by silencing the voices of people of color."
Hawley has offered a response to what happened to his family on social media:
Tonight while I was in Missouri, Antifa scumbags came to our place in DC and threatened my wife and newborn daughter, who can't travel. They screamed threats, vandalized, and tried to pound open our door. Let me be clear: My family & I will not be intimidated by leftwing violence

— Josh Hawley (@HawleyMO) January 5, 2021
Now "vigil" means screaming threats through bullhorns, vandalizing property, pounding on the doors of homes and terrorizing innocent people and children https://t.co/naRMkrBWWO

— Josh Hawley (@HawleyMO) January 5, 2021
Their shameful "protest" can be seen here:
Malkin also alerted Proud Boys and other patriots that the group was planning to return to Hawley's home on Wednesday:
Reminder: @shutdown_dc mobsters are embedded in the bowels of the federal bureaucracy. /3https://t.co/cgL7mKkSI7

— Michelle Malkin (@michellemalkin) January 5, 2021
This is far from the first time that ANTIFA has targeted their political opposition with terror displays outside of their homes. They went after Fox News host Tucker Carlson in a similar manner two years ago, as Big League Politics reported:
Violent Antifa organization "Smash Racism DC" showed up at the door of Fox News commentator Tucker Carlson to threaten him.

After ringing his doorbell, a man is heard yelling through a megaphone:

"Tucker Carlson. We are outside your home to protest your promotion of fascism and racism. You promote hate, and an ideology that has lead towards thousands of people dying at the hands of the police, to trans women being murdered in the streets."

He finishes off with what sounds like a threat, saying:

"Your policies promote hate, and we want you to know, we know where you sleep at night."

The larger group of protesters then began chanting "WE KNOW WHERE YOU SLEEP AT NIGHT!"
Hawley is paying the price for standing strong against the vote steal. He was the first to object to the electoral college certification in the Senate last week, which caused many of his colleagues to follow his lead. It is no surprise that few other political leaders have vocally opposed electoral fraud.
Parler CEO John Matze Forced to Flee Home Under Deluge of Left-Wing Terror Threats
Matze is suing Amazon for deplatforming Parler.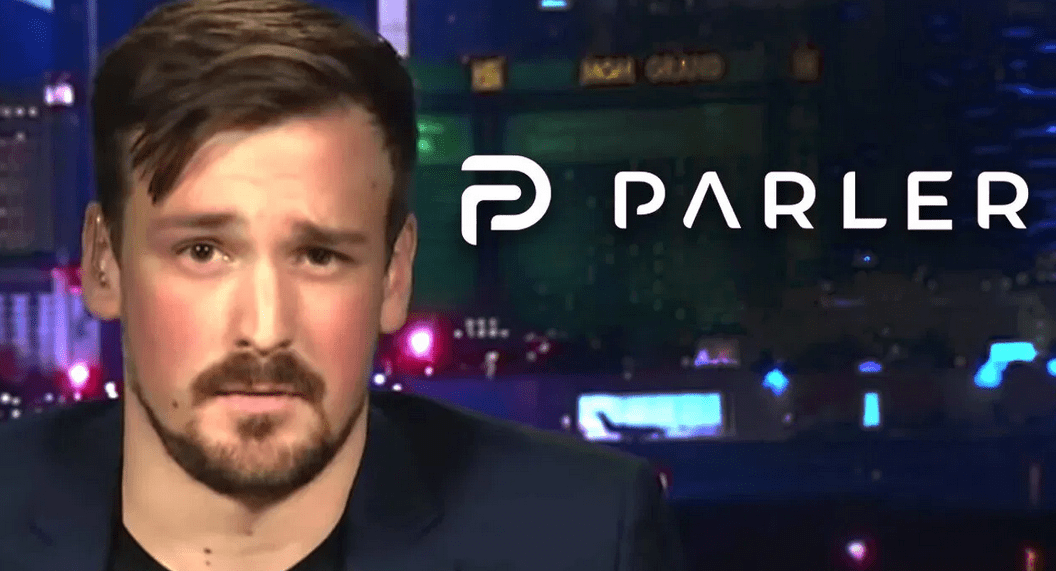 Parler CEO John Matze has been forced to flee his home and go into hiding after receiving an onslaught of left-wing death threats. Parler, a free speech social media platform, has been temporarily shut down in an extensive deplatforming campaign. Amazon promptly cut Parler's access to its Web Services after the US Capitol riot earlier this month, cherry-picking examples of content that violate Parler's terms of service and claiming the platform is being used for violent purposes.
Matze made the frank admission in a court filing for Parler's lawsuit against Amazon, requesting that the court keep any disclosures about his personal life and location secret. Parler is currently suing Amazon in federal court for its immediate revocation of Parler's hosting agreement, arguing that Amazon agreed to provide 30 days notice before any potential termination of Parler's hosting, pursuant to the party's original agreement.
Matze reveals that he's been forced to leave his home and go into hiding with his family, citing Amazon Web Services' "vilification" of his company.
take our poll - story continues below
Completing this poll grants you access to Big League Politics updates free of charge. You may opt out at anytime. You also agree to this site's Privacy Policy and Terms of Use.
Employees of Amazon have allegedly been threatened and harassed as well for shutting down Parler. The court filing in favor of redaction references these threats in requesting the court provide redaction of personal information to both sides.
"Both sides of this dispute have shown that their employees have suffered real harassment and threats—including, on both sides, death threats—owing to the charged nature of this litigation.
Parler therefore agrees with AWS that safety and security concerns justify the limited sealings requested here," Parler requests in the Amazon lawsuit.
Parler's administrators are still seeking to return the free speech social media platform to full operation, although it could take weeks to bring it back online. They may have learned a lesson about the futility of contracting hosting services with a Big Tech monopoly such as Amazon.
---
Follow me on Twitter @Wildman_AZ, on Parler @Moorhead, and on Gab @WildmanAZ.