South Carolina Representative Puts Lindsey Graham on Notice for His Attempts to Betray Gun Owners
Count South Carolina State Representative Stewart Jones as another opponent of red flag laws.
In a piece for The Hill, Jones called out Republicans such as Dan Crenshaw and Lindsey Graham for their support of red flag gun confiscation orders.
After all, these two are some of the most prominent Republicans backing these proposals.
Trending: Indian Scientists Discover Hydroxychloroquine Treatment Prevents COVID-19, Vindicating President Trump
In Jones' view, these laws are "unconstitutional and goes against the very fabric of our Republic, eroding both due process and a person's natural right to self-defense."
take our poll - story continues below
Completing this poll grants you access to Big League Politics updates free of charge. You may opt out at anytime. You also agree to this site's Privacy Policy and Terms of Use.
The South Carolina State Representative argues that the passage of red flag laws "will be another blow toward our liberty, much like the indefinite detention provisions of the 2012 NDAA, warrantless wiretapping of the PATRIOT Act, metadata collection by the NSA, and the expansion of the unconstitutional FISA courts."
Unlike most short-sighted Republicans, Jones sees the potential for massive abuses further down the line.
People should also be concerned that red flag laws will be used to target political adversaries and used against anyone that government officials may disagree with. President Trump, of all people, should know what it feels like to be wrongly targeted, as both the FBI and FISA courts were used against him when he ran for office.
Jones does not believe the media sensationalism regarding expanded gun rights. He cited data from the FBI and the Bureau of Justice Statistics that show "violent crime rates have been in decline since the 1990s, despite rises in public perception of crime rates."
He also argues that mainstream media outlets ignore "the countless incidents where a good person with a gun has prevented a tragedy, even though these positive incidents happen far more often than not."
Instead, he proposes increased gun liberalization to address the issue of public safety.
This is why if elected officials truly want to help these situations, they must eliminate laws such as gun-free zones that restrict law-abiding gun owners from carrying in specific places. According to the Crime Prevention Center, since 1950, 94 percent of mass shootings have occurred in gun-free zones.
Jones is in touch with his pro-gun constituents, who have become increasingly worried about the size of government and its potential to abuse citizen's rights.
As a member of the South Carolina House of Representatives, I have had many conversations with constituents concerned about giving the government any more authority over our God-given right to keep and bear arms. With an alarming number of elected officials unable to see that the answer to the problem is more freedom, not less, we should never forget that the worst forms of genocide have always started with the erosion of due process and the confiscation of firearms.
The South Carolina elected official concluded by urging all elected officials to abide by the Constitution and respect the rule of law.
Therefore, I'm calling on all elected officials to obey their Oath to the Constitution by defending the Bill of Rights and opposing any new attempts to pass red flag laws.
Representatives like Jones will likely play a major role in keeping squishy Republicans like Lindsey Graham in check in times when the temptation to compromise on gun control is very high.
Billionaires Have Made Half a Trillion Dollars While Tens of Millions File for Unemployment
As the number of Americans filing for unemployment approaches 40 million, America's billionaires are cruising along without any worries.
According to a CNBC report, billionaire fortunes climbed by a total of $434 billion since the middle of March,
At the top of the list are Jeff Bezos and Mark Zuckerberg, whose respective fortunes increased by $34.6 and $25 billion, according to the Americans for Tax Fairness and the Institute for Policy Studies' Program for Inequality. Zerohedge noted that both organizations came to this conclusion "based on Forbes data for America's over 600 billionaires collected between March 18 and May 19."
Tyler Durden highlighted the following stats:
take our poll - story continues below

Completing this poll grants you access to Big League Politics updates free of charge. You may opt out at anytime. You also agree to this site's Privacy Policy and Terms of Use.

Percentage-wise, Elon Musk's wealth grew 48% to $36 billion, while Zuckerberg clocked in at 46%. Bezos' wealth grew 31% to $147 billion. His ex-wife, MacKenzie Bezos, saw her wealth increase by roughly 33% to $48 billion. On average, American billionaires saw their net worth grow 15% during the two-month period from $2.948 trillion to $3.382 trillion.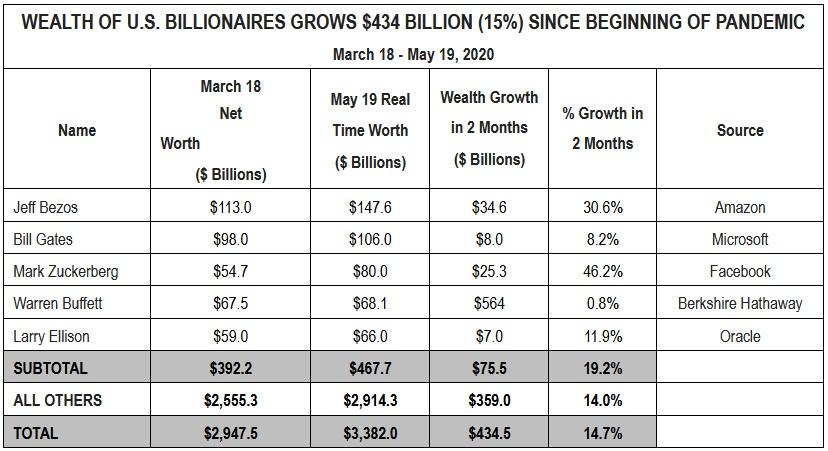 Bezos, Bill Gates, Zuckerberg, Buffett and Larry Ellison saw their wealth increase by a total of $76 billion.
"The surge in billionaire wealth during a global pandemic underscores the grotesque nature of unequal sacrifice," declared Chuck Collins, director of the IPS Program on Inequality and co-author of the Billionaire Bonanza 2020 report. "While millions risk their lives and livelihoods as first responders and front line workers, these billionaires benefit from an economy and tax system that is wired to funnel wealth to the top."
However, some billionaires haven't benefited so much:
Still, the pandemic hasn't been kind to other billionaires – whose yacht upgrades may need to wait. Those in travel and retail have taken a beating. Ralph Lauren saw his wealth drop by $100 million to $5.6 billion, while hotelier John Pritzker has seen a $34 million drop to $2.56 billion. We know, time to get a collection going.