TDS: Robert Francis "Beto" O'Rourke Calls Trump Most Racist President Since Andrew Johnson
In an interview with CNN's Chris Cuomo on "Cuomo Prime Time", Beto O'Rourke made sure to pull the race card right off the bat.
He argued that President Donald Trump can't be allowed to "get off scot-free" for his years of allegedly "racist" actions just because he delivered a speech in which he resoundingly condemned white supremacy.
The former congressman implored journalists to "connect those dots" between Trump's rhetoric and alleged attacks on minority communities.
Trending: Indian Scientists Discover Hydroxychloroquine Treatment Prevents COVID-19, Vindicating President Trump
O'Rourke told Chris Cuomo that Trump is "the most racist President we've had since perhaps Andrew Johnson, in another age and another century, and he is responsible for the hatred and the violence that we're seeing right now."
take our poll - story continues below
Completing this poll grants you access to Big League Politics updates free of charge. You may opt out at anytime. You also agree to this site's Privacy Policy and Terms of Use.
O'Rourke added that he "cannot leave that just to me to say that. It's got to be you, and those who are helping this country understand what is happening in our name, to connect those dots of these actions that can seem unconnected or disparate or random or just strange."
He continued his accusations against Trump: "They're all of a pattern, and they all follow what this President has said from that maiden speech when he ran for the highest office of the land."
The perpetrator of the Walmart massacre wrote a memo filled with rants expressing racist and environmental totalitarian sentiments.
The former congressman from El Paso claims that this memo's language is similar to what Trump has used on the campaign trail and throughout his presidency.
"The words that he was using were many of the same words the President had been using," O'Rourke declared. "We cannot allow him to get off scot-free just because he gave a speech here today.
He concluded by saying that "We cannot let him get off without any complicity or justice or accountability, given what he has made possible here. There has to be — there has to be — justice at the end of the day."
BLP reported that Beto O'Rourke supports a ban on AR-15 and similar rifles, which indicates his receptiveness to resurrecting the "assault weapons" ban legislation of the 1990s.
The El Paso native has fully exploited this shooting, which has put him back in the spotlight after weeks of floundering in the polls during the 2020 Democratic Party primaries.
Billionaires Have Made Half a Trillion Dollars While Tens of Millions File for Unemployment
As the number of Americans filing for unemployment approaches 40 million, America's billionaires are cruising along without any worries.
According to a CNBC report, billionaire fortunes climbed by a total of $434 billion since the middle of March,
At the top of the list are Jeff Bezos and Mark Zuckerberg, whose respective fortunes increased by $34.6 and $25 billion, according to the Americans for Tax Fairness and the Institute for Policy Studies' Program for Inequality. Zerohedge noted that both organizations came to this conclusion "based on Forbes data for America's over 600 billionaires collected between March 18 and May 19."
Tyler Durden highlighted the following stats:
take our poll - story continues below

Completing this poll grants you access to Big League Politics updates free of charge. You may opt out at anytime. You also agree to this site's Privacy Policy and Terms of Use.

Percentage-wise, Elon Musk's wealth grew 48% to $36 billion, while Zuckerberg clocked in at 46%. Bezos' wealth grew 31% to $147 billion. His ex-wife, MacKenzie Bezos, saw her wealth increase by roughly 33% to $48 billion. On average, American billionaires saw their net worth grow 15% during the two-month period from $2.948 trillion to $3.382 trillion.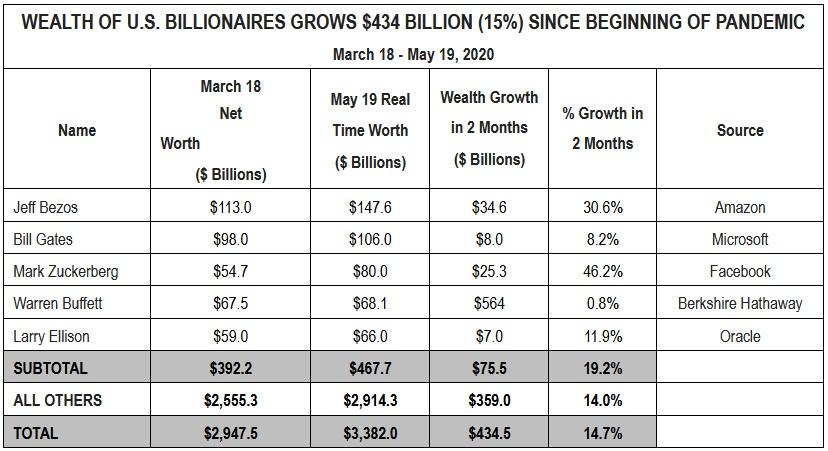 Bezos, Bill Gates, Zuckerberg, Buffett and Larry Ellison saw their wealth increase by a total of $76 billion.
"The surge in billionaire wealth during a global pandemic underscores the grotesque nature of unequal sacrifice," declared Chuck Collins, director of the IPS Program on Inequality and co-author of the Billionaire Bonanza 2020 report. "While millions risk their lives and livelihoods as first responders and front line workers, these billionaires benefit from an economy and tax system that is wired to funnel wealth to the top."
However, some billionaires haven't benefited so much:
Still, the pandemic hasn't been kind to other billionaires – whose yacht upgrades may need to wait. Those in travel and retail have taken a beating. Ralph Lauren saw his wealth drop by $100 million to $5.6 billion, while hotelier John Pritzker has seen a $34 million drop to $2.56 billion. We know, time to get a collection going.