Tennessee Attorney General Shuts Down Hand Sanitizer Price Gougers, Raids Storage Unit
This isn't the time for them to make a quick buck.
Two Tennessee brothers attempting to make a quick buck off of the Chinese coronavirus panic by price-gouging hand sanitizer have been shut down by Tennessee Attorney General Herbert H. Slatery III.
Matt and Noah Colvin made themselves the object of derision by many within the state for the shady business scheme. They openly admitted and bragged about driving around the state and neighboring Kentucky in a U-Haul truck, buying up entire inventories of hand sanitizer from retailers such as Dollar Tree, Walgreens, Staples and Home Depot.
The brothers say they spend more than $10,000 purchasing entire regional supplies of hand santizer, leaving everyday citizens unable to acquire any for their own purposes of personal health.
Trending: As Black Lives Matter Terrorists Burn Down America, Ben Shapiro Endorses Gun Control
The Colvins intended to sell the product on Amazon for a whopping $70 a bottle. But their scheme was shut down by the online retailer, leaving them unable to move the inventory they had intended to gouge the general public for. The price gouger even had the audacity to claim that he was performing a "public service."
take our poll - story continues below
Completing this poll grants you access to Big League Politics updates free of charge. You may opt out at anytime. You also agree to this site's Privacy Policy and Terms of Use.
Now, they claim to be humbly "donating" the massive inventory of hand sanitizer to first responders and local churches, after AG Slatery announced an investigation into their price-gouging scheme.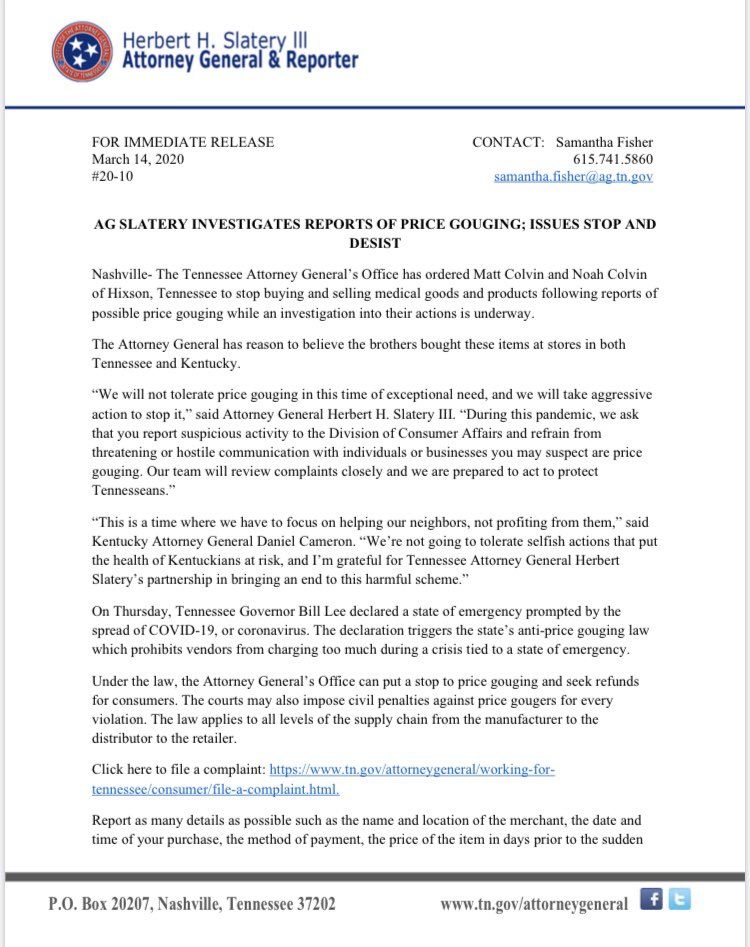 A reporter who went to their private storage unit found state employees loading up their behemoth stock of hand sanitzer into boxes to be utilized in a more decent manner.
HAPPENING NOW: Matt did not answer our calls so we went to his storage unit. The AG's office was on the scene facilitating with the donation. This is the 3rd stop they've been to this morning to gather the sanitizer. @WRCB https://t.co/SLOaEwJLOj pic.twitter.com/REJPNhiSbS

— Hunter Hoagland (@HunterHoagland) March 15, 2020
Those who seek to use the coronavirus epidemic as a profit machine deserve the scorn and derision of their neighbors.
Iowa Gov. Kim Reynolds Refuses to Implement Widespread Mask Mandates and Bar Closures Over Newest COVID-19 Panic
Another Republican governor with courage.
Iowa Governor Kim Reynolds (R) is refusing to implement Draconian mask mandates and bar closures despite recent reports that cases are surging throughout the state.
According to a report in The Guardian, cases of COVID-19 are spiking throughout Iowa. Ames and Iowa City, two college towns, are reportedly being hit hard due to young people refusing to live their lives in fear.
"Community transmission continues to be high in rural and urban counties across Iowa, with increasing transmission in the major university towns," a fear-mongering report from the White House coronavirus task force warned. "Mask mandates across the state must be in place to decrease transmission."
Reynolds thus far is not bucking to political pressure that would lock down the state, crippling small businesses and making a mockery of the Bill of Rights and Constitution. She has only closed bars in six counties throughout the state while just "strongly encouraging" people to wear masks, arguing that they are "not a silver bullet."
take our poll - story continues below
Completing this poll grants you access to Big League Politics updates free of charge. You may opt out at anytime. You also agree to this site's Privacy Policy and Terms of Use.
"I still believe it's up to the governors in the various states to make those decisions," Reynolds said in her refusal to let the feds usurp her authority.
Reynolds believes that it is "social activity among young adults" that is causing the virus to spread more quickly. Young people are the least likely to die from COVID-19, with new figures released by the CDC indicating that the vast majority of people who died from the virus had serious comorbidities. The facts, however, are not stopping the fear cultists from arguing for another shutdown.
"Our numbers are clearly terrifying," said University of Iowa associate professor Naomi Greyser to CNN. "They're really scary and my students are scared." Greyser and other academics hope to get paid by the taxpayer for not doing their jobs this school year because of COVID-19.
Republican U.S. Sen. Joni Ernst of Iowa is casting doubt on the numbers that are being reported by medical professionals.
"These healthcare providers and others are reimbursed at a higher rate if Covid is tied to it, so what do you think they're doing?" Ernst said.
Although the Iowa Medical Society called Ernst's comments "incredibly disappointing," there have been many reports of case numbers being exaggerated or falsified throughout the country, as Big League Politics has noted:
Many states are inflating their reports of COVID-19 cases by counting positive antibody tests among those who have the illness, according to a report from Nicole Saphier, M.D…

This has reportedly resulted in people being counted twice due to testing positive for COVID-19 and then testing positive for having antibodies.

Making the situation even more of a cluster, the Centers for Disease Control and Prevention (CDC) have claimed that antibody tests are wrong at least half of the time.

"Serologic test results should not be used to make decisions about grouping persons residing in or being admitted to congregate settings, such as schools, dormitories, or correctional facilities," the CDC wrote in their guidelines.

"Serologic test results should not be used to make decisions about returning persons to the workplace," they continued.

"In most of the country, including areas that have been heavily impacted, the prevalence of SARS-CoV-2 antibody is expected to be low, ranging from less than 5% to 25%, so that testing at this point might result in relatively more false positive results and fewer false-negative results," the CDC determined.
The Republicans of Iowa are showing the backbone that is needed to prevented America from permanently losing all of her liberties due to COVID-19 mass hysteria.