Tennessee Attorney General Shuts Down Hand Sanitizer Price Gougers, Raids Storage Unit
This isn't the time for them to make a quick buck.
Two Tennessee brothers attempting to make a quick buck off of the Chinese coronavirus panic by price-gouging hand sanitizer have been shut down by Tennessee Attorney General Herbert H. Slatery III.
Matt and Noah Colvin made themselves the object of derision by many within the state for the shady business scheme. They openly admitted and bragged about driving around the state and neighboring Kentucky in a U-Haul truck, buying up entire inventories of hand sanitizer from retailers such as Dollar Tree, Walgreens, Staples and Home Depot.
The brothers say they spend more than $10,000 purchasing entire regional supplies of hand santizer, leaving everyday citizens unable to acquire any for their own purposes of personal health.
Trending: VIDEO: Chinese Factory Worker Caught Contaminating Hundreds of Medical Face Masks
The Colvins intended to sell the product on Amazon for a whopping $70 a bottle. But their scheme was shut down by the online retailer, leaving them unable to move the inventory they had intended to gouge the general public for. The price gouger even had the audacity to claim that he was performing a "public service."
take our poll - story continues below
Completing this poll grants you access to Big League Politics updates free of charge. You may opt out at anytime. You also agree to this site's Privacy Policy and Terms of Use.
Now, they claim to be humbly "donating" the massive inventory of hand sanitizer to first responders and local churches, after AG Slatery announced an investigation into their price-gouging scheme.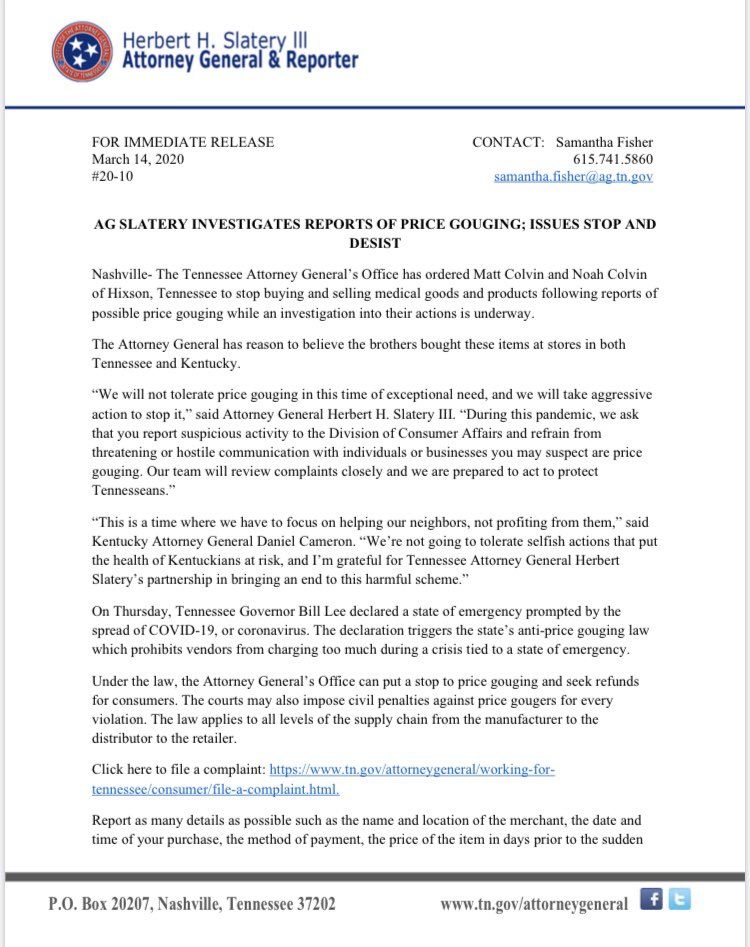 A reporter who went to their private storage unit found state employees loading up their behemoth stock of hand sanitzer into boxes to be utilized in a more decent manner.
HAPPENING NOW: Matt did not answer our calls so we went to his storage unit. The AG's office was on the scene facilitating with the donation. This is the 3rd stop they've been to this morning to gather the sanitizer. @WRCB https://t.co/SLOaEwJLOj pic.twitter.com/REJPNhiSbS

— Hunter Hoagland (@HunterHoagland) March 15, 2020
Those who seek to use the coronavirus epidemic as a profit machine deserve the scorn and derision of their neighbors.
Bypass Tech Censorship!
Facebook, Twitter and Google are actively restricting conservative content through biased algorithms. Silicon Valley doesn't want you to read our articles. Bypass the censorship, sign up for our newsletter now!
Have a hot tip for Big League Politics?
Got a hot news tip for us? Photos or video of a breaking story? Send your tips, photos and videos to tips@bigleaguepolitics.com. All hot tips are immediately forwarded to BLP Staff.
Have something to say? Send your own guest column or original reporting to submissions@bigleaguepolitics.com.
Biden Says President "Has To Be Able to Provide For Providing Significantly No More Masks"
Wait, what?!
Joe Biden's filled his latest livestream from the recreation room of his Delaware home with a smorgasbord of bizarre verbal gaffes, lining up incomprehensible sentences throughout the MSNBC segment.
The former Vice President seemed to lose his grasp on his phrasing in a pronounced fashion closer to the end of the segment, stating that President Donald Trump "has to be able to provide for providing significantly no more masks to protect these – these first responders and these docs and nurses."
When asked about his primary message on the federal response to the virus by MSNBC's Yasmin Vossoughian, Biden gave a seemingly contradictory answer.
"My message is that the president has to move more rapidly. You know, we know from experience that speed matters. We know that you can't go too fast. It's about going too slow."
take our poll - story continues below
Completing this poll grants you access to Big League Politics updates free of charge. You may opt out at anytime. You also agree to this site's Privacy Policy and Terms of Use.
Biden's elaboration on his statement didn't seem to provide much clarification.
"And in order to avoid that – those very high numbers, we have to do at least several things. One, we have to depend on what the president is going to do right now. And first of all, he has to tell, wait until the cases, before anything happens. Look, the whole idea is, he's got to get in place things that were shortages of."
Watch the segment here:
The segment isn't the first time that the presumptive Democratic nominee has struggled to express his train of thought. Since physical campaign events have been put on hold by the raging Chinese coronavirus epidemic, Biden has consistently given livestream appearances chock full of unclear sentences.
Leading podcaster Joe Rogan expressed his frustration with the Democratic Party's unwillingness to question his mental acuity in response to footage of Biden's livestream statements. Some leading Democrats have even expressed frustration in regards to the seeming irrelevance of Biden's daily cable appearances, when compared to the vigorous press briefings of both President Donald Trump and New York Governor Andrew Cuomo.