Tennessee Attorney General Shuts Down Hand Sanitizer Price Gougers, Raids Storage Unit
This isn't the time for them to make a quick buck.
Two Tennessee brothers attempting to make a quick buck off of the Chinese coronavirus panic by price-gouging hand sanitizer have been shut down by Tennessee Attorney General Herbert H. Slatery III.
Matt and Noah Colvin made themselves the object of derision by many within the state for the shady business scheme. They openly admitted and bragged about driving around the state and neighboring Kentucky in a U-Haul truck, buying up entire inventories of hand sanitizer from retailers such as Dollar Tree, Walgreens, Staples and Home Depot.
The brothers say they spend more than $10,000 purchasing entire regional supplies of hand santizer, leaving everyday citizens unable to acquire any for their own purposes of personal health.
Trending: REJECTED: Marjorie Taylor Greene Stops Cori Bush's Amendment to Allow Violent Convicted Felons to Vote
The Colvins intended to sell the product on Amazon for a whopping $70 a bottle. But their scheme was shut down by the online retailer, leaving them unable to move the inventory they had intended to gouge the general public for. The price gouger even had the audacity to claim that he was performing a "public service."
take our poll - story continues below
Completing this poll grants you access to Big League Politics updates free of charge. You may opt out at anytime. You also agree to this site's Privacy Policy and Terms of Use.
Now, they claim to be humbly "donating" the massive inventory of hand sanitizer to first responders and local churches, after AG Slatery announced an investigation into their price-gouging scheme.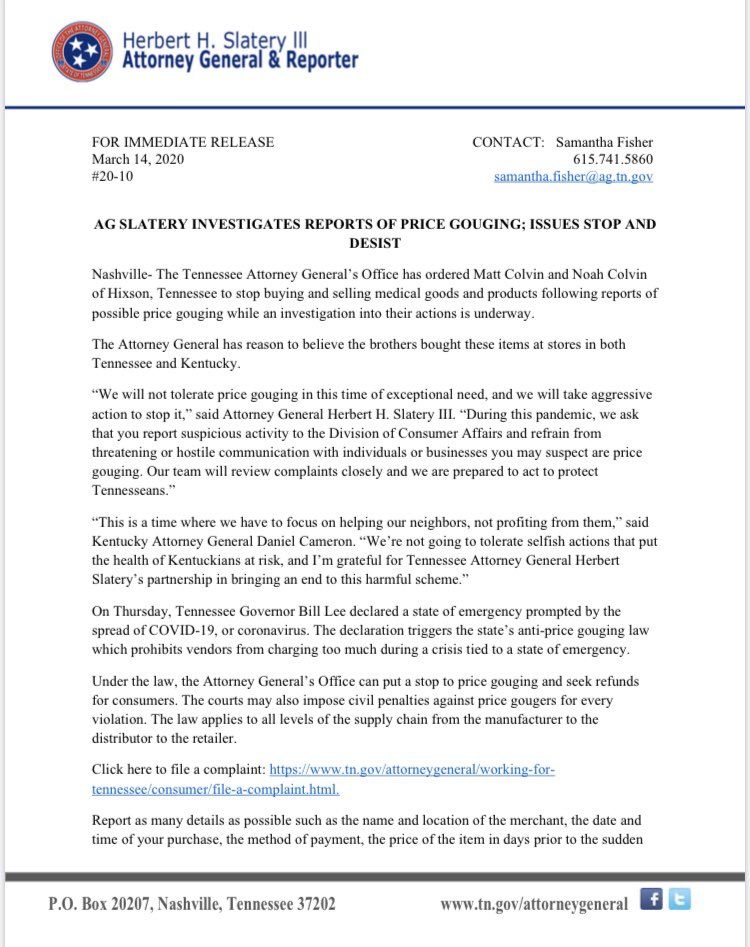 A reporter who went to their private storage unit found state employees loading up their behemoth stock of hand sanitzer into boxes to be utilized in a more decent manner.
HAPPENING NOW: Matt did not answer our calls so we went to his storage unit. The AG's office was on the scene facilitating with the donation. This is the 3rd stop they've been to this morning to gather the sanitizer. @WRCB https://t.co/SLOaEwJLOj pic.twitter.com/REJPNhiSbS

— Hunter Hoagland (@HunterHoagland) March 15, 2020
Those who seek to use the coronavirus epidemic as a profit machine deserve the scorn and derision of their neighbors.
Swedish Professor Finds That COVID-19 Poses Low Threat to Children, Quits Research After People Send Him Nasty Messages
COVIDianism has become a religion with dogma that can't be questioned.
An epidemiology professor in Sweden has quit his COVID-19 research after he received hostile messages from people who didn't like his conclusion that the disease poses a low threat to children.
Jonas Ludvigsson, a professor of clinical epidemiology at the Karolinska Institute in Stockholm, focused on children ages 1 to 16 in the research he conducted last spring. He found that only 15 children ended up needing ICU treatment—only 0.77 per 100,000. Four of the 15 had a preexisting chronic condition and none of them died.
Ludvigsson said his study had been subject to several revisions and peer review before it was approved for publication. But he nevertheless received a deluge of nasty emails and social media messages from angry people, some of whom tried to blame him for Sweden's comparatively lax approach to lockdowns.
As a result, the professor said he's only managed a few hours of sleep per night. The attacks and the subsequent stress also caused him to lose his appetite for COVID-19 debate and research entirely. Ludvigsson is now trying to move on and put the bad experience behind him.
take our poll - story continues below
Completing this poll grants you access to Big League Politics updates free of charge. You may opt out at anytime. You also agree to this site's Privacy Policy and Terms of Use.
Matilda Ernkrans, Sweden's higher education and research minister, told The British Medical Journal that "it is deeply concerning when academics are threatened to the extent that they don't have the courage to keep on doing their job. This is not a new phenomenon, but we have seen an increase of threats against academics related to research on the coronavirus. When people are silenced, it's a threat against the freedom of speech and our democracy."
She added that "to strengthen academic freedom, the Swedish government has proposed a new amendment that points out that education and research must be protected to enable people to freely discover, research, and share knowledge."