Thanks to New Ordinance, Austin's Homelessness Crisis Gets Even Worse
The Texan reports that the city of Austin's new camping ordinance is starting to create problems.
The ordinance permits camping in most public areas and has generated controversy in Austin.
In fact, 1,000 people showed up to a forum last week, which Mayor Steve Adler hosted.
Trending: Indian Scientists Discover Hydroxychloroquine Treatment Prevents COVID-19, Vindicating President Trump
Over 28,000 people have signed a petition calling for the ordinance to be repealed.
take our poll - story continues below
Completing this poll grants you access to Big League Politics updates free of charge. You may opt out at anytime. You also agree to this site's Privacy Policy and Terms of Use.
One of the main concerns about this ordinance has been its impact on commercial areas such as the growing epicenter in Congress Avenue.
Brad Johnson of The Texan expands on this:
A simple stroll down the road running perpendicular to the state capitol and it won't take long to spot a makeshift camp, lounging body, or a pile of belongings. With homeless individuals peppering the sidewalks, street corners, and other public areas, businesses are struggling to deal with the consequences of the city's new progressive camping ordinance.
Historically, RBG's Congress Avenue store has had the most foot traffic. However, this new rule change has dramatically transformed activity in this area.
Staley claims that this problem didn't appear out of nowhere.  He added that "Six years ago [the Congress location] was our busiest store, and last month it was our slowest store."
The co-owner of RBG asserts that "What they undid in three weeks is now going to take three months to fix, and I don't know if we'll still be open by then after dark on Congress Avenue."
But this policy change goes beyond economic activity. Now, public safety is at risk. At night, Staley and his employees don't feel safe around the store's location.Staley said, "The behaviors [of homeless people] have become very aggressive."Since July 1, police have been called frequently.
According to Staley, one of the 7/11 clerks next door informed him that the 7/11 store "has called police as many as 20 times in a day."
Two weeks ago, the RBG location on Congress had a criminal trespass notice issued every day during that week. Staley claimed that during numerous encounters with law enforcement, they voiced their frustration with the new homeless policies. He stated, "They can't do their job right now and there's nothing they can do about it."
Staley then concluded, "If we didn't have APD doing what they do, that store on Congress would have closed a long time ago."
This latest policy conundrum demonstrates how out of touch the city of Austin is when it comes to sound policymaking. If this ordinance stays in place, Austin's already growing homelessness problem will magnify into a citywide crisis.
Billionaires Have Made Half a Trillion Dollars While Tens of Millions File for Unemployment
As the number of Americans filing for unemployment approaches 40 million, America's billionaires are cruising along without any worries.
According to a CNBC report, billionaire fortunes climbed by a total of $434 billion since the middle of March,
At the top of the list are Jeff Bezos and Mark Zuckerberg, whose respective fortunes increased by $34.6 and $25 billion, according to the Americans for Tax Fairness and the Institute for Policy Studies' Program for Inequality. Zerohedge noted that both organizations came to this conclusion "based on Forbes data for America's over 600 billionaires collected between March 18 and May 19."
Tyler Durden highlighted the following stats:
take our poll - story continues below

Completing this poll grants you access to Big League Politics updates free of charge. You may opt out at anytime. You also agree to this site's Privacy Policy and Terms of Use.

Percentage-wise, Elon Musk's wealth grew 48% to $36 billion, while Zuckerberg clocked in at 46%. Bezos' wealth grew 31% to $147 billion. His ex-wife, MacKenzie Bezos, saw her wealth increase by roughly 33% to $48 billion. On average, American billionaires saw their net worth grow 15% during the two-month period from $2.948 trillion to $3.382 trillion.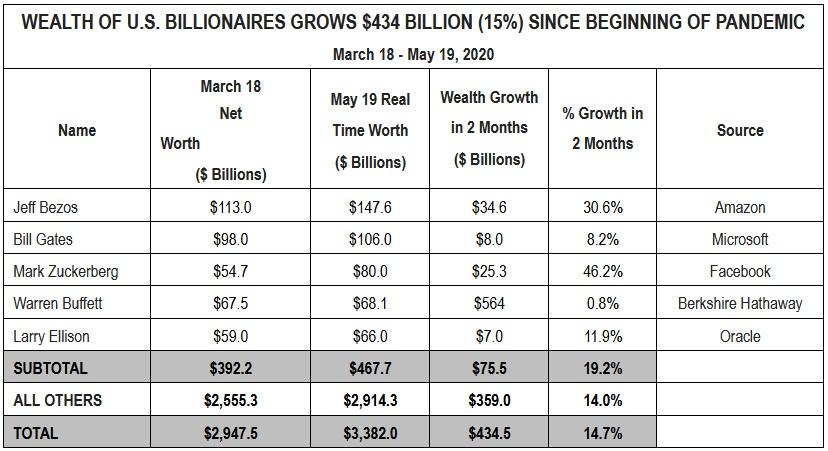 Bezos, Bill Gates, Zuckerberg, Buffett and Larry Ellison saw their wealth increase by a total of $76 billion.
"The surge in billionaire wealth during a global pandemic underscores the grotesque nature of unequal sacrifice," declared Chuck Collins, director of the IPS Program on Inequality and co-author of the Billionaire Bonanza 2020 report. "While millions risk their lives and livelihoods as first responders and front line workers, these billionaires benefit from an economy and tax system that is wired to funnel wealth to the top."
However, some billionaires haven't benefited so much:
Still, the pandemic hasn't been kind to other billionaires – whose yacht upgrades may need to wait. Those in travel and retail have taken a beating. Ralph Lauren saw his wealth drop by $100 million to $5.6 billion, while hotelier John Pritzker has seen a $34 million drop to $2.56 billion. We know, time to get a collection going.