Trump Breaks Silence on Tech Censorship as Never Trumpers Bash The Banned
President Donald Trump in finally standing up for Conservatives on social media.
On May 2, 2019 conservative commentators such as Alex Jones, Infowars, Paul Joseph Watson, Laura Loomer, and Milo Yiannopoulos were banned from Facebook and Instagram.
These individuals have been some of the loudest and most effective advocates for President Trump's America first principles.
Trending: Indian Scientists Discover Hydroxychloroquine Treatment Prevents COVID-19, Vindicating President Trump
However, the censors in Silicon Valley weren't having it.
take our poll - story continues below
Completing this poll grants you access to Big League Politics updates free of charge. You may opt out at anytime. You also agree to this site's Privacy Policy and Terms of Use.
And they could also count on gatekeeping conservatives like Cabot Phillips to defend this politically witch hunt.
BLP's Tom Pappert covered Phillips' establishment defense of Silicon Valley's blatant political agenda.
Reminder for my conservative friends tonight:

Private companies have every right to deny you access to their platform. Because it's their platform. You don't have a constitutional right to a Facebook or Twitter account.

— Cabot Phillips (@cabot_phillips) May 3, 2019
Even seasoned Never Trumper Erick Erickson came out in defense of Big Tech's latest purge calling Jones, Watson, and Loomer "reactionaries."
https://twitter.com/EWErickson/status/1124459073452367872
However, President Trump is now laying down the hammer in a series of posts on social media.
Trump has vowed to continued monitoring the censorship of American citizens on social media platforms.
Trump came to the defense of African American commentators Diamond & Silk claiming that they "have been treated so horribly by Facebook." He also acknowledged that it's getting "worse and worse for Conservatives on social media!"
The wonderful Diamond and Silk have been treated so horribly by Facebook. They work so hard and what has been done to them is very sad – and we're looking into. It's getting worse and worse for Conservatives on social media!

— Donald J. Trump (@realDonaldTrump) May 3, 2019
Trump also expressed his shock at Paul Joseph Watson being banned from Facebook and James Woods being banned from Twitter.
So surprised to see Conservative thinkers like James Woods banned from Twitter, and Paul Watson banned from Facebook! https://t.co/eHX3Z5CMXb

— Donald J. Trump (@realDonaldTrump) May 3, 2019
With Senators like Josh Hawley and Ted Cruz leading the push in the Senate to investigate Big Tech's influence on politics, social media censorship is set to be one of the most crucial issues during the 2020 elections.
Billionaires Have Made Half a Trillion Dollars While Tens of Millions File for Unemployment
As the number of Americans filing for unemployment approaches 40 million, America's billionaires are cruising along without any worries.
According to a CNBC report, billionaire fortunes climbed by a total of $434 billion since the middle of March,
At the top of the list are Jeff Bezos and Mark Zuckerberg, whose respective fortunes increased by $34.6 and $25 billion, according to the Americans for Tax Fairness and the Institute for Policy Studies' Program for Inequality. Zerohedge noted that both organizations came to this conclusion "based on Forbes data for America's over 600 billionaires collected between March 18 and May 19."
Tyler Durden highlighted the following stats:
take our poll - story continues below

Completing this poll grants you access to Big League Politics updates free of charge. You may opt out at anytime. You also agree to this site's Privacy Policy and Terms of Use.

Percentage-wise, Elon Musk's wealth grew 48% to $36 billion, while Zuckerberg clocked in at 46%. Bezos' wealth grew 31% to $147 billion. His ex-wife, MacKenzie Bezos, saw her wealth increase by roughly 33% to $48 billion. On average, American billionaires saw their net worth grow 15% during the two-month period from $2.948 trillion to $3.382 trillion.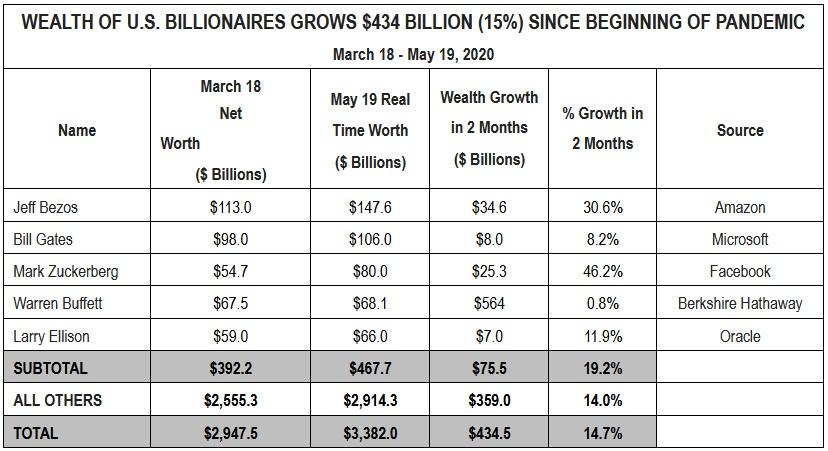 Bezos, Bill Gates, Zuckerberg, Buffett and Larry Ellison saw their wealth increase by a total of $76 billion.
"The surge in billionaire wealth during a global pandemic underscores the grotesque nature of unequal sacrifice," declared Chuck Collins, director of the IPS Program on Inequality and co-author of the Billionaire Bonanza 2020 report. "While millions risk their lives and livelihoods as first responders and front line workers, these billionaires benefit from an economy and tax system that is wired to funnel wealth to the top."
However, some billionaires haven't benefited so much:
Still, the pandemic hasn't been kind to other billionaires – whose yacht upgrades may need to wait. Those in travel and retail have taken a beating. Ralph Lauren saw his wealth drop by $100 million to $5.6 billion, while hotelier John Pritzker has seen a $34 million drop to $2.56 billion. We know, time to get a collection going.