Trump Team Agrees To Testify While Democrats Run Away and Hide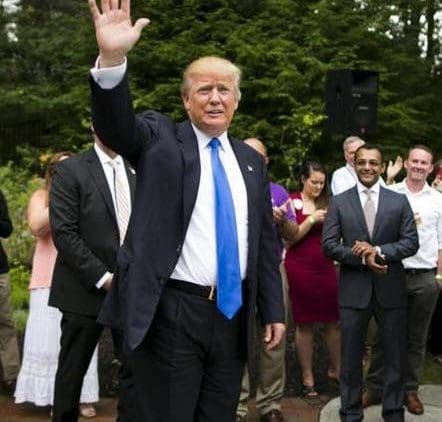 Donald Trump, Facebook
As Donald Trump Jr. and Paul Manafort prepare to appear before Senate to testify, one can't help but notice that when asked, those close to President Donald Trump have willingly agreed to do so as those within the Democratic Party dodge every invitation.
It's almost as if only one of these parties has something to hide. While suspected leaker and Obama speechwriter Ben Rhodes met with the House Intelligence Committee, most Democrats are fleeing faster than arrested Debbie Wasserman-Schultz IT staffer Imran Awan.
On Monday, White House advisor Jared Kushner testified before the Senate Intelligence Committee in a closed session. Prior to his appearance, he released a statement saying that he had four contacts with Russians during the campaign and over the transition period — but made clear that he did not collude with them or any other foreign officials.
Trump Jr., who is currently leading the Trump Organization, and former Trump campaign chairman Manafort will testify before the Senate Judiciary Committee on Wednesday.
While this week's hearings sparked backlash from Democrats as they were not under oath, Republican lawmakers and those with common sense have noted that it is a crime to lie to Congress anyways.
Roger Stone Jr., a former Trump adviser, is also expected to testify in a closed session in the near future. He has been willing — and pleading — to have the opportunity to address the senators that have been mentioning and demonizing him so often. He was originally scheduled to appear later this month, but it has been delayed indefinitely.
As Stone previously told Big League Politics, he is eager to testify because it is the only method available to counter the false claims being made about him.
"The only opportunity that I have to respond to a litany of falsehoods that they have put out is the hearings. That said, I will probably proceed because I would like to clear the air on this. They have agreed to allow me to make an open statement and I will make the statement public. Kind of like what James Comey did — it's interesting," Stone stated.
He added that, "frankly, I have a few questions I need to ask Schiff about why an Iranian arms dealer is doing fundraisers for him, and a follow up question of why won't you just resign? He needs to resign from Congress, he's an embarrassment."
Meanwhile, the list of Democratic Party members and allies who have refused to testify continues to grow.
Susan Rice, President Obama's national security adviser and ambassador to the United Nations, who was behind the unmasking of Trump transition team phone conversations, refused to testify before the Senate committee on Russian interference.
Normally, the identities of US citizens who are not the targets of, but sometimes get caught up in, government spying, are redacted to protect their privacy. The process of "unmasking" those identities can only be requested by a select few within the intelligence community.
Information on the unmasked phone call between General Mike Flynn and Russian Ambassador Sergei Kislyak was leaked to the media – eventually ending in Flynn's resignation from the administration.
Rice claimed that there was not political motivation behind the unusual unmasking efforts.
It has since been revealed that Rice met "quietly" with Senate intelligence committee investigators in a closed door meeting on Friday.
"I have been fuming for several days now that we have the right to know,"Judge Napolitano said of the meeting during an appearance on Fox Business. "The American public has the right to know what Susan Rice did, what the Congress knows about her and what the Congress will do."
Last week, Glenn Simpson, a co-founder of Democratic opposition research firm Fusion GPS, refused to testify before the Senate Judiciary Committee about what he knows of the now infamous meeting between Trump Jr. and a Russian lawyer. Bizarrely, he has also claimed that if he is forced to testify, he will plead the 5th Amendment.
Obama's United Nations Ambassador Samantha Power, who was also involved in the unmasking scandal, has also been delaying and avoiding testifying before the House Intelligence Committee. It is unknown when or if she will actually appear.
Despite all the Democrats' avoidance, hiding, and secrecy — and the Trump team's cooperation and willingness to testify — the mainstream media still continues to promote the Dems' wild Russian conspiracy theories and witch hunts. Go figure.