Vice President Mike Pence Endorses Red Flag Gun Confiscation Orders
Vice President Mike Pence is hopping on the red flag gun confiscation bandwagon.
According to a report from Fox 59, Pence believes Indiana's red flag law could serve as a model for the rest of the nation to follow.
On Wednesday, the VP held a roundtable discussion over red flag laws with several Indiana law enforcement officials. Pence claims that this discussion is part of a larger conversation the Trump administration is participating in order to prevent mass shootings like the ones in El Paso, Texas and Dayton, Ohio.
Trending: Indian Scientists Discover Hydroxychloroquine Treatment Prevents COVID-19, Vindicating President Trump
"I'm here to listen and to carry back Indiana's experience into our discussions at the White House," Pence stated.
take our poll - story continues below
Completing this poll grants you access to Big League Politics updates free of charge. You may opt out at anytime. You also agree to this site's Privacy Policy and Terms of Use.
Pence praised Indiana's red flag laws for preventing incidents of gun violence in cases involving mental health issues and suicide.
"While we will always defend the rights of Americans to keep and bear arms, we don't want people who are a danger to themselves or others to have access to firearms," Pence declared.
Indiana's red flag law was passed after an Indianapolis Metropolitan Police Department officer was killed in 2004.
In Indianapolis, red flag laws have been invoked more than 700 times, giving police the authority to confiscate firearms from an individual who is suspected to pose a threat to themselves or others.
Although Pence claimed that President Donald Trump is examining red flag laws as a means of preventing mass shootings, he has not indicated any concrete steps towards pursuing a national policy.
"As we look at these proposals in congress, they're designed to encourage states to adopt these laws, because the ability to process these warrants, to give individuals the due process that's essential to protect the constitutional rights of every American, best happen in state and local jurisdictions," Pence said.
Currently, 17 states have adopted red flag laws.
Many gun rights advocates fear that these kinds of laws pose a major threat to basic civil liberties such as due process.
Billionaires Have Made Half a Trillion Dollars While Tens of Millions File for Unemployment
As the number of Americans filing for unemployment approaches 40 million, America's billionaires are cruising along without any worries.
According to a CNBC report, billionaire fortunes climbed by a total of $434 billion since the middle of March,
At the top of the list are Jeff Bezos and Mark Zuckerberg, whose respective fortunes increased by $34.6 and $25 billion, according to the Americans for Tax Fairness and the Institute for Policy Studies' Program for Inequality. Zerohedge noted that both organizations came to this conclusion "based on Forbes data for America's over 600 billionaires collected between March 18 and May 19."
Tyler Durden highlighted the following stats:
take our poll - story continues below

Completing this poll grants you access to Big League Politics updates free of charge. You may opt out at anytime. You also agree to this site's Privacy Policy and Terms of Use.

Percentage-wise, Elon Musk's wealth grew 48% to $36 billion, while Zuckerberg clocked in at 46%. Bezos' wealth grew 31% to $147 billion. His ex-wife, MacKenzie Bezos, saw her wealth increase by roughly 33% to $48 billion. On average, American billionaires saw their net worth grow 15% during the two-month period from $2.948 trillion to $3.382 trillion.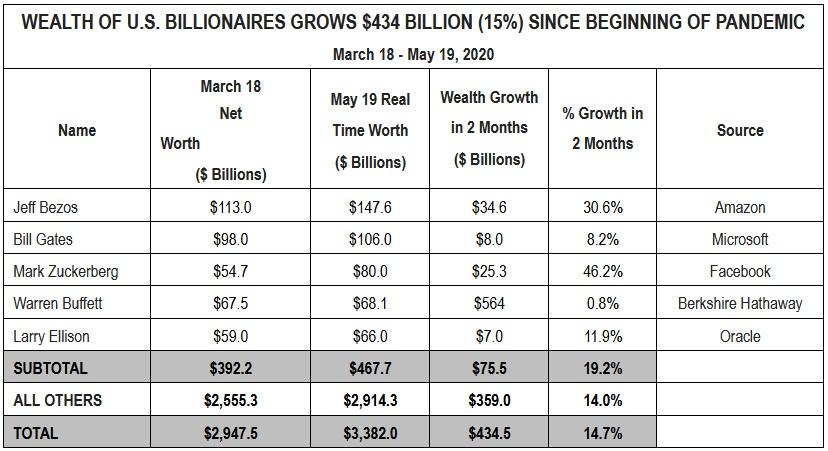 Bezos, Bill Gates, Zuckerberg, Buffett and Larry Ellison saw their wealth increase by a total of $76 billion.
"The surge in billionaire wealth during a global pandemic underscores the grotesque nature of unequal sacrifice," declared Chuck Collins, director of the IPS Program on Inequality and co-author of the Billionaire Bonanza 2020 report. "While millions risk their lives and livelihoods as first responders and front line workers, these billionaires benefit from an economy and tax system that is wired to funnel wealth to the top."
However, some billionaires haven't benefited so much:
Still, the pandemic hasn't been kind to other billionaires – whose yacht upgrades may need to wait. Those in travel and retail have taken a beating. Ralph Lauren saw his wealth drop by $100 million to $5.6 billion, while hotelier John Pritzker has seen a $34 million drop to $2.56 billion. We know, time to get a collection going.