WHERE IS ICE? Lines Pile Up at NY DMVs After Illegal Aliens are Now being Offered Driver's Licenses (VIDEO)
The Hill reported on Friday, December 13, 2019 that a federal judge rejected a challenge to a law that will allow New York to hand out driver's licenses to illegal aliens.
This law went into effect on Monday, December 16, 2019,
The Rochester Democrat & Chronicle reported that the law faced its second challenge in court.
Trending: Indian Scientists Discover Hydroxychloroquine Treatment Prevents COVID-19, Vindicating President Trump
U.S. District Judge Gary Sharpe ruled against Rensselaer County Clerk Frank Merola, declaring he lacked the legal capacity to advance the lawsuit against the New York state government over the new law.
take our poll - story continues below
Completing this poll grants you access to Big League Politics updates free of charge. You may opt out at anytime. You also agree to this site's Privacy Policy and Terms of Use.
The lawsuit was thrown without the judge ruling on the law's merits. It represented the last change to block the law before state Department of Motor Vehicles offices opened on Monday, according to the news outlet's report.
At least three other lawsuits are challenging this law and are either pending or on appeal.
Nevertheless, the law is now being implemented today.
This new law allows immigrants to show foreign-issued documents to prove their identity and age. Additionally, it would not require a valid Social Security number to acquire a driver's license in the state.
New York Attorney General Letitia James praised the judge's decision, pointing out that it was the second time a judge has tossed out challenges.
"We expect all public officials to comply with the law, and, as the state's attorney and chief law enforcement officer, I will continue to vigorously defend it," James declared in a prepared statement.
Now, The Hill tweeted  about the long lines forming to acquire driver's licenses across New York.
The news outlet posted, "Lines to apply for New York driver's licenses go as far as around the block on the first day undocumented immigrants can apply for them" on the first day illegal aliens were eligible to acquire driver's licenses.
Lines to apply for New York driver's licenses go as far as around the block on the first day undocumented immigrants can apply for them https://t.co/ez6Ca3jxbe pic.twitter.com/7ogsYdTPDb

— The Hill (@thehill) December 16, 2019
New York and other blue states prefer to engage in various forms of anarcho-tyranny such as giving illegal aliens more leeway in occupying jurisdictions that they should have never entered in the first place.
Apart from the illegality of these actions, these states are opening up the door for repeated abuses and the eventual collapse of order as more illegals are encouraged to flood into these states thanks to lax enforcement policies.
President Trump can make things right by threatening to cut off funding to states who are derelict in their responsibility of turning in illegal aliens to proper authorities.
More importantly, he can vastly overhaul U.S. migration policy by switching to a skill-based immigration system, tightening up border security, cracking down on sanctuary cities, and getting rid of magnets such as chain migration and birthright citizenship.
Billionaires Have Made Half a Trillion Dollars While Tens of Millions File for Unemployment
As the number of Americans filing for unemployment approaches 40 million, America's billionaires are cruising along without any worries.
According to a CNBC report, billionaire fortunes climbed by a total of $434 billion since the middle of March,
At the top of the list are Jeff Bezos and Mark Zuckerberg, whose respective fortunes increased by $34.6 and $25 billion, according to the Americans for Tax Fairness and the Institute for Policy Studies' Program for Inequality. Zerohedge noted that both organizations came to this conclusion "based on Forbes data for America's over 600 billionaires collected between March 18 and May 19."
Tyler Durden highlighted the following stats:
take our poll - story continues below

Completing this poll grants you access to Big League Politics updates free of charge. You may opt out at anytime. You also agree to this site's Privacy Policy and Terms of Use.

Percentage-wise, Elon Musk's wealth grew 48% to $36 billion, while Zuckerberg clocked in at 46%. Bezos' wealth grew 31% to $147 billion. His ex-wife, MacKenzie Bezos, saw her wealth increase by roughly 33% to $48 billion. On average, American billionaires saw their net worth grow 15% during the two-month period from $2.948 trillion to $3.382 trillion.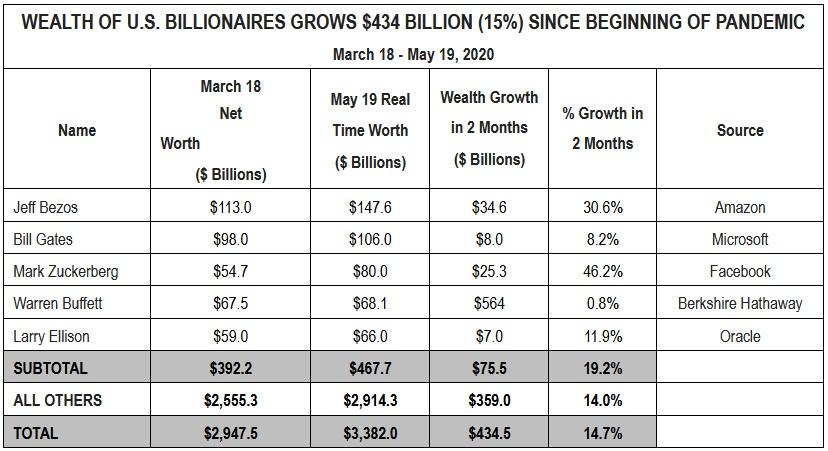 Bezos, Bill Gates, Zuckerberg, Buffett and Larry Ellison saw their wealth increase by a total of $76 billion.
"The surge in billionaire wealth during a global pandemic underscores the grotesque nature of unequal sacrifice," declared Chuck Collins, director of the IPS Program on Inequality and co-author of the Billionaire Bonanza 2020 report. "While millions risk their lives and livelihoods as first responders and front line workers, these billionaires benefit from an economy and tax system that is wired to funnel wealth to the top."
However, some billionaires haven't benefited so much:
Still, the pandemic hasn't been kind to other billionaires – whose yacht upgrades may need to wait. Those in travel and retail have taken a beating. Ralph Lauren saw his wealth drop by $100 million to $5.6 billion, while hotelier John Pritzker has seen a $34 million drop to $2.56 billion. We know, time to get a collection going.