Will Texas Fall for Gun Control?
One state representative in Texas is not buying into the gun control hysteria.
State Representative Matt Schaefer scoffed at calls to implement "so-called gun-control solutions" after last weekend's mass shooting in Midland, declaring that he wouldn't allow the "evil acts"  of a few to infringe on Texans' "God-given rights."
"Do something!' is the statement we keep hearing. As an elected official with a vote in Austin, let me tell you what I am NOT going to do," Schaefer said in a tweetstorm following the shooting.
"Do something!" is the statement we keep hearing. As an elected official with a vote in Austin, let me tell you what I am NOT going to do. 1/6

— Matt Schaefer (@RepMattSchaefer) September 1, 2019
Trending: REJECTED: Marjorie Taylor Greene Stops Cori Bush's Amendment to Allow Violent Convicted Felons to Vote
take our poll - story continues below
Completing this poll grants you access to Big League Politics updates free of charge. You may opt out at anytime. You also agree to this site's Privacy Policy and Terms of Use.
Schaefer even pushed back against calls for implementing measures such as universal background checks and "red-flag" laws, contending that "none of these so-called gun-control solutions will work to stop a person with evil intent."
I am NOT going to use the evil acts of a handful of people to diminish the God-given rights of my fellow Texans. Period. None of these so-called gun-control solutions will work to stop a person with evil intent. 2/6

— Matt Schaefer (@RepMattSchaefer) September 1, 2019
"I say NO to 'red flag' pre-crime laws," Schaefer said in a another tweet, referencing  a popular gun control measure which eviscerates due process rights. "NO to universal background checks. NO to bans on AR-15s, or high capacity magazines. NO to mandatory gun buybacks."
Schaefer finished his tweet storm by encouraging citizens to say yes to their "God-given, constitutionally protected rights" and no to "more government intrusions."
However, some of Schaefer's Republican colleagues such Governor Greg Abbott, Lieutenant Governor Dan Patrick, and House Speaker Dennis Bonnen haven't gotten the memo. In a tweet, Abbott counter-signaled on the issue of gun control by saying "we must keep guns out of criminals' hands" when it was discovered that the Midland murderer acquired his firearm in a private sale.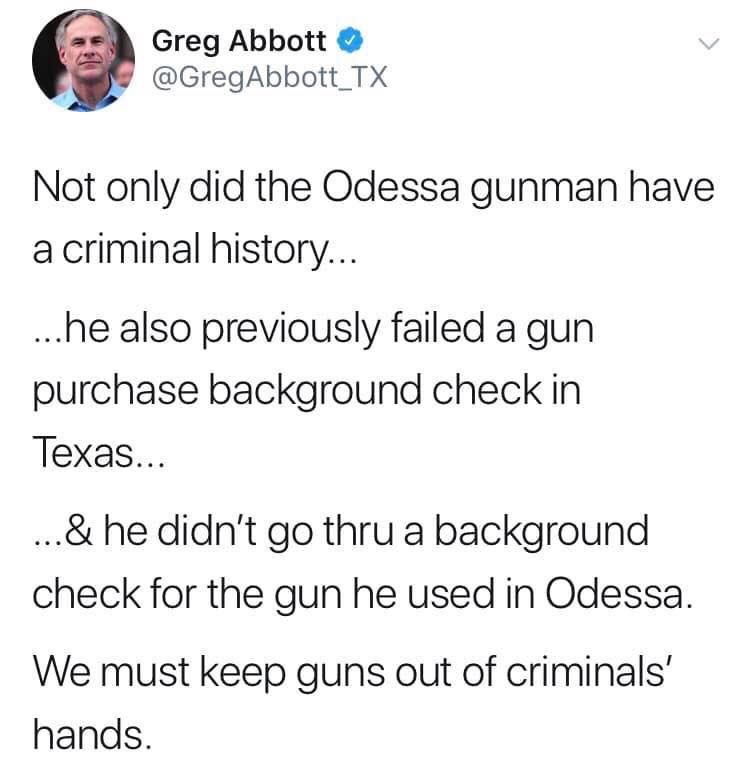 House Speaker Dennis Bonnen, the man responsible for killing Constitutional Carry, announced the creation of a Senate & House Select Committees on Mass Violence Prevention & Community Safety to craft "legislative solutions" for these mass shootings.
During a Fox News interview, Lieutenant Governor Dan Patrick even floated the idea of a universal background check to close the so-called private sales "loophole":
I believe, as a supporter of the 2nd Amendment, we should protect that family transfer or family sale. But any stranger-to-stranger, however — we don't know how this person got their gun, but we do know that that's a real loophole in the law, and I think the NRA needs to get behind the president on that issue and really address that issue. Because I'm a gun owner, I'm never going to sell my gun to someone I don't know that — do they have a criminal record, are they a danger to other people, are they ready to commit evil? There's no need for that.
Universal background checks are a popular gun control measure present in numerous blue states, where virtually all firearms transactions and transfers must go through a background check. Researchers like John Lott have demonstrated that these laws have very little impact in stopping crimes and mass shootings.
Democrats Introduce Expanded Background Check Legislation
Democrats are going to implement a background check which targets "extremism."
Connecticut Senator Chris Murphy and California Congressman Mike Thompson brought forward legislation on March 2, 2021 that aims to broaden the federal background check system on firearms sales, according to a report by The Hill.
Under The Background Check Expansion Act,  gun sales and purchases between all unlicensed sellers and buyers would be subject to a mandatory background check. The background checks would not be applicable for law enforcement officers, lending out firearms for the purpose of hunting, temporary transfers for self-defense, or family members gifting a firearm. 
Senate Majority Leader Chuck Schumer and 43 Senate Democrats have co-sponsored this bill. Thompson, who is the chair of the House Gun Violence Prevention Task Force, reintroduced this legislation in the U.S. House
"For years, the bipartisan House-passed background checks bill languished in the Senate under Republican Leader Mitch McConnell. Now, with Senate Democrats in the Majority, we have the opportunity to act on this overwhelmingly popular, lifesaving legislation to protect American communities," Schumer declared in a press release.
take our poll - story continues below
Completing this poll grants you access to Big League Politics updates free of charge. You may opt out at anytime. You also agree to this site's Privacy Policy and Terms of Use.
According to a CBS News report, President Joe Biden has repeatedly called on Congress to pass stiffer gun control laws. This gun control bill will not pass so easily given how it will need 10 Republican senators to vote in favor of it.
Against the backdrop of the January 6 storming of the Capitol, such a background check will likely feature provisions that target so-called "extremists." The ruling class has routinely lumped average gun owners with domestic extremists and will most certainly use recent events to justify encroachments on people's right to bear arms. 
Biden is a veteran of the gun control movement, as evidenced by his sponsorship of the Gun-Free School Zones Act of 1990 and the 1994 Assault Weapons Ban. With Democrats in control of all branches of the federal government, they will certainly move to pass gun control. However, their success is not guaranteed due to moderate Democrats like Arizona Senator Kyrsten Sinema and West Virginia Joe Manchin not being completely receptive to radical gun control that could alienate them from their more right-wing constituents.
Nevertheless, the Left has shown that it's willing to act regardless of the political context. Keeping this in mind, gun owners must be ready to beat back any kind of gun control coming from D.C. Such fights will allow the Right to rebuild its forces and make a splash in the 2022 midterms and the 2024 presidential race.