Will Texas Fall for Gun Control?
One state representative in Texas is not buying into the gun control hysteria.
State Representative Matt Schaefer scoffed at calls to implement "so-called gun-control solutions" after last weekend's mass shooting in Midland, declaring that he wouldn't allow the "evil acts"  of a few to infringe on Texans' "God-given rights."
"Do something!' is the statement we keep hearing. As an elected official with a vote in Austin, let me tell you what I am NOT going to do," Schaefer said in a tweetstorm following the shooting.
"Do something!" is the statement we keep hearing. As an elected official with a vote in Austin, let me tell you what I am NOT going to do. 1/6

— Matt Schaefer (@RepMattSchaefer) September 1, 2019
Trending: WATCH: General Flynn SPEAKS OUT In First Interview Since Pardon: "President Trump Won This Election"
take our poll - story continues below
Completing this poll grants you access to Big League Politics updates free of charge. You may opt out at anytime. You also agree to this site's Privacy Policy and Terms of Use.
Schaefer even pushed back against calls for implementing measures such as universal background checks and "red-flag" laws, contending that "none of these so-called gun-control solutions will work to stop a person with evil intent."
I am NOT going to use the evil acts of a handful of people to diminish the God-given rights of my fellow Texans. Period. None of these so-called gun-control solutions will work to stop a person with evil intent. 2/6

— Matt Schaefer (@RepMattSchaefer) September 1, 2019
"I say NO to 'red flag' pre-crime laws," Schaefer said in a another tweet, referencing  a popular gun control measure which eviscerates due process rights. "NO to universal background checks. NO to bans on AR-15s, or high capacity magazines. NO to mandatory gun buybacks."
Schaefer finished his tweet storm by encouraging citizens to say yes to their "God-given, constitutionally protected rights" and no to "more government intrusions."
However, some of Schaefer's Republican colleagues such Governor Greg Abbott, Lieutenant Governor Dan Patrick, and House Speaker Dennis Bonnen haven't gotten the memo. In a tweet, Abbott counter-signaled on the issue of gun control by saying "we must keep guns out of criminals' hands" when it was discovered that the Midland murderer acquired his firearm in a private sale.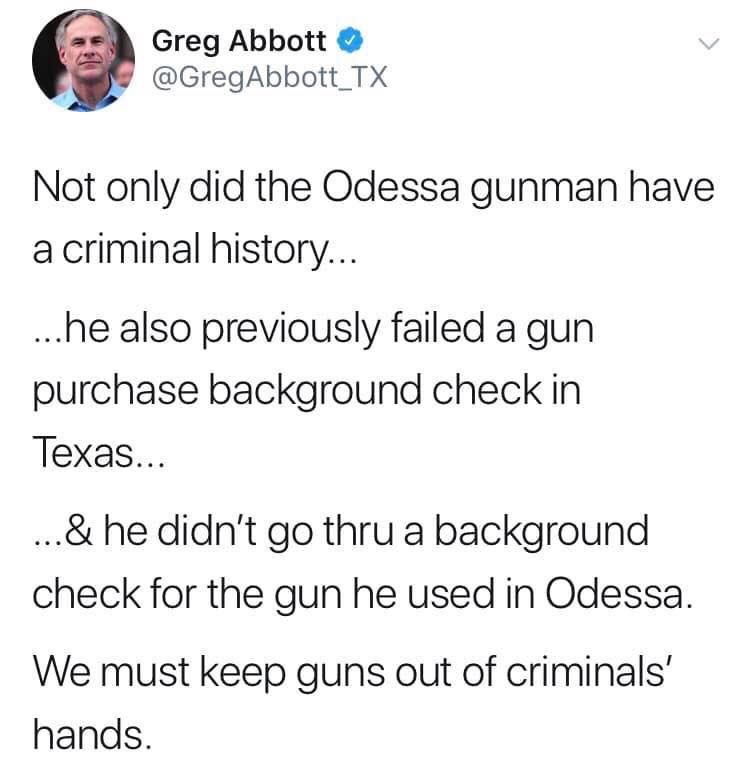 House Speaker Dennis Bonnen, the man responsible for killing Constitutional Carry, announced the creation of a Senate & House Select Committees on Mass Violence Prevention & Community Safety to craft "legislative solutions" for these mass shootings.
During a Fox News interview, Lieutenant Governor Dan Patrick even floated the idea of a universal background check to close the so-called private sales "loophole":
I believe, as a supporter of the 2nd Amendment, we should protect that family transfer or family sale. But any stranger-to-stranger, however — we don't know how this person got their gun, but we do know that that's a real loophole in the law, and I think the NRA needs to get behind the president on that issue and really address that issue. Because I'm a gun owner, I'm never going to sell my gun to someone I don't know that — do they have a criminal record, are they a danger to other people, are they ready to commit evil? There's no need for that.
Universal background checks are a popular gun control measure present in numerous blue states, where virtually all firearms transactions and transfers must go through a background check. Researchers like John Lott have demonstrated that these laws have very little impact in stopping crimes and mass shootings.
Starbucks Barista FIRED After Refusing to Wear "Pride" T-Shirt for Religious Reasons, According to Lawsuit
She is a Christian and was apparently told by her manager that she didn't have to wear it.
A former Starbucks barista is filing an unlawful discrimination lawsuit against the coffee giant, claiming they fired her for refusing to wear a "Pride" t-shirt that violated her Christian religious convictions.
Betsy Fresse started working as a barista in December 2015. After transferring to a Glen Ridge, New Jersey, store in early 2019, managers apparently "assured" her that her Christian faith wouldn't be an issue.
Then in June 2019, she noticed a box of Pride shirts on a desk and asked if they'd make her wear one. Her store manager said she wouldn't have to, but two months later she found herself out of a job after being terminated by a district manager.
A notice of separation claims that Fresse was fired for violating Starbucks' "core values." It specifically mentions an incident where she said her colleagues "need Jesus" when given the "Pride" shirt.
take our poll - story continues below
Completing this poll grants you access to Big League Politics updates free of charge. You may opt out at anytime. You also agree to this site's Privacy Policy and Terms of Use.
Starbucks maintains that "no part of our dress code requires partners to wear any approved items that they have not personally selected" and that Fresse's claims are "without merit," in a comment to the New York Post.
So Starbucks denies that she was fired for not wearing the shirt, yet their notice of separation appears to claim that they fired her for something she said about Jesus. Not a good look either way.
Fresse is seeking backpay, punitive damages, money to cover the cost of an attorney, and a permanent injunction that prevents Starbucks from "failing to accommodate […] sincerely held religious beliefs."
Starbucks has long been a major player in the world of Woke Capital. Back in February Big League Politics reported on how the British branch of Starbucks was raising money for a pro-transgender lobbying group:
The U.K. branch of Starbucks is raising money to push for the chemical castration and surgical mutilation of children.

Nathanael Blake at The Federalist reported that the multinational titan is selling special mermaid-shaped cookies to help the pro-transgender lobbying group Mermaids. Curiously, the group's founder took her underage son to Thailand to undergo a castration procedure.

Blake correctly observed "That Starbucks is supporting this group illustrates how thoroughly radicals have conquered both the LGBT movement and corporate culture."

He also called attention to how "In a few years the fight has shifted from government recognition of same-sex relationships as legal marriages to mastectomies, sterilization, and castration for children."
Here's hoping that Betsy Fresse is successful in her lawsuit.