You Can't Cancel Him: Dave Chappelle Defends the Second Amendment
On Sunday, Dave Chappelle strongly defended the Second Amendment in front of  a Washington crowd filled with stars.
The renowned comedian accepted the Mark Twain Prize for American Humor at The Kennedy Center. The Washington Times reported that he delivered impromptu remarks defending the right to free speech and comedians he knows who are supposedly "very racist."
"[I] don't get mad at 'em, don't hate on 'em," he said, according to a USA Today report. "Man, it's not that serious. The First Amendment is first for a reason. Second Amendment is just in case the First one doesn't work out."
Trending: Indian Scientists Discover Hydroxychloroquine Treatment Prevents COVID-19, Vindicating President Trump
Chappelle argued that only America "could produce this many comedians". However, he believes that comedians are needed more than ever due to the tense political climate America is going through.
take our poll - story continues below
Completing this poll grants you access to Big League Politics updates free of charge. You may opt out at anytime. You also agree to this site's Privacy Policy and Terms of Use.
"We got to let some air out of the ball, man," he said, according to a report from The Hill. "The country's getting a little tight. It doesn't feel like it's ever felt in my lifetime. So tonight I am honored that my colleagues are here in comedy and in music."
"I love this job," he continued. "It saved my life."
Before his speech, Chappelle told The Hill that he believes "political correctness has its place" and he apologized if his comedy has "hurt anybody" in the past.
"We all want to live in a polite society, we just kind of have to work on the levels of coming to an agreement of what that actually looks like," he stated. "I, personally, am not afraid of other people's freedom of expression."
Billionaires Have Made Half a Trillion Dollars While Tens of Millions File for Unemployment
As the number of Americans filing for unemployment approaches 40 million, America's billionaires are cruising along without any worries.
According to a CNBC report, billionaire fortunes climbed by a total of $434 billion since the middle of March,
At the top of the list are Jeff Bezos and Mark Zuckerberg, whose respective fortunes increased by $34.6 and $25 billion, according to the Americans for Tax Fairness and the Institute for Policy Studies' Program for Inequality. Zerohedge noted that both organizations came to this conclusion "based on Forbes data for America's over 600 billionaires collected between March 18 and May 19."
Tyler Durden highlighted the following stats:
take our poll - story continues below

Completing this poll grants you access to Big League Politics updates free of charge. You may opt out at anytime. You also agree to this site's Privacy Policy and Terms of Use.

Percentage-wise, Elon Musk's wealth grew 48% to $36 billion, while Zuckerberg clocked in at 46%. Bezos' wealth grew 31% to $147 billion. His ex-wife, MacKenzie Bezos, saw her wealth increase by roughly 33% to $48 billion. On average, American billionaires saw their net worth grow 15% during the two-month period from $2.948 trillion to $3.382 trillion.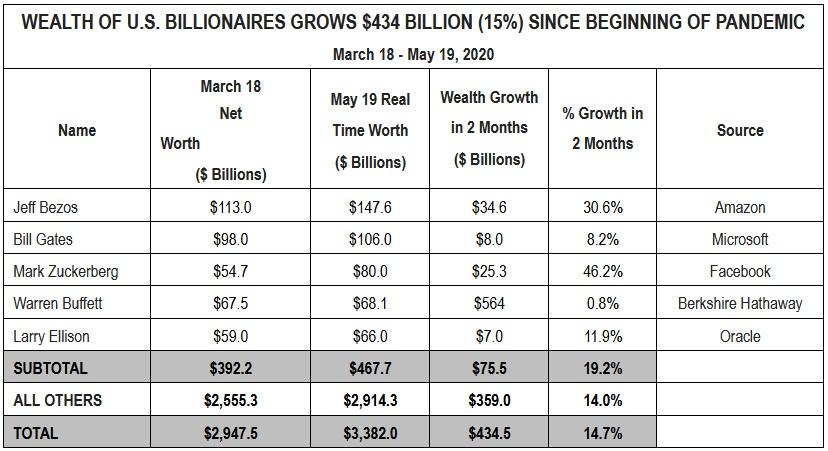 Bezos, Bill Gates, Zuckerberg, Buffett and Larry Ellison saw their wealth increase by a total of $76 billion.
"The surge in billionaire wealth during a global pandemic underscores the grotesque nature of unequal sacrifice," declared Chuck Collins, director of the IPS Program on Inequality and co-author of the Billionaire Bonanza 2020 report. "While millions risk their lives and livelihoods as first responders and front line workers, these billionaires benefit from an economy and tax system that is wired to funnel wealth to the top."
However, some billionaires haven't benefited so much:
Still, the pandemic hasn't been kind to other billionaires – whose yacht upgrades may need to wait. Those in travel and retail have taken a beating. Ralph Lauren saw his wealth drop by $100 million to $5.6 billion, while hotelier John Pritzker has seen a $34 million drop to $2.56 billion. We know, time to get a collection going.