Accused Child Trafficker Epstein Claimed To Be Co-Founder of the Clinton Global Initiative
Accused child sex trafficker Jeffrey Epstein claimed that he was a co-founder of the Clinton Global Initiative, a subsidiary of the scandal-plagued Clinton Foundation. Bill Clinton was a frequent Epstein travel companion.
Malia Zimmerman reported in 2016:
Attorneys for convicted sex offender Jeffrey Epstein touted his close friendship with Bill Clinton and even claimed the billionaire helped start Clinton's controversial family foundation in a 2007 letter aimed at boosting his image during plea negotiations…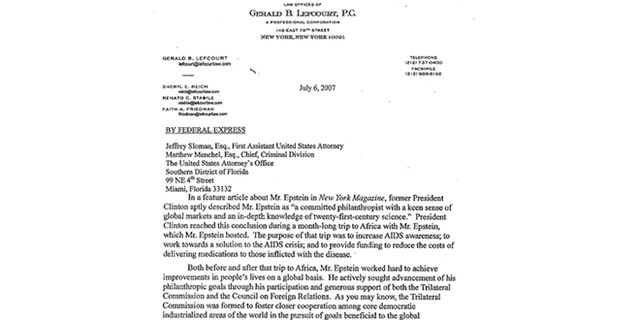 "Mr. Epstein was part of the original group that conceived the Clinton Global Initiative, which is described as a project 'bringing together a community of global leaders to devise and implement innovative solutions to some of the world's most pressing challenges," read the July 2007 letter to the U.S. Attorney's office in the Southern District of Florida. "Focuses of this initiative include poverty, climate change, global health, and religious and ethnic conflicts.""
Trending: BASED: University Professor Placed on Leave After Exposing 'Satanic, Globalist Elite' in Explosive Letter
Zimmerman's Fox News passage ends
take our poll - story continues below
Completing this poll grants you access to Big League Politics updates free of charge. You may opt out at anytime. You also agree to this site's Privacy Policy and Terms of Use.
The U.S. District Court Judge presiding over the Jeffrey Epstein child trafficking case was appointed to the federal bench by former president Bill Clinton, a frequent travel companion of Epstein. Epstein actually claimed to be a co-founder of the Clinton Foundation.
Richard Berman was appointed by Bill Clinton in 1998. He presided over Dinesh D'Souza's case where D'Souza was convicted of re-imbursing friends to evade campaign contribution limits in a New York election.
Meanwhile, disgraced former FBI director James Comey's daughter Maurene is one of the prosecutors in the case.
Convicted pedophile Jeffrey Epstein pleaded the Fifth Amendment in court to avoid having to admit to his personal friendship with former President Bill Clinton.
Court documents (p. 34) reviewed by The Daily Caller reveal that Epstein took the Fifth to avoid self-incrimination in a deposition when directly asked, "Do you know former President Clinton personally?" Epstein made the plea in a 2010-2011 civil case between Epstein and Florida lawyer Brad Edwards, who sued Epstein on behalf of some of Epstein's alleged victims.
Joe Biden Nominates Liberal Activist Neera Tanden as Director of Office of Management and Budget; "Zero Chance of Being Confirmed"
Tanden is a controversial Democrat.
Democratic candidate Joe Biden announced his nomination of Center for American Progress President and controversial Democrat Neera Tanden as Director of the Office of Management and Budget. Biden is yet to be certified as the rightful president-elect pending the outcome of litigation challenging the results in swing states, but this hasn't prevented him from making personnel decisions.
Tanden, who is somewhat known as a Twitter personality, is a controversial figure in Democratic and progressive circles. She regularly used her position of influence in the Democratic establishment to attack Bernie Sanders during his 2016 and 2020 campaigns,
Tanden also became a target of ire for an incident in which she revealed the identity of an individual who was allegedly sexually harassed at the Center for American Progress.
However, it appears that Tanden's confirmation as the Director of OMB, is doubtful. Drew Brandewie, a staffer of veteran Republican Senator John Cornyn, described the establishment liberal figure as having "zero chance of being confirmed" in a Sunday tweet.
Neera Tanden, who has an endless stream of disparaging comments about the Republican Senators' whose votes she'll need, stands zero chance of being confirmed. https://t.co/f6Ewi6OMQR

take our poll - story continues below

Completing this poll grants you access to Big League Politics updates free of charge. You may opt out at anytime. You also agree to this site's Privacy Policy and Terms of Use.

— Drew Brandewie (@DBrandewie) November 30, 2020
Liberals went ballistic at the notion Tanden wouldn't be approved by a Republican Senate majority after spending her career maligning the figures whose votes she would require.
In fairness to Tanden, the Senate Republicans are terrible, low-quality people.

— Jeremy Rosenberg (@JeremyR1992) November 30, 2020
Tanden was an essential figure in pioneering the 'resistance' branding of establishment Democrats during Trump's first term.
Neera Tanden was the first to notice that the DC liberal establishment could rehabilitate itself after the humiliation of 2016 by appropriating the iconography and rhetoric of "Resistance" — one of the most cynical branding ploys in recent memory pic.twitter.com/NuMuK92pJI

— Michael Tracey (@mtracey) November 30, 2020
Tanden appears to have deleted more than a thousand tweets on her personal Twitter account over the weekend, possibly attempting to clean any mines that could arise in potential Senate confirmation hearings.
.@neeratanden appears to have deleted her tweets about Susan Collins, whose vote she'll likely need for confirmation.
h/t @varadmehta pic.twitter.com/atwonFCaMb

— KC Johnson (@kcjohnson9) November 30, 2020