Accused Child Trafficker Epstein Claimed To Be Co-Founder of the Clinton Global Initiative
Accused child sex trafficker Jeffrey Epstein claimed that he was a co-founder of the Clinton Global Initiative, a subsidiary of the scandal-plagued Clinton Foundation. Bill Clinton was a frequent Epstein travel companion.
Malia Zimmerman reported in 2016:
Attorneys for convicted sex offender Jeffrey Epstein touted his close friendship with Bill Clinton and even claimed the billionaire helped start Clinton's controversial family foundation in a 2007 letter aimed at boosting his image during plea negotiations…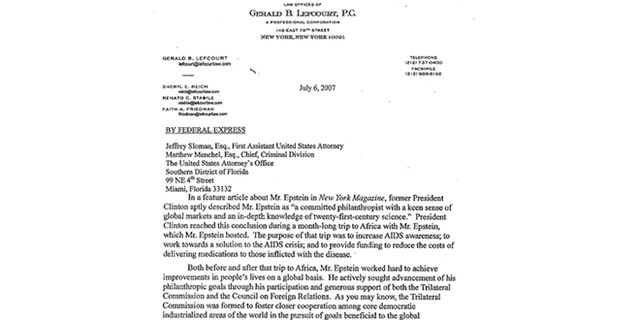 "Mr. Epstein was part of the original group that conceived the Clinton Global Initiative, which is described as a project 'bringing together a community of global leaders to devise and implement innovative solutions to some of the world's most pressing challenges," read the July 2007 letter to the U.S. Attorney's office in the Southern District of Florida. "Focuses of this initiative include poverty, climate change, global health, and religious and ethnic conflicts.""
Trending: Bezos-Linked Thinktank Official Calls for Michael Anton's Execution for Exposing Anti-Trump Color Revolution
Zimmerman's Fox News passage ends
take our poll - story continues below
Completing this poll grants you access to Big League Politics updates free of charge. You may opt out at anytime. You also agree to this site's Privacy Policy and Terms of Use.
The U.S. District Court Judge presiding over the Jeffrey Epstein child trafficking case was appointed to the federal bench by former president Bill Clinton, a frequent travel companion of Epstein. Epstein actually claimed to be a co-founder of the Clinton Foundation.
Richard Berman was appointed by Bill Clinton in 1998. He presided over Dinesh D'Souza's case where D'Souza was convicted of re-imbursing friends to evade campaign contribution limits in a New York election.
Meanwhile, disgraced former FBI director James Comey's daughter Maurene is one of the prosecutors in the case.
Convicted pedophile Jeffrey Epstein pleaded the Fifth Amendment in court to avoid having to admit to his personal friendship with former President Bill Clinton.
Court documents (p. 34) reviewed by The Daily Caller reveal that Epstein took the Fifth to avoid self-incrimination in a deposition when directly asked, "Do you know former President Clinton personally?" Epstein made the plea in a 2010-2011 civil case between Epstein and Florida lawyer Brad Edwards, who sued Epstein on behalf of some of Epstein's alleged victims.
Southern Baptist Convention Reverses Course on Name Change After BLP Reporting
They say they're not changing their name.
The Southern Baptist Convention has sought to dispel reporting from Big League Politics on the organization's planned name change, arguing that the institution isn't formally changing its name.
To correct multiple inaccurate reports, "We Are Great Commission Baptists" is the 2021 Annual Meeting THEME.

The GCB descriptor was approved in 2012 for churches to use if it would be helpful in their local context.

The Southern Baptist Convention remains our official name.

— SBC Executive Committee (@SBCExecComm) September 17, 2020
take our poll - story continues below
Completing this poll grants you access to Big League Politics updates free of charge. You may opt out at anytime. You also agree to this site's Privacy Policy and Terms of Use.
But a close look at the American Christian church's plans relating to its name reveal that it's played with the idea far more seriously than they're making it seem.
Reports of a name change first emerged in a Washington Post article published on Tuesday. SBC President JD Greear told the Post that "hundreds of churches" affiliated with the denomination had "committed" to using the phrase "Great Commission Baptist" as an alternative to the denomination's longtime moniker. The change would come as Greear touts his support of the Black Lives Matter, although he's been careful in pointing out he doesn't support any formal organization related to the movement. Greear also is renaming the church he personally pastors with the term.
The SBC's 2021 convention will also organize under the motto of "We Are Great Commission Baptists." Sounds a lot like a name change, even if the SBC's leadership is steadfastly maintaining it isn't.
The name 'Great Commission Baptist' is theologically sound in the Christian religion, but it's somewhat questionable that the organization's leader appears to be emphasizing it at a moment in which political correctness is making its entryism into many Christian churches and organizations.
It seems as if the organization's figurehead is keen to present himself as a liberal-style suburban Evangelical to the Washington Post, but he changed his tune quite quickly when the rank and file membership of Southern Baptist churches learned that he was promoting the idea of a name change.