Accused Child Trafficker Epstein Claimed To Be Co-Founder of the Clinton Global Initiative
Accused child sex trafficker Jeffrey Epstein claimed that he was a co-founder of the Clinton Global Initiative, a subsidiary of the scandal-plagued Clinton Foundation. Bill Clinton was a frequent Epstein travel companion.
Malia Zimmerman reported in 2016:
Attorneys for convicted sex offender Jeffrey Epstein touted his close friendship with Bill Clinton and even claimed the billionaire helped start Clinton's controversial family foundation in a 2007 letter aimed at boosting his image during plea negotiations…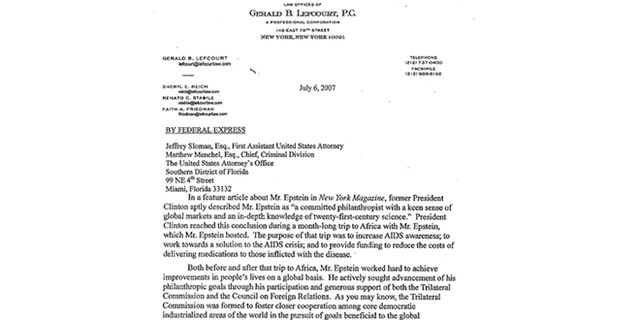 "Mr. Epstein was part of the original group that conceived the Clinton Global Initiative, which is described as a project 'bringing together a community of global leaders to devise and implement innovative solutions to some of the world's most pressing challenges," read the July 2007 letter to the U.S. Attorney's office in the Southern District of Florida. "Focuses of this initiative include poverty, climate change, global health, and religious and ethnic conflicts.""
Trending: HMM: Actress Rosario Dawson Comes Out as Lesbian Just One Month After She 'Dated' Cory Booker
Zimmerman's Fox News passage ends
take our poll - story continues below
Completing this poll grants you access to Big League Politics updates free of charge. You may opt out at anytime. You also agree to this site's Privacy Policy and Terms of Use.
The U.S. District Court Judge presiding over the Jeffrey Epstein child trafficking case was appointed to the federal bench by former president Bill Clinton, a frequent travel companion of Epstein. Epstein actually claimed to be a co-founder of the Clinton Foundation.
Richard Berman was appointed by Bill Clinton in 1998. He presided over Dinesh D'Souza's case where D'Souza was convicted of re-imbursing friends to evade campaign contribution limits in a New York election.
Meanwhile, disgraced former FBI director James Comey's daughter Maurene is one of the prosecutors in the case.
Convicted pedophile Jeffrey Epstein pleaded the Fifth Amendment in court to avoid having to admit to his personal friendship with former President Bill Clinton.
Court documents (p. 34) reviewed by The Daily Caller reveal that Epstein took the Fifth to avoid self-incrimination in a deposition when directly asked, "Do you know former President Clinton personally?" Epstein made the plea in a 2010-2011 civil case between Epstein and Florida lawyer Brad Edwards, who sued Epstein on behalf of some of Epstein's alleged victims.
Bypass Tech Censorship!
Facebook, Twitter and Google are actively restricting conservative content through biased algorithms. Silicon Valley doesn't want you to read our articles. Bypass the censorship, sign up for our newsletter now!
Have a hot tip for Big League Politics?
Got a hot news tip for us? Photos or video of a breaking story? Send your tips, photos and videos to tips@bigleaguepolitics.com. All hot tips are immediately forwarded to BLP Staff.
Have something to say? Send your own guest column or original reporting to submissions@bigleaguepolitics.com.
Join the conversation!
We have no tolerance for comments containing violence, racism, profanity, vulgarity, doxing, or discourteous behavior. Thank you for partnering with us to maintain fruitful conversation.
Nikki Haley is Raising MAJOR CASH to Position Herself for a Potential 2024 Run
On Tuesday, February 18, 2020, Nikki Haley is headlining a fundraiser for Bill Hagerty, the favored successor to retiring Tennessee Republican Senator Lamar Alexander.
This move is fueling speculation about Haley's potential presidential run in the 2024 elections.
The former South Carolina governor and President Donald Trump's first ambassador to the United Nations is yet again putting herself in the spotlight as part of a broader plan to prepare herself for 2024.
Tennessee is a solid red state and the former ambassador to Japan, Haggerty, should be expected to win.
take our poll - story continues below
Completing this poll grants you access to Big League Politics updates free of charge. You may opt out at anytime. You also agree to this site's Privacy Policy and Terms of Use.
The Hagerty campaign held a drawing that offered two grassroots supporters tickets to the fundraiser for the opportunity to meet Haley.
"Team Hagerty is excited to have Ambassador Nikki Haley with us in Tennessee next week, and we are so grateful she stands with us in our fight to protect the conservative values of Tennesseans," campaign manager Michael Sullivan announced in a statement.
Hagerty, recently received an endorsement from Trump, and is expected to coast to victory in November.
Haley did not support Trump at the beginning of his 2016 campaign, and instead endorsed Florida Senator Marco Rubio during the Republican primary.
After Trump's election, he appointed Haley as U.N. ambassador. Haley has generally put on a pro-Trump act since leaving her U.N. position. It is up for debate if her pro-Trump rhetoric is genuine in nature.
Following her departure from the Trump administration, Haley started Stand For America. The political nonprofit group serves the dual purpose of keeping Haley in the public eye and adding fuel to her speculated 2024 run.
Haley serves on the Board of Boeing and maintains conventional neoconservative views on foreign policy.
Her winning in 2024 would likely bring back Bush-era neocon foreign policy.