After His Sentencing, New York Charges Manafort With 16 More Crimes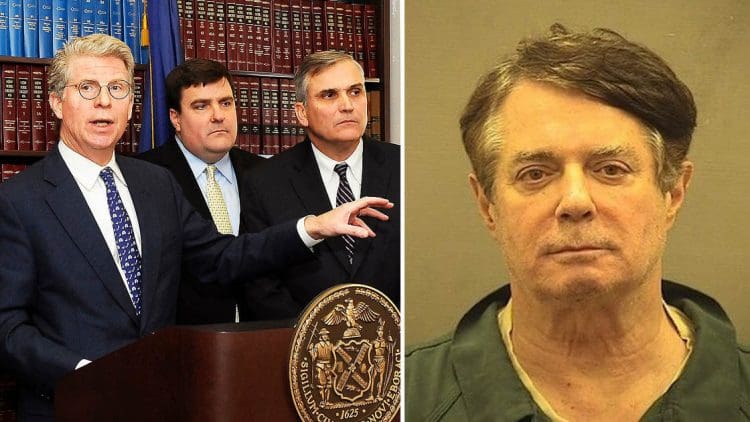 After the former chairman to President Donald J. Trump's 2016 campaign was sentenced to 7 years in prison, the state of New York charged Paul Manafort with 16 more crimes this afternoon.
Manafort was found guilty and sentenced to over 7 years in prison after he was charged with crimes relating to tax and bank fraud by Special Counsel Robert Mueller, and now, fearing that President Trump may pardon Manafort of the federal crimes, the state of New York is attempting to convict him of 16 more crimes.
The Manhattan district attorney's press release reveals that the 16 charges Manafort faces in New York relate to fraudulently obtaining bank loans. The "16-count indictment that alleges a yearlong scheme in which he falsified business records to obtain millions of dollars in loans," according to Manhattan district attorney Cyrus R. Vance.
According to The New York Times, because these charges were already brought up during Mueller's investigation, it is believed Manafort's lawyers will attempt to get the case dismissed due to double jeopardy laws, which prevent citizens from being charged with the same crime twice. This is designed to prevent legal warfare against private citizens, wherein the government can retry a case repeatedly until they get the desired outcome, which some agree is what the state of New York is doing with Manafort.
New York prosecutors had previously threatened indictments against Manafort only if President Trump were to pardon him, and later determined to charge him regardless of a presidential pardon.
Manafort could face an additional 25 years in prison, essentially a life sentence to the 69-year-old who has appeared at recent sentencing hearings confined to a wheelchair. If convicted, Manafort would not be eligible for a presidential pardon because these alleged crimes were committed at the state level.
This action comes roughly 18 hours after the GOP's Twitter account posted an article revealing the clear anti-Trump bias of New York attorney general Lelita James, writing that she "is using her position of power to baselessly smear the President."
President Trump retweeted the post yesterday evening.
The NY Attorney General called President Trump an "illegitimate president." She has proven to have a vendetta against @realDonaldTrump & is using her position of power to baselessly smear the President & the work he's done for the American people.https://t.co/PaVuvlC344

— GOP (@GOP) March 13, 2019