Bill Clinton Was Not With Secret Service On At Least FIVE Epstein Flights
Former Democrat president Bill Clinton declined to be accompanied by the Secret Service on at least 5 of his flights with accused child trafficker Jeffrey Epstein. Clinton took at least 26 trips with Epstein according to FAA flight logs, and is now fighting to assert that he was not involved with Epstein's pedophilia.
Malia Zimmerman reported in 2016: "Official flight logs filed with the Federal Aviation Administration show Clinton traveled on some of the trips with as many as 10 U.S. Secret Service agents. However, on a five-leg Asia trip between May 22 and May 25, 2002, not a single Secret Service agent is listed. The U.S. Secret Service has declined to answer multiple Freedom of Information Act requests filed by FoxNews.com seeking information on these trips. Clinton would have been required to file a form to dismiss the agent detail, a former Secret Service agent told FoxNews.com. In response to a separate FOIA request from FoxNews.com, the U.S. Secret Service said it has no records showing agents were ever on the island with Clinton."
Fox News passage ends
Trending: VIDEO: Chinese Factory Worker Caught Contaminating Hundreds of Medical Face Masks
Former Democrat president Bill Clinton released a statement Monday through a spokesperson acknowledging numerous interactions with his frequent travel companion Jeffrey Epstein.
take our poll - story continues below
Completing this poll grants you access to Big League Politics updates free of charge. You may opt out at anytime. You also agree to this site's Privacy Policy and Terms of Use.
Accused child sex trafficker Jeffrey Epstein claimed that he was a co-founder of the Clinton Global Initiative, a subsidiary of the scandal-plagued Clinton Foundation. Bill Clinton was a frequent Epstein travel companion.
Malia Zimmerman reported in 2016:
Attorneys for convicted sex offender Jeffrey Epstein touted his close friendship with Bill Clinton and even claimed the billionaire helped start Clinton's controversial family foundation in a 2007 letter aimed at boosting his image during plea negotiations…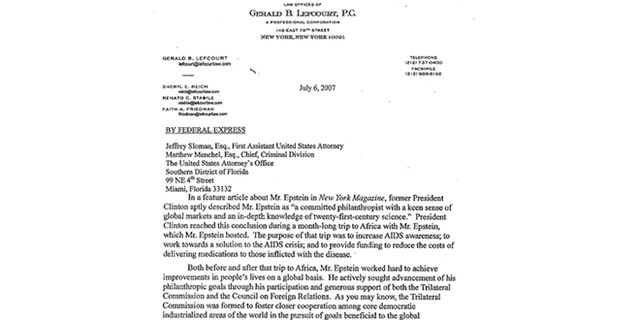 "Mr. Epstein was part of the original group that conceived the Clinton Global Initiative, which is described as a project 'bringing together a community of global leaders to devise and implement innovative solutions to some of the world's most pressing challenges," read the July 2007 letter to the U.S. Attorney's office in the Southern District of Florida. "Focuses of this initiative include poverty, climate change, global health, and religious and ethnic conflicts.""
Zimmerman's Fox News passage ends
The U.S. District Court Judge presiding over the Jeffrey Epstein child trafficking case was appointed to the federal bench by former president Bill Clinton, a frequent travel companion of Epstein. Epstein actually claimed to be a co-founder of the Clinton Foundation.
Richard Berman was appointed by Bill Clinton in 1998. He presided over Dinesh D'Souza's case where D'Souza was convicted of re-imbursing friends to evade campaign contribution limits in a New York election.
Meanwhile, disgraced former FBI director James Comey's daughter Maurene is one of the prosecutors in the case.
Convicted pedophile Jeffrey Epstein pleaded the Fifth Amendment in court to avoid having to admit to his personal friendship with former President Bill Clinton.
Court documents (p. 34) reviewed by The Daily Caller reveal that Epstein took the Fifth to avoid self-incrimination in a deposition when directly asked, "Do you know former President Clinton personally?" Epstein made the plea in a 2010-2011 civil case between Epstein and Florida lawyer Brad Edwards, who sued Epstein on behalf of some of Epstein's alleged victims.
Bypass Tech Censorship!
Facebook, Twitter and Google are actively restricting conservative content through biased algorithms. Silicon Valley doesn't want you to read our articles. Bypass the censorship, sign up for our newsletter now!
Have a hot tip for Big League Politics?
Got a hot news tip for us? Photos or video of a breaking story? Send your tips, photos and videos to tips@bigleaguepolitics.com. All hot tips are immediately forwarded to BLP Staff.
Have something to say? Send your own guest column or original reporting to submissions@bigleaguepolitics.com.
U.S. Intelligence Reports that China Hid the Extent of the Wuhan Virus Outbreak
According to a Bloomberg report, China has not been forthcoming about the extent of the Wuhan Virus in its country.
It has apparently, under-reported "both total cases and deaths it's suffered from the disease, the U.S. intelligence community concluded in a classified report to the White House, according to three U.S. officials."
The officials requested to stay anonymous because the report is confidential and declined to give further details about its contents. The main takeaway though is "that China's public reporting on cases and deaths is intentionally incomplete. Two of the officials said the report concludes that China's numbers are fake."
The White House received this report last week, according to one of the aforementioned officials.
take our poll - story continues below
Completing this poll grants you access to Big League Politics updates free of charge. You may opt out at anytime. You also agree to this site's Privacy Policy and Terms of Use.
The pandemic originated in China's Hubei province in late 2019, but the country has officially reported only about 82,000 cases and 3,300 deaths, according to data collected by Johns Hopkins University. America, on the other hand, has 189,000 cases and more than 4,000 deaths which is allegedly the largest publicly and reported outbreak in the world.
"The reality is that we could have been better off if China had been more forthcoming," Vice President Mike Pence said on Wednesday, April 1, 2020 on CNN. "What appears evident now is that long before the world learned in December that China was dealing with this, and maybe as much as a month earlier than that, that the outbreak was real in China."
China imposed one of the strictest lockdowns of all nations afflicted by this pandemic. However, the Chinese government has not been transparent about its recording strategies and is constantly changing its methods for recording cases.
Republicans have been skeptical of the numbers coming out of Beijing.
"The claim that the United States has more coronavirus deaths than China is false," declared Nebraska Senator Ben Sasse. "Without commenting on any classified information, this much is painfully obvious: The Chinese Communist Party has lied, is lying, and will continue to lie about coronavirus to protect the regime."
U.S. Secretary of State Michael Pompeo has called on China to be transparent about their outbreaks.
"This data set matters," he said during a news conference in Washington on March 31, 2020. The development of medical treatments and public-health measures to combat the virus "so that we can save lives depends on the ability to have confidence and information about what has actually transpired," he asserted.
The Wuhan Virus pandemic illustrates the pitfalls of globalism and global integration at all costs.
When authoritarian regimes like China are treated like equals on the international stage in terms of trade and migration, Western countries could be susceptible to demographic displacement, national security breaches, viral outbreaks, and corporate espionage.
This sage may be the wake-up call the West needs in trying to socially distance itself from China.