Key Epstein Reporter: Underage Girls On Plane With Clinton Numerous Times
Bill Clinton reportedly flew on Jeffrey Epstein's plane with underage girls numerous times, sometimes without Secret Service presence.
"I know from the pilot logs. And these were pilot logs that were written by different pilots at different times, that Clinton went, he was a guest of Epstein 27 times… Many times Clinton had his Secret Service with him and many he did not. Almost every time Clinton's name is on the pilot log, there are underage girls," Sarnoff said on Fox News in comments flagged by Gateway Pundit editor-in-chief Jim Hoft.
Trending: Mitt Romney Admits: Trump Likely to Be Re-Elected
Labor Secretary Alexander Acosta, a former Miami prosecutor, reportedly cut Jeffrey Epstein a deal in Epstein's previous case because he was told that Epstein "belonged to intelligence." Epstein now stands criminally accused of child sex trafficking.
take our poll - story continues below
Completing this poll grants you access to Big League Politics updates free of charge. You may opt out at anytime. You also agree to this site's Privacy Policy and Terms of Use.
The Daily Beast reports: "Is the Epstein case going to cause a problem [for confirmation hearings]?" Acosta had been asked. Acosta had explained, breezily, apparently, that back in the day he'd had just one meeting on the Epstein case. He'd cut the non-prosecution deal with one of Epstein's attorneys because he had "been told" to back off, that Epstein was above his pay grade. "I was told Epstein 'belonged to intelligence' and to leave it alone," he told his interviewers in the Trump transition, who evidently thought that was a sufficient answer and went ahead and hired Acosta. (The Labor Department had no comment when asked about this.)"
Interesting.
Former Democrat president Bill Clinton declined to be accompanied by the Secret Service on at least 5 of his flights with accused child trafficker Jeffrey Epstein. Clinton took at least 26 trips with Epstein according to FAA flight logs, and is now fighting to assert that he was not involved with Epstein's pedophilia.
Malia Zimmerman reported in 2016: "Official flight logs filed with the Federal Aviation Administration show Clinton traveled on some of the trips with as many as 10 U.S. Secret Service agents. However, on a five-leg Asia trip between May 22 and May 25, 2002, not a single Secret Service agent is listed. The U.S. Secret Service has declined to answer multiple Freedom of Information Act requests filed by FoxNews.com seeking information on these trips. Clinton would have been required to file a form to dismiss the agent detail, a former Secret Service agent told FoxNews.com. In response to a separate FOIA request from FoxNews.com, the U.S. Secret Service said it has no records showing agents were ever on the island with Clinton."
Fox News passage ends
Former Democrat president Bill Clinton released a statement Monday through a spokesperson acknowledging numerous interactions with his frequent travel companion Jeffrey Epstein.
Accused child sex trafficker Jeffrey Epstein claimed that he was a co-founder of the Clinton Global Initiative, a subsidiary of the scandal-plagued Clinton Foundation. Bill Clinton was a frequent Epstein travel companion.
Malia Zimmerman reported in 2016:
Attorneys for convicted sex offender Jeffrey Epstein touted his close friendship with Bill Clinton and even claimed the billionaire helped start Clinton's controversial family foundation in a 2007 letter aimed at boosting his image during plea negotiations…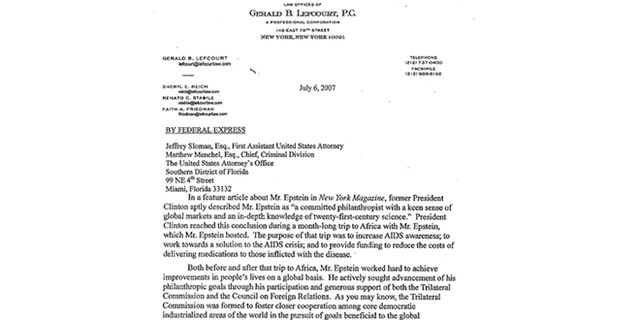 "Mr. Epstein was part of the original group that conceived the Clinton Global Initiative, which is described as a project 'bringing together a community of global leaders to devise and implement innovative solutions to some of the world's most pressing challenges," read the July 2007 letter to the U.S. Attorney's office in the Southern District of Florida. "Focuses of this initiative include poverty, climate change, global health, and religious and ethnic conflicts.""
Zimmerman's Fox News passage ends
The U.S. District Court Judge presiding over the Jeffrey Epstein child trafficking case was appointed to the federal bench by former president Bill Clinton, a frequent travel companion of Epstein. Epstein actually claimed to be a co-founder of the Clinton Foundation.
Richard Berman was appointed by Bill Clinton in 1998. He presided over Dinesh D'Souza's case where D'Souza was convicted of re-imbursing friends to evade campaign contribution limits in a New York election.
Meanwhile, disgraced former FBI director James Comey's daughter Maurene is one of the prosecutors in the case.
Convicted pedophile Jeffrey Epstein pleaded the Fifth Amendment in court to avoid having to admit to his personal friendship with former President Bill Clinton.
Court documents (p. 34) reviewed by The Daily Caller reveal that Epstein took the Fifth to avoid self-incrimination in a deposition when directly asked, "Do you know former President Clinton personally?" Epstein made the plea in a 2010-2011 civil case between Epstein and Florida lawyer Brad Edwards, who sued Epstein on behalf of some of Epstein's alleged victims.
Bypass Tech Censorship!
Facebook, Twitter and Google are actively restricting conservative content through biased algorithms. Silicon Valley doesn't want you to read our articles. Bypass the censorship, sign up for our newsletter now!
Have a hot tip for Big League Politics?
Got a hot news tip for us? Photos or video of a breaking story? Send your tips, photos and videos to tips@bigleaguepolitics.com. All hot tips are immediately forwarded to BLP Staff.
Have something to say? Send your own guest column or original reporting to submissions@bigleaguepolitics.com.
Join the conversation!
We have no tolerance for comments containing violence, racism, profanity, vulgarity, doxing, or discourteous behavior. Thank you for partnering with us to maintain fruitful conversation.
Tim Tebow Finds a Higher Calling in Pro-Life Causes Rather than Sports Trophies
NRL News Today reported on Kansans for Life annual Valentine's Day banquet held earlier this month.
Nearly 1,200 people were in attendance at this event.
The theme of this event was LIV-ing in victory, which referred to Super Bowl LIV.
Lamar Hunt, Jr., one of the owners of the Super Bowl Champs, the Kansas City Chiefs, was the Master of Ceremonies for the event. In his opening remarks, he said:
take our poll - story continues below

Completing this poll grants you access to Big League Politics updates free of charge. You may opt out at anytime. You also agree to this site's Privacy Policy and Terms of Use.

I do not think it is a cliché to say we are in a life and death battle for the truth and authentic dignity of the human person. We need your full attention. You need to drop what you're doing and join us, and this can be in so many ways: prayer, assistance to those in need, emails, phone calls, in-person meetings. Get educated about what we're fighting about here. Really listen in and tune in.
Then Hunt said, "Please do something about it. Pray. Take action. If you don't know what to do, ask somebody. Place this as a major priority in your life."
Hunt concluded by saying that he often heard the phrase "Live in victory" from another resident at the retirement home where he visits his mother.
The main highlight of that evening was the keynote speech by Tim Tebow, former quarterback for the Denver Broncos.
"It is such an honor to be here," Tebow said as he thanked the other speakers coming before him for their work to protect the unborn.
Tebow praised Hunt for "having courage in the face of a lot of other people who don't have it and for your willingness to be up here and support this organization."
"It really does mean a lot more than winning the Super Bowl," Tebow remarked. He continued, "One day, when you look back and people are talking about you and they say Oh my gosh what are you going to be known for? Are you going to say Super Bowl, or we saved a lot of babies?"
Tebow asserted that Kansans for Life is not a philanthropy.
It's a rescue mission. You know why we call it a rescue mission? Because when we say that, it puts a timeline on it.

When's the last time you heard a rescue mission taking place in a month or a few years. No, a rescue mission means now. It gives you a sense of urgency. It says we have to go not because it's our time, but because it's their time. … I have to live a sense of urgency because while I might have time, they don't.
Later, Tebow turned toward Hunt and Chiefs punter, Dustin Colquitt, who was also attending the event, he told them it was "awesome they won the Super Bowl."
"It's amazing. What an accomplishment! But you know the best part of that accomplishment is that it gets you an even bigger platform." That platform, Tebow declared, can be used to support the pro-life movement.
"You see, my mom 32 years ago had doctors tell her she needed to abort me because if she didn't, it was going to cost her life. And they didn't even believe that I was a baby. They thought I was a tumor," Tebow said.
Tebow jokingly recounted that as the baby of a family of 5 siblings, he was called "Timmy the tumor" by his siblings.
On a more serious note, Tebow said, "to make a long story short, when I was born, they found out the placenta wasn't actually attached. So, the doctor looked at my mom after 37 years of being a doctor and said, 'This is the biggest miracle I've ever seen because I'm not sure how he's alive.' … I'm so grateful that my mom trusted God with my life and her life."
In 1986, Tebow's father, Robert, begged the Lord to give him one more child. His father said, "I prayed for a preacher and got a quarterback."
Tebow finished the event by stating that, "What you're doing here matters. You're fighting for life. You're fighting for people that can't fight for themselves. And my question to you is: Are you willing to stand up in the face of persecution, in the face of adversity, in the face of criticism, when other people are going to say it's not worth it, when other people won't stand beside you? Maybe not everybody is going to be with you. Will you stand up for what's right?"