Michigan State Capitol Vandalized with Graffiti Targeting ICE on Independence Day
Border enforcement is under attack as the national emergency at the U.S. southern border worsens.
A pro-illegal immigration vandal targeted the Michigan state capitol for defacement, writing "STOP ICE" on the side of the building on the Fourth of July at around Midnight.
The Michigan State Police are trying to get to the bottom of who committed this crime. Sgt. Jeff Held says that law enforcement is investigating "as best we can" to figure out who was responsible for the graffiti.
This follows two attacks in June on the Michigan Republican Party's headquarters in Lansing, MI. Vandals targeted the building with anti-ICE graffiti, as liberals become unhinged because of President Donald Trump's proposed crackdown against illegal immigration.
I want to give the Democrats every last chance to quickly negotiate simple changes to Asylum and Loopholes. This will fix the Southern Border, together with the help that Mexico is now giving us. Probably won't happen, but worth a try. Two weeks and big Deportation begins!

Trending: Leftist Thug Targets Roger Stone's Handicapped Wife for Vicious Attack in Own Neighborhood

— Donald J. Trump (@realDonaldTrump) June 23, 2019
take our poll - story continues below
Completing this poll grants you access to Big League Politics updates free of charge. You may opt out at anytime. You also agree to this site's Privacy Policy and Terms of Use.
The Democrats should change the Loopholes and Asylum Laws so lives will be saved at our Southern Border. They said it was not a crisis at the Border, that it was all just "manufactured." Now they admit that I was right – But they must do something about it. Fix the Laws NOW!

— Donald J. Trump (@realDonaldTrump) June 26, 2019
If Illegal Immigrants are unhappy with the conditions in the quickly built or refitted detentions centers, just tell them not to come. All problems solved!

— Donald J. Trump (@realDonaldTrump) July 3, 2019
The city department is hoping for tips from the community and is requesting anyone with any information about the perpetrator to call Detective Shawn Martinez at (517) 483-6856.
Amber McCann, the spokeswoman for Senate Republicans, said that It is "disappointing and upsetting that someone would choose to deface the Capitol building for any reason."
The Republican-led Michigan state legislature recently proposed a 2020 budget to punish sanctuary counties. Under the proposal, jail reimbursement funds will be withheld from counties unless they comply with federal authorities in matters "concerning the immigration status of an individual in the state." This tough-on-enforcement proposal from the GOP may have sparked the violent act from the vandal.
Even the Democrats of Michigan are speaking out against this trend of vandalism being committed against border enforcement.
"You are not cool or a revolutionary," State Sen. Curtis Hertel Jr. wrote in a social media post. "Instead, you defaced a public building, cost money in a limited budget that could be used to help poor people, and made some poor person have to come clean up your mess on a holiday weekend."
The sandstone that was defaced is a historic landmine dating back to 1872. The building, which was later determined to be a National Historic Landmark, was opened for use in 1879, and it has been the place where the Michigan legislature conducts its business ever since. It is unknown how much it will cost to remove the graffiti from the sandstone.
Parler CEO John Matze Forced to Flee Home Under Deluge of Left-Wing Terror Threats
Matze is suing Amazon for deplatforming Parler.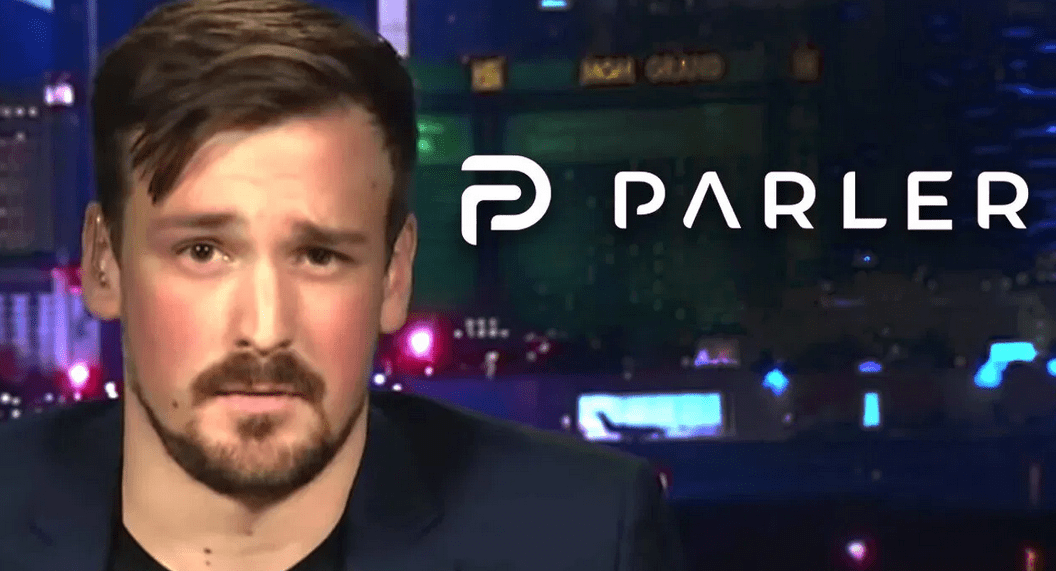 Parler CEO John Matze has been forced to flee his home and go into hiding after receiving an onslaught of left-wing death threats. Parler, a free speech social media platform, has been temporarily shut down in an extensive deplatforming campaign. Amazon promptly cut Parler's access to its Web Services after the US Capitol riot earlier this month, cherry-picking examples of content that violate Parler's terms of service and claiming the platform is being used for violent purposes.
Matze made the frank admission in a court filing for Parler's lawsuit against Amazon, requesting that the court keep any disclosures about his personal life and location secret. Parler is currently suing Amazon in federal court for its immediate revocation of Parler's hosting agreement, arguing that Amazon agreed to provide 30 days notice before any potential termination of Parler's hosting, pursuant to the party's original agreement.
Matze reveals that he's been forced to leave his home and go into hiding with his family, citing Amazon Web Services' "vilification" of his company.
take our poll - story continues below
Completing this poll grants you access to Big League Politics updates free of charge. You may opt out at anytime. You also agree to this site's Privacy Policy and Terms of Use.
Employees of Amazon have allegedly been threatened and harassed as well for shutting down Parler. The court filing in favor of redaction references these threats in requesting the court provide redaction of personal information to both sides.
"Both sides of this dispute have shown that their employees have suffered real harassment and threats—including, on both sides, death threats—owing to the charged nature of this litigation.
Parler therefore agrees with AWS that safety and security concerns justify the limited sealings requested here," Parler requests in the Amazon lawsuit.
Parler's administrators are still seeking to return the free speech social media platform to full operation, although it could take weeks to bring it back online. They may have learned a lesson about the futility of contracting hosting services with a Big Tech monopoly such as Amazon.
---
Follow me on Twitter @Wildman_AZ, on Parler @Moorhead, and on Gab @WildmanAZ.