NOT A JOKE: National Labor Relations Board is Investigating Barstool Sports Founder
The Hollywood Reporter reports that the National Labor Relations Board is now investigating Barstool Sports Founder Dave Portnoy for his recent efforts to discourage his staff from unionizing.
BLP reported on Portnoy's spat with left-wing journalists and even Congresswoman Alexandria-Ocasio Cortez on the subject of unionization. Portnoy remained adamant about his anti-union stances.
The NLRB believes that Portnoy's action constitutes an illegal move to discourage his employees from joining a union.
Trending: Indian Scientists Discover Hydroxychloroquine Treatment Prevents COVID-19, Vindicating President Trump
Left-wing journalists like Rafi Letzter, a writer at Live Science, were goading Barstool employees into joining a union. However, Portnoy responded by threatening to fire any employee who tried getting contact with journalists or make any attempts to unionize.
take our poll - story continues below
Completing this poll grants you access to Big League Politics updates free of charge. You may opt out at anytime. You also agree to this site's Privacy Policy and Terms of Use.
This exchange soon engulfed AOC, who declared that Portnoy was "likely breaking the law", while Donald Trump Jr. chimed in by saying that "Picking a fight with @stoolpresidente and @barstoolsports is probably the biggest mistake @AOC has ever made on Twitter."
Now, a federal agency is getting involved in this dispute.
The Committee to Preserve the Religious Right to Organize recently filed charging papers at the NLRB against Barstool Sports. The Chernin Group holds a majority ownership stake of Barstool Sports. According to the charge, which The Hollywood Reporter obtained, "Within the last six months, Barstool Sports, affiliated with the Chernin Group, through its crazed president, Dave Portnoy, has threatened to discipline employees on account o[f] Union and/or protected activity. The Charging Party seeks as relief that Mr. Portnoy be required to tweet and otherwise publicize his severe and sincere apology and to post the appropriate Notice on the public website. He should be required to read the Notice to all employees and make a public announcement about the Notice on his media locations of any nature."
The NLRB says that it recognizes the filing and sent a letter to Barstool Sports so that they can get a response. The NLRB enforces the National Labor Relations Act. Sections 7 and 8(a)(1) protects employees' rights to join or set up a union, while Sections 8(a)(1) & (3) prohibits "interfering with, restraining, coercing or firing an employee in regard to those rights." Another provision of the law, Section 8(a)(4), bars any form of retaliation against an employee for filing charges or providing testimony.
At the same time, a lesser-known part of Section 7 additionally protects non-unionized employees' rights to participate in "concerted activities" (group activities) for the purpose of "collective bargaining or other mutual aid or protection."
Because of this charge, the NLRB is tasked with investigating Barstool Sports and all other parties involved. A decision on the charge is expected to come in the next few months unless the charges are withdrawn. If the charging party is successful in their case, an NLRB Regional Director could petition a federal court for an injunction against Barstool Sports.
Billionaires Have Made Half a Trillion Dollars While Tens of Millions File for Unemployment
As the number of Americans filing for unemployment approaches 40 million, America's billionaires are cruising along without any worries.
According to a CNBC report, billionaire fortunes climbed by a total of $434 billion since the middle of March,
At the top of the list are Jeff Bezos and Mark Zuckerberg, whose respective fortunes increased by $34.6 and $25 billion, according to the Americans for Tax Fairness and the Institute for Policy Studies' Program for Inequality. Zerohedge noted that both organizations came to this conclusion "based on Forbes data for America's over 600 billionaires collected between March 18 and May 19."
Tyler Durden highlighted the following stats:
take our poll - story continues below

Completing this poll grants you access to Big League Politics updates free of charge. You may opt out at anytime. You also agree to this site's Privacy Policy and Terms of Use.

Percentage-wise, Elon Musk's wealth grew 48% to $36 billion, while Zuckerberg clocked in at 46%. Bezos' wealth grew 31% to $147 billion. His ex-wife, MacKenzie Bezos, saw her wealth increase by roughly 33% to $48 billion. On average, American billionaires saw their net worth grow 15% during the two-month period from $2.948 trillion to $3.382 trillion.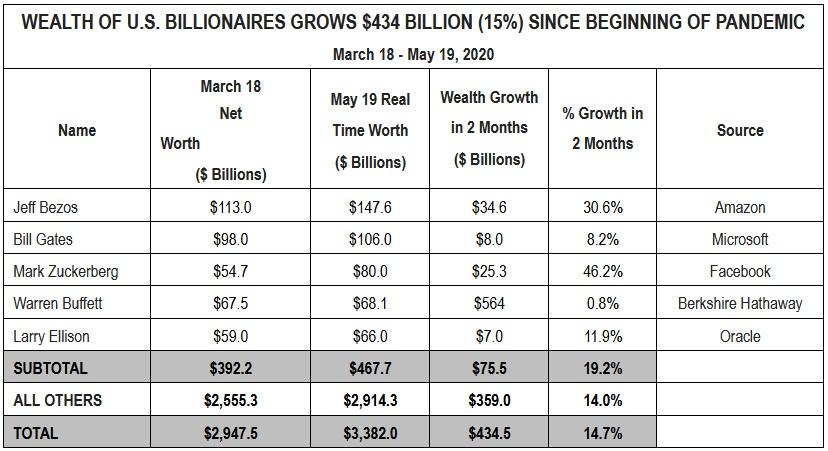 Bezos, Bill Gates, Zuckerberg, Buffett and Larry Ellison saw their wealth increase by a total of $76 billion.
"The surge in billionaire wealth during a global pandemic underscores the grotesque nature of unequal sacrifice," declared Chuck Collins, director of the IPS Program on Inequality and co-author of the Billionaire Bonanza 2020 report. "While millions risk their lives and livelihoods as first responders and front line workers, these billionaires benefit from an economy and tax system that is wired to funnel wealth to the top."
However, some billionaires haven't benefited so much:
Still, the pandemic hasn't been kind to other billionaires – whose yacht upgrades may need to wait. Those in travel and retail have taken a beating. Ralph Lauren saw his wealth drop by $100 million to $5.6 billion, while hotelier John Pritzker has seen a $34 million drop to $2.56 billion. We know, time to get a collection going.